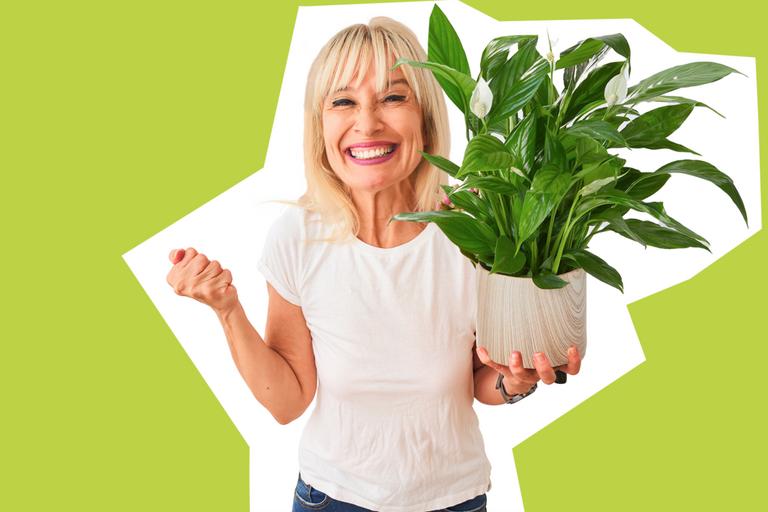 Best Mother's Day
plants
10th December, 2023
10th December, 2023
Mother's Day is just around the corner. And if you're anything like us, you're probably trawling the internet for gift ideas. Luckily, we've found the perfect alternative to the usual knick knacks and body lotions – a blossoming Mother's Day plant!
Fresh and fragrant, houseplants have the same decorative appeal as a bunch of flowers, with the added bonus that they usually last longer (with the right care, of course). Choose something low maintenance that lets your mum embrace her inner plant lover. Or, if she already has a natural green thumb, you can pick a plant that requires a little more TLC.
Discover the best Mother's Day plants below to treat the special mother figure in your life:

When it comes to choosing the perfect plant for your mum, stepmum, nan or auntie, there are a few things to consider:
What types of plants are good for Mother's Day?
Season – Mother's Day is in March, so look out for plants that usually bloom in spring.
Location – would she prefer an indoor or outdoor plant?
Space – how much room is there in the house or garden? This can help you decide on the size of the plant.
Experience – is your mum a plant expert, or does she prefer something that's easy to care for? Choose a plant that can thrive under her care.
Here are some of our favourite types of plants for Mother's Day in the UK.

Roses aren't just for romancing your partner on Valentine's Day. They also make the perfect Mother's Day plant. Bright colours, long lasting and packed with aroma, what's not to love? You can show your mum how much she means to you by picking the right colour:
Indoor Rose Plant
Dark Pink – say thanks to your mum for everything she does with a rose signifying gratitude and appreciation.
Light Pink – represents a mixture of grace, joy and happiness. What more could you want?
Yellow – not only does a yellow rose plant brighten up the room, but it also represents friendship and affection if your mum is your BFF.
Orange – energy, excitement and admiration. These warm roses are a great way to say how proud you are of your mum or mother figure.
Much like us, indoor rose plants need plenty of sun to thrive. So they're ideal if your mum's home has plenty of suntraps. With some varieties blooming all year round, a rose plant is the gift that keeps on giving.

Brighten mum's day with a full begonia plant. This colourful plant makes the perfect decoration for any room in the home. Just place in an east, west or south-facing window where it can soak up the morning sun and shelter in the afternoon.
Begonia Plant
Begonias also bring a pop of colour to shaded flower beds in the garden if your mum doesn't have much space in the house. They usually bloom from late spring or early summer until the first winter frost, so you'll get bang for your buck too.
Turning up with a begonia plant for Mother's Day is a great way to show you're grateful. Choose from a range of varieties, including the Glory White, Polka dot and Solenia Dusty Rose Begonia, to find the perfect colour for your mum.

Any new or soon-to-be-mothers in your life? A pink orchid is the gift to give. Known as a symbol of grace, femininity and happiness, this plant adds a touch of the tropical to any room.
Pink Orchid
The most common types of pink orchid are:
Moth orchids
Dendrobium orchids
Boat orchids
Vanda orchids
Orchids can be simple to care for if you know how. Place them in a room with plenty of bright but indirect sunlight and mist the leaves every two to three days for added humidity.

If your mum isn't exactly green-fingered, don't panic. Just choose a peace lily this Mother's Day. It's full, pretty and even helps purify the air (what more could you ask for?).
Peace lilies are versatile too, especially when it comes to lighting and location. Place them under medium light to see them flower in the spring or liven up a darker space with their lush green foliage.
Whether your mum is just beginning her houseplant journey or is looking to create a more serene space for some well-deserved 'me time', a peace lily is a great way to help her get started.

A spiky mother-in-law's tongue is one of the most popular and easy to care for houseplants. It's also commonly known as a snake plant, for its scaly texture and green and yellow leaves.
But don't be put off. Mother-in-law's tongue is a versatile and hardy plant that can thrive in all sorts of conditions. From bright sun traps to rooms with minimal lighting, this plant will grow (ideal for a busy mum who may have neglected a plant or two in her time).

With Mother's Day falling at the start of spring, why not give your mum a colourful spring planter filled with the season's best picks? A great addition to any garden, and you don't have to make any tough choices about which plant pal to buy her.
Not sure which plants are in bloom? Not to worry. Here are just a few you can add to your spring selection:
Daffodils – a Mother's Day classic and the symbol of spring. These sunny yellow flowers are sure to put a smile on mum's face.
Hyacinths – soak up the sweet scent of these spring florals. They make a great houseplant too.
Tulips – brighten up garden borders with tall tulips in pink, orange, purple and yellow.
Primroses – watch these wild beauties bloom annually in early spring. Choose a colour that complements the rest of your spring planter.
Pansies – share the love with heart-shaped pansy petals in a wide range of vibrant colours.
This Mother's Day, we're all about embracing our inner plant mum energy. And whether you have a garden-loving mum or a maternal figure who's completely new to plant parenting, we'd love to help share some green goodness with her. After all, home is where the plants are.
Ready to make your mum a proud plant mum? Check out the range of Mother's Day plants.