We've been enjoying carnations since the time of the Ancient Greeks and our love for these lush blooms won't go away anytime soon.
In fact, our story started with a sweet bunch of carnations sent to a loved one in the post, way back in 1981, and we've been sending these stunning flowers across the country ever since!
We believe carnations are a staple flower in a bouquet, with their wonderfully ruffled petals and endless colour palette. But did you know, each and every colour of carnation comes with its own unique meaning? We've taken a closer look at the always beautiful carnation flower, what it means and why it's just so special.

10 FACTS ABOUT CARNATIONS
1. Carnations are the birth month flower for January
You might have heard of birth stones, but did you know that each month has a birth flower too? A bright bunch of carnations will be the perfect pick if you know someone who is celebrating their birthday in January.
2. Carnations are also the official flower for 1st wedding anniversaries
Tied the knot recently? Forget the roses on that first wedding anniversary and present a bouquet of lush red carnations to remind them how much you love them.
3. Carnations are edible
While we wouldn't recommend you take a nag out of the flower head when you're feeling peckish, they can be used to decorate bakes and some people feature the petals in salads – very fancy. Hungry to learn more? Read our guide on edible flowers.
4. Carnations were once used to send secret messages
In the Victorian era Tinder wasn't around and so lovers had to send sneaky messages to one another with flowers. A coded message would be sent then the other person would respond with a carnation flower. A solid coloured flower meant yes but a yellow carnation meant no.
5. They're also known as the 'flower of the gods'
This is because of their scientific name 'dianthus'. This breaks down to 'dios' which means Zeus and 'anthos' meaning flower, put them together and you have something pretty mighty indeed.
6. Oxford university students wear carnations to their exams
This is a longstanding tradition at the university. Students wear a white carnation for their first exam for good luck, then pink carnations for all the exams in between before finishing with a red carnation for that final exam. We're not sure if the flowers help but this tradition has been going on for decades now.
7. The flowers are believed to have medicinal properties
Carnations are used by some people to treat issues such as skin problems, hair loss and muscle tension. They've also been used as an anti-inflammatory but we think we'll stick to ibuprofen for now.
8. Carnations are usually chosen as funeral flowers in France
Some flowers carry heavy meanings and over in France, these blooms are used in funeral tributes to honour a loved one. While this may feel a little morbid we think it simply proves just how special these flowers are.
9. Carnations are the national flower of three countries
It's definitely the popular kid in school. Carnations represent Spain, Monaco and Slovenia as their national flower. This bloom is used in Spain to adorn flamenco dancers' hair and grows wild in the south of the country. In Slovenia and Monaco, the flower also grows throughout the countryside and played a big part in their ancient artwork.
10. Children in South Korea give pink and red carnations to their parents on Parents Day
That's right, mums and dads in South Korea get an official special day celebrating them! On this occasion, children present their parents with bunches of red and pink carnations using the flower's symbolic meaning to tell them that they love them.

WHAT DO CARNATIONS MEAN?
Carnations are said to symbolise devotion, love and fascination – they're the perfect swap if you fancy a change from that bouquet of roses for your partner.
The flowers are said to get their name from the Greek word for coronation because they were featured in flower crowns #festivalfashion. But some argue that they come from the Greek word 'carnis' which means 'flesh' because the original flowers were usually a soft shade of pink. We think we prefer the coronation theory.
CARNATION COLOUR MEANINGS
Whatever colour carnation you choose, this carries a special meaning. Take your pick of these shades and find the right flower for you: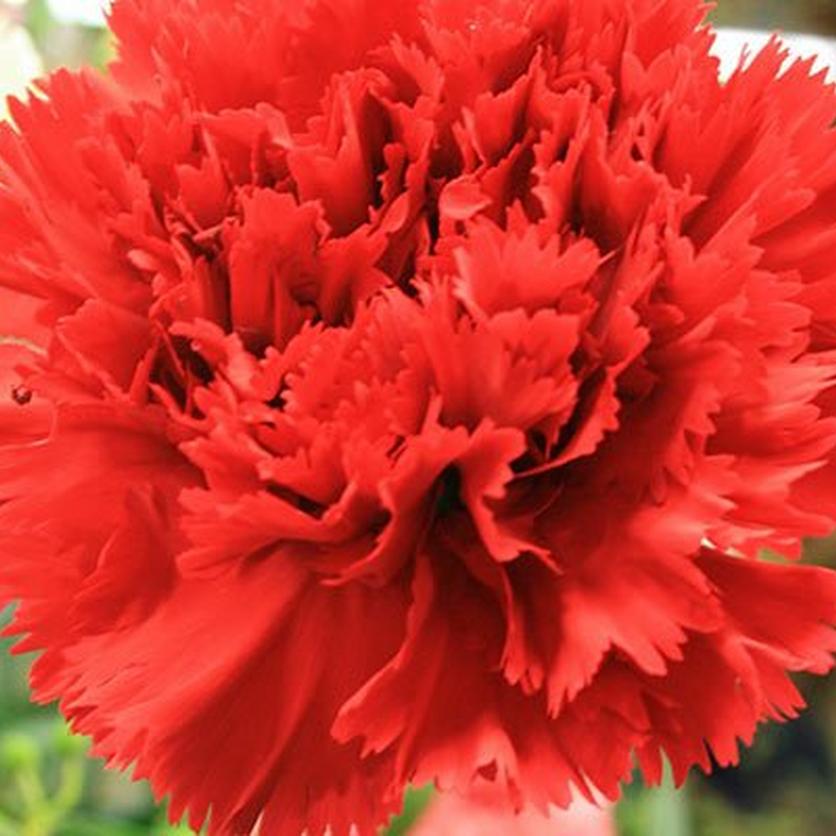 Red carnations
What do they mean? Red is the colour of love and this meaning applies to red carnations too. Carnations in vibrant red shades can be given to someone you love to let them know how strong your feelings are. Swoon!
When To Give Red Carnations
Swap your Valentine's roses for a bouquet of carnations in a heart rate raising shade of red. Plus, you'll save a little money too so you can treat them to their favourite choccies or a bottle of something fizzy to celebrate your time together.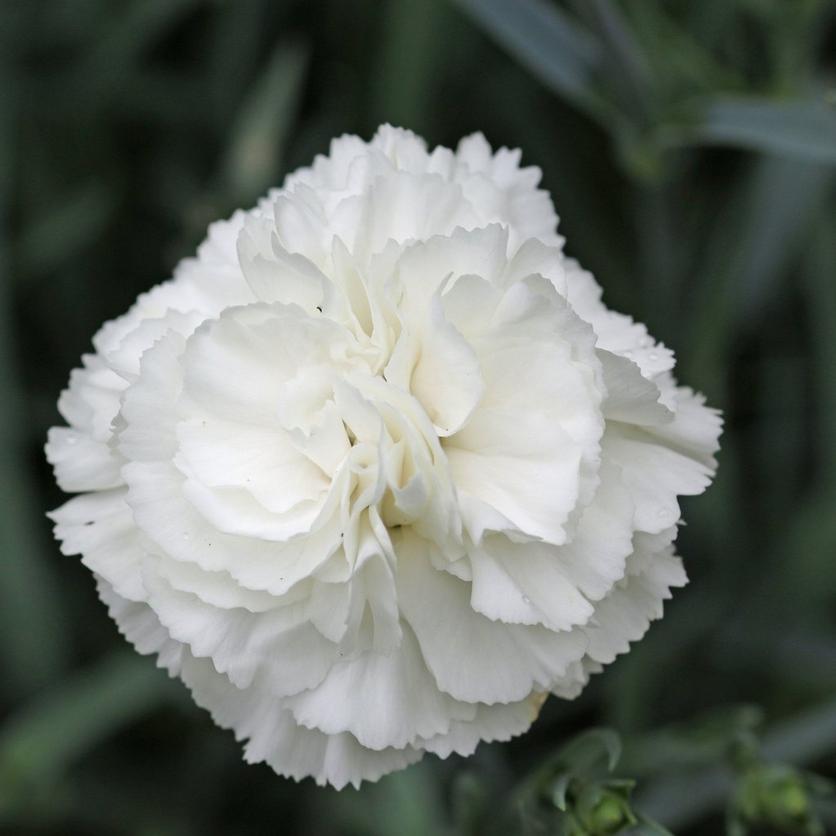 White carnations
What do they mean? White carnations mean good luck and we reckon that no one can say no to a little good luck charm in the form of a flower!
When To Give White Carnations
Present a posy of these stunning blooms to someone about to head off to take an exam or go to their first day in a new job. It should perk them up, remind them that you're rooting for them and give them something to look forward to when it's all over.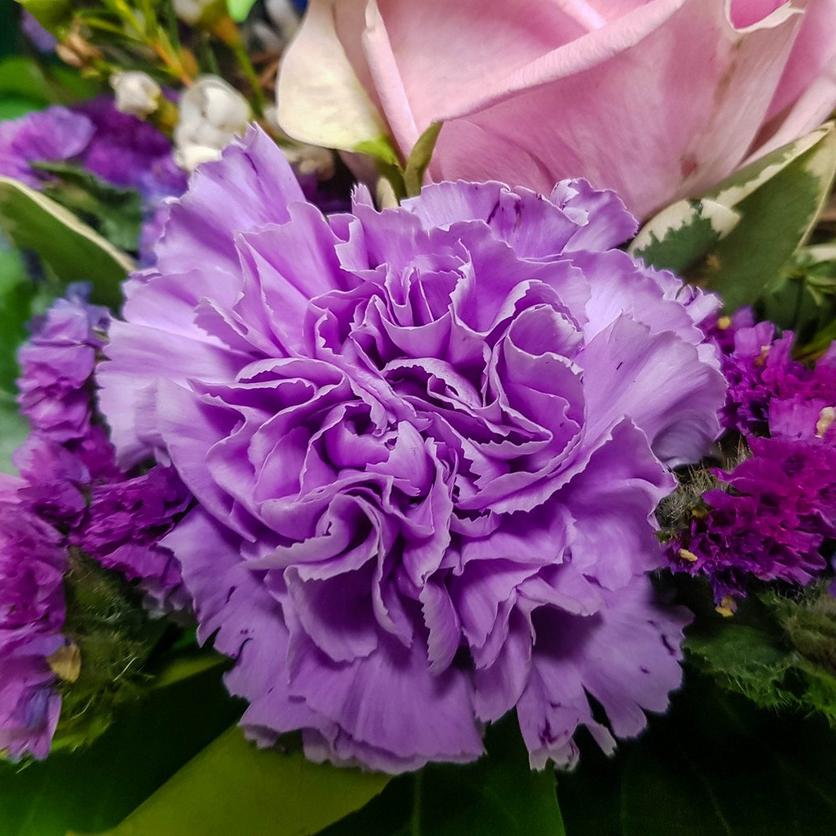 Purple carnations
What do they mean? Purple carnations are said to represent capriciousness which is when someone is spontaneous or adventurous. They're the perfect choice for an impulsive friend that you can't keep up with.
When To Give Purple Carnations
Send a bunch of these to wish a close friend well who is perhaps off on an adventure, maybe they're going travelling or are starting a new job in a new location. Purple carnations reflect their wild side while still sending a sweet message that you'll miss them.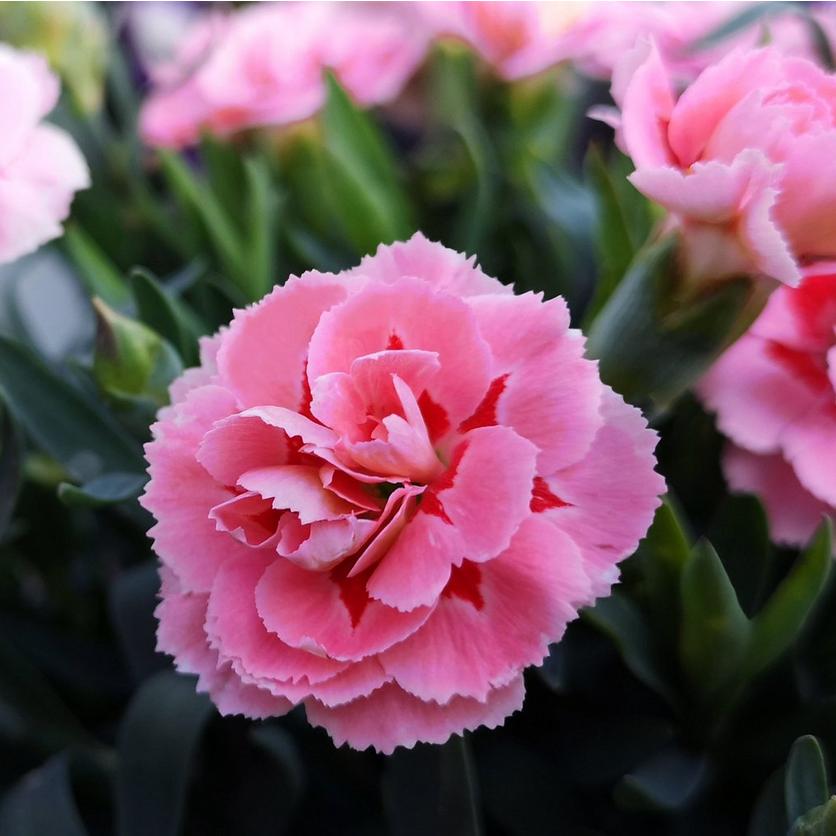 Pink carnations
What do they mean? Pink carnations mean gratitude and thankfulness. In America, pink carnations are the unofficial flower of Mother's Day when kids want to let their 'Mom' know how much they appreciate her.
When To Give Pink Carnations
We don't think there's a bad time to give a pretty-in-pink bunch of carnations but they're a great thank you gift. Send them to someone who has helped you out or just to say thanks for always being there. There's nothing better than a bouquet of surprise flowers!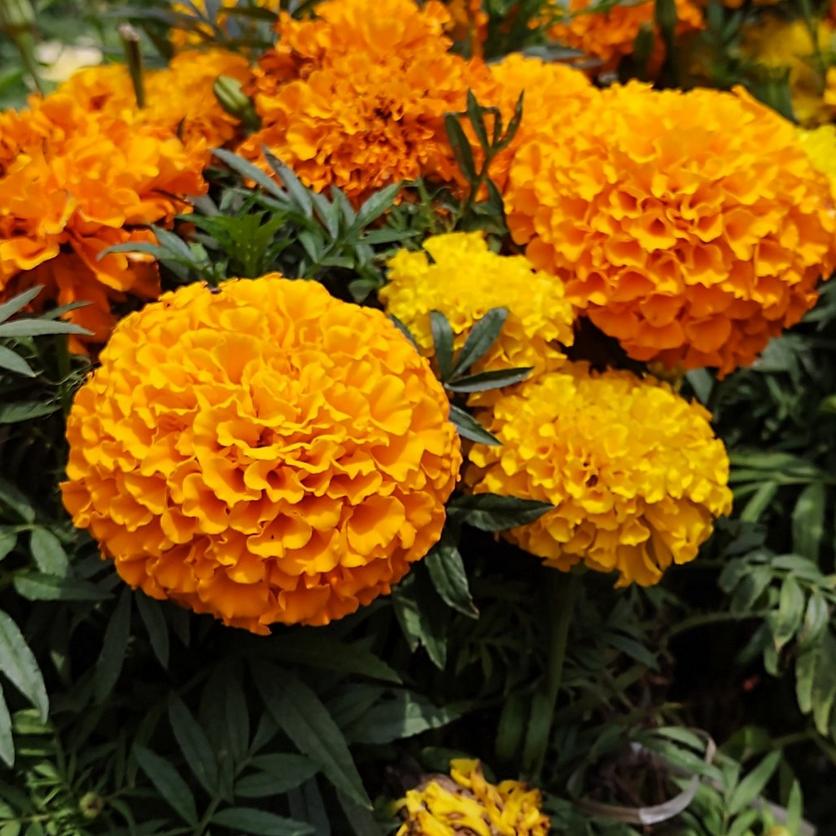 Yellow carnations
What do they mean? We think you should just enjoy yellow carnations for what they are – a great looking bloom. Because their meaning isn't actually that happy. Yellow carnations are believed to mean rejection and disappointment, not usually the vibe you're going for when you send a bunch of flowers.
When To Give Yellow Carnations
Ignore the sentiment that's said to be behind these blooms and give yellow carnations to someone who simply needs a little colour in their lives. Yellow always cheers us up, so these flowers should do the trick.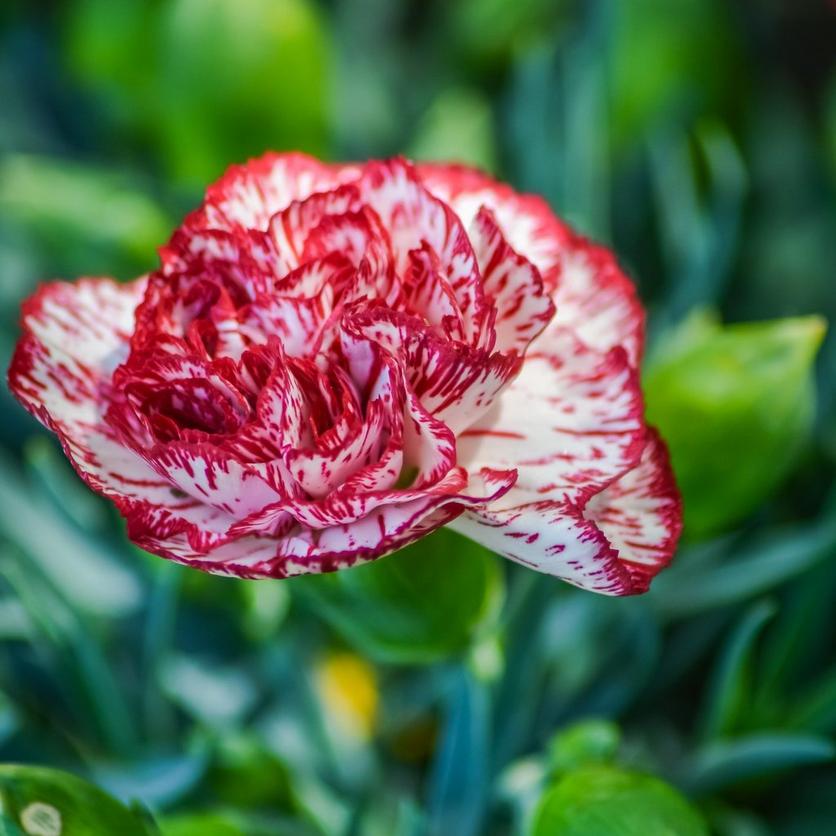 Striped carnations
What do they mean? You'll find carnations come in all sorts of wonderful patterns and colours and we loved the striped variety. These blooms however don't have the happiest meaning, symbolising regret.
When To Give Striped Carnations
Again, don't worry too much about the meaning here and just enjoy these attractive flowers for what they are. Give them to someone when you want to send something a little unusual that they can enjoy in their home.
Types of Carnations
Carnations come from a big family of blooms but there are three main varieties of this flower:
Single head carnations
These are your favourite fluffy blooms with a long stem and a single flower head.
Spray carnations
More, more, more! Spray carnations feature a number of flowers clustered together to create a sweet posy that looks wonderful in bouquets.
Dwarf carnations
These are typically your garden variety carnations that you feature in pots and hanging baskets.
Are carnations poisonous?
Carnations are not poisonous to humans – they can be eaten – but they may upset your cat or dog's tummy. Keep them out of the way of any curious critters and all should be fine. Take a look at our guide to pet friendly flowers for more information on blooms that are safe for your pets to be around.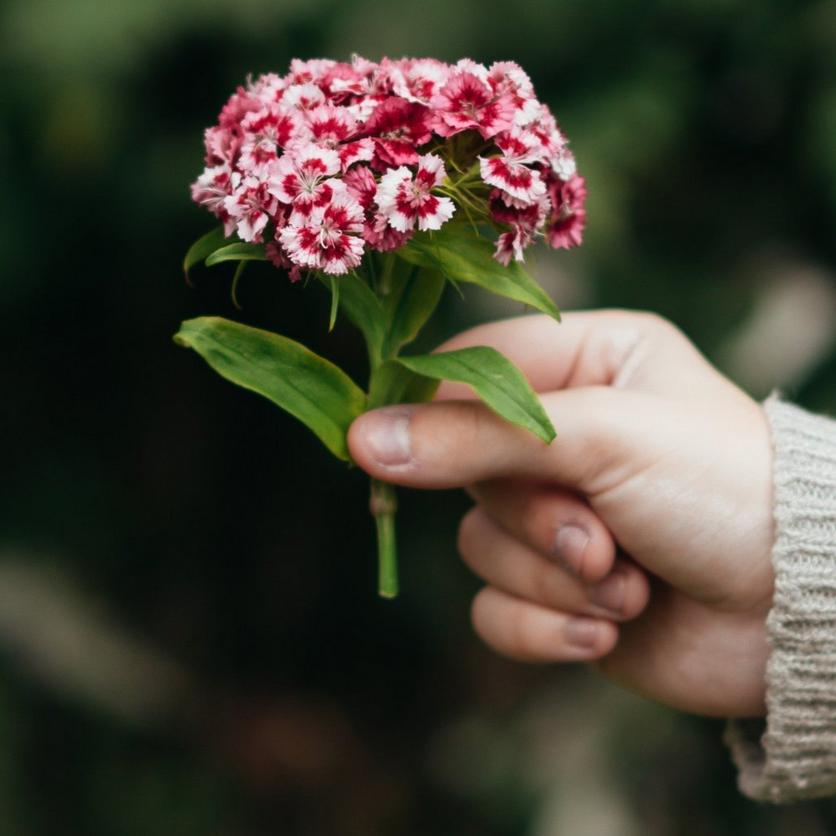 DID YOU KNOW?
Sweet William flowers are a type of carnation. This popular bloom is a hit in gardens and with the local wildlife, but it's also a fan favourite for bouquets. We love their stripy flower heads that remind us of circus tents and clown ruffles.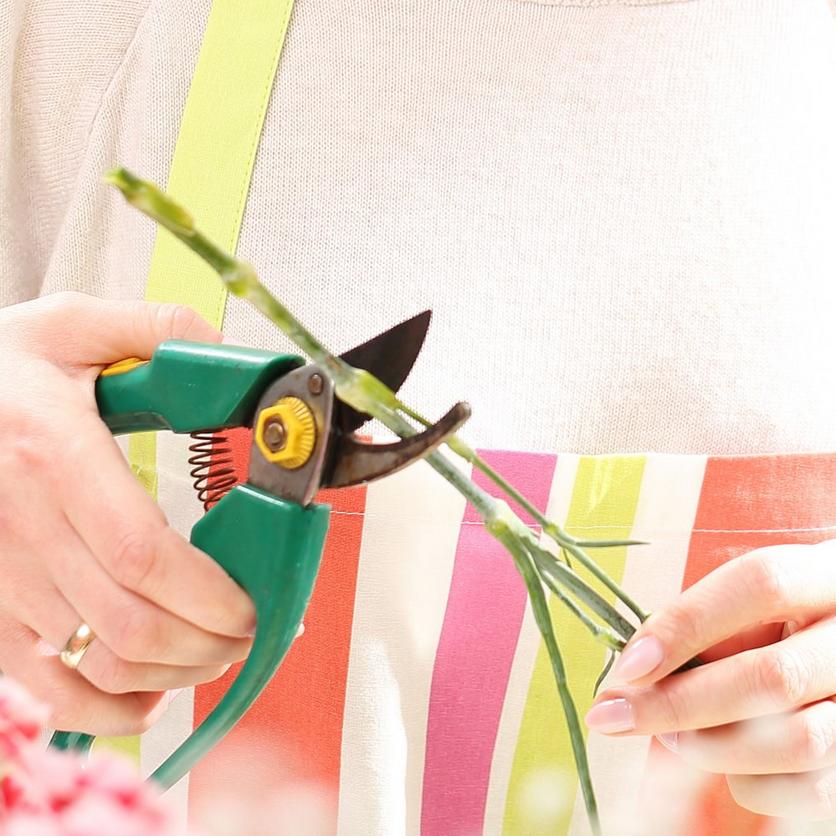 HOW TO CARE FOR CARNATIONS
Carnations are a real low maintenance bloom – ideal if you don't have the greenest of fingers. They last a long time in a vase and aren't overly fussy when it comes to their water or temperature. But, here are some tips for ensuring your flowers look their best for as long as possible:
Ensure you remove any leaves that may sit below the waterline in your vase
This stops the water from going murky and any bacteria growing in it.
Use the plant food provided
The plant food that comes with your flowers is designed to keep them perky.
Cut the stems of your flowers diagonally
Before you put them in your chosen vase, snip the stems with a sharp pair of scissors or a knife. Flowers close up the end of their stems when cut to hold onto any water but snipping them again encourages the carnations to start staying hydrated again.
Feature them in a bright room but not in direct sunlight
You don't want their petals to get sunburnt!
Change the water every three or four days
This ensures your flowers enjoy a steady stream of fresh water to keep them looking radiant.
How long do carnations last?
Carnations are a bloom that just keeps going long after you've taken it from its wrapping and featured it in that vase. These flowers have been known to last for 14 days – that's two weeks of beautiful blooms in your home!
Next time you receive a surprise bouquet (crossing our fingers that it happens soon!) look out for the ever popular carnation. You'll know now what each colour of this flower means and can enjoy its beauty even more.
Take a look at our range of bouquets to find the perfect arrangement featuring carnations for that next birthday on the calendar.