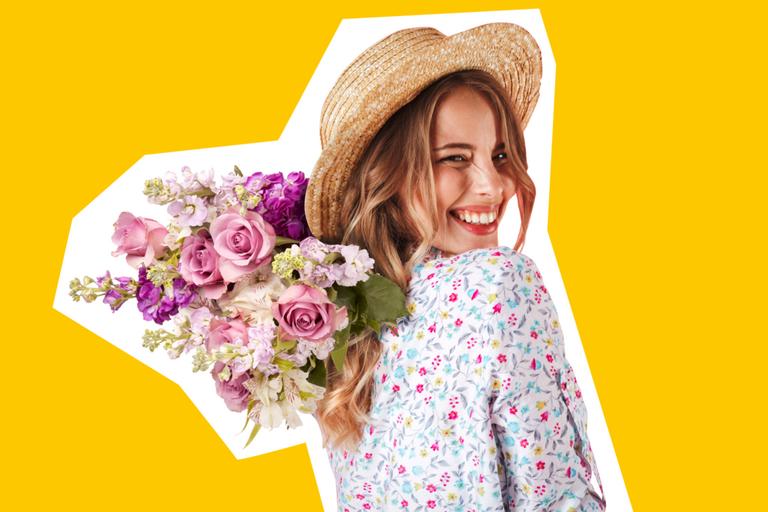 FREQUENTLY ASKED
QUESTIONS
Can I contact you?
We work hard to make sure our service is as simple and easy-to-use as possible. However, If you find yourself having trouble, below are our most frequently asked questions answered as clearly as possible.
Ordering
Where can I redeem my discount code?
Once your gifts have been chosen and added to your basket, you will see an 'Enter Promo Code' box. Enter your discount code here and click the 'Redeem code' button.
My discount code isn't working, help?
With all our discounts, we exclude Interflora, Help for Heroes, Good Housekeeping, Prima and International collections. If you have not included a gift from these collections, check the T's & C's of the offer as well as the expiry date. If the offer was directly from Flying Flowers via email, you will find all the information at the very bottom of the email. If you're still having difficulty please contact us.
Can I order for International delivery?
We can help you with flower delivery to over 100 countries by a professional Interflora florist. Simply visit our International delivery page.
We usually require 48 hours' notice prior to your delivery date so we can make sure your order is not dispatched.
Can I add extras with my flowers?
Yes! You can send a whole host of added extras such as chocolates, teddy bears, greetings cards, decorative ribbons and more. When you've chosen your floral gift and added it to your basket, you'll be prompted to choose any extra items (if you wish) during the order process.
Will I receive an order confirmation?
Yes! Once you have placed your order we will send confirmation of all the details to the email address you have provided. This can sometimes take up to 10 minutes.
Can I save my details for next time?
How do I get FREE delivery?
FREE UK delivery is available across our entire range of floral gifts as standard. This excludes Interflora florist delivered goods. To find out more visit our delivery information page.
Our Bouquets
Can I include a gift message with my flowers?
Yes! You will be prompted to write your gift message on the 'Delivery' page of the ordering process. Your message will be sent along with your fresh flowers & gifts.
Can I be romantic and send flowers anonymously?
You devil you! The only personal information included with your gift will be the contents of the gift message that you are prompted to write during the order process. If you wish to send flowers anonymously, simply leave the message blank when prompted or let them know it's from a secret admirer. If the recipient contacts us for more information we will always seek your permission before releasing any personal information.
Why are my flowers closed in bud?
We send our flowers in bud so that they arrive in the freshest condition and also so you can enjoy the full life of the bouquet as it matures and opens. Once watered & trimmed, you can expect your blooms to open within 24 hours. Find out more about how your flowers are delivered.
Do flowers arrive pre-arranged?
All our bouquets are professionally arranged and packaged by hand. Our letterbox flowers range are not pre-arranged and are designed for those who like to get more hands on with their blooms. We've even written a flower arrangement guide to get your flowers looking beautiful in their new home.
Do flowers arrive in a box?
All our fresh bouquets are arranged by hand and packaged in our signature Flying Flowers box. Find out more about how your flowers arrive.
My flowers arrived floppy, help!
We include a hydration pack with all our bouquets to prevent this. But, if your flowers arrive looking a little thirsty, don't panic! The stems will just need a snip and a big drink of water and they'll be healthy and blooming within 24 hours. For more tips, read our guide to keep your flowers fresh.
How long will my flowers last?
Across our entire range of bouquets, we provide a guaranteed freshness for at least 5 days. Some flowers will last much longer than this. Carnations for example will last upwards of 14 days! To give you some more help we've put together a guide to keep your flowers fresh full of tips and advice.
Delivery
On the morning of your delivery, you will receive an email notification containing information about your delivery. To find out more information, please visit our delivery information page to find details of all our delivery options.
Can I get delivery today?
Yes! We offer a same day delivery by expert local Interflora florist on orders placed before 3pm Monday-Saturday. Simply visit our same day flowers page.
I don't know the correct postcode to my delivery address, help?
Don't worry! You can complete an order without the postcode. However, if you have the first line of the address you are sending to, you can use the royal mail postcode finder to fill in the blanks.
What happens if nobody is home?
Don't worry, where possible your delivery driver will leave your flowers in a safe place or with a neighbour. If that isn't possible, your gift will be taken to a nearby depot for collection. Either way a calling card with full details will be pushed through the letterbox for reference.
Can you deliver to a business addresses?
Yes, but please bear in mind when delivering to a business address we are only permitted to deliver to a reception or post room area. The flowers will then need to be dealt with internally to reach the right person/place.
Can you deliver to a hospital?
It is common that hospitals will not accept flowers on certain wards and some may refuse flowers entirely. We recommend contacting the hospital to check this before sending. We also recommend sending from our same day flowers by florist range so the arrangement is contained in water & does not need immediately transferring to a vase. Please also note we will only deliver to a reception/post room area of the hospital. We cannot be held accountable for how the flowers are dealt with internally or if refused.
Can you deliver to a hotel or university?
Yes! We would highly recommend phoning ahead to make sure someone at reception can deliver the flowers internally to the right place as we will only be permitted to deliver to a post room or reception area. Please include any departments, room numbers or relevant information needed for internal handling.
Can you deliver to a PO box?
Sorry, we cannot deliver to PO Boxes.
My Account
My Account is a great way to store all your order details when placing a delivery with us. It makes placing future orders much faster and it provides a reference to your complete order history. My Account will also store previous address details so you won't have to remember them.
I've forgotten my password, help!
How can I add or change an address?
Once logged in, click 'My Address Book' and navigate to 'Add new contact'. You will then be asked to fill in the details which you can save securely for next time you order.
I have an account but cannot reset my password. Help!
If you signed up before June 2017, you'll need to set up a new account, sorry!
Is it safe to use 'My Account'?
While no site is 100% secure, all 'My Account' and ordering pages are encrypted to ensure all your personal information is kept as secure as possible. You can identify this when 'https' appears in the address bar just before www.flyingflowers.co.uk.
Your data is protected by law, we do not hold full payment card numbers or CVV information. We can only view the last 4 digits of your card number. We will never send you an unprompted email to reset your password or ask for your payment details.
I want to close my account, what do I need to do?