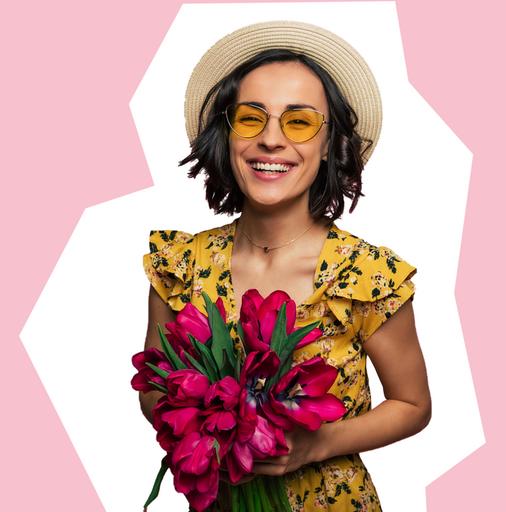 Hidden Meanings
of Flowers
You don't have to be Sherlock Holmes to work out the meanings of some flowers. Red roses represent love and white flowers symbolise purity and innocence. Easy, right?
Well, some flowers are a little more mysterious than you might think with hidden meanings that can change how they're received by loved ones.
Did you know that giving a single daffodil supposedly leads to bad luck and white tulips are the best choice if you're asking for forgiveness? No? Then read on to learn more about our favourite blooms and the hidden meanings behind them!

This instantly recognisable flower is a favourite on Valentine's Day or when you just want to say 'I love you' but there are so many more varieties of rose than the classic ruby-red bloom.
The rose is perhaps one of the most popular and well-loved flowers and has been around for a very long time – a whopping 35 million years. We need these blooms to share their skincare routine!
ROSE ORIGINS
But where did the always stunning rose come from? Well, it's thought that roses were first grown for gardens in China, 5,000 years ago, and have made their way around the world since.
ROSE COLOUR MEANINGS
Each colour means something a little different and what you choose can depend upon who you're presenting a bouquet of these beautiful flowers to.
Red roses mean love and romance – perfect for date night or anniversary.
Pink roses are said to represent gratitude – give them as a thoughtful thank you gift.
Yellow roses symbolise friendship – they're perfect for a surprise bouquet for a friend.
White roses represent innocence and purity – this is why they were once a very popular choice for bridal roses.
FUN FACT ABOUT ROSES
A rose has been into space! Perfume makers wanted to see how gravity would affect a rose's scent and discovered that after it had travelled around the globe, it had a completely different smell once it landed back on earth. Upon its return, a fragrance was made that could be described as out of this world.

Lilies are considered to be pretty sombre flowers – typically used for funeral arrangements and sympathy bouquets – but we think they're beautiful enough to enjoy whatever the celebration!
LILY ORIGINS
Lilies have ties to many locations around the world but the first recorded picture of a lily was found in Crete and dates back to 1580BC! These stunning blooms now grow across North America, Europe and Asia.
LILY FLOWER COLOUR MEANINGS
Overall, lilies are said to represent fertility and rebirth but each colour says something a little different.
White lilies are believed to symbolise rebirth and purity – this is why they're usually featured in funeral flowers but are also popular for weddings.
Pink lilies represent femininity and adoration – perfect for gifting to a close friend or loved one.
Red lilies are said to mean love and passion – if you don't want to give roses, choose lilies instead!
Orange lilies are representations of confidence – give these to someone to give them a boost while going through an important life milestone.
Yellow lilies are believed to symbolise gratitude – if you need to say thank you but want to offer more than words, a bunch of yellow lilies should do it!
BE CAREFUL WITH CATS AND LILIES
Lily pollen is poisonous to kitties. This means if you receive some in a bouquet, you should remove the inner stamens to enjoy them in your home and reduce the risk of making your furry friend sick.
THE MEANING OF CHRYSANTHEMUMS

There's nothing basic about a chrysanthemum – these stunning blooms are the birth month flower for those born in November so they're pretty important around wintertime (and an easy gift to pick up if you forgot to wrap up something!)
You're likely to see these pom-pom inspired blooms in many a bouquet, to make them bigger and bolder, there are over 150 varieties of this stunning flower to choose from!
CHRYSANTHEMUM ORIGINS
It's believed that this flower originally grew in east Asian countries, including China and Japan. In fact, Chrysanthemum Day has supposedly been celebrated in Japan since 910AD!
CHRYSANTHEMUM FLOWER MEANINGS
Across the world, many cultures relate chrysanthemums to grief or death. In Italy, giving chrysanthemums means you wish the person wasn't alive – yikes!
However, many of us simply see them for what they are, bright and beautiful flowers, so we're not afraid to enjoy them in a bouquet or vase in our home.
FUN FACT ABOUT CHRYSANTHEMUMS
Did you know that flower's roots were used as a cure for headaches – who needs paracetamol? – its petals were eaten in salads and its leaves were turned into a celebratory drink? Delicious!
THE MEANING OF CARNATIONS
With a scientific name (roughly) translating to 'flower of love' it's no wonder carnations are a firm favourite for bouquets. These ruffled flowers were also believed to have been picked to feature in coronation ceremony crowns as their everyday name comes from the Greek word 'corone'. We see what they did there.
CARNATIONS ORIGIN
Carnations have been cultivated now for over 2,000 years and were enjoyed in ancient Greek and Roman times. You'll find wild carnations blooming now across the Mediterranean, in countries such as Greece, Italy and Spain.
CARNATION FLOWER COLOUR MEANINGS
Each shade of carnation carries with it a symbolic meaning. Let's take a closer look here:
Pink carnations are said to symbolise motherly love – the perfect choice for a Mother's Day bouquet then we'd say!
White carnations can represent good luck – drop a bunch of these flowers round to a friend prepping for a big interview or exam.
Light red carnations are for admiration and dark red – the preferred choice if you want to give flowers that offer your deepest love and affection. Maybe wait until after the first date.
FUN FACT ABOUT CARNATIONS
If you're sitting your exams at the prestigious Oxford University, it's tradition to wear a carnation. White carnations are worn for the first test, pink carnations for an intermediate test and a red carnation for a final test. And there's us just turning up to our exams in jeans and a t-shirt!

We know spring is finally underway when tulips start to spring up from the ground, with these stunning flowers featuring in standalone bouquets or added to other seasonal blooms.
TULIP ORIGINS
Tulips have stood the test of time since they were first grown way back in the 10th century and once were so popular in the 17th century they were worth more than gold!
TULIP FLOWER COLOUR MEANINGS
Each coloured tulip means something a little different when given to someone close to you. Here's a quick round-up.
Yellow tulips are thought to symbolise happiness – perfect for featuring in a vase at home to chase away those winter blues.
Red tulips are associated with love – another seasonal alternative to your classic rose.
Pink tulips are thought to represent caring and good wishes – ideal for a family member.
Purple tulips are thought to symbolise royalty – perhaps the perfect colour flower for the diva in your life?
White tulips are best reserved if you need to apologise – a bunch of these is a simple way of saying sorry.
FUN FACT ABOUT TULIPS
Tulips bloom for a short period – between three and seven days! So if you want to enjoy these beautiful flowers you'll need to be quick.
THE MEANING OF SUNFLOWERS

Standing tall along garden fences and in fields across the UK in late August, the ever bright and cheerful sunflower is a favourite as summer draws to a close. We also love them featured in vases as a standalone bunch of blooms, adding a little sunshine to any space.
SUNFLOWER ORIGINS
Sunflowers have been grown in North America for over 2,500 years where it was cultivated for its tasty seeds.
WHAT DO SUNFLOWERS MEAN?
Sunflowers are said to represent adoration and loyalty. However, for many of us, they're simply symbols of pure happiness and joy.
As young plants, they turn their faces towards the sun to soak up all that goodness then share that warmth with us when we take them home. Give them to someone who needs perking up or as a way of saying you wish someone well.
FUN FACT ABOUT SUNFLOWERS
These flowers can grow to impressive heights. The world record for the tallest sunflower was 30ft and 1 inch – that's longer than a London bus! Those we grew in school, competing against our classmates, simply don't compare.

Dahlias are a truly show-stopping bloom, blossoming in a range of wild and wonderful shapes and sizes. Celebrate a birthday with sphere-shaped pompon dahlias, that remind us of honeycomb garlands or opt for the intriguing cactus dahlia that has soft but spiky petals.
DAHLIA ORIGINS
Dahlias grow wild in the intense heat of Mexico and are the country's proud national flower. It's believed that the flower gets its name from a botanist, Anders Dahl, after his pal Antonio José Cavanilles named the bloom after him. How lovely!
DAHLIA COLOUR MEANINGS
Dahlias bloom in a range of beautiful colours from vivid orange to hot pink to deep dark burgundy that could be mistaken for black.
Red dahlias are symbols of power and strength – a great choice for someone you know who needs a confidence boost, plus a pep talk and perhaps a glass of wine.
White dahlias represent purity and innocence but are also said to help with focus – gift these to someone studying or working on a big project.
Pink dahlias are always pretty and are considered to represent femininity and kindness – your Mum, Grandma or sister will appreciate a blooming bunch of pink dahlias.
Blue dahlias are a striking choice and are said to represent change – the perfect flower for a housewarming bouquet then!
Burgundy (black) dahlia's are flowers that have the most negative meaning out of all the colours, as they are said to symbolise betrayal – Or they're just the perfect choice for a goth friend.
FUN FACT ABOUT DAHLIAS
Dahlias don't have petals, they're actually florets like those you enjoy on your broccoli! Although we don't recommend you serve them up with your Sunday roast.
FLOWERS THAT ARE BEST FOR BIRTHDAYS

When that annual celebration comes around, you want to choose happy flowers that celebrate life. With this in mind, here are a few suggestions for flowers to feature in that birthday bouquet:
Gerbera daisies – Available in a range of fun colours, gerbera daisies are an always cheerful choice to celebrate such a happy day.
Tulips – For those celebrating a birthday in spring, you can't go wrong with a bright bunch of tulips.
Sunflowers – Summer babies will always appreciate a bold bouquet of happy sunflowers.
THE BEST FLOWERS FOR AN ANNIVERSARY

Whether you're celebrating the day you said 'I do' or that milestone date when you went from single to in a relationship on Facebook, you can always say 'I love you' with a bouquet. Wondering which flowers are best for spreading the love? Here are a few to consider:
Rose – Almost half of those we surveyed chose the rose as their favoured flower to give to a loved one on an anniversary or other celebration. Can't go wrong with a classic! If you've been together for 15 years or 50 years, roses are the assigned flower to these milestones.
Carnation – Said to symbolise fascination, a lusty red bouquet of carnations should always go down well
Peonies – For anniversaries taking place between April and June, when peonies bloom, these flowers are an always beautiful and popular choice.
THE BEST FLOWERS TO SAY CONGRATULATIONS

If you're celebrating someone's success – maybe they've just passed an exam or landed a new job – say it with flowers. That hearty bunch of blooms will remind them of your pride whenever they look at them in their home. We feel all warm and fuzzy inside just thinking about it!
Sunflowers – You can't go wrong with a happy bunch of sunflowers, our survey discovered that over a quarter of people would choose a sunflower to say congratulations!
White roses – A little out there but white roses are typically associated with the chic divas of the world (the talented Mariah Carey, for example) so send these flowers to let them know they've made it!
Yellow chrysanthemums – Sunshine yellow chrysanthemums landing through their letterbox with words of praise are sure to brighten up their day.
THE BEST FLOWERS TO SAY SORRY WITH

Justin Bieber would ask 'is it too late now to say sorry?' but we say, with a bunch of flowers there's no deadline. Here are some to consider sending to let them know you're looking for forgiveness:
White tulips – These brilliant white blooms are a way of asking for forgiveness, they're beautiful without being showy but should still convince them that you care.
Daffodils – When saying 'I'm sorry' just isn't good enough many people we surveyed (19%) would choose daffodils out of six other flower types to express their regret. Of course, these are only available during the early spring months, so you may need to find an alternative if you need to apologise again later in the year!
Yellow roses – If you've argued with your closest friend, consider a bunch of yellow roses that are said to represent friendship and care.
Flowers speak a whole new language it seems but we hope this guide has helped when it comes to working out which blooms to send to convey a certain message. When words won't cut it, flowers are always there to do all the heavy lifting!