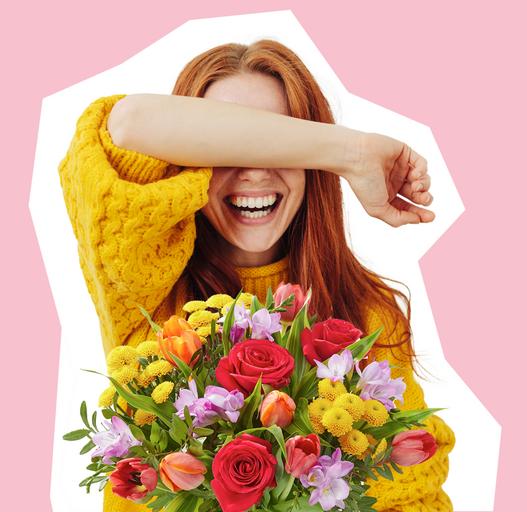 Mother's Day
Gift Baskets
1st December, 2023
1st December, 2023
Mother's Day is the perfect time to show your mum how much you appreciate everything she does for you. And what better way to show your admiration than with a beautiful Mother's Day gift basket?
This special day, also known as Mothering Sunday, has been celebrated since the 16th century. It originated as a religious celebration to give thanks to Virgin Mary and spread across the world in the wake of Christian teaching.
Traditional Mother's Day gifts included Mother's Day flowers and Simnel cake. These days, food is still a popular gift, with indulgent gifts and sweet being just one of many favoured presents, perfect for waking up mum on her special day.
Why not choose a decedent gift basket for your mum this Mother's Day, filled with all of her favourite things? From chocolate treats, a bottle of bubbly or even her favourite perfume, the opportunities to spoil the most important woman in your life are endless.

Gift a Mother's Day picnic hamper to a food-loving Mum. Show you care by hand selecting all her favourite sweet treats and savoury goodies and lovingly wrap them up in a hamper.
Start the day as you mean to go on with a Mother's Day breakfast hamper. Whether she's a continental gal or wants the full works, as long as you prepare all of her favourite breakfast foods it's sure to go down a treat. Why not go one step further and treat her to breakfast in bed with a Brilliant Brekkie hamper?
For outdoorsy types, why not plan an adventurous day out? Take to the hills and plan a family hike or explore your nearest woodlands. A long walk is the perfect way to spend Mother's Day. The only thing that could top it is – you guessed it – a Mother's Day picnic hamper.
Choose crackers, olives, and chutney for a sophisticated savoury dream or marshmallows, chocolates, and biscuits for mums with a sweet tooth. Or mix and match for a lady that just can't make her mind up – there are no rules when creating a DIY Mother's Day hamper. To make it even easier, you could opt for a carefully crafted Cheese Please hamper for a mother who's crackers about cheese or a Chocoholic gift bag for a true cacao lover.
For a quintessentially British gift, look no further than a Mother's Day afternoon tea hamper. Full to the brim with scones, cakes and crumpets with toppings of jams, cream and fruit – recreate the perfect afternoon tea at home.
HAMPERS FOR MUMS WITH A GREEN THUMB

For green-fingered mums, look no further than a lovingly created Mother's Day gardening hamper, packed with products to brighten up the back garden.
Whether they have an affinity with vegetable boxes, a particular penchant for roses or a wonderfully wild garden, there's no better gift than one that's perfectly matched to mum's hobbies. Not only is it a thoughtful way to show that you care and did listen to her landscaping plans, but it also means you've given her something she'll put to good use.
Choose her favourite seeds or bulbs, small tools or soil packets and lovingly craft a DIY Mother's Day hamper to help her spruce up the garden. Or, if she prefers house plants, fill her hamper with cute little succulents, crochet hanging plant holders and plant food to keep her plant babies happy and healthy.

Mother's Day is the perfect time to give your mum a chance to kick back and relax. Why not remind her that she is the most important person in the world on this special day.
Self-care is the most important gift we can give to ourselves – make it that little bit easier for mum to make time for herself with a selection of all her favourite beauty and wellbeing products.
Don't know where to start? It's simple. Think about the types of products that your mum likes to use as well as her favourite scents and fragrances. Then, start to build out your Mother's Day care package with pampering products. Consider rich shower creams, luxurious moisturisers and exotic bath salts; or sweet-smelling perfumes, organic hand creams and luxury make-up products. But did you know, flowers are also great for wellbeing? From lavender to 'mums, add some mood-boosting blooms to her basket.
It's no secret that mums deserve the world. Mother's Day is a time to truly celebrate her and treat her like the royalty she deserves. After you present your fabulous Mother's Day pamper hamper, pour her a glass of bubby and run her a warm bubble bath where she can use all of her new products from her extra special hamper.
PERSONALISED HAMPERS FOR MUM

You know your mum better than anyone. What does she truly love and cherish and what makes her the happiest she can be? There are no rules with Mother's Day gift baskets so go wild and create an assortment of all of her favourite things.
The best thing about a personalised hamper is that you can mix and match different gift ideas to create the ultimate hamper – tailored to everything your mum loves. From bath bombs and beauty products to her favourite flowers and foods – pop everything in a beautiful gift box and present it with love.
Take some inspiration from our Sweet and Savoury Basket of Joy and Gin O'clock Gift Crate and add your own creative extras. Or start from scratch and create your own Mother's Day hamper.
Treat your mum to one of our Mother's Day hamper gifts to show her just how much she means to you. From edible snacks, bottles of bubbly and majestic house plants, the choice is yours. Check out the full range of hampers and gifts to make her Mother's Day as special as she is.