Mother's Day Flowers
Mother's Day, Sunday 19th March 2023. Make Mum's day magic with one of our fabulous Mother's Day flower bouquets. Order now to guarantee delivery for Mothering Sunday.
All Mother's Day Flowers & Gifts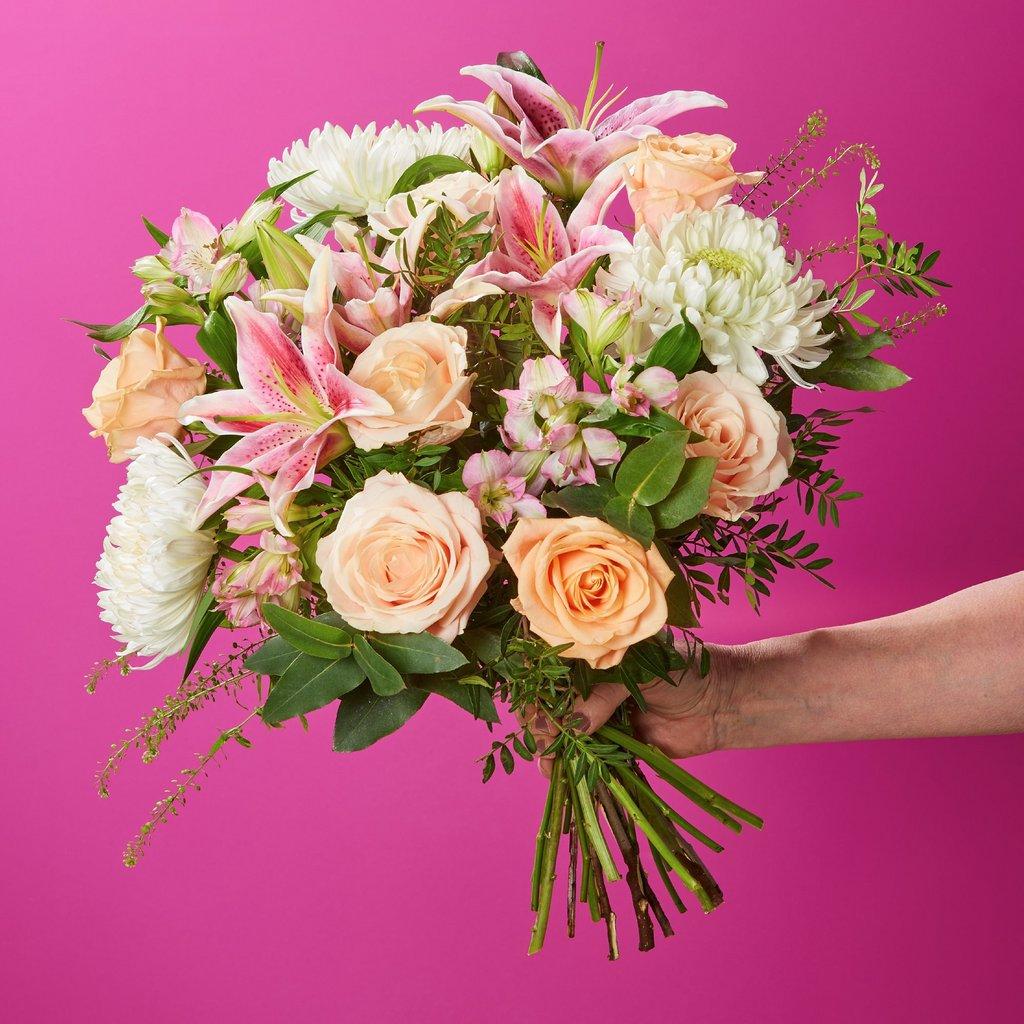 Mother's Day Flowers Delivered
Make them feel extra special with our Mother's Day flower bouquets, available for delivery 13th - 21st March 2023.
Order by 2pm on Saturday 18th March for guaranteed delivery for Mother's Day (£5 delivery charge)
Free delivery available for Monday 20th March
Send flowers for Mother's Day
Finding the perfect flowers for mum needn't be a chore. Not when you're shopping with us anyway! Our collection of Mother's Day flowers is packed with classics that we know mum will just love: think classic chrysanthemums, bright tulips and delicate roses. Better still? All our Mother's Day flower bouquets are guaranteed to bloom for 7 days or more, so you're really making her week not her day! Ready to make Mum smile?
Our Mother's Day flower delivery
She deserves a very special Mothering Sunday so we've made this year's Mother's Day collection our prettiest yet; we have bouquets in every colour, from bright and bold to flowers in softer tones.
Why not order your Mother's Day flowers for delivery on Friday 17th March 2023 so she can enjoy them all weekend long? Simply pick a bouquet she'll adore and relax while we take care of your Mother's Day flower delivery. Easy! All of our Mother's Day flowers by post are carefully packaged to arrive fresh and beautiful on her doorstep.
If you're looking for cheap Mother's Day flowers delivered, our Sweet Mother's Day Love Letterbox has been voted the best affordable bouquet. As well as free delivery across our whole Mother's Day range and up to 50% extra free flowers, treat Mum to a whole bunch more this Mother's Day.
Or to make mum smile every month, treat her to one of our monthly flower subscriptions where you can brighten her day all year round.
What are the best Mother's Day flowers?
Whatever type of mum she is, we have all types of flowers to suit. We've selected the best of the bunch, the icing on the cake, the cherry on the top (you get the idea); from bold and colourful spring stems, such as tulips and daffodils, to delicate pastel roses and fluffy chrysanthemums, choose some of the top Mother's Day flowers to send.
We don't think you can go wrong with sunshine yellow flowers, they're guaranteed to brighten her day. From scented yellow freesias, to bold sunflowers and yellow tulips, each stem is its own drop of sunshine. Paired perfectly with purple flowers, such as iris and alstroemeria, our Mother's Day flower bouquets will make mum feel extra special. If you're looking for more traditional Mother's Day flowers we have pink flowers perfect for mum, from elegant lilies, to pastel pink roses and joyful germini.
Need some more ideas? To help you pick the best Mother's Day flowers to send, here is a round-up of our favourite Mother's Day flowers.
Say 'Happy Mother's Day'
How do you tell mum just how bloomin' brilliant she really is? You've got the flowers or the gift sorted, now for the card message. Whether you want to keep it short and sweet or fill the page with heartfelt quotes, we're here to help with our bumper list of Mother's Day messages perfect for a Mother's Day card.
Mother's Day Inspiration
Mother's Day Flowers Delivered
This year, Mother's Day is on Sunday 19th March 2023.
For an extra special Mother's Day gift, we offer a range of little extras to make mum smile. From tasty treats of biscuits and chocolates, to lovely Mother's Day cards to write a heartfelt Mother's Day message, we've got all you need to really make her day.
Need some more Mother's Day gift inspiration? Whether you're getting the kids involved to craft something as unique as she is, or you've left it until last minute, we've rounded up the best DIY gifts for mum. Why not fill a gift basket full of her favourite things? Whether she's a chocolate fiend or you want to create a pamper hamper, we've got you covered with our guide to creating the perfect Mother's Day gift basket.
How to care for Mother's Day flowers
You've been spoilt with a bouquet bursting with your favourite flowers. But how do you make them last long after Mother's Day? Read our guide on how to keep your flowers fresh so they can continue to add some spring sunshine to your home. If you want your flowers to last for more Mother's Day's to come, read our guide on how to preserve your flowers for a long-lasting mum-ento (see what we did there?).
Why choose us to send your Mother's Day flowers?
We've been delivering smiles and happiness in the form of flower bouquets for over 40 years - that's over 12 million beautiful bunches arriving on doorsteps around the UK. Not only do we have fresh flowers from £25, we give you a lot of little extras for free - from extra stems to free chocolates - so you can get a whole bunch more for your money. The best bit? We're rated excellent on Trustpilot so you can be sure that your Mother's Day flowers are in good hands.