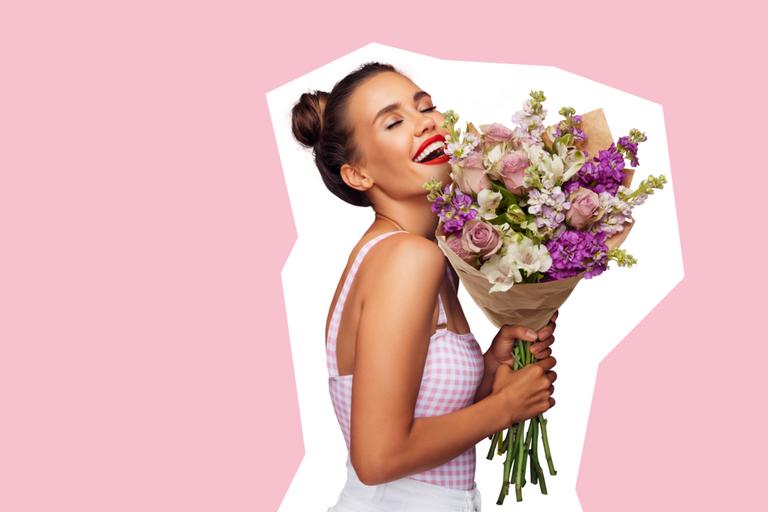 Ways to Recycle
Old Bouquets
18th November, 2022
18th November, 2022
If you don't have the heart to throw away a special bouquet, consider preserving their beauty - and your memories - by transforming them into something new. There are plenty of ways you can recycle flowers, from transforming them into eye catching dried bouquets, to creating potpourri or using them in decorations, such as wreaths. We've rounded up our favourite ways to recycle your old bouquets so your smile can last even once the fresh flowers have past.
Are you ready to get your crafting hat on?
Dried Flowers Bouquet
One of the most simple ways of recycling your fresh flower bouquet is to dry them. From air drying to drying flowers in a microwave (yes, that's a thing!), elevate your home décor with a dried flower bouquet. Select your favourite stems from the bouquet (just make sure the flowers haven't fully bloomed), leave them to dry and then pop them in a vase

Pressed flowers
Pressing flowers is a wonderful way to repurpose wilting blooms, and once you've tried it we guarantee you'll be a forever fan of this vintage technique.
How to press flowers
To get the best results, you'll just need a few heavy books and some parchment paper. Arrange your chosen flowers between two sheets of parchment paper and sandwich this between the pages of a heavy book. Place a heavy object on top of your book if the pages ping open once closed. After 10 - 15 days, you'll have a waif-thin flower that can be used in craft projects or framed.
Tip: Avoid using kitchen roll or other textured paper during the pressing process as the pattern may transfer onto delicate or small flowers.

Homemade potpourri
Potpourri is a sweet-smelling bowl of dried petals which diffuse a subtle scent into the room. Fragrant flowers such as roses, lavender and geraniums work well in potpourri and can be mixed with your favourite essential oils to create a heavenly scent. To make potpourri at home, first, remove the petals from your flowers and leave them to dry in a warm cupboard or cabinet. Once dry, mix them together with dried citrus fruit, spices, fragrant woods and a few drops of essential oil. Add pine cones and other decorative objects to create an aromatic display that can be easily updated by using seasonal leaves, nuts and seed pods to give your potpourri a festive or summery feeling as appropriate.
Create your own scented potpourri
To ensure your potpourri is beautifully scented, dry them in an area which is free from strong smells - that means the kitchen is out! Roses are the traditional option and can be paired with other naturally scented blooms such as jasmine flowers and lavender flowers, or you can go a little more exotic and create a scent blend from shavings of trees found in your garden.
Tip: All those bright coloured petals can be appealing to children and pets alike, so be careful to place yours out of reach from little hands and wagging tails! Some potpourris also contain elements which are toxic, so take care when you're preparing your display.

Dried flower cards
Is there anything more special than being able to repurpose your birthday flowers into gifts for other loved ones? Pass on your flowers with love by making bespoke thank you cards, invitations and notes to your nearest and dearest. Card making is an activity the whole family can get involved in and only requires glue, card and your chosen flowers.
Craft a truly unique floral card using pressed flowers, and if you're feeling really creative, you could turn it into a 3D-effect or add a delicate scent. We love the option of pairing blooms with dried foliage at Christmas, or by colour-matching your card and envelope for a statement birthday card. Make sure you use a heavy cardstock - 250gsm and above is best, to avoid the flowers warping the card - and a glue that dries clear to make the most of your design.
Tip: If you're a perfectionist, grab a pair of tweezers to help you place small petals in just the right spot!
Rosewater face mist
Roses have long been hailed for their beautifying power, so why not harness this with your very own face elixir? Make use of your old roses by plucking off the petals and using them in a rosewater face mist. Soothing on the skin, simply spritz on during the morning and evening to benefit from the rose petals calming and anti-inflammatory properties, or make up a batch and gift to your nearest and dearest.
How to make your own rosewater face mist
To make rosewater, first, wash your petals to ensure they're clean, then add to a large pot and cover with distilled water. Make sure you just pop enough in to cover the petals and no more, or you'll dilute the mix!
Then, simmer over a low heat for 20-30 minutes or until your petals have lost their colour and are beginning to break apart. Remove from the heat and strain into a glass jar before leaving to cool and covering. It's that easy!
Tip: Store your rose water face mist in the fridge for an extra refreshing experience. It's ideal for when you're travelling too: simply decant into a small travel-size spray bottle for a fresh face on the move.

Dried flower crowns
Create your very own flower crown with old flowers. Dried flower crowns outlive fresh ones and can be re-used for festivals, weddings and summer soirees making them a beautiful, cost-effective accessory. They're also perfect for adapting into a wreath once you've enjoyed wearing them, or if you're careful they can be picked apart and remade into cards like we've described above.
For an easier way to achieve a flower crown look, reuse an old headband and dry out your dead flowers using our guide. Once dry, glue on petals, leaves and buds to create a unique, boho-inspired flower crown.
Make your flower crown as you unique as you are
The best flower crowns follow one of two styles: abundant with flowers or woven into greens, and it's down to which flowers you choose which style will look best. We like pairing large rose blooms with smaller dried flowers such as lavender stalks or dried gypsum, but if you have a lot of large blooms it's best to ensure you keep them evenly spaced to avoid your crown looking uneven.
For bands with more emphasis on greenery, white flowers give a beautiful contrast and are perfect for a bridal look.
Tip: Using a glue gun gives you a precise, stead-fast way to attach dried flowers to your headband.

Wreath making with dried flowers
Do you have a wedding bouquet or a beautiful bunch of flowers to celebrate the birth of a newborn? As they begin to wilt, consider transforming them into a wreath. An effective way to showcase your most treasured sprays, a wreath can incorporate a variety of different flowers and will outlast a fresh one. There are several methods of wreath making, but a wire frame is essential for creating a symmetrical design, and to make it easier to shape you should consider a pair of wire cutters and a pair of long tweezers!
How to craft a dried flower wreath
Materials such as raffia, straw and dried ferns will fill out a sparse spray, with large bows, pine cones and string pearls adding a touch of character. To avoid a Christmassy look (unless that's what you're going for) keep your ratio of flowers to greens high and avoid using evergreens in your design.
Tip: Add dried fruit and cinnamon sticks onto your wreath so it releases a delicate scent when hung. Dried scented flowers with just a drop of essential oil also bring out a beautiful fragrance.