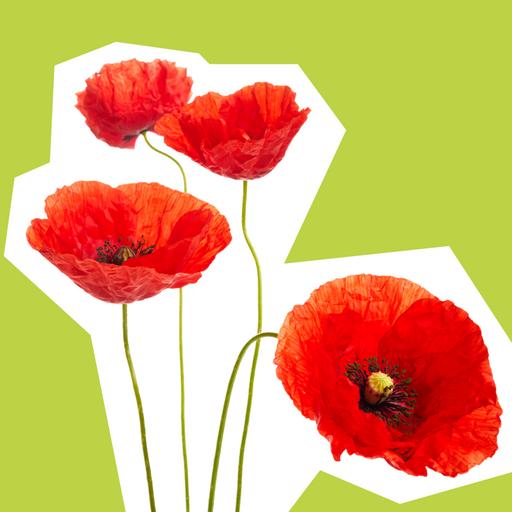 You can never underestimate the importance of flowers in our lives. They're perfect for brightening our day or bringing a smile of happiness to someone's face. But your favourite blooms can also hold huge significance, whether it's representing different emotions or symbolising big events.
That's certainly true with the gorgeous poppy. For over 100 years, a paper poppy or poppy pin adorned to clothing has been a long-standing symbol for remembering all those who have fought to protect our country. If you fancy getting involved with Remembrance Day this year, we've got some great suggestions for your very own poppy crafts.
Poppies for Remembrance Day
Every year the Royal British Legion distribute a staggering 40 million poppies. These flowers are much more than honouring our armed forces; the money raised is crucial for supporting current serving members, veterans and their families.
So, why was the poppy chosen? This all came about shortly after the first world war. During the relentless fighting, the countryside turned to fields of mud and very little could grow. When the war eventually stopped, one of the first flowers that appeared was the valiant poppy. Very quickly the fields of mud became covered in a sea of red poppies. The sight inspired a Canadian doctor, Lieutenant Colonel John McCrae, to write the well-known poem 'In Flanders Field'.
Inspired by the poem, a campaign was started by the American War Secretary, Moina Michael, to get the poppy adopted as a way of remembering all those who had fallen in the war. Eventually, it found its way to Britain where Earl Haig, the founder of The Royal British Legion, was persuaded to adopt the poppy as their emblem. The first poppies were sold on 11th November 1921 with donations from the sales going directly towards helping the Armed Forces community. The rest, as we say, is history.

How to make poppy crafts
If you're involved in a Remembrance Day service this year, you might want to consider making your own poppies. You could even craft some poppies and sell them to friends and family, with the donations going the Royal British Legion.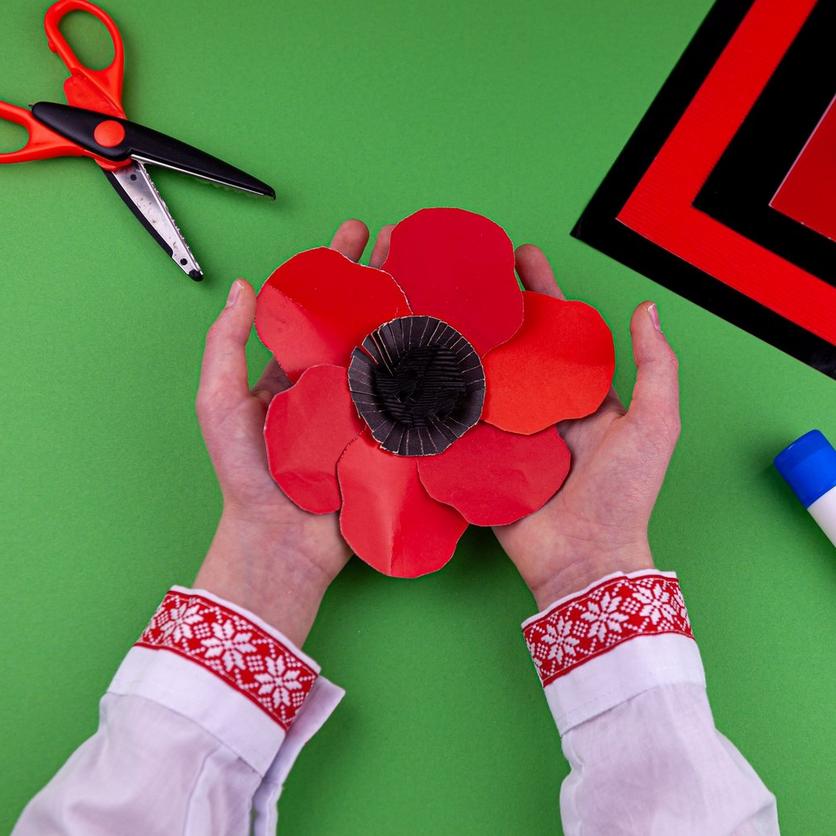 Paper poppies
There are endless things you can do with a poppy made from paper. Pin them on your coat or scatter them over your table for a remembrance meal decoration. Create some large ones and stick them on your wall to create a backdrop, and you could even add some fairy lights to make them twinkle. Or simply place some in a bowl next to a vase of the real things. Whatever you choose to do with paper poppies, here are our instructions on how to make paper poppies.
What you'll need
Red thick paper or card
Black thick paper or card
Yellow thick paper or card
Glue
Scissors
Green paper or card, or a green pipe cleaner (optional)
Steps to make paper poppies
Start by cutting out eight petal shapes from the red paper/card. You're aiming to create a tear-drop shape, but you could also try experimenting with a scalloped edge on the top part. Cut away the point at the bottom to create a flat edge.
On the bottom of each petal, cut one slit in the middle of the edge. Apply glue on one side of the slit and overlap the two parts. Press firmly together. This will help your poppy petal to curve up. Gently tease the petal to curve inwards.
Repeat step 2 to create the petals.
Cut out a red circle and apply some glue to the edge of the circle. Stick on four of the petals at equal distances. Position them slightly away from the centre.
When dry, add some more glue to the centre and attach the other four petals making sure they are placed over the gaps in the circle.
Now cut out two black circles and one yellow circle. The black circles need to be about twice as big as the yellow circle. Cut thin slits all around the edge of each shape.
Glue one of the black circles to the centre of the poppy petals and gently ruffle the cuts.
Once dry, glue the yellow circle to the centre of the black circle.
Take the last black circle and gently scrunch the cut slits into the centre. Glue on top of the yellow circle.
Create a stem with the green paper or card by cutting out a square and twisting it into a rope shape, then attach each poppy. You could even add some leaves. If you want something more sturdy you could also use a green pipe cleaner.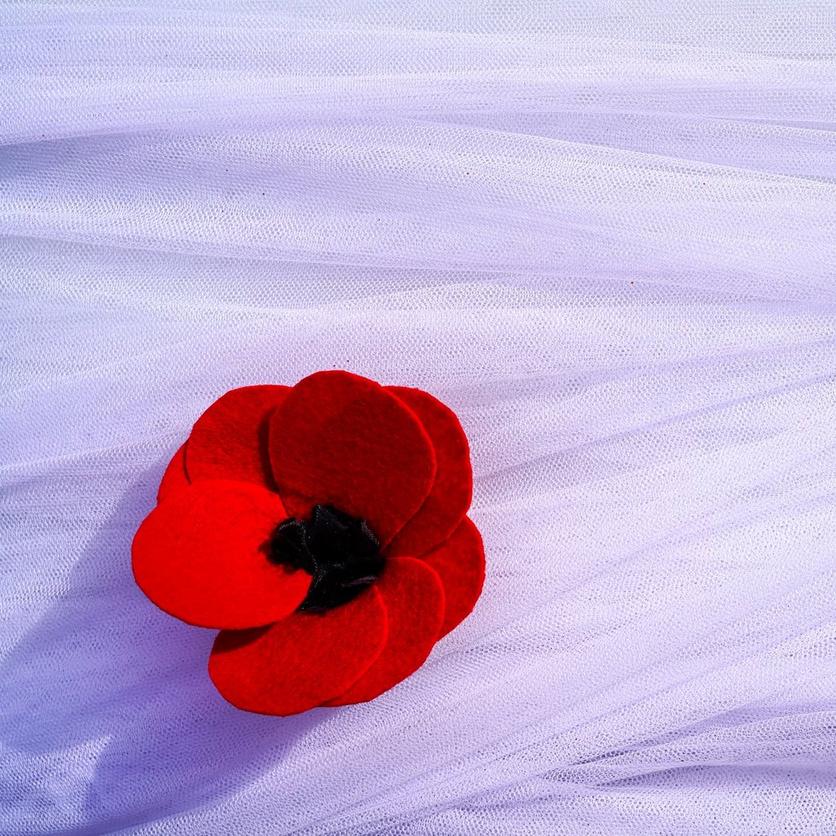 Felt poppies
Felt poppies are incredibly easy to make and are perfect for turning into a brooch, a decoration for your hair, or to attach onto a hat. You could even make a lot of them and transform them into a felt poppy wreath. Have fun playing around with the size of your poppies, but remember not to go too big or the felt could end up flopping about and not holding the flower shape. Here is our guide on how to make felt poppies.
What you'll need
Red felt
Black felt
Green felt
Scissors
Red and black thread and needle
Glue
Button or beads
A brooch pin or hair comb or slide
Steps to make felt poppies
Start by cutting out four red circles.
Fold each circle in half and then in half again. You'll need to sew a couple of stitches into the bottom point to hold the shape together.
Place all four of the petals together with the central points meeting in the middle to create a circle. Now fix the petals together. Start with two of the petals and sew about four stitches up the straight edge, starting at the point. Do the same for the other two petals before finally joining up the circle.
Cut a black circle that will fit over the central point. Take your scissors and cuts little snips around the edge. Fix in place.
Give your felt poppy a bit of character with some decoration. What you choose is completely up to you. Go with a black button to keep it authentic or play around with something a bit more decorative. Either sew or glue decorations into place depending on what you have chosen.
Cut out your two leaf shapes from the green felt. Flip your poppy shape over and either sew or glue on the leaves making sure they slightly overlap.
Finish by sewing or gluing a small green circle of felt over the centre and then fix on your brooch pin or hair fastening.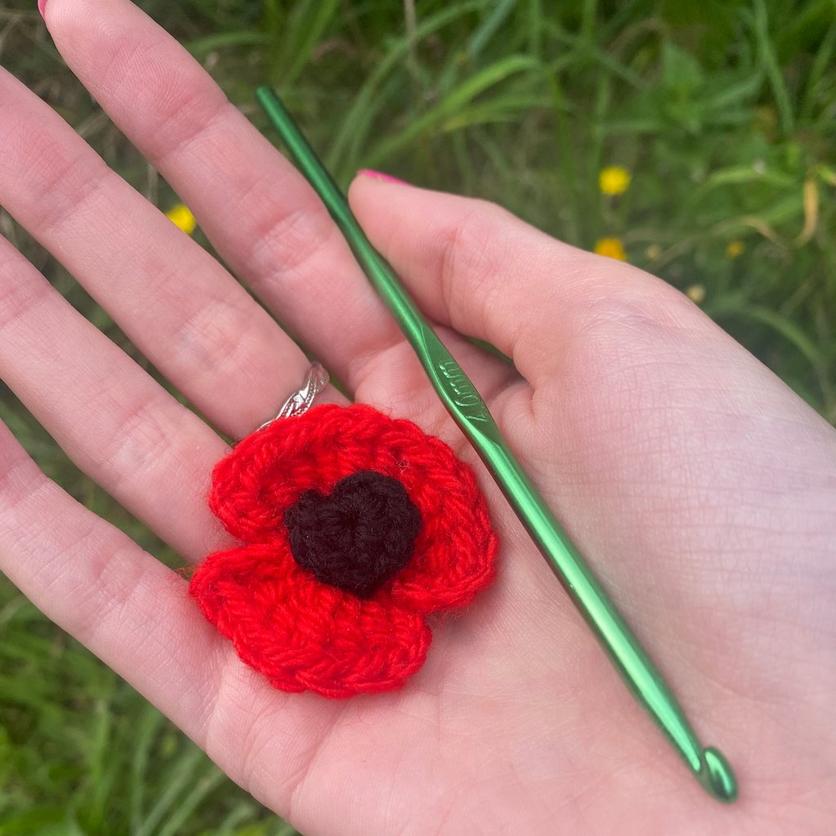 Crochet poppies
For something a little bit different, consider creating a crochet poppy. They're incredibly quick and easy to make and, just like the felt versions, look gorgeous as a brooch or decoration for your hair.
What you'll need
Red yarn (any weight)
Black yarn (any weight)
Crochet hook in the size your yarn calls for
Scissors
Sewing needle
Steps to make crochet poppies
This pattern uses UK crochet terms.
Start by making a magic ring with your red yarn, alternatively you can chain 4 and slip stitch into a ring. Whichever works best for you!
To create the first petal, chain 4 and make 10 double treble stitches into your ring, then chain 4 again and slip stitch into your ring. That's the big petal all made!
Then for the smaller petal, chain 4 again and make 6 double treble stitches into the ring. After that chain 4 again and slip stitch into your ring to finish off the smaller petal. Now cut your yarn and fasten off. Make sure you leave a long tail if you want to sew your poppy onto something.
At this stage you've made both petals, if you started with a magic ring, make sure to pull that closed and you'll see the shape come together!
Now for the centre of the poppy. With your black yarn, make another magic ring (or chain 4 and slip stitch into a ring).
To make that perfect centre, make 10 double stitches into your ring, then slip stitch to the first one you created so you've got a little circle of stitches. Now tighten your magic ring (if you started with one), cut your yarn and fasten off, leaving a long tail for attaching to the petals.
Now to put your pieces together! Using the long tail of your centre piece, sew this onto the petals in the middle, then fasten off and weave in your ends or attach it to anything you fancy!
Poppy cake designs
No occasion is complete without a cake. Whether you're baking a big centrepiece or simply looking for an abundance of cupcakes, finish the cake with handmade edible poppies.
What you'll need
Red fondant icing
Rolling pin
Cutter
Knife
Black fondant icing
Green fondant (optional)
Paintbrush
Edible glitter (optional)
Steps to make edible poppies
Start by rolling out your red fondant. You're aiming to make this quite thin so that you can tease the petals into a raised shape that will sit above the surface of the cake.
Cut out your shapes. You can either use a cutter that is shaped like a flower or a teardrop (you'll need to cut the point off the bottom). Or you can go freestyle and create your own poppy petal design with a frilled edge.
Create a ruffled look by gently teasing the petals into a curved shape, you can do this with your fingers or a cocktail stick. You can also use a cocktail stick to gently create some lines along the petals.
If adding some leaves, cut these out of the green fondant and use the cocktail stick to create the leaf detail.
Now create your poppy. If using leaves, start by placing a couple of these onto the prepared surface of your cake. Start to layer up the petals to form a circle shape, slightly overlapping to give the appearance of a full flower. Gently tease the petals into the desired shape. You can stick everything into place by placing a small amount of water.
Roll out a small amount of black fondant. Cut out a circle and then cut some small slits around the edge. Raise up the edges to give a ruffled look. You could create a few of these to give a fuller look. Stick into the centre using water.
Just remember, don't decorate your cake with real poppies. Despite the extract from a poppy being used in medicine, it's a job left to the experts because, in the wrong form, it can be poisonous to humans.

We hope you have fun making your poppy crafts!