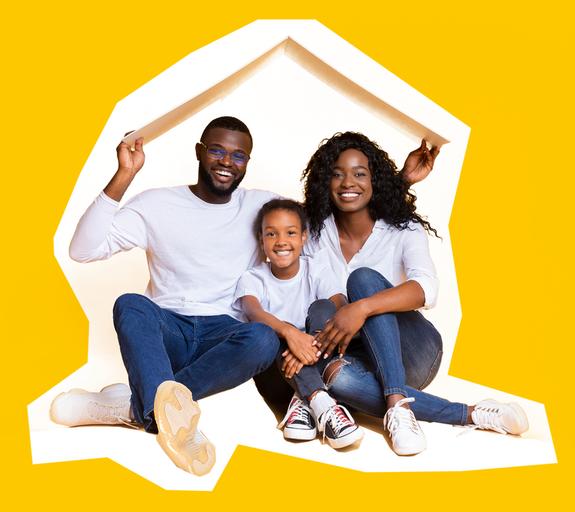 35 NEW HOME
MESSAGES & Quotes
WHAT TO WRITE IN A NEW HOME CARD
Perfect new home messages, wishes and quotes
The boxes are all packed and the keys are in their hands. It's time to welcome them to their new home! With that comes a whole host of new adventures, like deciding what colour to paint the bedroom or which tiles would look best in the kitchen. So of course you want to help them celebrate by sending them a beautiful new home gift along with a card filled with warm wishes.
But, don't worry if you're no good with words because we've got you covered. Check out our list of heat-warming, funny and inspiring new home messages & quotes to get you started (or finished).
HEART-FELT NEW HOME MESSAGES

Moving into a new home can be stressful, so why not send them some love and let them know it will all be worth it in the end.
Here's to you and your brand new home. We hope you are very happy there!
A new home means new beginnings. Super happy for you.
Look at you and your shiny new house - congrats!
We know moving home is stressful but once you're in just remember, it's all yours now
We're so proud of how far you've come. A new home is just what you deserve.
You've worked hard for this now go and enjoy your new house
We're so happy you've finally moved into your new home. Wishing you all the happiness and peace that it brings.
Congratulations on your new house. Now, go and turn it into a happy home full of love and laughter.
Welcome to your new home. May it be everything you need and more.
Your first house won't necessarily be your only house, but it will hold a special place in your heart forever. Sending you all the warmest wishes.
SIMPLE AND SHORT MESSAGES

You don't need a lot of words to say what you mean. Sometimes a simple and short new home message will do the trick.
Congratulations on your new happy home!
Here's to all the "firsts" in your new home
Home sweet home. Wishing you the best in it.
Congrats on the lovely house - here's hoping for lovely neighbours.
It's official, you're now a grown-up
Well done for successfully adulting and buying a house!
You made it into your new home! All the best
We're so proud of you. Congrats on the new place.
FUNNY NEW HOME MESSAGES

A new home is a prime time to have a little fun. So, why not celebrate with a little laughter and maybe a cheeky joke or two.
Welcome to your new pile of bricks - it's much better than the old one!
Yay! You've got a mortgage and a life full of debt ahead but here's a card to make you feel better.
Can't wait to visit your new home. Please send the Wifi password in advance.
Congrats on the new house. When's the free food house-warming party?
Sorry I can't help unpack but I'd love to come round to eat free food and use your Wifi
Your new home is lovely. When can I move in?
Congratulations on the new house, now you can walk around naked. Just don't forget to close the blinds first.
Here's hoping your neighbours like you as much as we do
Welcome to the mortgage club - it's not as fun as it sounds
When can I come visit? I want to check out your new toilet.
NEW HOME QUOTES

When our own words just won't do, we turn to those who know a little more than us. Not our parents, but celebs and famous people who seem to always have a quote or two up their sleeves.
"Home is where one starts from" - T.S Elliot
"There's no place like home" - L. Frank Baum
"Home is not a place...it's a feeling" - Unknown
"Home is a shelter from storms - all sorts of storms" - William J. Bennett
"Have nothing in your house that you do not know to be useful, or believe to be beautiful." - William Morris
"Home is the nicest word there is" - Laura Ingalls Wilder
"Perhaps home is not a place but simply an irrevocable condition." - James Baldwin