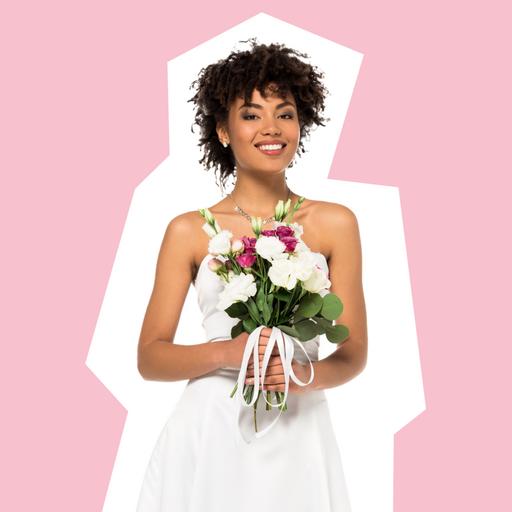 What to write
in a wedding card
Getting married is an amazing time in someone's life and finding the right words to say congratulations is an important part of the experience. Whether you're a family member, a close friend or a work mate, it's nice to write a special message for them to cherish for years to come.
So, if you find yourself wondering what to write in a wedding card, get inspired with some of our favourite wedding congratulations messages for the happy newlyweds in your life.
WEDDING CONGRATULATIONS MESSAGES

It's a big deal when someone you care about ties the knot. First and foremost, your wedding wishes should include a congratulations on their marriage – that's the easy bit. Then, depending on how close you are to the newlyweds, why not add a personal flourish with a sweet anecdote? If you were lucky enough to attend the wedding, you may also want to say thank you for inviting you share their special day with them.
Above all, you will want to make your message personal and full of warmth. To get you started, explore some of our favourite wedding day wishes to send in a card or gift below.
Congratulations to the both of you!
Wishing you congratulations on your wedding day
Best wishes to you both
Huge congrats to the happy couple!
Wishing you many years of lifelong happiness
Thank you for sharing your beautiful wedding day with us, it was a day to remember!
Thanks so much for letting us celebrate your happy day with you
Congratulations to the [surname]s!
SEND CONGRATULATION FLOWERS

Wedding wishes are a great way to show you care. If the special couple also happens to be the sentimental type, they may even save their wedding cards as a memory of their big day. So, it's your chance to make them smile, chuckle or even well up with a tear or two after they celebrate one of the happiest days of their lives. Here are a few short wedding quotes to consider:
Congratulations on getting married! So happy for you both
Looking forward to even more happy times in years to come
Cheers to the happy couple!
Here's to many more years of love and joy
Best and warmest wishes to the happiest couple I know – may your years together be full of special memories
Cheers to the start of a magical life together
Congratulations! You two make the most beautiful couple
Wishing you a lifetime of happiness, love and good fortune together
WHAT TO WRITE IN A WEDDING CARD TO A FRIEND

There are few things more exciting than one of your friends getting married – except, perhaps, your own wedding. Whether you are part of their special day or sending them wishes from far away, here are a few ways to say you're happy for them:
Cheers to love and friendship! Congratulations to you both
To the best couple around, congratulations on your special day!
Time to pop the champagne, you finally got hitched! Congrats to you both
Congratulations! May the adventure begin!
To two of my closest friends, wishing you both a lifetime of laughter and happiness
Congratulations on finally tying the knot! Thanks so much for sharing your happy day with us
You two are perfect together
Congratulations on your wedding! May all your dreams come true
I've never seen a more perfect couple than the two of you
We're so happy for the two of you
We can't wait to see what's in store for you both
All the best to my favourite couple, may the years be full of love and laughter
WHAT TO WRITE IN A WEDDING CARD FOR FAMILY

Family weddings are heaps of fun, often with just the right amount of chaos. When the time comes for your son, daughter, sibling or brand-new in-laws to say their vows, send your love with a little note to say congratulations.
Congratulations you two, we're absolutely delighted for you both
Love, hugs and celebrations from your new family
Looking forward to years of making more happy memories
So thankful you found each other – you're a match made in heaven
Lots of love to you both, always and forever
Here's to a long and happy marriage together!
Sending lots of love and best wishes to you on your wedding
Here's to the rest of your lives together, we couldn't be happier for you
Heartfelt congratulations to the happy couple
Hope your day was as special as you dreamt it would be!
We're over the moon for you both! Congratulations on your marriage
It's so good to see you so happy. Sending you all the love in the world
To two of the most special people in our lives, congratulations on your wedding
Congratulations! We're as happy as we are proud
WHAT TO WRITE IN A WEDDING CARD FOR A COLLEAGUE

It's exciting news when someone at work gets married. Perhaps you managed to bag an invite to the big day. Or maybe it's time to pass the card around to send best wishes from everyone. Make them feel special with your heartfelt wedding wishes from the office.
Congratulations to you both on your very special day
Congrats! We're all so happy for you
Thank you for inviting me to share this special day with your family and loved ones
Congratulations! Best of luck to the two of you
Congratulations on your happy nuptials!
Thank you for sharing such a wonderful day with us, congratulations to you both!
Congratulations to you! Hope you have a wonderful honeymoon
Wishing you a lifetime of joy
Knowing what to write in a wedding card can take some thinking. Sometimes all you need is a little inspiration to get the ball rolling. Whether you're sending a special card to say congrats, surprising them with a bunch of personalised celebration flowers or gifting them a new house plant, write your wedding congratulations messages from the heart.