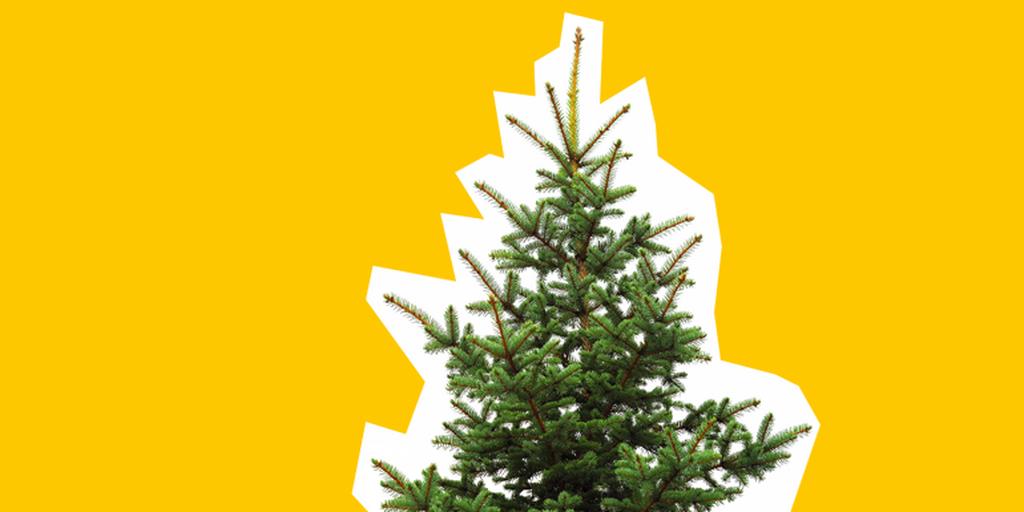 DIY Christmas
Tree Topper Ideas
8th December, 2020
8th December, 2020
The crowning glory. The final piece. The Christmas tree topper!
Maybe you're the one who places that important decoration on top (you don't trust anyone else to do it neatly) or you're diplomatic and take it in turns each year (and then you fix it later).
Whatever the case, tree toppers are typically family heirlooms that are passed down from generation to generation.
However, if you're thinking about starting your own tradition - or just fancy a change - we have some great DIY tree topper ideas just for you.

But first... A quick history of the Christmas tree topper
The tradition of placing a topper on your Christmas tree actually dates way back to the Victorian age. This was also the era of lighting real candles on your Christmas tree. Wild (and dangerous) times.
You probably wouldn't think it but Queen Victoria, in particular, was quite the trendsetter.
The newspapers published a picture of Queen Victoria and her family gathered around their Christmas tree, which just so happened to be topped with an angel.
The masses went wild, decided they needed to have their own and the tree topper has reigned supreme ever since.

What type of Christmas tree toppers are the most popular?
Angels are an always popular choice but you'll find that there are several other types of tree toppers including glittering stars, round and jolly Father Christmas himself, glassy snowmen and oversized bows.
There are so many creative designs out there but there's perhaps nothing more special than one you've made yourself. And with that, we're going to take a look at some of the best tree topper DIYs that you and your family can take on.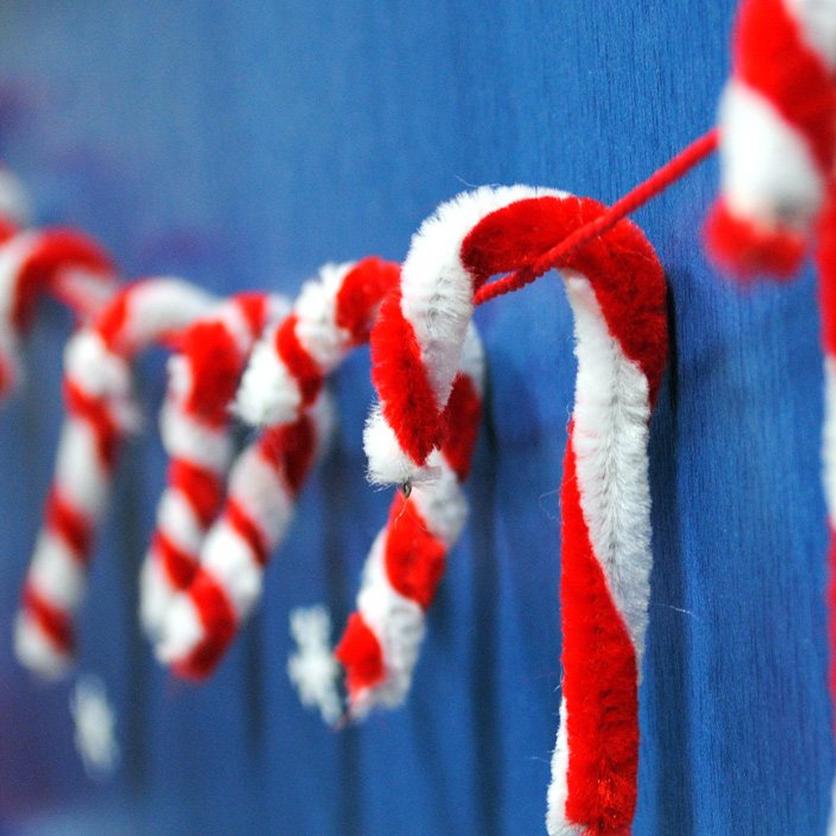 PIPE CLEANER CREATIONS
This Christmas craft is really simple - even little ones (and maybe teenagers) will want to get involved. Here's how to do it yourself in just two steps. Told you this was going to be easy!
You will need:
Pipe cleaners - in at least one or two colours
Thread
Follow these steps:
Choose some colourful or glittery pipe cleaners in colours that match your tree's theme - red, silver and gold are always festive favourites.
Next bend the pipe cleaners into a festive design such as a large candy cane - or you could be really fancy and spell out a Christmassy word, such as 'joy'!
Of course, you aren't limited to the word 'joy'. You could make a tree topper that spells out the family name or even everyone's initials. There may be some trial and error involved but what's Christmas without a couple of frustrating moments with family?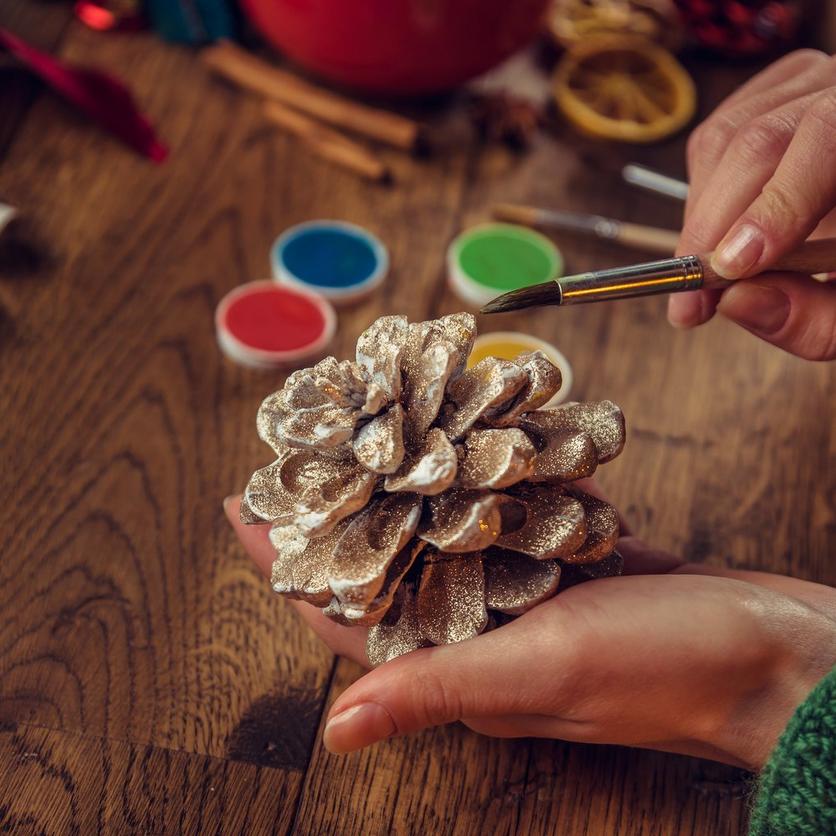 PRETTY IN PINE CONE
Pine cones are a popular choice for decorating Christmas dinner tables and some artificial trees even feature them on the ends of their branches. Pine cones are said to have ties to the mystical 'evil eye' - spooky! - and can protect those who keep them close by from bad luck. Another great reason to feature one on your Christmas tree. We were inspired by this great DIY tutorial on the Wonderful DIY website, but here's how to make a pine cone tree topper for yourself.
You will need:
5 large pinecones
A drill with a small drill bit
Thick craft wire
Glitter in a colour of your choice - we're going for gold PVA glue
Follow these steps:
Apply the glitter and glue to the edges of the pine cones – then leave to dry.
Take three equal length pieces of craft wire and bend these around one another in the centre to make a star shape. You should now (hopefully) have five points.
Grab your drill and make a hole through each of the pine cones – this should span from bottom to top.
Push each pine cone onto each of five wire points.
Bend any wire left at the end to hold the pine cone on but leave one a little longer and make a hook with this. You can use it to hang it on the tree!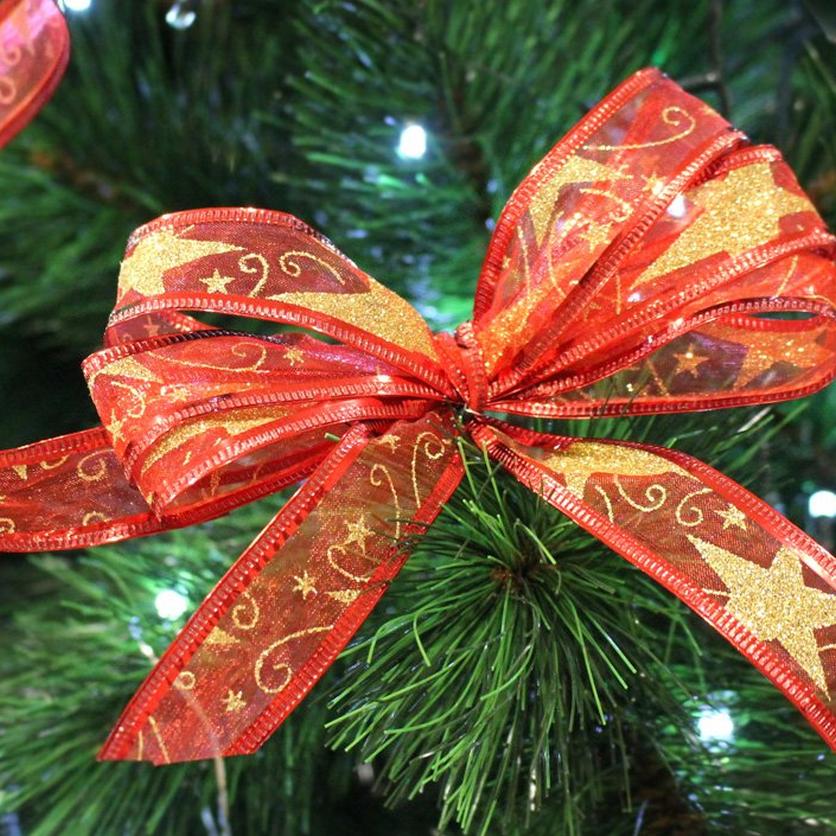 TIED TOGETHER WITH A BOW
An always elegant but super simple bow has become a pretty popular style of tree topper in recent years. This is such a cute little decoration that can be made really easily at home and you have so much choice when it comes to ribbon designs and materials.
You will need:
Thick wired ribbon - that's it!
Follow these steps:
Take the thick wired ribbon and make a loop (the size will depend on your tree).
Add a second loop to make a figure of eight.
You will then need to secure the middle of the bow. This can be done either by tying the loops together (like you would your shoelaces) or securing it with glue.
Take the hanging pieces of ribbon and wrap this around the top of the tree before pulling it round to the front. Leave it loose for an elegant finish.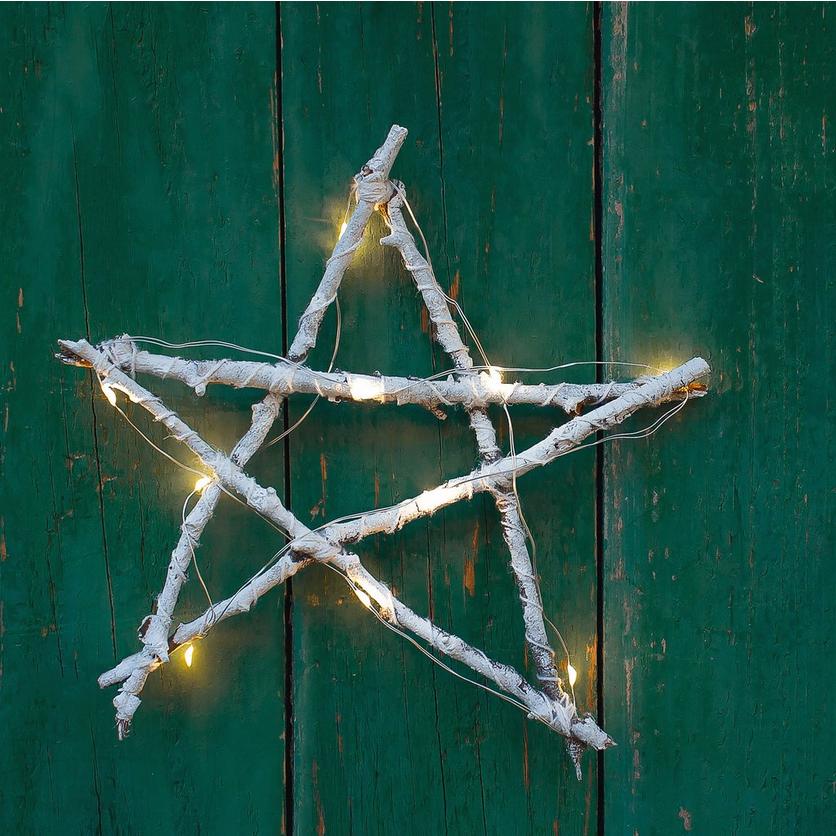 A RUSTIC STAR TREE TOPPER
A rustic star adds a modern flair to a traditional tree-topper. Plus, all you need are some twigs and glue - it's that simple! This is a great festive craft to make as a family. You can all go out to gather the materials on a winter's day walk then come back home to complete your creation. Here's how to make your own starry DIY tree topper, step by step.
You will need:
Sticks and twigs
Cardboard
Scissors
Hot glue gun or strong glue
Paint
Follow these steps:
Gather and clean your twigs. Pick up a good variety of sizes and lengths - they don't need to be the same colour. Clean them with soapy water and leave to dry thoroughly before making your star.
Draw out a star shape and cut this from your sheet of cardboard.
Snip your twigs to match the lengths of the cardboard star's edges and glue them along the outline. A hot glue gun will make this much easier but it can also be done with strong glue.
Use the other twigs to fill in the star. They don't need to be really neat, but ideally, you want to make sure no card can be seen underneath.
Leave your twigs au natural. Or paint them in a colour that matches your decor.
Consider adding a finishing touch with some battery-powered fairy lights. Glue these around the edge and secure the battery pack to the back of the star.
Glue some wire to the back of your star. This is so you can secure it to the top of the tree!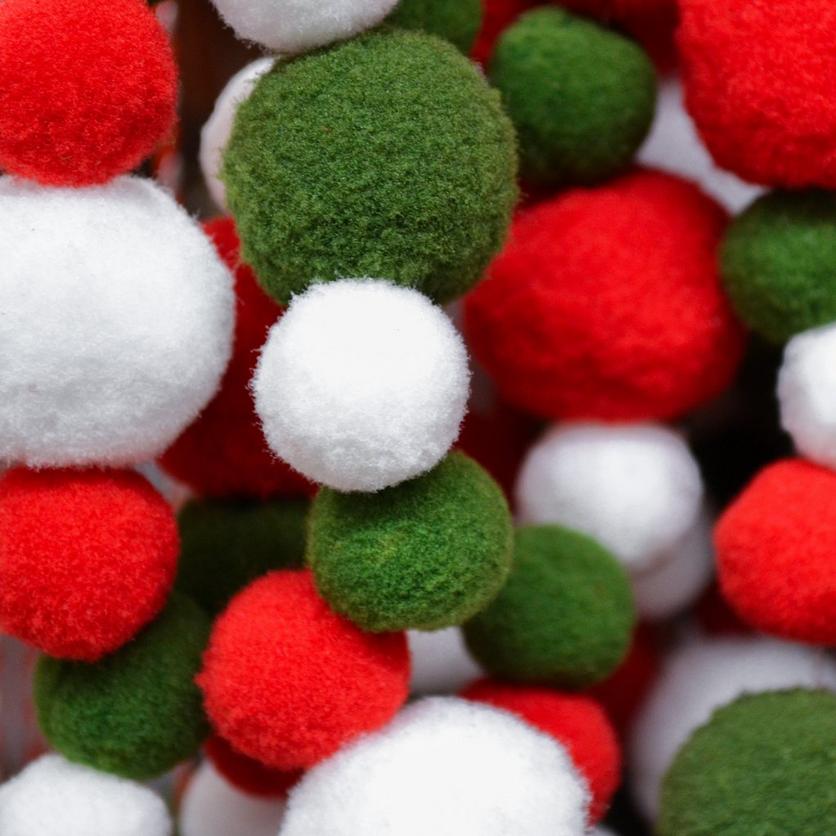 POM POM FUN
A pom-pom tree topper looks super cute perched on top and is really quick and easy to make. It's a simple but modern take on the traditional tree topper and you can get really creative with the final shape.
You will need:
Pom-poms
Thick craft wire
Pliers
Follow these steps:
Simply grab some craft wire and bend this into your preferred shape using pliers or your hands. A star is one of the simpler options, but you can get even more creative by designing a snowman or bauble or even a mini version of your own tree.
Once you have the design, thread your pom-poms onto the wire. Make sure they are sitting snug next to each other, but not too squashed that they lose their roundness.
You can use all of the same colours or opt for a vibrant multicolour finish. If your design is a little more obscure, stick with the colour it should be. For example, if you choose a snowman, keep the outline white.
Don't cut the wire too close to the end of the design. Leave enough on the bottom to wrap around the top of the tree. Easy!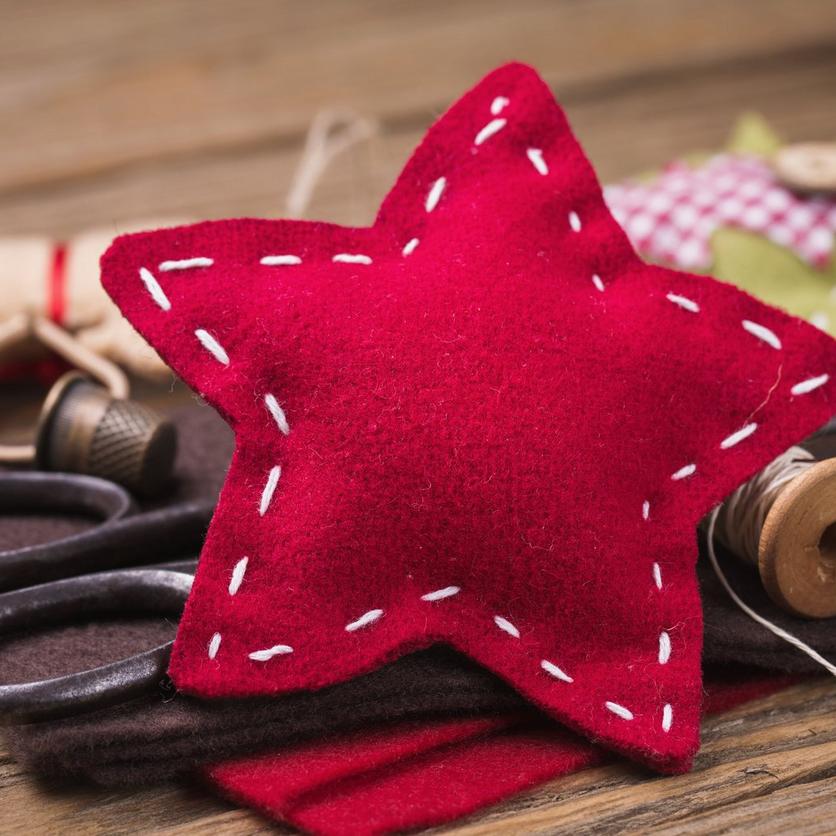 FESTIVE WITH FELT
Whether you're a sewing pro or want to introduce your little one to their first sewing project, a felt star is a great craft to take on at Christmas and will stand the test of time, making it a special decoration that can be enjoyed by all the family.
You will need:
Felt
A needle
Thread
Craft stuffing
Follow these steps:
Choose felt in your favourite colour. Ensure you have enough to cut two symmetrical star shapes.
Once you've cut your star, sew all of the edges. But leave the bottom open.
The opening is there for you to push some stuffing in. You want to fill so the star holds its shape and then sew it closed.
Finish by either pushing craft wire through the felt to attach the star to the tree, or you can sew a little felt loop to the back to place over the top of the tree.
You're not limited to using felt for this idea, go wild with a range of other fabrics.
Create a luxe, soft to the touch velvet star or have fun with sequined material. You can also leave your finished craft plain or embellish it with cute decorations, such as buttons and lace.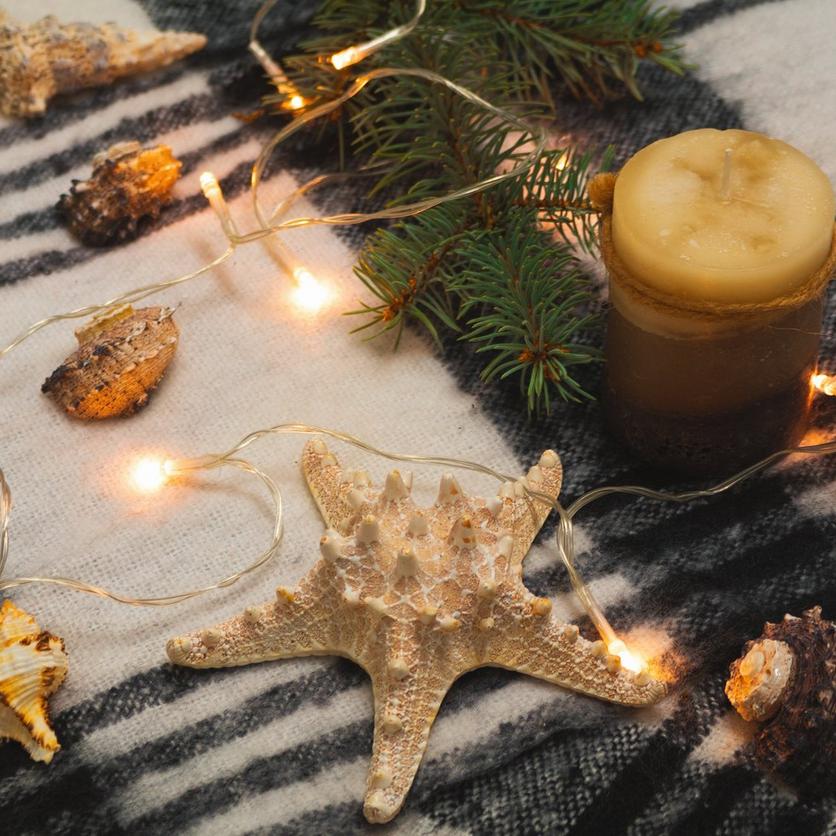 STARRY SHELLS
Do you live by the sea? Or simply love to spend time by the coast? Then introduce a beach-inspired tree topper to your festive traditions. Use shells to decorate a ready-made Christmas topper, in a star shape, to create a rustic and one of a kind decoration that can be enjoyed forevermore.
You will need:
Shells
Hot glue gun or strong glue
A star-shaped tree topper
Follow these steps:
Collect shells when you next visit the beach. Choosing these yourself or as a family will make the final craft all the more special.
Wash them thoroughly in soapy water. Then leave them to dry.
Take your hot glue gun or strong glue and start to cover the tree topper with shells. Fill in all the gaps, have fun with shapes and sizes and overlay shells on top of others.
Leave to cool and dry. Then enjoy!
We hope you have fun getting crafty with one of these DIY ideas. And if you want to add some more colour and festive joy to your home, check out our great range of Christmas bouquets today!