Christmas Flowers
This year we're all about real Christmas joy - proper beaming, bursting-out-with-carols joy. From traditional Christmas flowers to showstopping festive bouquets, we have the merriest Christmas collection yet. Order your Christmas flower bouquets today for guaranteed Christmas delivery.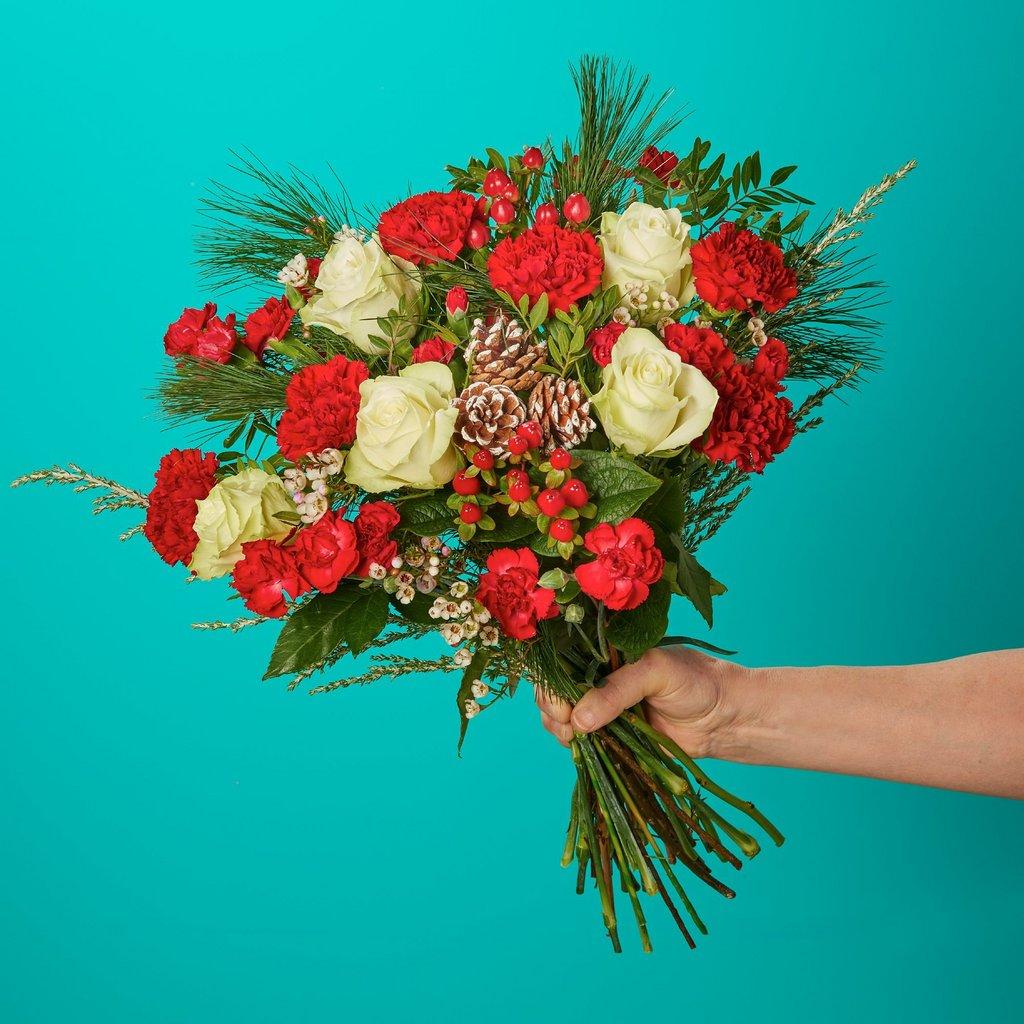 Next day delivery on our Christmas flowers by post
Available for delivery from Tuesday 5th December - Sunday 24th December 2023. With FREE* delivery across the UK, we're here to make it the happiest Christmas yet.
*Order by Friday 22nd for free next day delivery.
Send very merry Christmas flowers
From carnations as red as Rudolph's nose, to seasonal tulips, snowy chrysanthemums and warming orange flowers – our 2023 Christmas flowers collection is bursting with seasonal favourites. Send them gorgeous glad tidings with a festive Christmas bouquet. To add joy to your day, all of our Christmas flowers come with FREE next day delivery across the UK.
Christmas Inspiration
Send Flowers For Christmas
Next day Christmas flower delivery
All of our Christmas flowers come with FREE next day delivery across the UK. Our Christmas flower bouquets are available for delivery until Christmas Eve, Sunday 24th December 2023.
When is the last delivery date for Christmas?
More of a last minute Christmas shopper? You can order our Christmas flowers up to 23rd December 2023 and they'll be delivered on Christmas Eve (£6 delivery charge will apply).
Place your order by 2pm on Saturday 23rd December 2023 for your flowers to arrive before Christmas. Missed the last delivery date? Don't worry, you can still spoil them to one of our Christmas flower subscriptions.
How will my Christmas flowers be delivered?
All of our Christmas flowers are sent by post, delivered by our trusted delivery partner (sadly isn't Santa in his sleigh). If you want to guarantee that they arrive on the day you choose, you can upgrade to 'Guaranteed AM Delivery' at the checkout.
Our Christmas flowers are carefully packed in our bright and beautiful boxes so they're ready to wow from the moment they arrive, whether landing on the doorstep or through the letterbox. Give them the TLC they need and they're guaranteed to bloom until the New Year.
What can I send with my Christmas Flowers?
If you're looking to make your Christmas gift extra special, you can send lots of little lovely extras with your Christmas bouquets including indulgent chocolates, adorable soft toys and elegant vases. To add a personal touch to your Christmas flower delivery, all of our bouquets arrive with a message card. Need some inspiration for Christmas messages? We've got you covered. Here's our list of merry Christmas wishes to get you started.
How to care for your Christmas bouquets
Our Christmas flower bouquets come with a 7 day freshness guarantee, so you can be sure that they'll stay fabulously fresh for the festive period. Don't worry if they look a little tired on arrival, just trim their stems (at a 45 degree angle), remove any extra foliage and pop them in some fresh water with the accompanying flower food and they'll perk up in no time. If you want to know more about how to keep your Christmas flowers fresh for longer, take a look at our handy flower care guide.
Which are the most popular flowers for Christmas?
That's a tough question but we think poinsettia is perhaps the most iconic Christmas flower. Although technically a Christmas plant, it really isn't Christmas without a festive red poinsettia. For another traditional Christmas flower, you can't go wrong with the classic carnation. The amaryllis is a close third in our list, with its vibrant red petals adding a dramatic flourish to any Chirstmas decor. Dare to be different? Although commonly thought of as a spring flower, we love a red tulip appearing in our Christmas bouquet.
Whether you're opting for a traditional winter wonderland or a vibrant colour sheme for this year's Christmas decor, we've rounded up our favourite Chirstmas flowers and plants that are guranteed to add a touch of festive joy any home.
Looking for more Christmas gift inspiration?