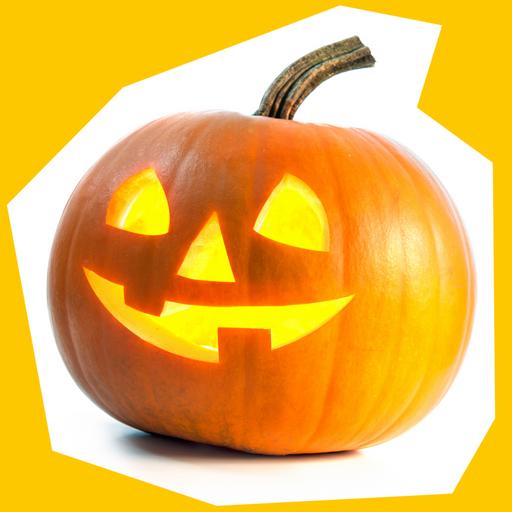 DIY Halloween
Decorations
10th December, 2023
10th December, 2023
What's not to love about Halloween. It's that perfect time of year where you have an excuse to be silly, dress up in scary costumes, go trick or treating, and even play tricks on friends and family (boo!). Popularity for this autumn event is growing and it is estimated that almost 50% of us Brits joined in with the festivities last year.
Walk down most streets in the UK and you'll see windows and front doors ablaze with an orange splash of Halloween embellishments.
If you're struggling to come up with ideas on how to decorate your home this year, then let us inspire yooooooooouuu (we promise, no tricks, this will be a real treat)!!
Outdoor Halloween Decorations
With lots of trick and treaters stopping at your door it's time to show everyone you're ready for Halloween, and going bigger and bolder is most definitely better. Let your imagination run wild and create an impressively spooky and scary display. It doesn't need to be expensive either, there are plenty of effective, yet simple ideas you can make yourself.
Of course, when going trick or treating it's going to be dark, so make sure you add some lighting to your outdoor space. For safety reasons its best to avoid real candles, but you can easily make some very effective lights using an old jar and either fairy lights or battery operated tealights. Cut out some cobwebs from black paper and place them inside the jar to create some spooky shadows for a statement entrance. Alternatively, buy yourself some orange fairy lights and attach them to the front of your house, mix in fake cobwebs everywhere and you're ready to go.
Pumpkins
Let's be honest it wouldn't even be Halloween without our friend the pumpkin. You've got the pick of the patch so can easily find yourself a range of different sized and coloured versions. Invite your friends and family over to carve your pumpkin Halloween decorations - you could even have a competition for the best design. When you're done, simply pop in a tealight (real or battery will work) and then group them outside your front door to create a spookily magnificent display!
If you're not so good with the carving you could always paint the outside of your pumpkin. Choose something simple like a selection of different pattens or create an array of spooky faces. If you're a dab hand with the brush why not create a Halloween scene that goes round the pumpkin.
Just remember the unspoken rule – if you have a pumpkin outside your home then you're ready to welcome visitors – make sure you've got the treats ready! Don't say we didn't warn you.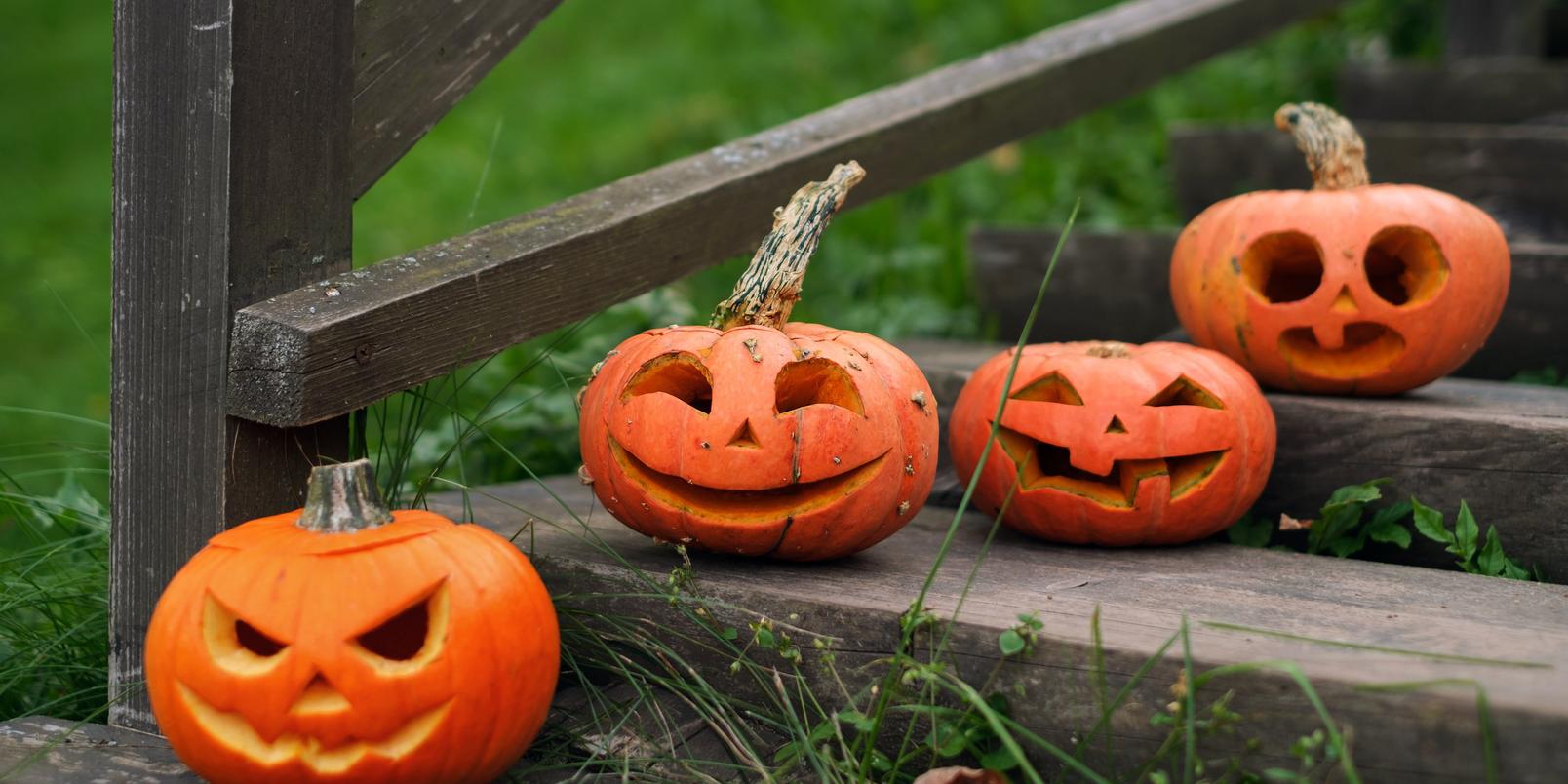 Pumpkin Vase
If you've not seen them before, a pumpkin vase is a really fun and natural way to create some Halloween decorations (they are also a great way to display your favourite autumn flowers).
All you need to do is find yourself a pumpkin big enough to support the blooms you want to display. Now, like you do when carving your pumpkin, cut out the lid and scoop out the innards - it is also worthwhile rinsing out the pumpkin with water and drying properly before moving on. Then find yourself a jar or glass or floral foam that will sit comfortably inside the pumpkin fill with water and place inside the cavity.
Now you're ready for the flowers. This is where you can get creative and choose a mixture of your favourite blooms. For a truly natural look why not go with autumnal notes of red and orange blooms such as chrysanthemum, roses and alstroemeria and mix in with greenery, twigs and textured foliage.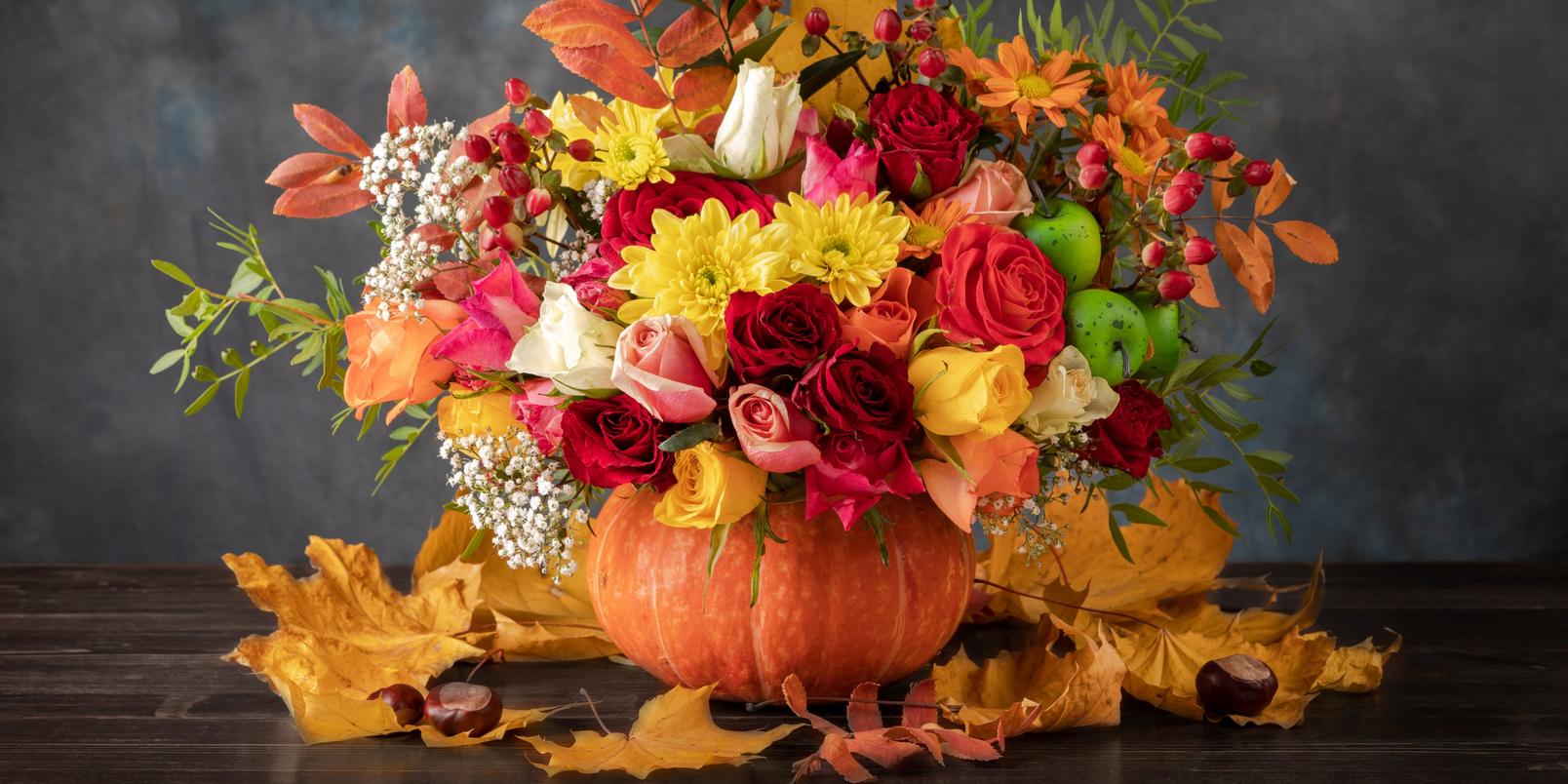 Autumn Wreath
A wreath on your door shouldn't only be about Christmas, why not be the envy of your neighbours and create one in time for Halloween? You need to think about the autumn colours for this one by mixing up some gorgeous reds, yellows and oranges offset with a subtle amount of green and brown.
Choose a selection of some of the best flowers available in autumn such as dahlias and scabiosa. Don't be afraid to mix in some dried flowers as well – especially ones from a summer bouquet - it's the perfect way to add subtle colour changes and texture. Finish it off with some twigs, dried leaves that have fallen off the tress and pine cones.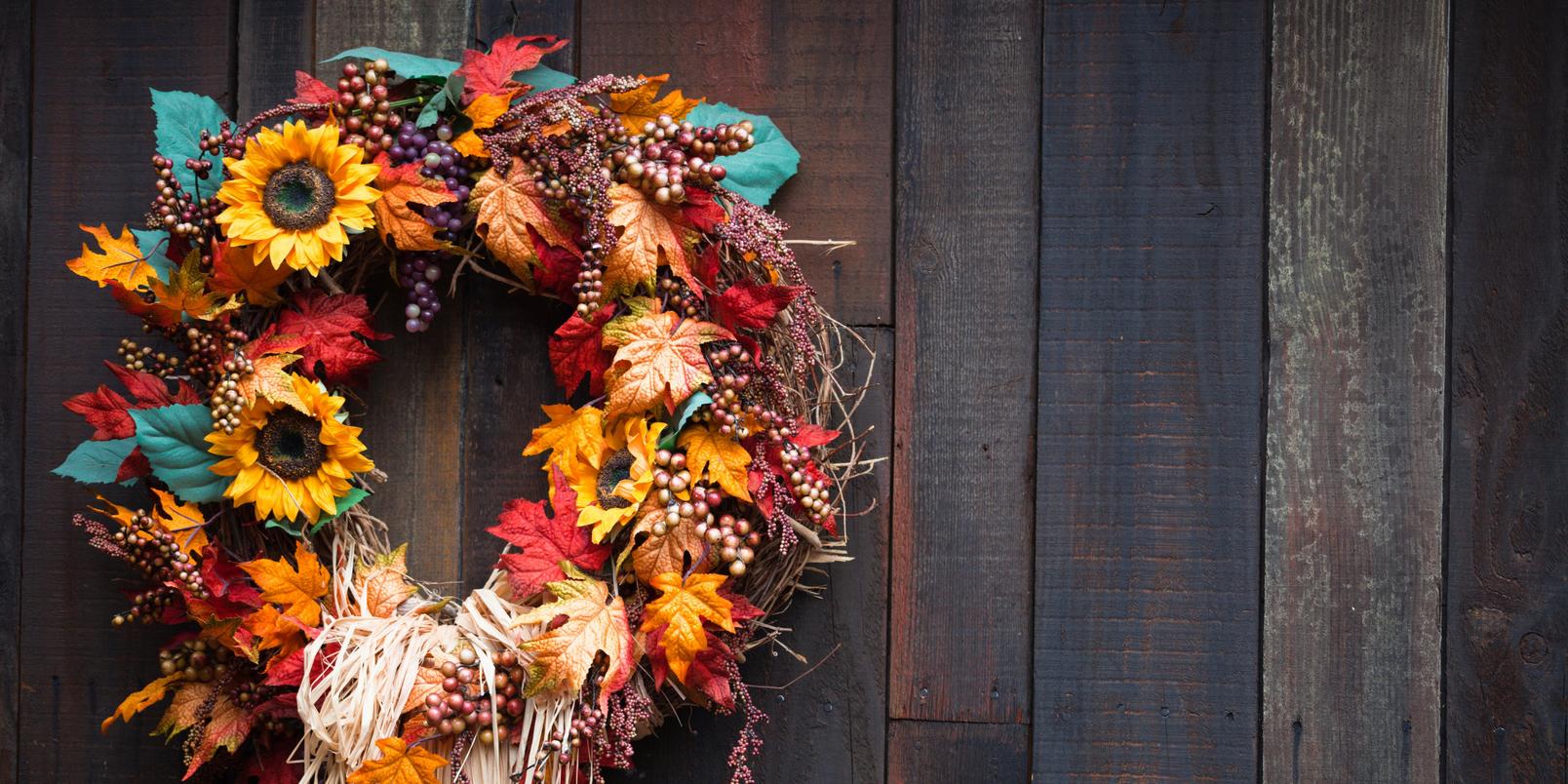 Floating Ghosts
Floating ghosts look really effective and are the perfect DIY Halloween decoration. All you need is some old white fabric or sheets that you no longer need (the lighter the material the better as it will really blow in the wind).
First you need to create a head shape and there are several ways to do this. You can either buy a Styrofoam ball, go back to your school days and create a papier mâché head or even fill a spare bit of fabric with some remnants and then fix in place with an elastic band. The choice is yours.
Once you have your head you will need to drape over a white sheet and fix into place with some glue (use one that is suitable for fabric) so that it doesn't blow off in the wind. Next, paint on a ghostly face using paint or fabric pens. Finally attach some string – make sure you have enough to support its weight – and hang it from the porch. You could also add some crepe paper drapes or fairy lights for a really spooky vibe!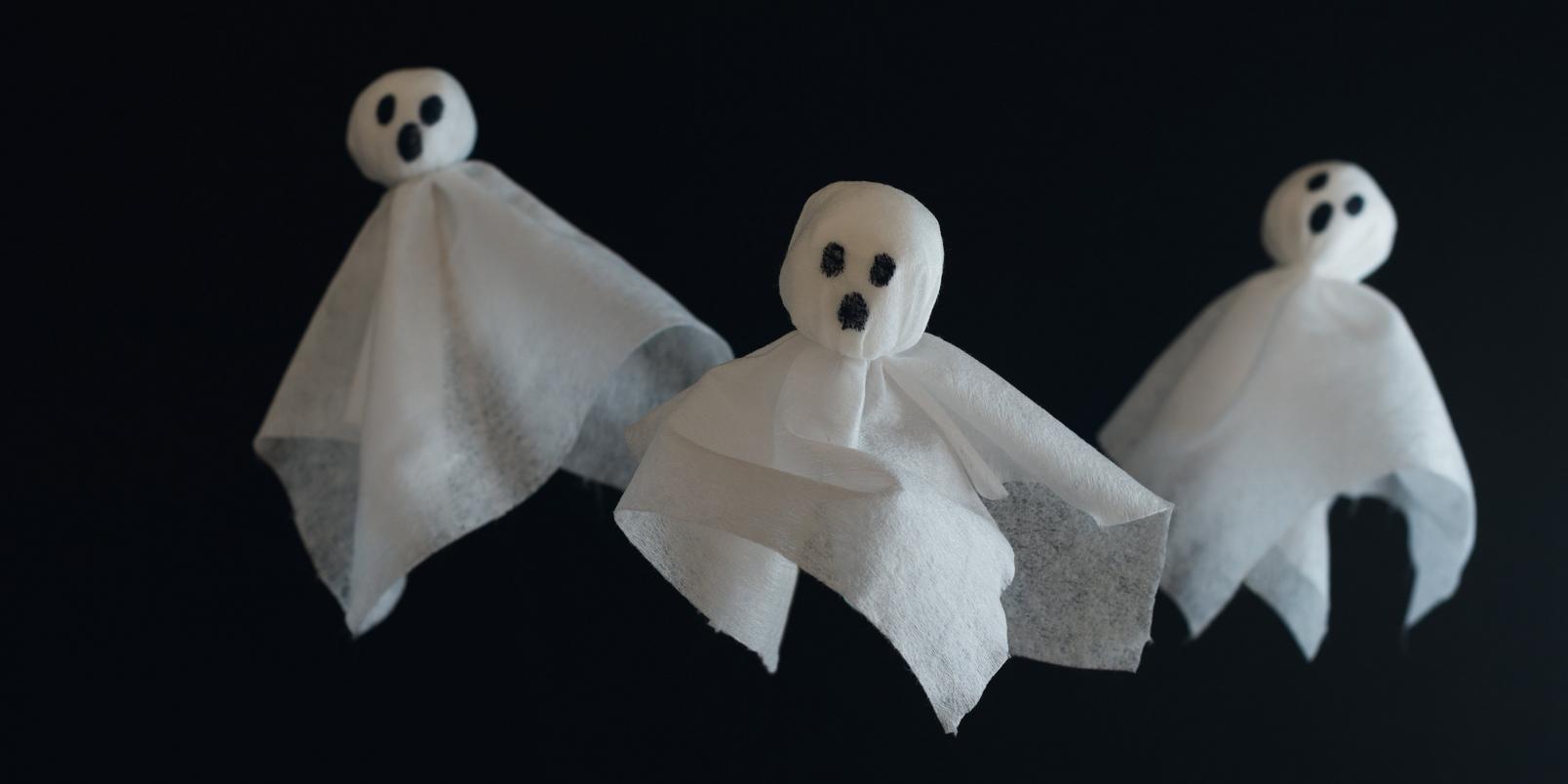 Halloween Window Decorations
When guests arrive at your house, one of the first things they'll see are your windows, so why not go all out and give them the spooky treatment. Go with haunted house vibes and stick to the window panes a spooky scene of flying skeletons and ghosts - you can either buy these or have a go at making some out of paper. Finish it off with some fake spiders hanging down. Just make sure you have subtle lighting shining inside so that everyone can see them.
Another idea could be to create the look of an old, abandoned house. Get lots of fake cobwebs and hang them across the window and then gently light them up with some carefully placed fairy lights. You could even create some large spiders that fill most of the window. Who would dare enter!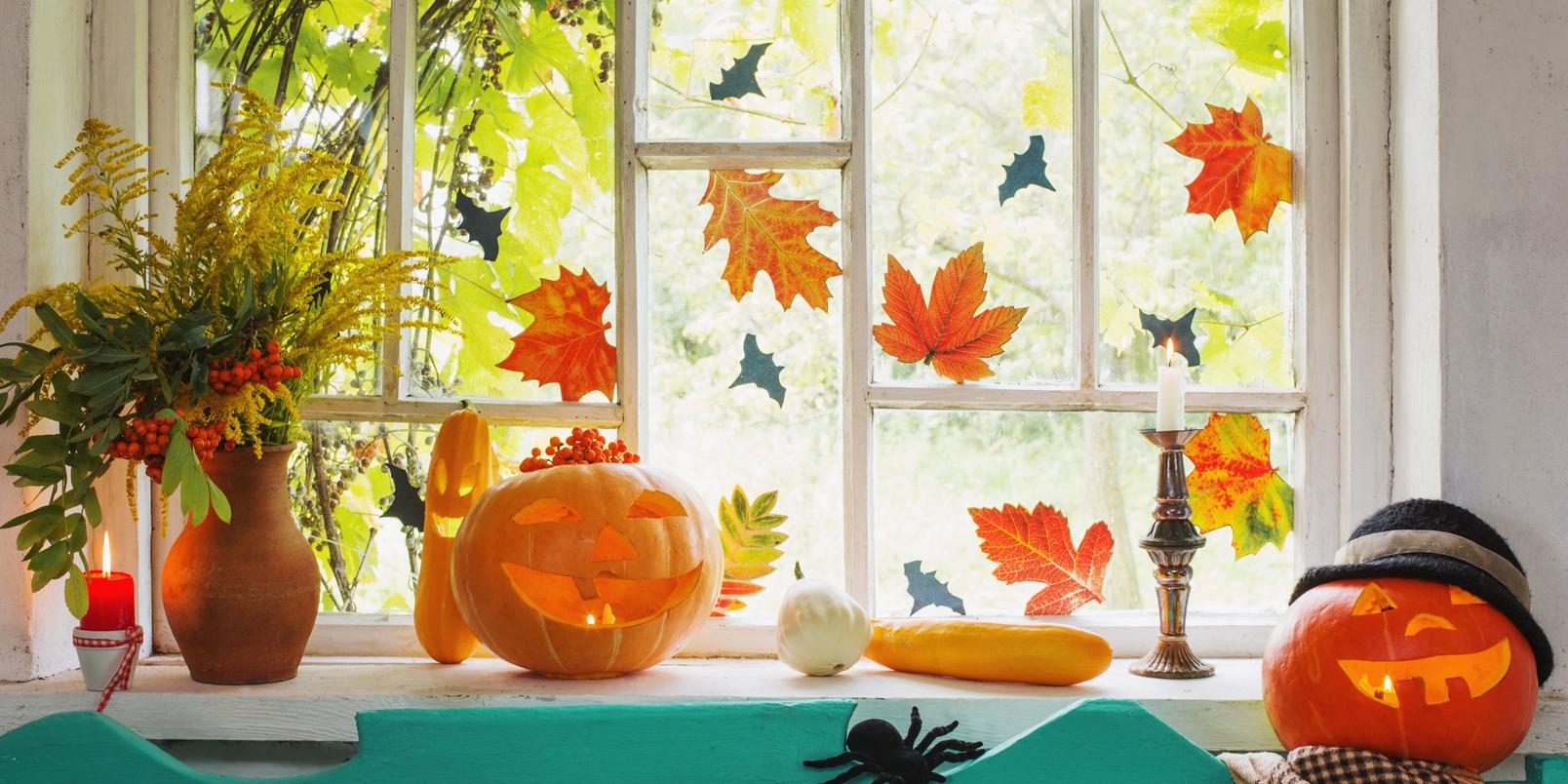 Indoor Halloween Decorations
Don't forget to keep the theme going inside the house. You can easily make Halloween decorations out of paper, such as a colony of bats flying across a wall. Why not get the kids involved and create some ghostly garlands by making tassels out of white wool, stick on some eyes and attach to coloured string. Decorate a shelf or mantlepiece with a stunning display of dried green leaves and flowers mixed in with some pine cones and mini pumpkins for the full effect. You could even find a selection of small bottles that you cover with chalkboard paint and then add some poison labels. And for the seasonal showstopper, a pumpkin vase is the perfect addition to any room.