Autumn Flowers
Pumpkin spice and all things nice! The trees are golden, the air is crisp and some of the most beautiful blooms are appearing. Celebrate the season with these gorgeous autumn flowers, all with free delivery.
Autumn Flowers & Plants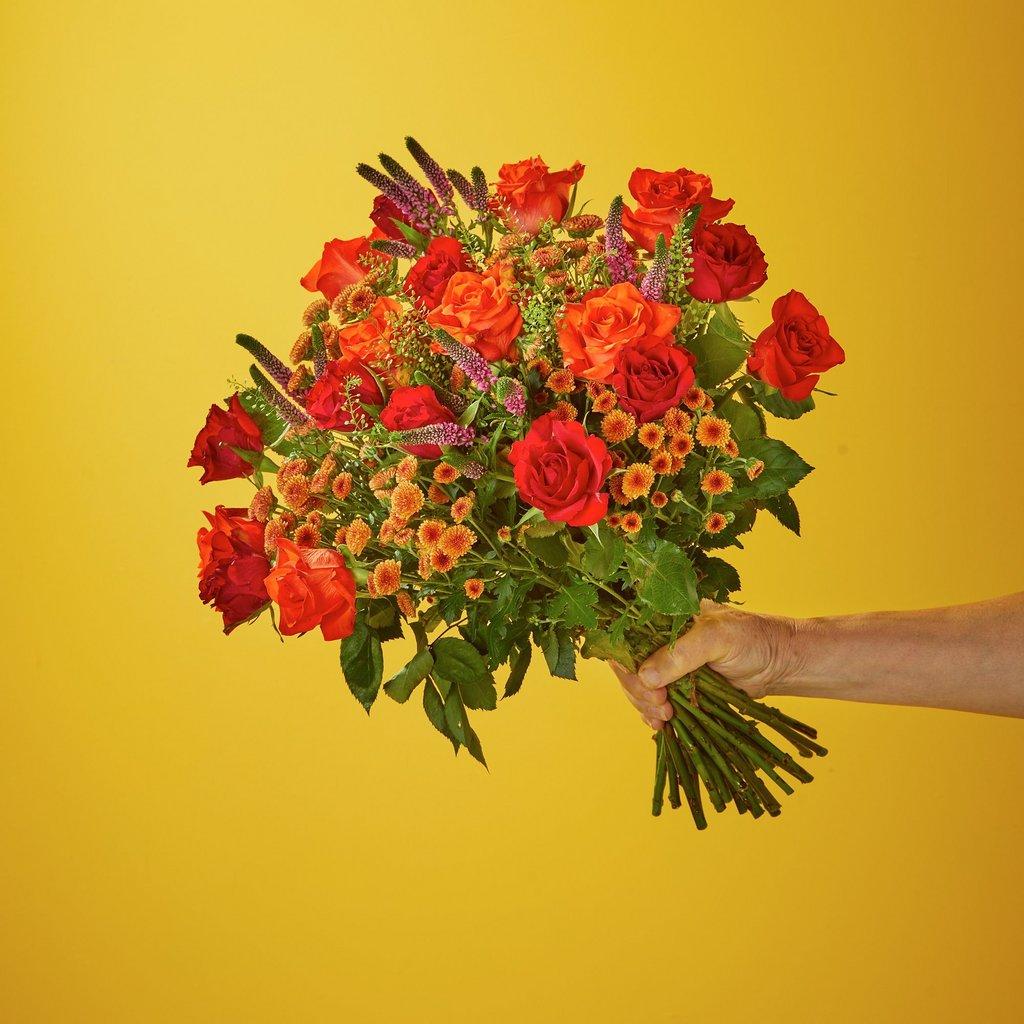 Send Autumn Bouquets
Rich reds, warm oranges and textured foliage - it's a warm hug in a box. We celebrate the best of the season with our autumn flower bouquets, so you can add some sunshine to their day even if the sun isn't shining. And to brighten your day? All of our autumn flowers come with free next day delivery.
Keep the sun shining with autumn flowers
Warm reds and rich purples, the soft glow of amber petals, the deep green foliage - our autumn flowers are like a warm hug on a crisp autumn day.
Our autumn collection is bursting with seasonal favourites. Whether you're celebrating a birthday, welcoming a new arrival onto the patch, or just letting someone know you're thinking of them, our autumn flower bouquets are the perfect way to brighten up their day.
Send an autumn flower bouquet
We have chosen the very best flowers from the season to feature in our autumn bouquets. Cheerful sunflowers continue into autumn to brighten up the rainier days. Vibrant yellow roses are paired with amber carnations, and orange chrysanthemums are mixed with rich roses to create an abundance of autumn joy. Fluffy hydrangeas, ornamental brassica and eye-catching eryngium - you can experience the best of autumn in the comfort of your home.
All of our autumn flower bouquets are delivered for free across the UK, so you can send seasonal joy without your wallet feeling the chill. If you're looking for a bouquet perfect for an October birthday, celebrating new beginnings or just want to brighten up their day, our autumn flowers by post are guaranteed to add some sunshine. You don't have to wait long for joy to be delivered, all of our autumn flowers are available for next day delivery.
How to care for your autumn flowers
Whether you're treating yourself or spoiling someone special, we know you want your autumn flowers to last for as long as possible. All of our autumn flower bouquets are packed in bud, so the flowers are guranteed to stay fabulous for at least 7 days (when properly cared for). Read our top tips on keeping flowers fresh for longer.
Dried autumn flowers
Autumn is the perfect season to start decorating your home. From autumn door wreaths, to scary halloween displays, to bonfire night parties, autumn has a lot to celebrate. Dried flowers are the perfect addition to any autumn decor - their crisp texture and brown-tinged petals epitomise the season.
If you're looking to add some decoration to your home this autumn, we've rounded up some of our favourite autumn decor ideas.
Learn More About Our Autumn Flowers