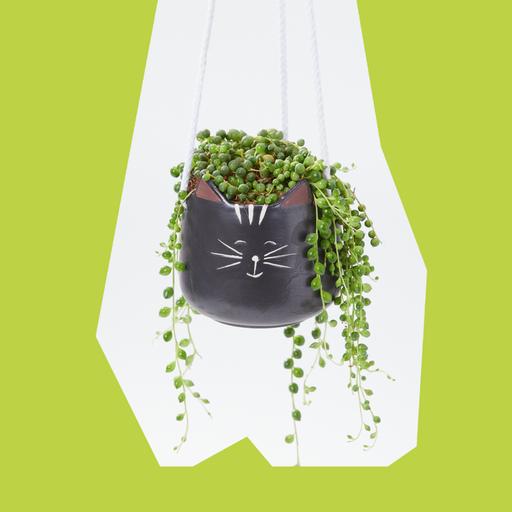 The 12 Best Hanging
Plants for
Indoors & Outdoors
Whether you're going for a wild jungle vibe in your living room or just want to add a little low maintenance colour outside your front door, hanging plants are just the ticket.
Hanging plants allow you to add a little personality to your space with minimal effort, ideal if you're renting but also if you want to mix things up without spending too much.
You also have the choice between artificial and real plants. Artificial may be best for those with a bit of a black thumb but we'd always opt for a real flower or plant any day.
With this in mind, we've pulled together a list of the best hanging plants for both your indoor and outdoor needs.
THE BEST INDOOR HANGING PLANTS
Indoor plants look great, clean up the air and are usually fairly easy to care for. Check out our full guide to indoor plants here, as well as some of our recommendations for the best indoor hanging plants that you can feature in your home below.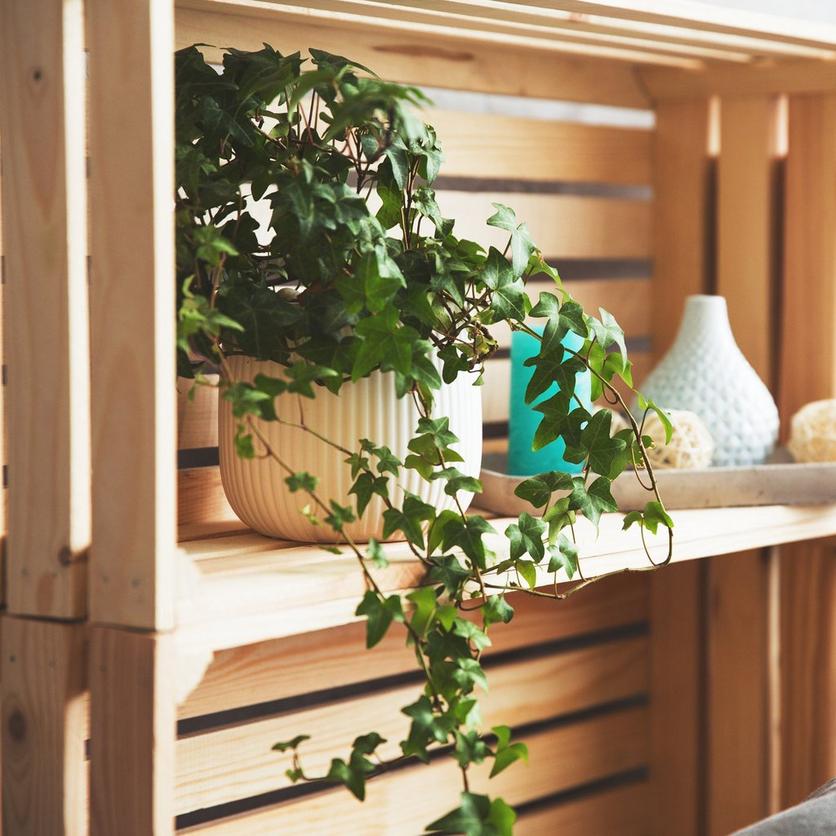 English Ivy
There's something effortlessly chic about a trail of ivy on a bookshelf. Let yours hang casually amongst those paperbacks you haven't read since school and enjoy the pop of greenery it brings to the place. Ivy is easy to care for you probably know this as it grows like weeds! – which makes it a great choice for those just dipping their toe into the world of indoor plants. With its unmistakable leaves and ability to stretch and grow to dizzying heights, it's a fun addition to your indoor plants.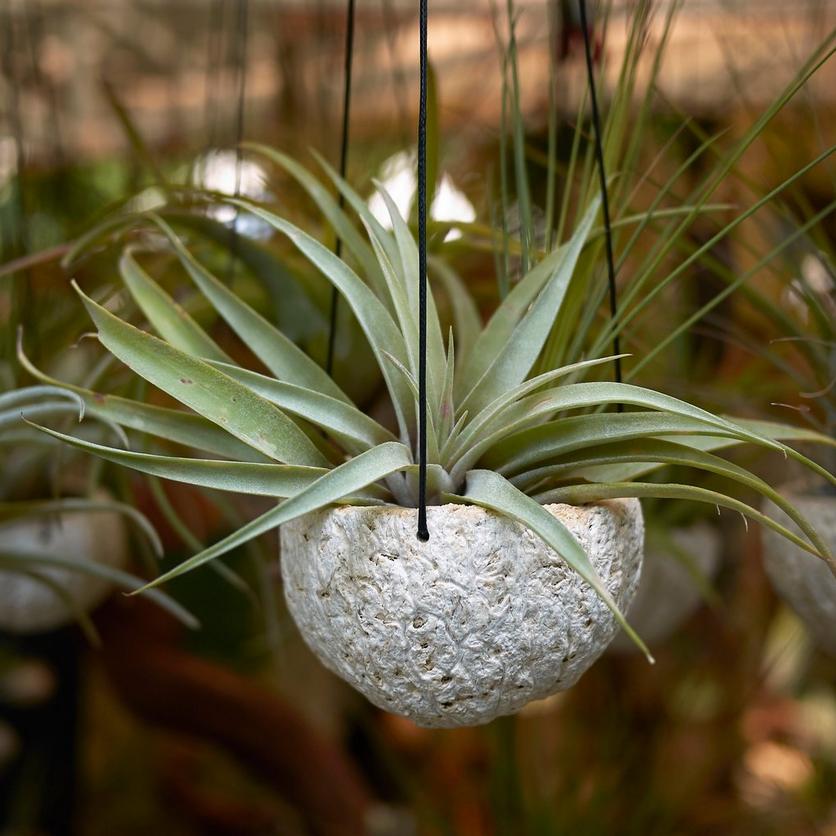 Air plant
Guilty of murdering indoor plants in the past? Then air plants are your new best friend. Air plants are basically indestructible – they're so hardy, they can even be sent in the post! These plants can survive with little to no water and don't even need soil to grow. You'll just need to mist it now and then if it's looking a little sad and it still needs to light to thrive. Air plants aren't known for flowering, when they do flower it's a once in a lifetime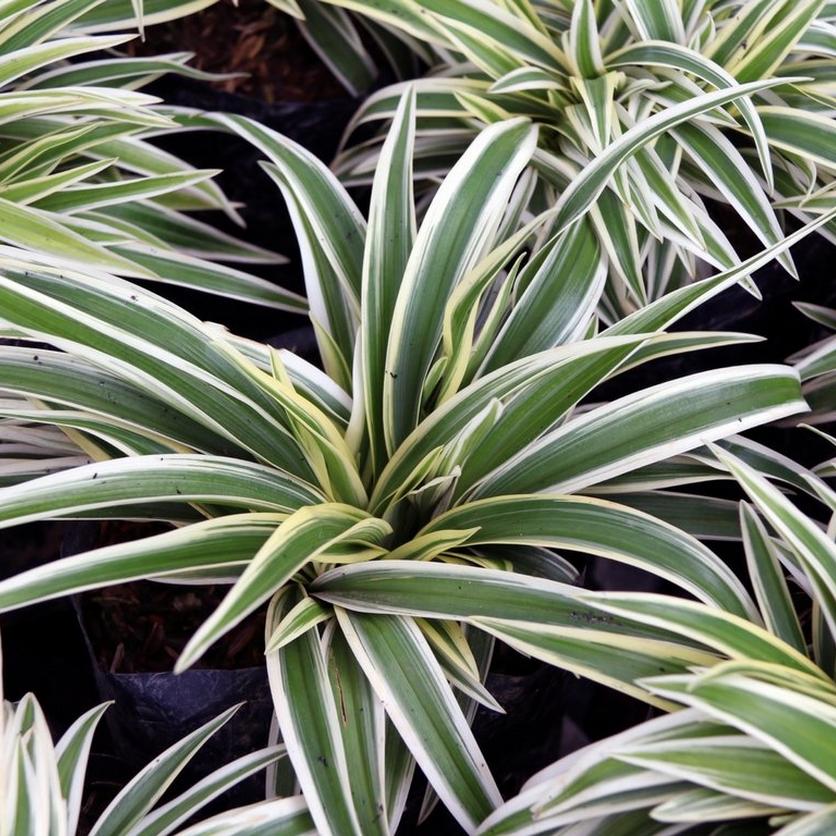 Spider plant
Another easy to care for plant – spider plants are a no-fuss solution to your indoor hanging plant needs. Many homes feature this recognisable plant, with its pointed, two-tone leaves. Treat them well and spider plants will even sprout babies that you can remove and propagate to make more. You'll soon have your own little production line and you can share the fruits of your laid back approach to plant parenting with your friends and family.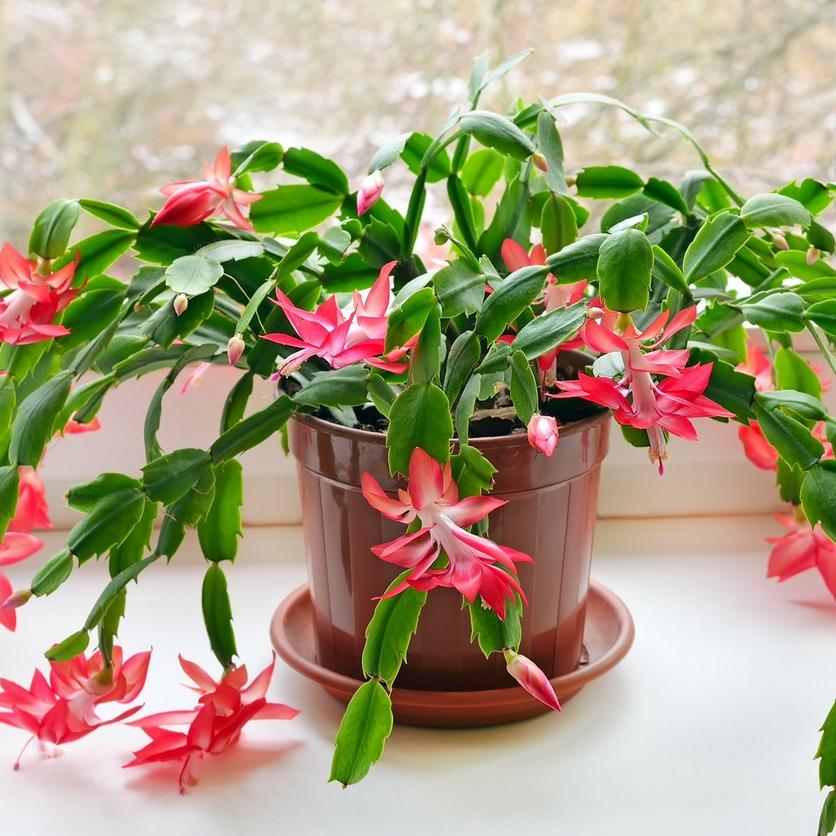 Christmas cactus
Indoor hanging plants are for life not just for Christmas. This beauty is a fun addition during the festive season, but be prepared to enjoy this plant for a long time as Christmas Cacti are known to live for up to 20 or 30 years! The Christmas Cactus is an ideal hanging plant – it's easy to care for and its trailing stems bloom with pretty red, white or pink flowers, just in time for Santa's visit. However, there is one thing this plant needs to guarantee those gorgeous blooms – darkness.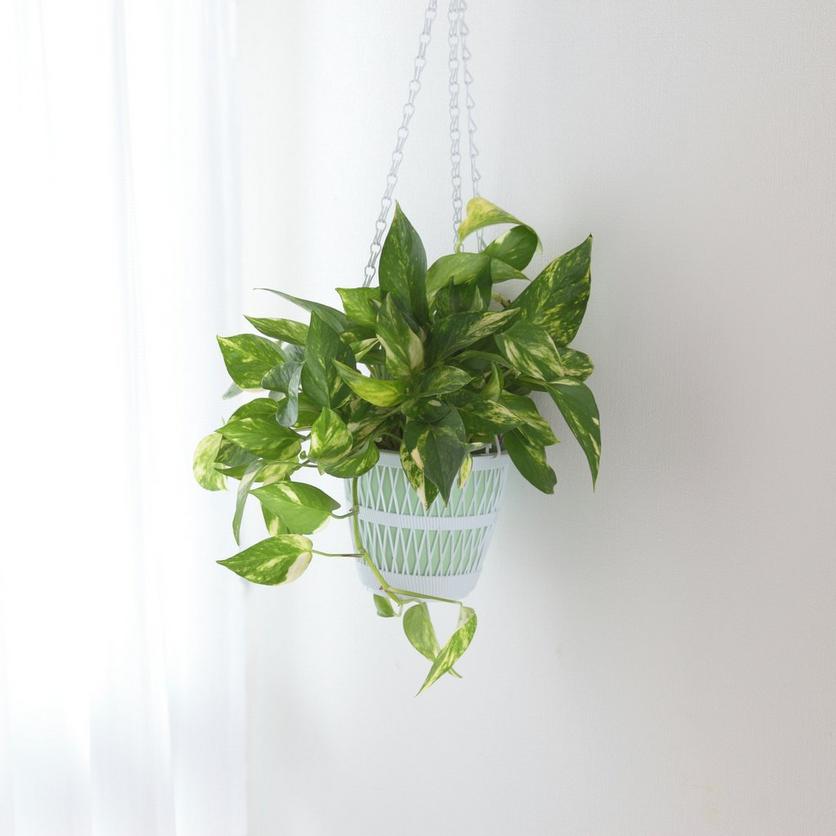 Pothos or Devil's Ivy
Devil's Ivy may sound scary but this green beauty is a delight to feature in your home. It's easy to care for, always looks great and creates a stunning hanging display. Feature yours in the bathroom, pothos loves moisture and humidity. In the wild, this hanging plant can reach lengths of 20 metres (65 feet) – that's two and half times as long as a London bus! – but we don't recommend letting yours get to those lengths. Instead, cut any sad-looking stems to encourage new growth.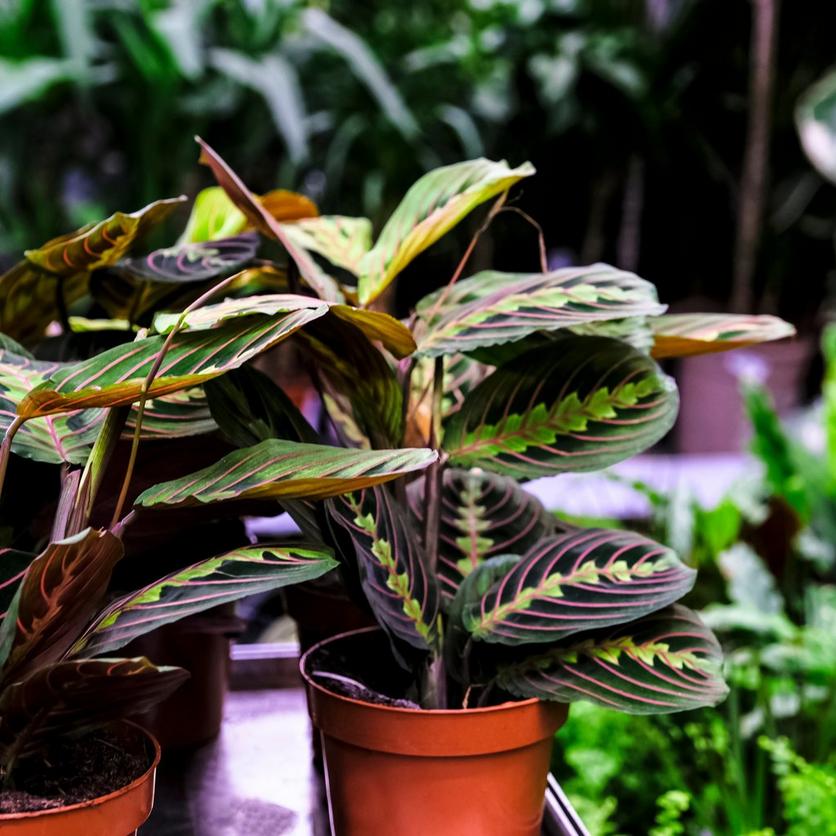 Prayer plant
With striking pink veined leaves and a unique reaction when the lights go out, prayer plants are an unusual but stunning hanging plant to consider for your home. Its named because its leaves close up when dark, like hands in prayer, then unfurl when it's placed in the light again. Amazing! Prayer plants like bright, indirect light so feature them near a window but never in direct sunlight as this can scorch their beautiful leaves. We love seeing prayer plants hanging in cute macrame holders
THE BEST PLANTS FOR HANGING BASKETS OUTSIDE
Hanging plants are ideal for smaller gardens or balconies where you're limited when it comes to space but you still want to enjoy some colour and greenery. Here, we've considered some of the best outdoor hanging plants and why you should consider featuring them in your garden.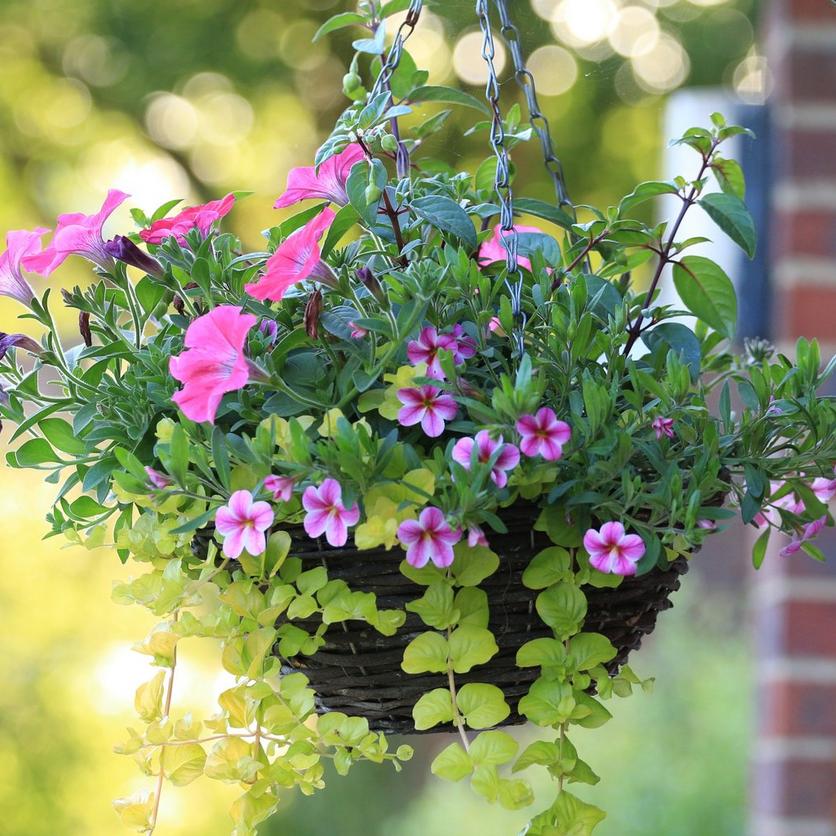 Petunias
Petunias are such a quintessentially British hanging basket plant that you'd expect them to offer you a cuppa as you stroll by. We love the red and white striped petunias that remind us of circus tents or you could play pick and mix and feature two or three different coloured plants in one hanging basket. Petunias are great housewarming gifts, so if you don't fancy featuring them around your home, instead make up a hanging basket for a friend filled with these colourful blooms.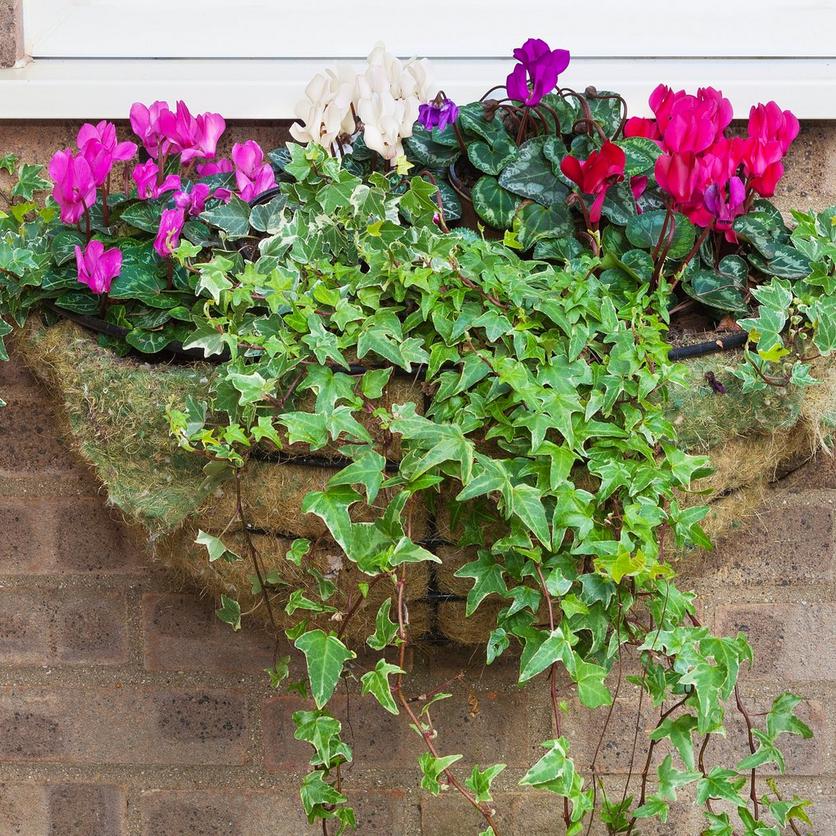 Cyclamen
Cyclamen looks gorgeous, arranged in a small vase, but also grows well in hanging baskets. It's a great flower for welcoming guests as they come up your driveway. Hopefully with a bottle of something fizzy in hand. The cyclamen flower's papery thin petals come in a range of colours, from vivid pink to postbox red, as well as pretty hues of purple so you're sure to find a shade that suits you. Feature cyclamen with trailing ivy and a mix of coloured flowers for a hanging basket that screams chic.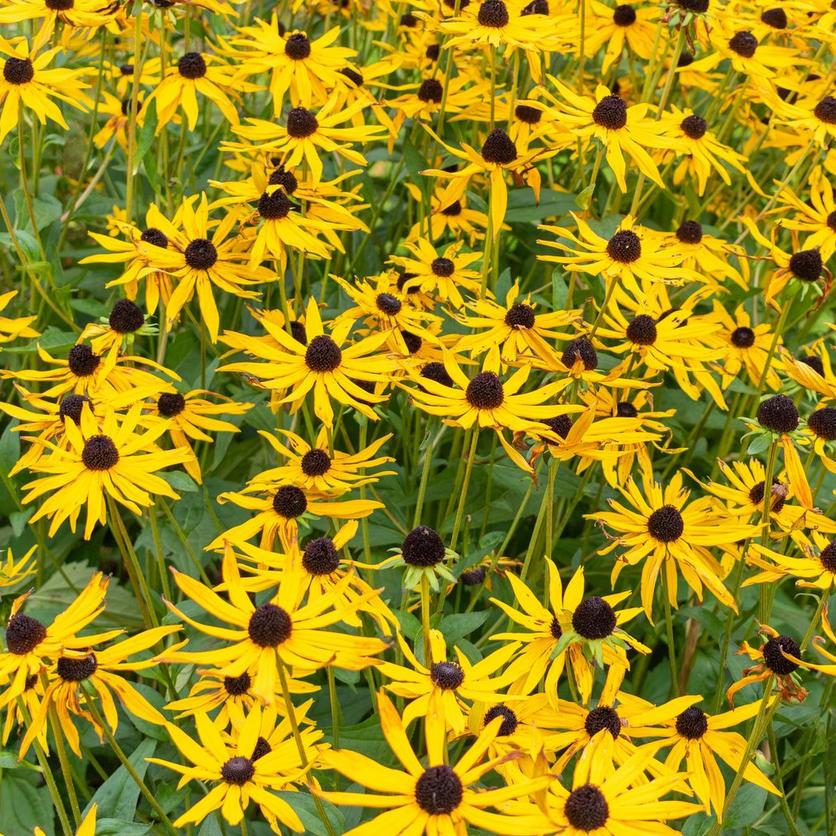 Black-eyed Susan
Forget basic begonias and predictable pansies, Black-eyed Susan looks incredible in a hanging basket and is here to steal the show. These vibrant coloured, daisy-shaped flowers feature a striking black centre and are sure to be a talking point amongst the neighbours when hung outside your front door. If you want to bring the outside in, Black-eyed Susan is also the ideal plant to take cuttings from, to feature in a simple posy vase and breathe some life into your room.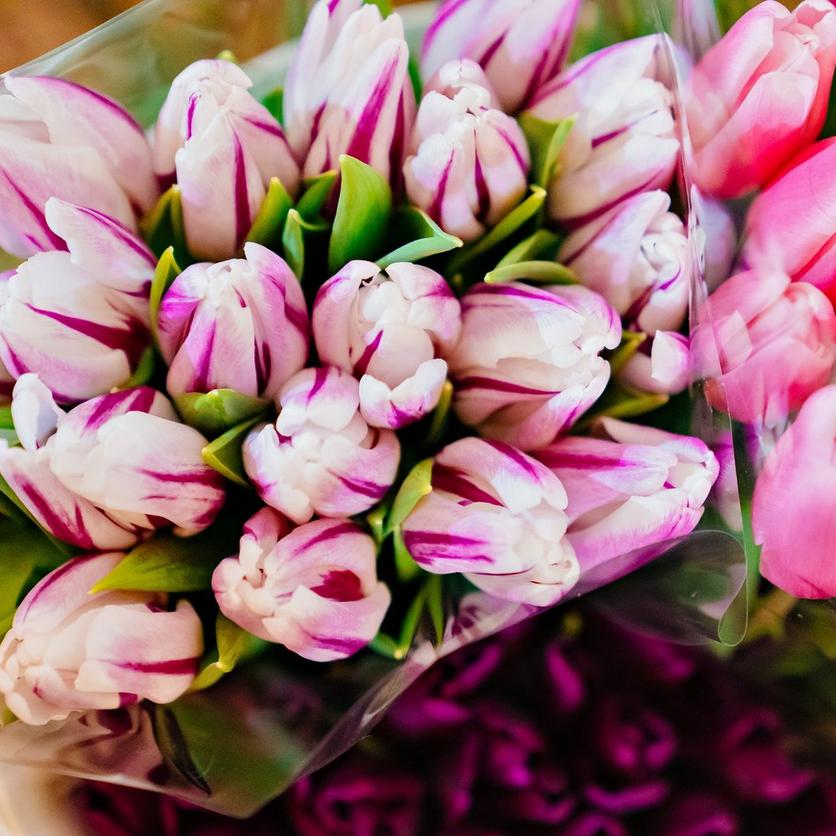 Tulips
When we think of tulips we often think of windmills, stroopwafels (yum!) and canals, but these flowers maybe aren't the first type that comes to mind when we think of hanging baskets. However, these single-stemmed beauties look incredible in wall planters or buried deep into traditional hanging pots. Tulips are the ideal choice for a little springtime colour. Pop those bulbs in your chosen hanging planter in November then enjoy that bright display of colour as summer comes around.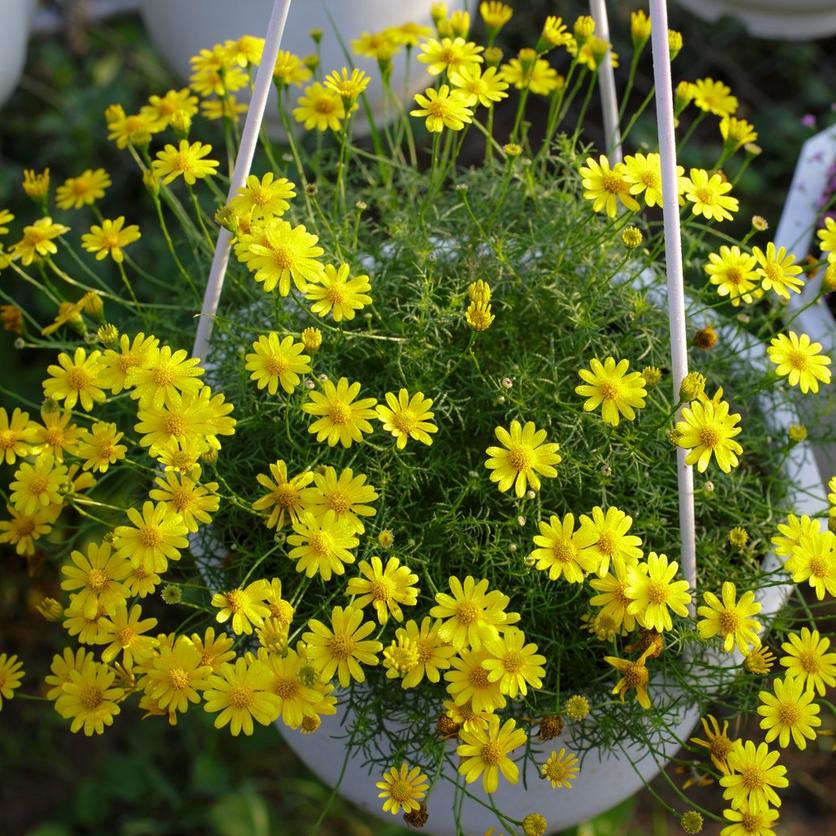 Daisies
Sweet and cheery daisies brighten up any hanging planter display – but these aren't your typical, growing on the front lawn variety. Daisies make quite the statement when featured in hanging baskets as they grow in wild, adding a rustic vibe to any front door porch or balcony. This flower is available in a wide range of colours, from your traditional white petalled variety with a yellow centre to vivid pinks and purples. Daisies are said to represent new beginnings, innocence and motherhood.
Dianthus
Dianthus has that wildflower vibe going for it. Enjoy these vibrant flowers in pride of place in a hanging display in your garden or around your patio, with their zig-zag patterned petals on flowers that grow in tight clusters. Dianthus is considered to be the flower of the gods – its name comes from the Greek word 'dios' meaning god and 'anthos' which means flower – making it a heavenly choice in any hanging planter. You can also take cuttings as the flowers can grow tall.
Ready to hang out with some of these incredible plants and flowers? Consider these prized blooms for your next colourful arrangement or display.