Dahlia: Everything
you need to know
Dahlia flowers are known for their eye-catching petals and striking colour varieties. While they were originally classified as a vegetable back in the 18th century, today these beauties are celebrated for much more than their edible properties.
In fact, people all over the world are claiming the dahlia as their favourite flower. Read on to discover how to care for your dahlias and pick up some fun facts along the way.
Dahlia flower meaning
Dahlias come in many lovely colours, and each one symbolises something meaningful. Some common dahlia flower meanings include:
Red dahlias symbolise power, strength and the ability to overcome.
Yellow dahlias symbolise happiness and joy.
Black dahlias are actually a dark burgundy, and like most black flowers are associated with sadness or mourning. However, black dahlias are so striking they're often seen as a symbol of mystery and elegance.
Learn more about the hidden meaning of flowers.
Types of dahlia flower
You can find dahlia flowers in almost every shape and size imaginable. From dwarf dahlias which grow just 12 inches high, to the glorious 'Dinner Plate' dahlia which, you guessed it, can impressively grow to the size of a dinner plate. With over forty species and even more hybrid varieties, there's bound to be a dahlia for you.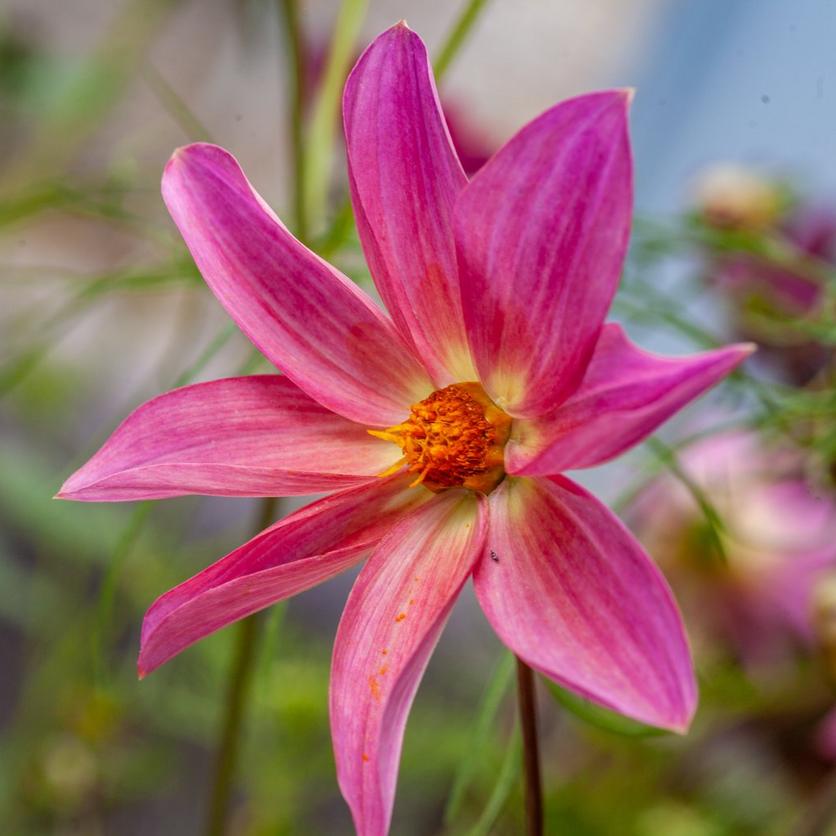 Single Dahlias
This variety is easily identified by the single ring of petals, which encircle a central disk. The petals of a single dahlia can take a range of shapes, from rounded to pointed, and may overlap one another. Single dahlias pair well in a bouquet with gerberas, sunflowers, or other colourful flowers which look striking on their own, to really highlight their delicate petals. You can find single dahlia flowers in many different colours, from calming white through to bright yellow and crimson red.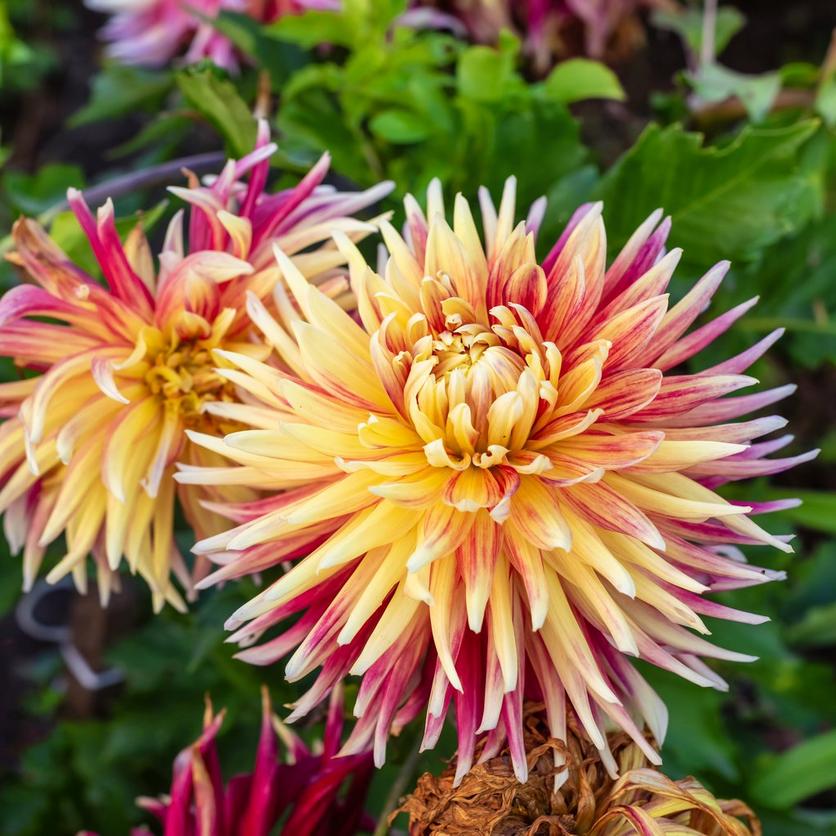 Cactus dahlias
These flamboyant flowers feature long, thin petals that stick straight out – just like the spikes on a cactus. They have two rows of petals, creating a lusciously textured flower, and can range from miniature to giant, taking on totally different looks depending on the colour. Cactus dahlias can be just one colour all the way around or be variegated, adding even more flair to their beauty. For example, the dahlia 'Frigoulet' is a semi-cactus variety, with red spikey petals.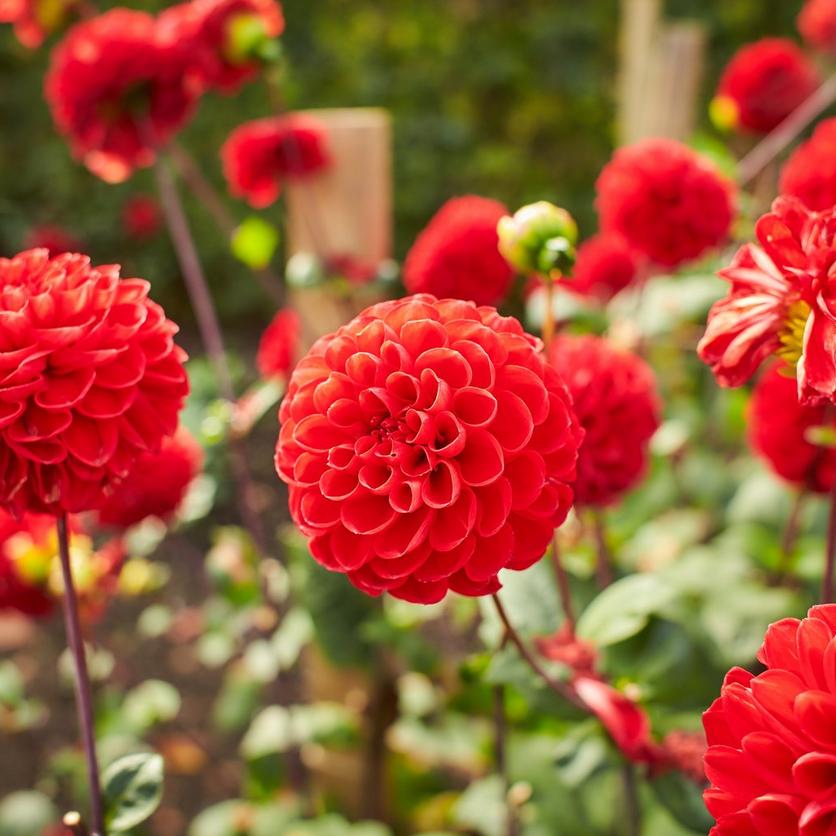 Pompon dahlias
Similar to the pompon chrysanthemum flower, the pompon dahlia has a very round, ball-shaped flower head. Each petal is tightly packed and curved into a quill shape, forming an incredibly intricate and detailed flower that sets it apart from other dahlia flower varieties. You can find the pompon dahlia in a wide range of colours, though they are best known for their pretty pink and red hues.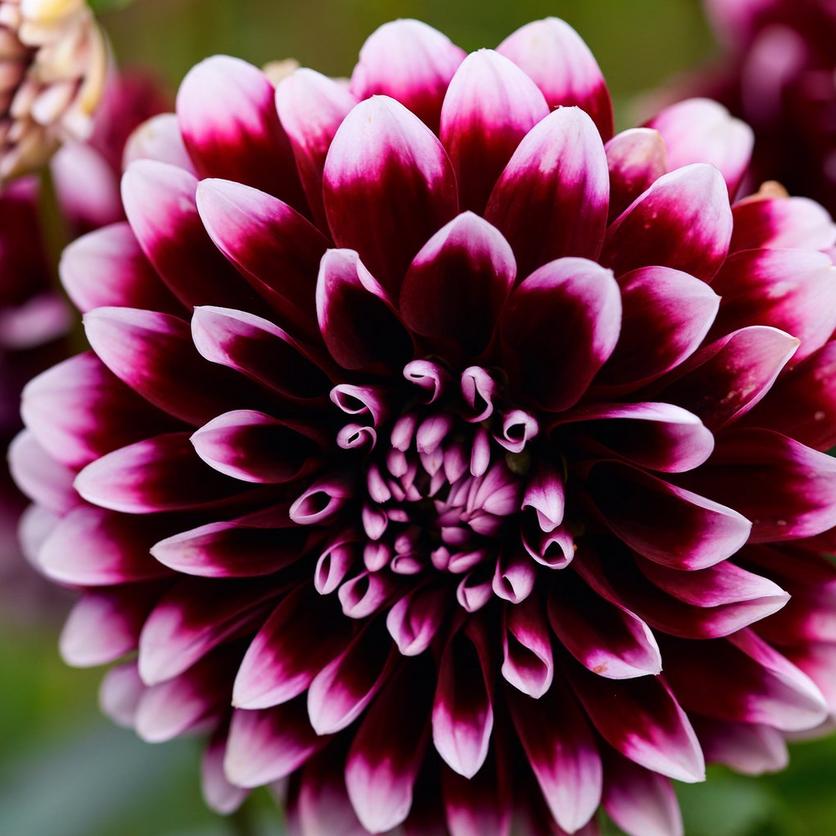 Decorative dahlias
Decorative dahlias are perhaps the most eye-catching of all, with multicoloured layered petals that form fun patterns. They are also one of the largest, ranging from a tiny two inches to up to one foot in diameter. The best kind of decorative dahlia to cut for a vase is the formal dahlia. These have flat petals which are regularly placed around the flower head. Informal decorative dahlias are more on the wild side, with slightly rounded petals placed irregularly along the flower.
Dahlia care tips
Properly caring for your dahlias will help them live longer so they can keep putting a smile on your face. Make a horizontal cut at the bottom of your dahlias' stems before adding them to a vase. This aids water uptake and keeps them looking fresh.
Be sure to place your cut dahlias straight into a vase and keep the water nice and clean to eliminate any bacteria. Change the water every two to three days, adding flower food to give your dahlias the right nutrients.
Dahlia flowers can wilt when they get too warm, so place them out of direct sunlight where they won't get too hot – they look great when styled as a centre piece for your next party. If you're taking them outside for dinner alfresco, remember to place them in the shade.
Best occasions for dahlias
The Victorians were big fans of dahlias and used them as a symbol for commitment and union, making them a great wedding flower to celebrate the connection between two people. Dahlia flowers come in almost every colour you can think of (with the exception of blue) so it's easy to find a dahlia wedding flower to match your theme and add some beauty to your bouquet.
Dahlias also make a great gift if you know someone going through a positive change in their life. Whether they're having a baby, starting a new job, moving house, or you just want to let them know you're proud of them, dahlias are a great way to give some happiness and celebrate the good things in life.
When it comes to styling, take a look at the colours of your dahlias and consider pairing them with other complementary colours. A bunch of purple dahlias would go perfectly with a pop of yellow or orange. Including dahlia buds that haven't yet bloomed can also look great, bringing a taste of the wild to your bouquet.
How to make your dahlia flowers last longer
The key takeaway for making dahlias last longer is to keep them well hydrated and out of direct sunlight. Remember to use the flower food that comes with your cut flowers and keep your vase water nice and clean to boost their life expectancy. Discover our guide on how to keep your fresh flowers for longer to keep your dahlias looking fabulous.
Dahlias brighten up any room and make the perfect wedding bouquet or gift to someone special. Their bright colours and unusual petals make them stand out from the crowd and liven up any home. If you're looking to send some joy in the form of a flower, discover our colourful flower bouquets.