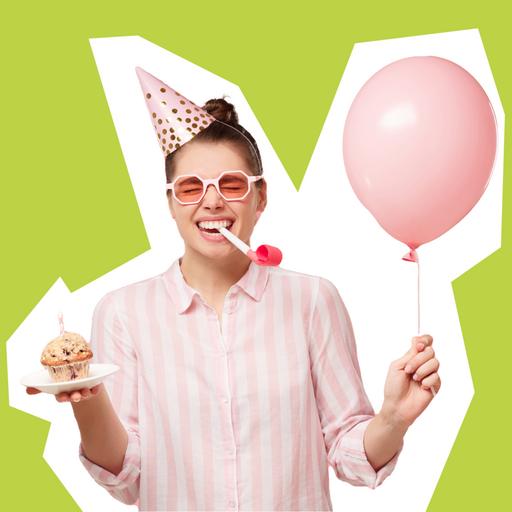 39 NEW YEAR'S MESSAGES & QUOTES
Cheers to new beginnings! But before you start planning those gruelling resolutions and clinking the champagne glasses there's probably a few people close to you that you want to wish a very Happy New Year.
Pair your New Year wishes with a beautiful bouquet of flowers and they'll be off to a great start and ready to tackle whatever January has to throw at them. Unless it's a new exercise regime, in that case, they'll probably do great until the 12th January aka Quitters' Day.
But for now, we've rustled up a range of inspirational messages to consider adding to the all-important gift note in that bunch of blooms or an accompanying card.
HOW TO WRITE A NEW YEAR MESSAGE
Craft the perfect New Year wish for those you love by following these steps...
1. Start with a New Year themed greeting – A simple, 'Happy New Year' or 'Goodbye 2020!' is a fun way of opening up your message.
2. Thank them for all they've done that year – Whether your Dad has helped you decorate your new house or your sister has offered up babysitting duties whenever possible, use this as an opportunity to say thank you.
3. Wish them all the best for the year ahead – Take a moment to send them well wishes for what's to come, you could also mention something they have planned such as a honeymoon or a milestone birthday.
4. Sign off with a personal touch – Lots of love, all the best, sending you good vibes. Be sure to sign off in a way that reflects you and your relationship with the other person.
SIMPLE NEW YEAR WISHES

Time not on your side or do you just want to send a short but sweet greeting? Here are a few well wishes to consider.
Happy New Year! (why stray from a classic?)

Wishing you all the best for the year ahead.

Wishing you a prosperous and happy New Year.

I hope next year is all you want it to be.

Wishing you love and luck in [insert year].

You deserve to have an incredible year, wishing you all the best.

Thank goodness that year's over, here's to the next!
NEW YEAR WISHES FOR PARENTS

Mums and Dads continue to do lots for us – even when we're well into our adult years. A New Year means new beginnings so take this as an opportunity to thank them for everything they've done for you and to celebrate a chance to start fresh.
Every year I remember how grateful I am to have you as parents, thank you again for all you've done in [insert year].

Wishing you love and happiness for the year ahead, can't wait for more family dinners, birthday gatherings and Saturday sleepovers after a few wines.

This New Year, I'm counting my blessings once again that I had you to lean on over the past 12 months.

Always thankful to have you close to celebrate the New Year with, sending you lots of love and good wishes.

New Year is about looking back on warm memories and there are so many from these past 12 months that include you.
NEW YEAR WISHES FOR YOUR SIBLING

Whatever your relationship is like, we're sure you always wish the best for your brother or sister, let them know with a New Year wish. Here are some ideas of what to say:
We've spent a fair few New Years together but every year I wish you love and luck for the year ahead.

No matter what happens, we'll always be the best of friends and siblings. Happy New Year and here's to many more celebrating together.

Every New Year I look back on all I've done and achieved and I'm always so happy to remember that you were there by my side the whole time. Let's hope [insert year] is the same.

Happy New Year. Whatever you put your mind to, you can achieve it this year.
NEW YEAR WISHES FOR YOUR GRANDPARENTS

Whether they live far away or you're always nipping round for a cuppa, here are some New Year wishes to consider for your grandparents.
Happy New Year to you both. Sending you all the best in the year ahead and can't wait to raise a cup of tea with you next time I'm around.
This year has been tough but you're tougher, sending you lots of love and best wishes for the New Year.
I'm always grateful for you and your support, thank you for guiding me through life and this past 12 months. Happy New Year!
To my Grandma, my best friend – I can't wait to see what next year brings with you by my side. Happy New Year!
NEW YEAR WISHES FOR YOUR BEST FRIEND

Your closest friend has likely helped you through the good and the bad during the past 12 months, so use your New Year message to let them know that you appreciate all that they do and that you want the best for them for the year ahead.
Another year and we're still the best of friends. Sending you lots of love and well wishes for the coming months.
Thank you for being my friend and for putting up with me for another year, eternally grateful for you and I hope these next 12 months are some of the best.
Out with the old, in with the new. Have an incredible night and can't wait to see what the next year brings us.
So excited to make plans for the year ahead with you, wishing you nothing but love and laughter in [insert year].
Happy New Year, let's skip the resolutions and just carry on as we are – fabulous!

Another year has passed and you're still very much in love – how wonderful! Celebrate this with a New Year wish to tell them how much you appreciated the past 12 months together and that you're looking forward to many more.
Another year of incredible memories, always grateful I get to spend my year with you. Here's to the next one and what it may bring.
Happy New Year to the one I love. I can't wait to make more memories with you.
My [insert partner] and my best friend, I wish you love and luck for [insert year]. Let's hope it's just as incredible as we plan for it to be.
It's a new year but I'm so happy nothing is changing between us.
I wish you a bright year ahead because every year you brighten my life.
NEW YEAR MESSAGES FOR YOUR WORK COLLEAGUE

Your work colleagues are usually (albeit not in 2020) the people that you spend most of your time with. That's eight hours a day, five days a week and maybe over time, with any luck, you'll gain friends for life. So, why not let them know that you're sending them good vibes with a New Year message?
How did we survive another year working together? Here's to many more...Happy New Year!
Happy New Year! I promise this will be the year I finally pay you back for all those chocolate bars from the cafe.
Happy New Year work bestie! I hope you have an incredible night and don't have too much of a hangover on Jan 1st.
It's a new year! Let's promise to go for those lunchtime walks and be a little more positive this year, yes? Until Jan 2nd at least.
NEW YEAR QUOTES

Want to simply inspire them? Here are some famous quotes with ties to New Year to include in your message:
"The beginning is the most important part of the work." - Plato
"Write it on your heart that every day is the best day in the year." - Ralph Waldo Emerson
"Cheers to a new year and another chance for us to get it right." - Oprah Winfrey
"The new year stands before us, like a chapter in a book, waiting to be written." - Melody Beattie
"Whatever it is you're scared of doing, do it. Make your mistakes, next year and forever." - Neil Gaiman
Now all that's left to do is crack out the bubbly and start singing Auld Lang Syne! Wishing you a Happy New Year from all of us at Flying Flowers. Here's to discovering what the next chapter brings!