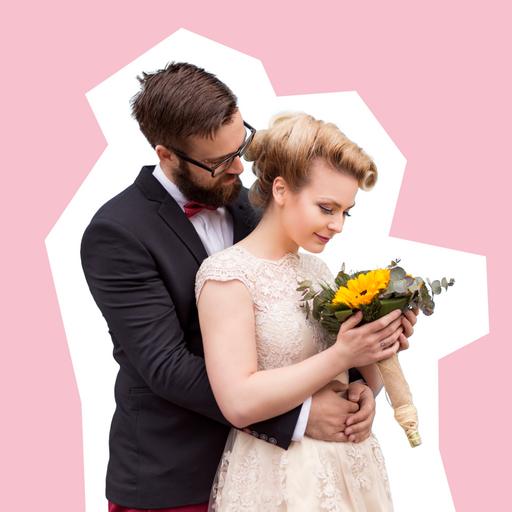 Sunflower
Wedding
Bouquet Ideas
Summer weddings… we're thinking love, happiness and plenty of sunshine (fingers crossed!). But what about the bouquet? It's the showstopper of the aisle (aside from the bride herself, of course). If you want to bring all the glory of a hot summer's day to your wedding – whatever the weather – look no further than the sunflower.
Whether you're going for rustic vibes or a twist on traditional wedding flowers, brighten up your big day with a sunflower wedding bouquet.
PLANNING A SUNFLOWER WEDDING BOUQUET

Although they may not be the first nuptial flower to spring to mind, sunflowers and summer weddings are a match made in heaven.
Sunflowers are in season between May and October as they typically bloom from the middle of summer up to the beginning of autumn. This makes them perfect for dreamy June, July and August weddings, and fit right in with colourful summer wedding themes.
A sunflower wedding bouquet can be customised in various ways to achieve a certain look or theme. If you're thinking of going for a flower combo, consider those in season at the time of your wedding.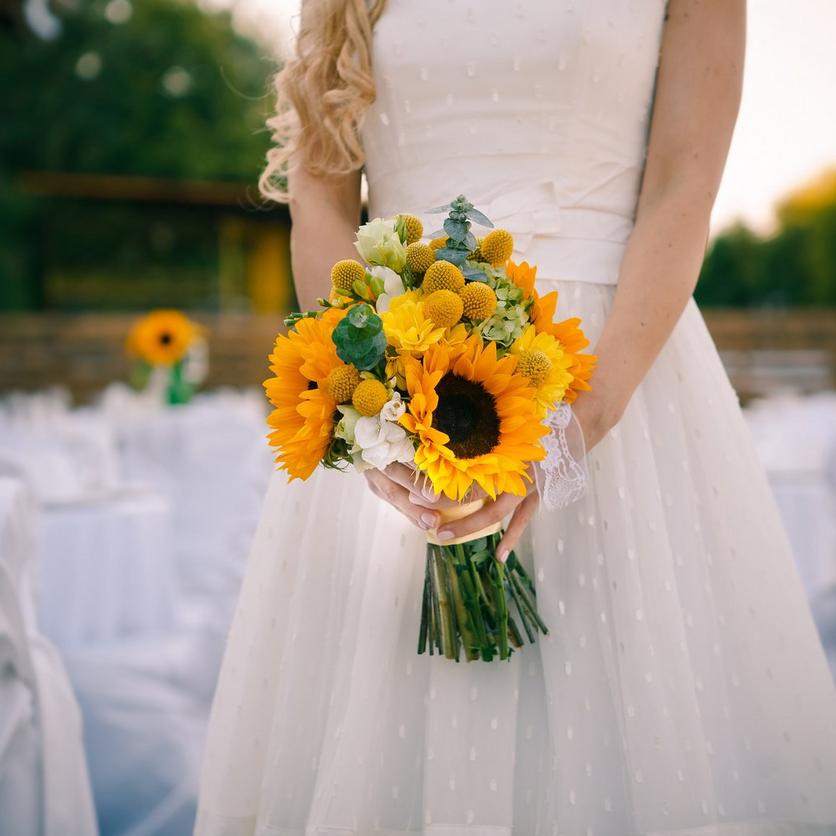 Traditional
Whatever traditional wedding flowers may look like to you – simple, romantic, ornate – sunflowers can add a vibrant twist to subdued colour palettes and conventional flower arrangements. Sunflowers can be the centrepiece of your seasonal bouquet, surrounded by dainty stocks and baby's breath, or share the spotlight with white roses and hydrangea.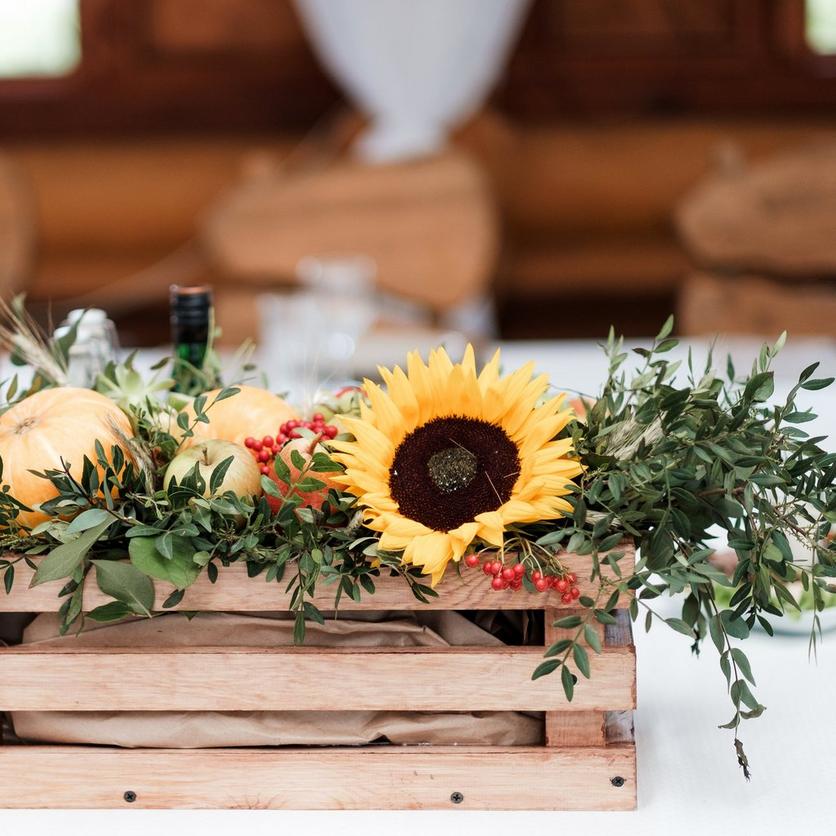 Rustic
Wedding bouquets don't have to have to follow tradition to be elegant either. Rustic sunflower bouquets make amazing flower arrangements, surrounded by plenty of texture and foliage. Craft your bouquet with lush greenery and dried flowers to complement the bold, natural look of sunflowers. For September and October weddings, consider contrasting autumnal green and burgundy colours against the bright yellow petals.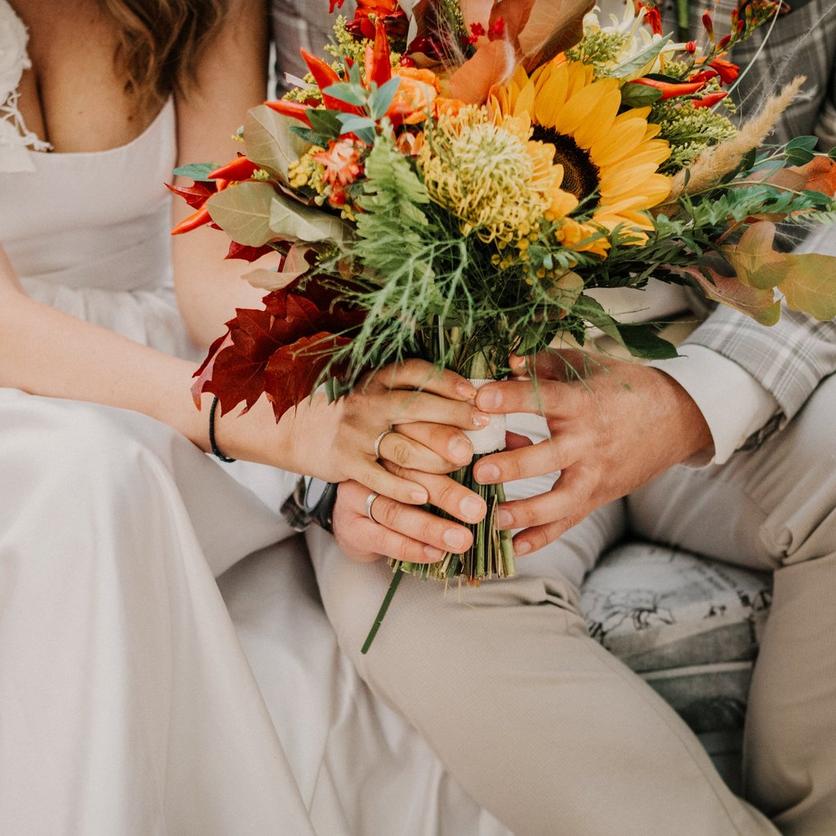 Wildflowers
Wildflower bouquets are another gorgeous option when you want to add some non-traditional colours, shapes and textures to your sunflower arrangement. Sunflowers and wildflowers are often natural neighbours in our gardens, making them a real power couple in your wedding bouquet. Try pairing your stunning bunch of sunflowers with lavender and daisies – adding a dash of lilac, white and yellow to your bohemian bouquet.
ARE SUNFLOWERS EXPENSIVE?

Sunflowers are generally considered an affordable option for wedding flowers. Of course, this can depend on how many you want and what time of year your wedding will be.
It's always a good idea to research which flowers will be in season for your wedding. When you buy sunflowers in season, you are more likely to get them at the best quality and most reasonable price.
Whatever your wedding aesthetic, you can make sunflowers fit your budget. Create an affordable sunflower wedding bouquet by teaming them with other seasonal flowers, such as stocks or carnations – or take it to the next level with more opulent roses and peonies.
SUMMER WEDDING BOUQUET
Sunflowers never go out of style. They exude summer vibes and a bright, cheerful aesthetic – making them ideal for summer weddings. Their iconic petals can be a statement on their own, or a subtle nod to your colourful personality.
Sunflowers are annual plants, which means you have to nurture them each year to reap the rewards. They also represent loyalty, friendship and admiration. All sound familiar? Sunflowers can make a stunning alternative to symbolise love and commitment, all while adding an extra glow to your special day.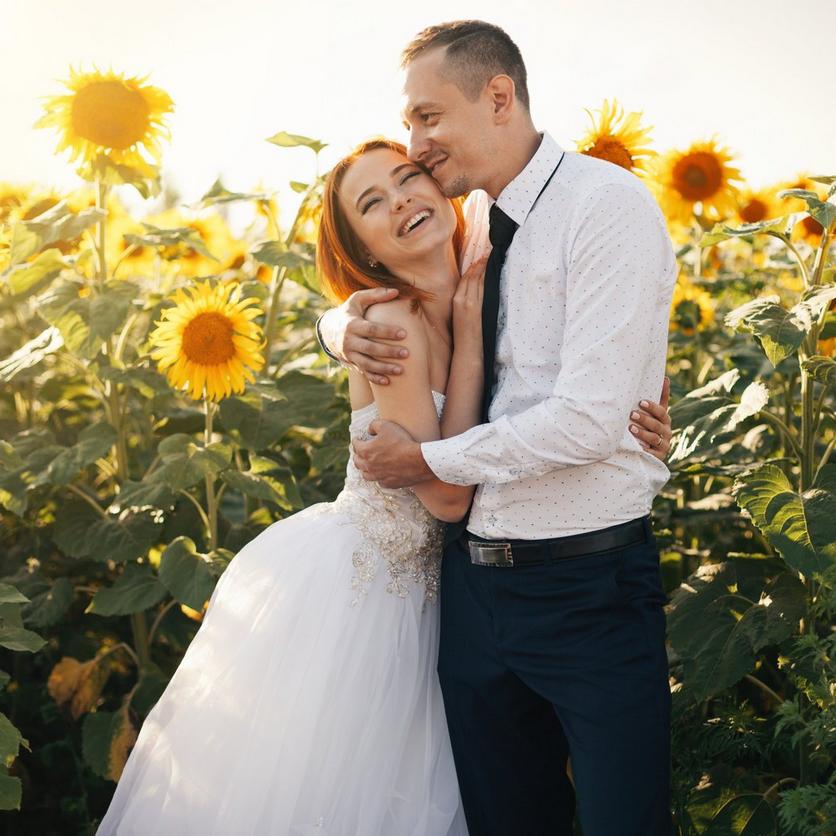 Old-time romance
Sunflowers are a classic symbol that remind us of the whirlwind of summer love and the romantic appeal of down-to-earth, rustic weddings. They're an ideal choice as their oversized leaves, petals and flower head can give your bouquet the feeling of old-time romance. Utilise everything from the full flower head, the green foliage and each individual petal to create a natural, romantic vibe. Why not give your flower girls a sunflower to pluck and sprinkle as she walks down the aisle?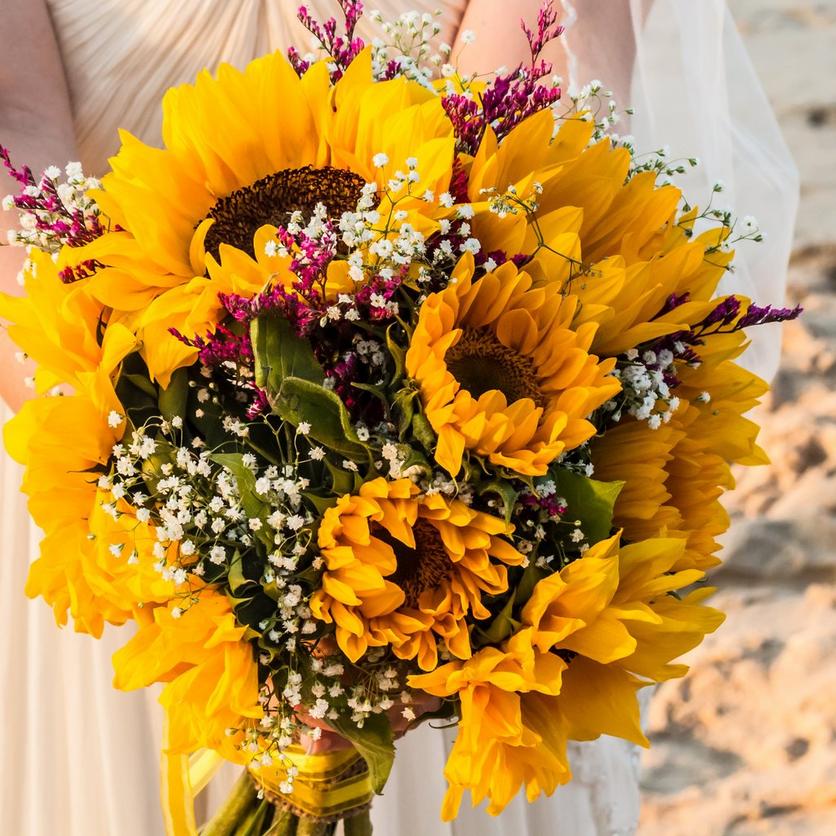 Sunflowers flying solo
Sunflowers are popular wedding flowers as they're grand enough to be the star of the show (second to you, of course) or simply add a touch of personality to your special day. They come in a range of sizes and hues, so you can easily customise how much visual space you want your sunflowers to take up. They're a great choice if you'd rather have just one flower throughout your wedding day or stick to a certain budget. Keep it simple with a few accents or seamlessly dress them up.
MEMORIES TO LAST A LIFETIME - DRYING YOUR WEDDING FLOWERS
Unlike other wedding flowers, sunflowers are easy to preserve from your wedding bouquet. Drying out sunflowers is a simple process that lets you admire them for years to come. Cherish them in a photo frame, a shadow box or in a scrapbook and squeeze every drop of joy from one of the most important days of your life.
If you have a bit of a green thumb, why not use the seeds from your sunflower wedding bouquet to grow your own garden of sunflowers? When those sunflowers begin to fade, save their seeds to continue the legacy next season. It could spark a beautiful newlywed tradition.
Sunflower wedding bouquets are a refreshing take on flower arrangements that can bring vibes of love and commitment. From bright and varied colours to subtle accents, there are so many ways they can be personalised to your taste. Bring sunshine to your special day with the perfect sunflower bouquet.