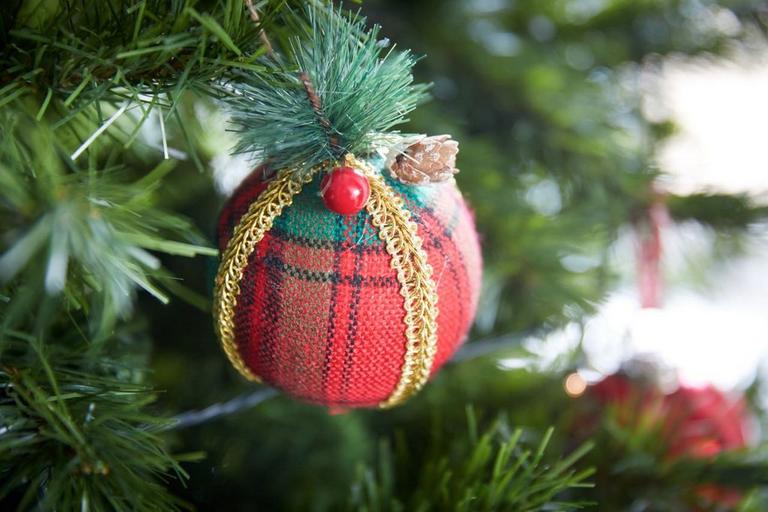 12 Best Alternative
Christmas Tree Ideas
21st November, 2020
21st November, 2020
On the 12th day of Christmas my true love gave to me...an alternative to a Christmas tree! Okay, we might not be your true love, but we do have some incredible alternative Christmas tree ideas just for you.
Whether you're decorating your university halls or trying to find room amongst the kid's toys in your house, sprinkle a little festive joy with ease, with our inspirational alternative Christmas tree ideas below. Take a look, find something within your budget and add a little cheer to your home this season!

If your living room is cosy, you may be looking for an alternative Christmas tree that doesn't take up much room but still offers a festive touch to your space. This is where a mini tree comes in. Perfect for the smallest of spaces, at around 1ft to 3ft tall, they can still be dressed up with baubles and tinsel and lights.
Whether you want to add some festive cheer to your hallway, or for decorating your desk in your home office, adorn your mini Christmas tree with ribbons, lights and teeny baubles then feature smaller gifts around it to finish it off.

Skip the tree altogether and put to use those presents that would typically be sat beneath it (getting covered in needles as they drop!). You can stack and arrange boxed presents into a pointed tree shape that creates a striking and conversation-starting festive feature.
Dot some baubles and Christmas decorations along any edges, pop a Christmas tree topper on top – and enjoy! All you'll need to do is throw the decorations into a box for next year as you dish the pressies out on Christmas morning. No cleanup and a great looking alternative Christmas tree? We'd say that's a win!
3. Heat things up with a cactus

Whether you're celebrating with family and friends on the other side of the world or just want to add a little sunshine to your Christmas festivities, then swap your usual tree for a Christmas cactus. Here are a few to choose from:
Traditional Christmas Cactus - There is actually a cactus that flowers during the festive season with vibrant red, pink or white flowers. It makes a statement and could easily be featured as an alternative to your Christmas tree. Learn more about the Christmas Cactus.

Bunny Ear Cactus - It may get its name from a cute and fluffy animal, but don't try and cuddle this cactus! Feature a bunny ear cactus in pride of place on your mantelpiece or desk, add some fairy lights around its pads and pop a star on top for a fun, festive feature.

Saguaro Cactus – These cacti start small but over time they grow into those tall many-limbed trees you'll recognise from cowboy movies and stereotypical desert scenes. Adorn with baubles and tinsel to use it as an alternative to your Christmas tree and create a Christmassy spectacle.
4. Bright and beautiful books

If you love nothing more than curling up in a quiet corner with a good story, then consider sharing your love for all things literary this Christmas. Swap tree branches for pages, made using this natural resource.
This alternative set up is perfect for a small flat if you want to add a festive flourish to a coffee table or a bare shelf. Simply stack books on top of one another, going from large to small and decorating with baubles and lights. It's an easy, very budget-friendly and unusual Christmas tree alternative that your guests will want to know more about. Bonus points if you choose books related to or set during Christmas time – time to dig out that copy of A Christmas Carol.

Have some planks of wood lying around the garage that you're not sure what to do with? Then have a go at this crafty tree alternative to create an eco-friendly and great looking festive feature!
Simply take your pieces of wood, sand them down and paint them whatever colour takes your fancy – we think varnished wood looks best for a rustic vibe – then cut them into lengths that go from long to short, creating a tree shape when laid out!
Once you're happy with these 'branches', nail or staple them in the centre of another strip of wood to create your tree. Pop the finished creation in a pot to hold it in place then decorate with baubles, tinsel, beads and fairy lights.

Create Christmas in a jar with this simple craft that's so easy to make you'll be placing these mini festive ornaments everywhere from your dining table to your kitchen window to your office desk.
So how do you make this sweet Christmas craft? All you need is a clean jar, some tree branches, fairy lights and baubles.
Simply pick up some sticks on one of your winter walks, clean these and then pop them in a jar filled with fairy lights. Finish with a few well-placed baubles and ribbon and you're done. Simple but effective! We love coloured fairy lights for a playful twist.
7. Houseplant for the holidays

Have a large houseplant already in your home? Why bother with a Christmas tree at all? Instead, you can adorn its leaves with festive decorations and feature it in pride of place in your living room. Wondering which indoor plants work best for this alternative Christmas tree idea? Here are some suggestions:
Kentia palm - This green-leafed beauty works great with dangling decorations for an alternative Christmas tree that you can enjoy long after the presents have been opened.
Aloe vera - Great for sunburn or irritated skin, also great as a makeshift Christmas tree. Throw on some baubles, a few fairy lights and you have a sweet seasonal decoration to enjoy during the Christmas period.
Rubber tree - This plant's sturdy branches mean it's great for adorning with decorations. Rubber trees enjoy bright natural light so you can show yours off near the living room or kitchen window.
8. Create a rustic rope tree

Feeling crafty but are a little limited when it comes to space? Try this DIY alternative Christmas tree on for size. You'll need 8 to 10 thick branches in varying sizes and two long strips of material or rope to get started. Follow these steps to make your own in just three steps:
Step 1 - Lay the two pieces of rope out into a pointed shape, secure this at the top.
Step 2 - Then, take your branches and attach these, spaced equally down the two lengths of rope to create a tree shape. You can wind the rope around them or glue them in place.
Step 3 - You can add lights for a festive display then hang this alternative and striking festive decoration in your home.
This simple but effective alternative Christmas tree adds a modern twist to your usual decor. Try it out to save some space but also bring a little of the outside, into your home.

Have a chalkboard wall in your home? These trendy painted features are the ideal solution to creating an alternative Christmas tree. Simply grab some chalk and draw your Christmas tree on the wall! We think white chalk makes a classy statement but you can always have fun with lots of colour and detail if that's more your thing!
Feature your presents on the floor underneath and you have a space saving tree that can be enjoyed throughout December – or November if you start early – that you can wipe off once New Year rolls around.

Are you a wrapper or a gift bagger? Whatever your preference when it comes to prepping those Christmas presents for friends and family, consider this alternative Christmas tree idea.
Repurpose a paper gift bag and fill it with a Christmassy bouquet or scented fir tree branches to create a small but sweet tree alternative. You can then get creative with lights, baubles and dried fruit and cinnamon sticks to create that familiar festive scent.
This is the ideal alternative tree if you want to sprinkle some Christmas spirit in other rooms in your home. Feature it in the kitchen or hallway and enjoy all the compliments you receive from guests.

Fancy skipping that real tree this year? Instead, feature a vibrant poinsettia in pride of place. The vivid red and green leaves scream Christmas with some plants big enough to even place presents around.
If you're limited when it comes to space – perhaps you rent a room in a big city or don't have space in your flat for a 6ft tree – a poinsettia is the perfect alternative. It should bloom all season and add a pop of colour to your space. Feel free to decorate the plant with lights and even carefully placed baubles if you really want to get into the spirit!

Running out of floorspace? Make use of your walls! With some fir branches, some adhesive hooks and lightweight decorations you can create a masterpiece of a tree on your living room wall.
Take three strips of fir branches, each one a little shorter in length than the other, then use your adhesive hooks to fix these to the wall.
Place them above one another, going from long to short from the bottom to create a pointed, tree shape. Add your baubles and stick a star at the top to mimic your tree topper. Pop your pressies on the floor beneath your creation and enjoy!
Ready to swap your traditional tree for something a little more creative? Consider our space saving, budget friendly options and have a very merry Christmas!