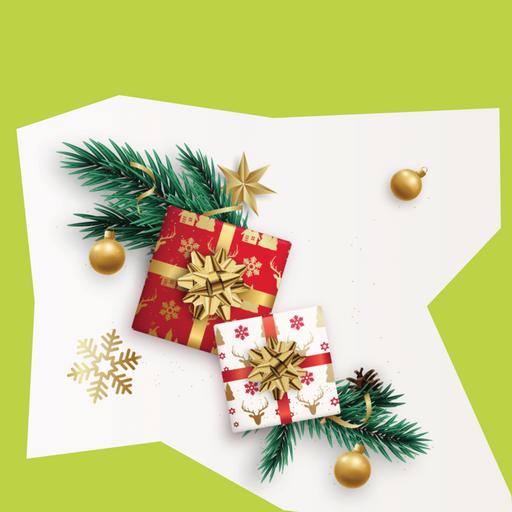 Christmas table
decoration ideas
10th December, 2023
10th December, 2023
The Christmas table is the heart of every festive season. It's the place where the delicious turkey is carved, crackers are pulled, and families gather together to celebrate what is the most wonderful time of the year.
Having the perfect Christmas table decorations on display in the run-up to the festivities, as well as on the big day itself, will help ensure your home has plenty of seasonal joy throughout.
So how do you ensure your table is in tip-top shape for the festive season? We've rounded up a few of our favourite Christmas table ideas to make your Christmas dinner pop as loudly as the champagne cork, from festive foliage to modern ideas with a twist

Whether it's beautiful little place settings or a centrepiece that catches the eye and provides a festive focal point, decorating the table allows you to add a little sprinkle of magic and luxury to your dining room ahead of Christmas dinner.
Decorating our homes for Christmas is a tradition that dates back centuries. In fact, Christmas trees can be traced all the way back to ancient Egypt and Rome. However, decorating for Christmas as we know it today dates back to the 16th century in Germany. Over time, those traditions have evolved into what we know and love today.
So how do you make sure you incorporate the table into that Christmas spirit? Here are our top ideas for creative Christmas table decorations you can make this year.
CHRISTMAS TABLE CENTREPIECE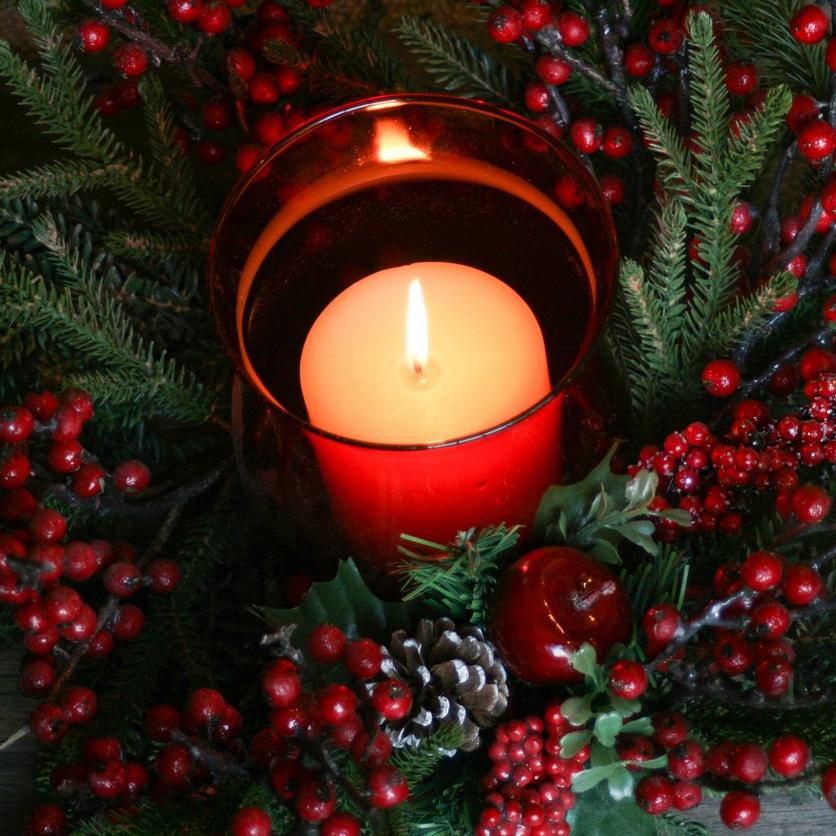 The table centrepiece is the main attraction of your table, taking pride of place beside the stunning food and setting the tone for your whole Christmas dinner. It's the chance to wow guests with bursts of colour and stand-out accessories that bring the entire experience to life.
WREATHS
Christmas wreaths can make a fantastic centrepiece for any table, particularly if you plump for a floral theme that brings colour and alluring aromas together. Combine dried petals and fresh festive flowers when making your wreath to give it a mix of textures and colours that make a statement.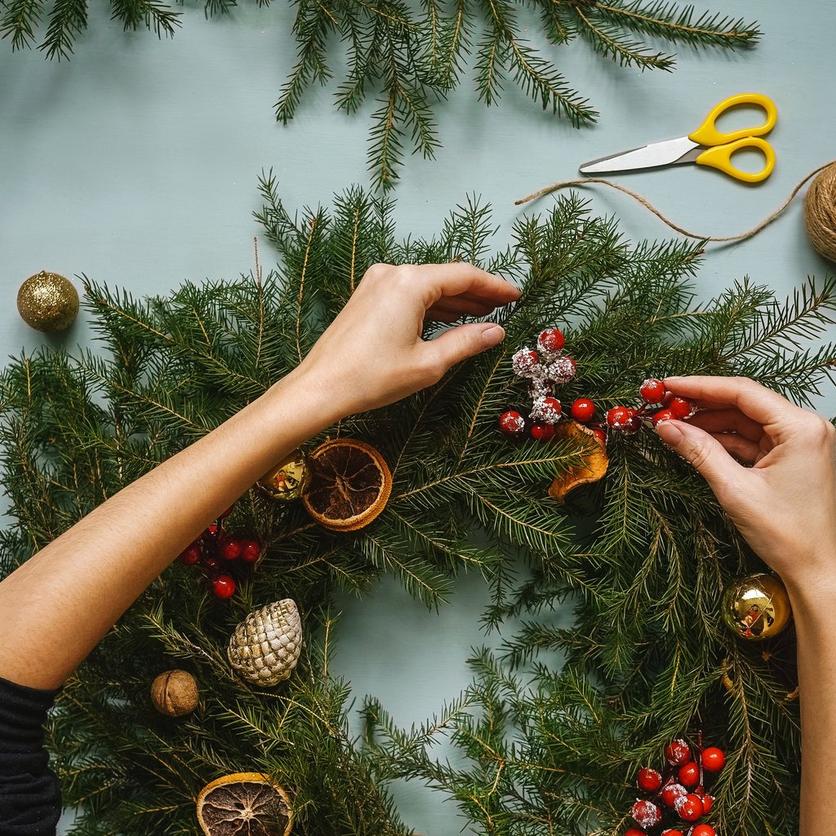 Ruby red roses and stunning amaryllis make great flowers for a wreath, with their bold petals matching the colour theme of traditional festivities. Combine these with pinecones, a twist of ivy or a handful of small Christmas baubles for a timeless aesthetic that'll really stand out on your table. To give it an extra bit of flair as a centrepiece, you can also add some pillar candles of varying heights in the centre of your wreath.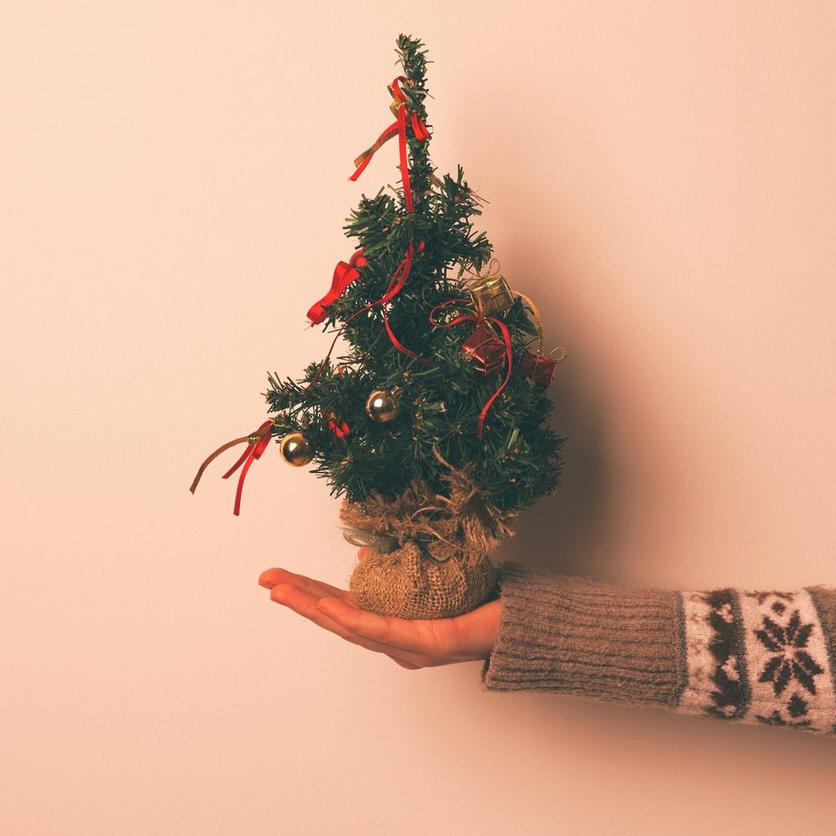 Depending on the size of your table, a mini Christmas tree can make for a cute little centrepiece that ties everything together. Why not make it match the theme of your main tree too? A mini tree will add height and gives you the opportunity to add as much colour as you want with decorations such as bright baubles, glistening tinsel, and twinkling fairy lights.
Combine your tree with Christmas foliage and striking red poinsettia for a beautiful look that'll bring any table to life.
CANDLES
As timeless as they are stunning, a few well-placed candles can be as Christmassy as even the biggest tree. Not to mention the fact they add a little warmth to the room at what can be a chilly time of year.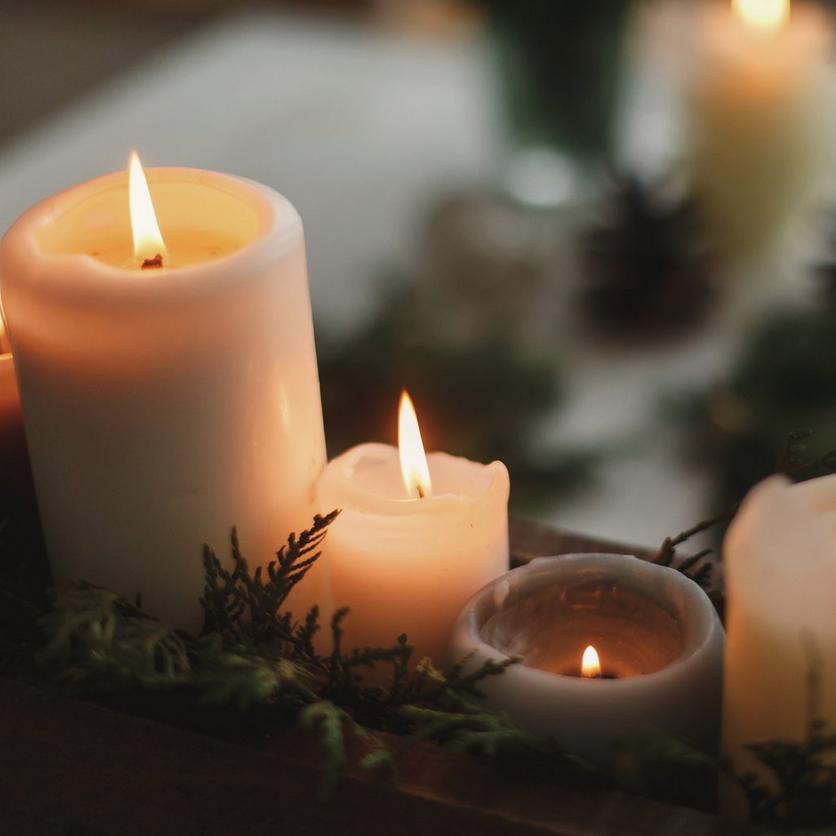 You might want to mix and match the colours of your candles too, with reds, greens and whites combining to give your table a beautiful look. To really make a statement, a simple string of Christmas lights or blushing poinsettia stems wrapped around the base of the candles will give your display the wow factor.
MODERN CHRISTMAS TABLE SETTINGS

Decorating the table doesn't need to end with the centrepiece. There are plenty of little extra touches of flair that can add magic to any Christmas Day table. Simple additions like place settings that match your theme can make all the difference and present guests with a seasonal scene they'll never forget.
Our top tips for table settings with a difference include:
Making decorations out of painted pinecones and placing a little name card into the grooves.
Adding a simple flower bouquet to each plate. Use traditional Christmas flowers like red roses and amaryllis, mixed with festive foliage, for an unforgettable touch. Dressing the table for an intimate Christmas? Add a sprig of mistletoe for a bit of festive love.
Making your own Christmas crackers filled with mini games or little gifts – don't forget the terrible jokes too.
Miniature alcohol bottles are always a big hit during the festive period, whether it's gin, whiskey or small wine bottles. Find out what tipple your guests love to avoid disappointment.
Seed packs for guests to take home and plant make a great souvenir for the occasion.
Homemade tree decorations with names or flowers painted on them make for lovely keepsakes.
Freshly baked cookies or cupcakes – it is a time for indulging after all!
CHRISTMAS TABLE DECORATION THEMES
If you're struggling to decide how to decorate your Christmas table, picking a theme first can help steer you in the right direction.
Bright and bold: Use only the brightest of colours to decorate your table – reds, greens, golds and more are all associated with Christmas. Who said the rainbow was off limits at Christmas? By using a wider array of colours, you open up a world of flowers you can add to your table.
Glitz and glam: Glitter is synonymous with Christmas, add a touch of sparkle to your table, whether it's on the table centrepieces, name places, chair decorations or something else.
Black and white: A classic combination, a black and white theme can also give you a theme for your dress code. Cover the table in fake snow, and add in a few shimmering monochromatic roses and orchids for an elegant look with a difference.
Winter wonderland: Think snowmen, snowflakes, white flowers and reindeers – bring the North Pole to your home (without the icy chill).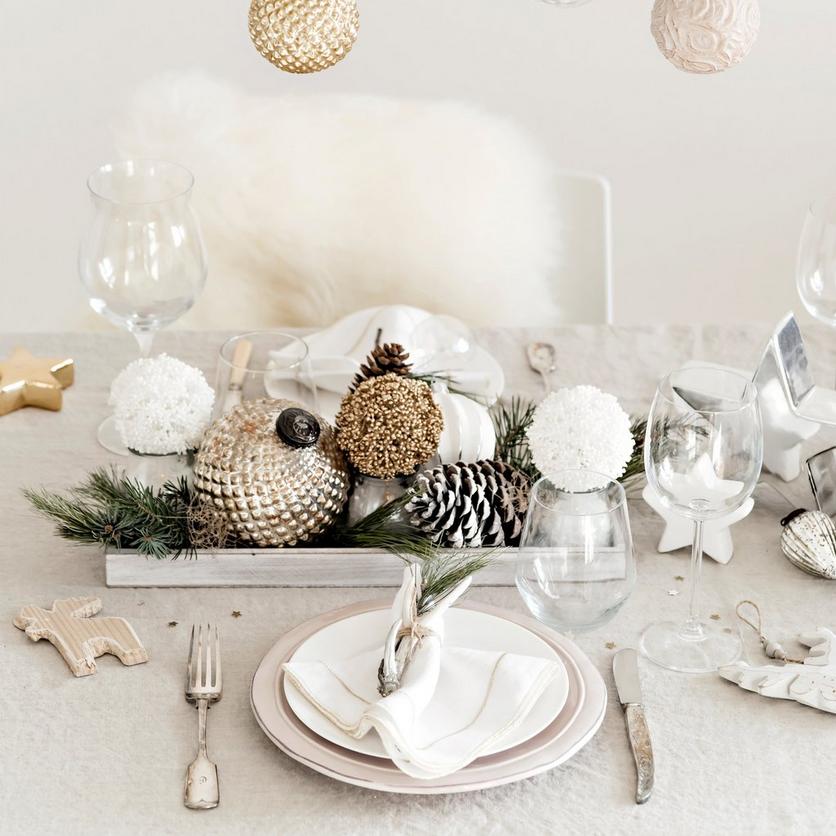 Silver Christmas Table Decoration
If you want to achieve a winter wonderland, silver, white and frosty blue Christmas decorations make the perfect look. Add some white roses, jasmine, and blue iris or snowdrops to really bring the outdoors inside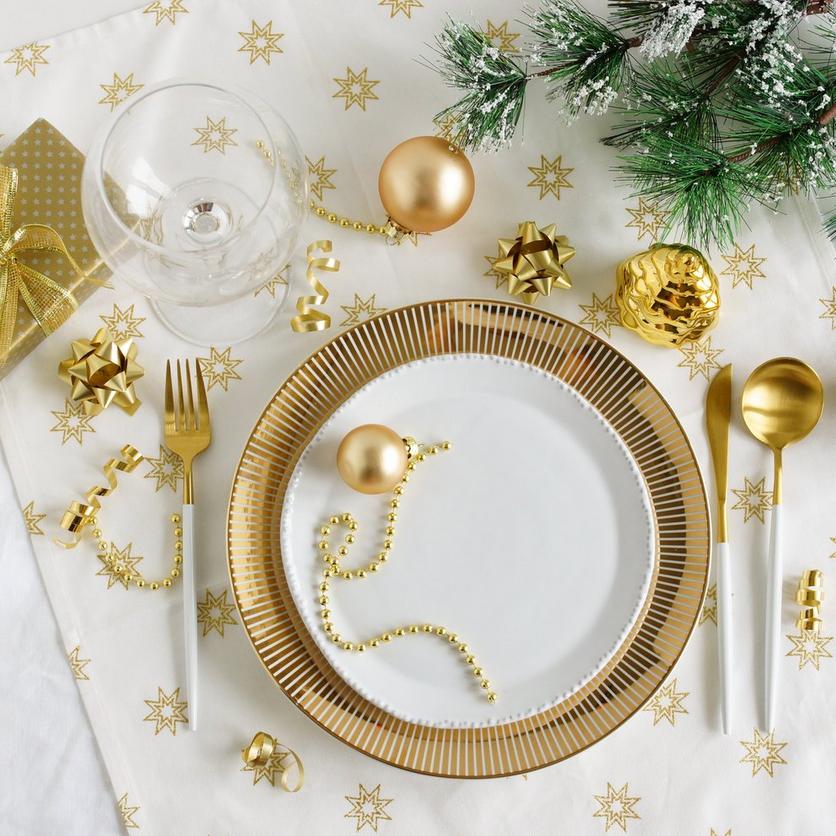 Gold Christmas Table Decorations
Gold colours are synonymous with Christmas. Golden Christmas tree decorations, hand-painted gold pinecones and warm fairy lights are a must. You can even add golden charger plates to take your table to the next level. Dried flowers such as pampas can really complement a golden theme, along with dried roses.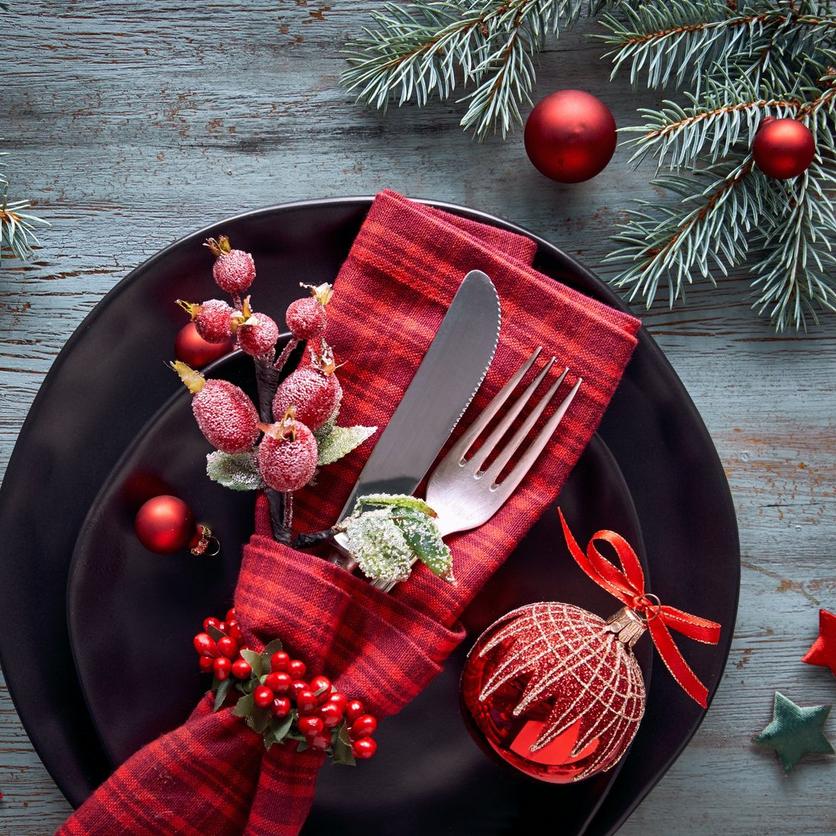 Red Christmas Table Decorations
Possibly the most traditional colour for Christmas, a red table theme offers plenty to work with. Place Santa hats on each setting for guests to wear and add red crackers to tie your table together. When it comes to centrepieces, use a festive poinsettia to make a statement. Poinsettia isn't the only festive flower though, hellebores are a beautiful shade of red, while a Christmas cactus perfectly combines red and green for the perfect festive look.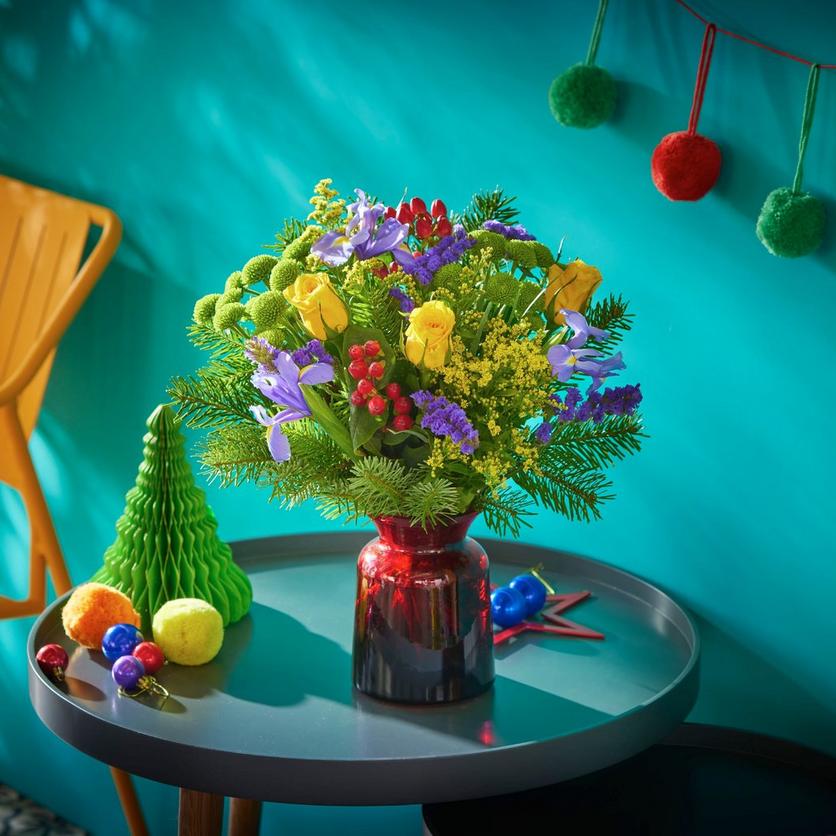 Colourful Christmas Table Decorations
If you want to steer away from the traditional colour pallet, that's an option too. From rainbow pompom wreaths to jars filled with an array of coloured baubles – deep purples, vibrant oranges, pretty pinks and rich greens can make your table pop this Christmas.
Flowers make for beautiful decorations too. Bright pink cyclamen and festive foliage will be the perfect addition to this table. And dried fruit such as oranges and lemons can add colour too.
Christmas will be here before we know it, so start planning your Christmas table decorations today and add a touch of festive floral delight to your table.