Flowers

Birthday

Summer

Delivery

Occasions

Plants

Hampers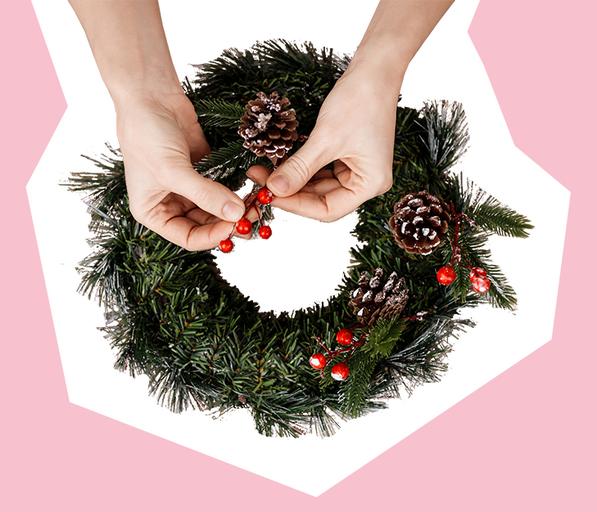 How To
Make a Wreath
26th November, 2020
26th November, 2020
Add a little festive cheer to your front door, with a homemade wreath. But don't panic! You don't need to be skilled in the art of floristry to create one of these welcoming arrangements.
In this guide, we've featured a range of easy step by step tutorials detailing how to make your own wreath. You'll have so much fun you won't stop at your door, but your friends and family's entranceways too. Choose from our selection of inspiring wreaths below and capture some of that festive spirit.
How to make a christmas wreath
Whether you're an avid crafter or don't know your glue gun from your staple gun, we've divided these step-by-step wreath tutorials into beginner, intermediate and expert level crafting experiences. So you can choose the right one for you.
Some basic tools for the job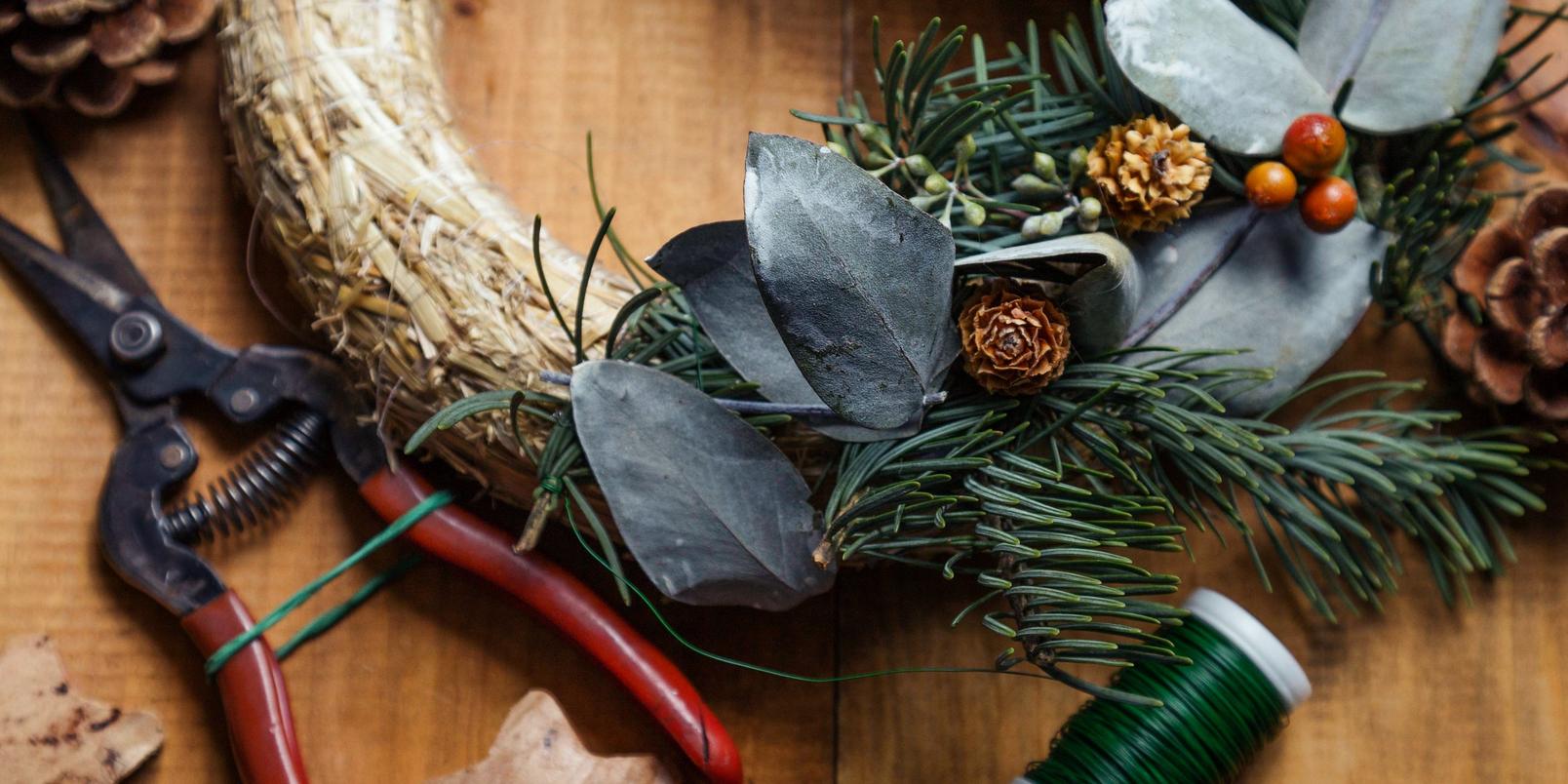 Scissors - Use these to snip flowers to the right lengths and decorations into shape.
Florist tape - This green, sticky tape holds flowers together.
Hot glue gun - Call upon a trusty hot glue gun to secure tricky decorations.
Wreath hoop - This could be wire, polystyrene, wicker or even floral oasis if you're using real flowers.
Florist wire - This bendy wire can be used to attach decorative items to your wreath.
Pliers - For bending wire wise ease.
What you can use to decorate a wreath
There's a whole world of opportunity when it comes to what you can use to decorate your wreath. You could go for classic pine cones and fir tree branches, dried orange slices and cinnamon sticks or opt for traditional red bows or perhaps throw in some modern icicles and fluffy polar bear decorations. Here are some options:
Pine cones. Cinnamon sticks. Fresh flowers. Foliage. Wine corks. Paper flowers. Bows. Baubles. Pom poms. Material. Strings of beads. Candy canes. Gift tag bows. Fairy lights
Beginner - Baubles, Baubles, Baubles
Simple but effective, fill your wreath hoop with baubles to create a striking finish. You can go wild with multicoloured baubles or keep to your chosen Christmas colour scheme. Here's how to create this easy Christmas wreath:
You will need
Wreath hoop - We recommend opting for a polystyrene hoop.
Hot glue gun - To secure those baubles in place.
Baubles - Choose baubles in a variety of sizes to ensure every part of the hoop gets covered.
String or twine - You'll need this to hang your wreath once you're done.
Step 1 - Use your hot glue gun and stick the largest baubles around your wreath hoop.
Step 2 - Tie your length of string or twine around the wreath hoop.
Step 3 - Next, fill in the gaps with the rest of your baubles, working in the medium-sized decorations first then using the smaller baubles. Have fun with colour and patterns, to create a wreath that has the wow effect.
And that's it! A simple but oh so effective bauble wreath that you can hang in pride of place on your door.
Beginner - Have a corking Christmas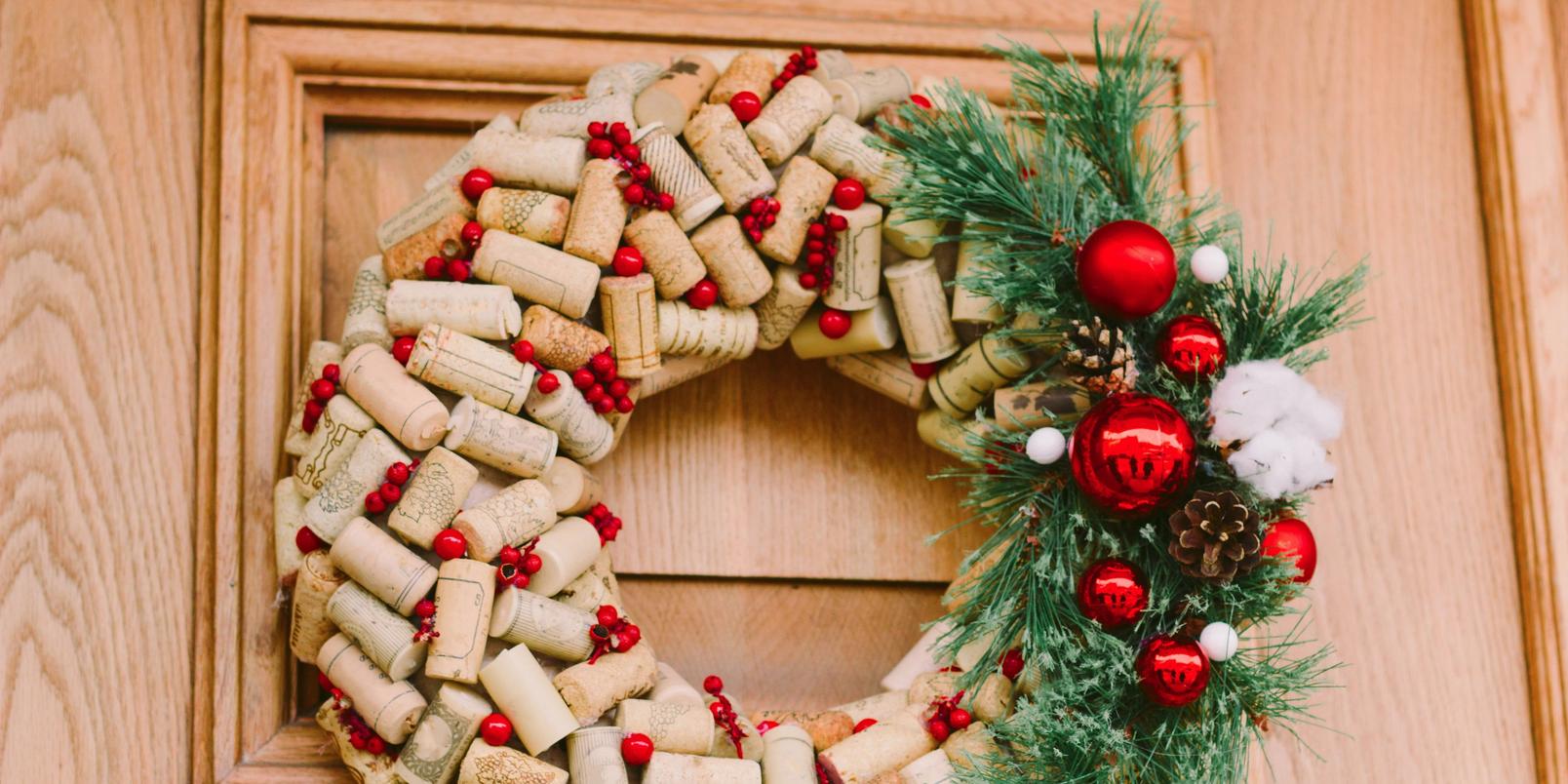 This wreath requires a little forethought – and a few fun-filled weekends! Simply take champagne, prosecco and wine corks and feature these on your wreath. It's the perfect design for wine lovers. Here's how to make your own:
You will need:
Wreath hoop - We recommend a polystyrene wreath again
Corks - You'll need around 30-40 corks depending on the size of your wreath hoop.
Hot glue gun -Secure your corks in place with this.
Step 1 - Ensure your corks are clean and dry.
Step 2 - Dab a small amount of glue onto the side you wish to stick to the wreath then secure these.
Step 3 - Work around your wreath, filling in any gaps with your corks. Try to pack them together and have fun with angles and which side you feature to create a unique display.
If your idea of a good Christmas is one filled with bubbles and laughter then this wreath is for you!
Intermediate - Festive Florals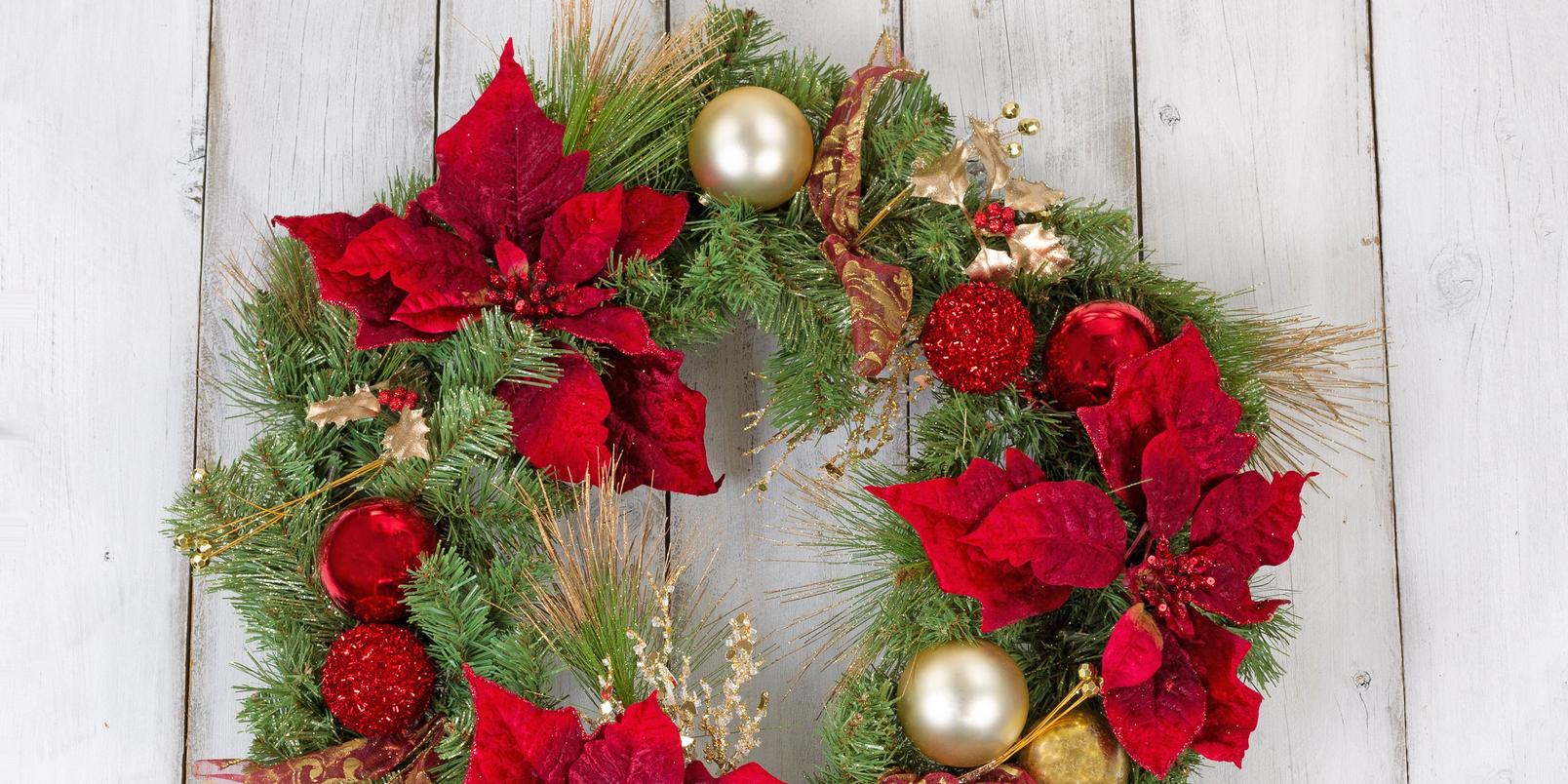 Winter may not always lend itself to the idea of fresh flowers but you can't go wrong with these on a wreath. You'll need to make your wreath close to Christmas Day if you want to impress guests and spritz it with water regularly to ensure your flowers stay fresh and pretty.
Now, the flowers you choose, depend entirely on what you can get your hands on during this winter season – take a look at our guide to the best winter flowers here – and of course, how you want your wreath to look once you're done. Here are some of our suggestions for the best wreath flowers:
You will need:
Roses - Red roses can be enjoyed all year round and once bloomed add vibrancy to a Christmas wreath and help to pad it out.
Poinsettias - Use the leaves from this gorgeous festive coloured plant on your wreath to make a statement.
Amaryllis - The striking red and white shades of an amaryllis flower make it the perfect choice for a floral wreath.
Tips for making a floral Christmas wreath
When making your own version of this fancy floral design, we recommend you start with greenery and foliage first. Then build up your wreath with colour and different textured flowers.
Don't be afraid to play around with height and length. Long pointed flowers cascading from your wreath or splayed out around the edges adds an interesting twist to your typical Christmas wreath design.
Expert level - Succulents and baubles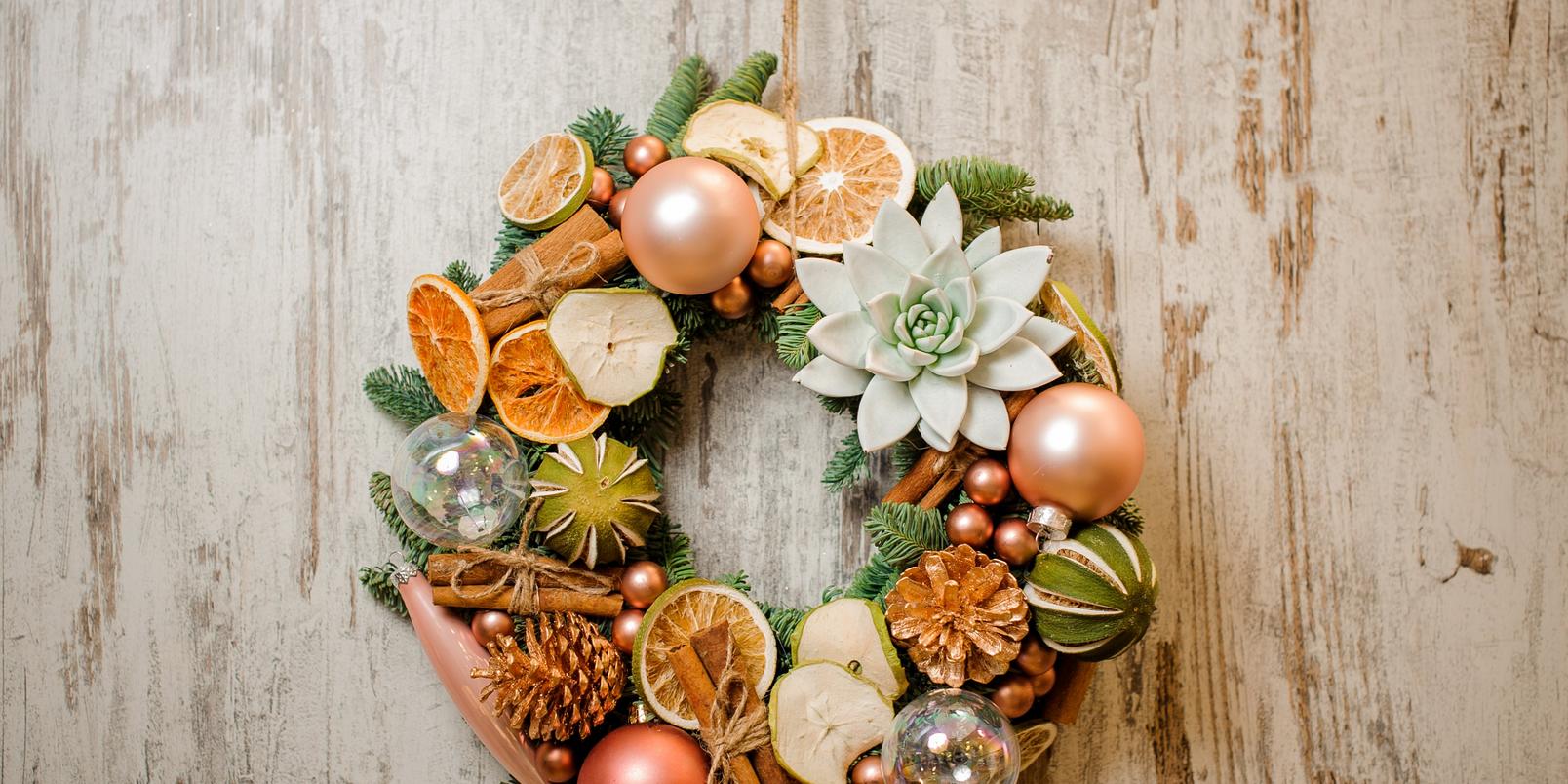 Doesn't this wreath look absolutely stunning?! Well, if your crafting fingers are feeling up for the challenge we have some tips on how to create this style below.
How to make your own:
You'll need to create a layer of fir branches across your wreath hoop. You can secure these with floral cable ties.
Then you'll need to place your succulents between the fir and secure them to the hoop before fixing baubles in between to create this bold display. We love the rose gold decorations mixed with the pink and green of the succulents – perfect if you're looking for a trendy wreath for a modern front door.
Alternatively, skip the glue and tie your baubles in place with string, threading this through the hole in the top of the bauble and weaving it around the wreath hoop.
If you want this wreath to last years and years, consider investing in artificial succulents and fir branches that can be glued or tied in place.
Alternative Wreath Ideas
But why stop there? Here are some wilder Christmas wreath ideas to consider trying out this December:
Cookie-cutter wreath - We love this wreath design created by Inspired by Craft. With just some star-shaped cookie cutters and red ribbon, you can create a striking accessory for your front door.
Balloon wreath - Make a statement with an oversized balloon wreath, you can find a fun tutorial here by Studio DIY.
Ivy wreath – Weave artificial, or even real, tendrils of ivy around a wicker wreath hoop. Finish with a charming ribbon and maybe a tinkling bell or two.
Foil gift box wreath – Have lots of those foil gift box decorations that you're not quite ready to throw away but aren't sure what to use them for? Then why not secure them to a wreath hoop for a colourful and striking display! Take a look at this tutorial from Crafts Unleashed to learn how.
Balls of yarn wreath – Love to knit? Let everyone know with a wreath made up of wool in festive shades. However, don't just go slinging your wool onto a wreath hoop, grab some styrofoam balls and wrap yarn around this to create a fun ball of yarn effect then secure in place.
We hope you're feeling inspired when it comes to that decorative feature for your front door or above your fireplace. Try out one of these festive crafts and add some Christmas cheer to your home.