Easter Flowers
Celebrate the best of spring with our range of fresh Easter flowers. With bouquets featuring spring daffodils, bright tulips and scented stocks, we've really picked the best of the bunch. Order now for Easter Sunday, 9th April 2023.
Easter Flowers & Gifts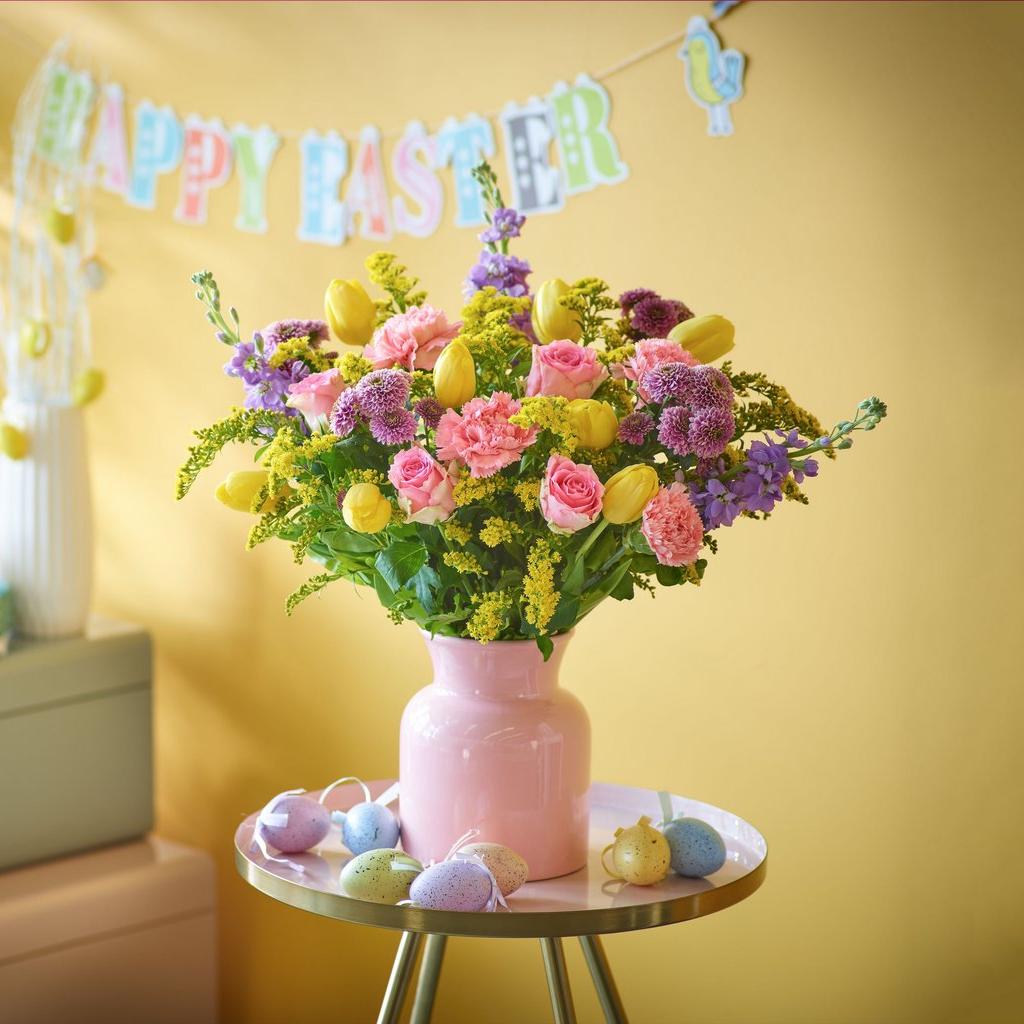 Flower Delivery for Easter
Add some spring sunshine to your home with some fresh Easter flowers.
FREE delivery on Thursday 6th April
No delivery on Good Friday, Easter Sunday or Easter Monday
Guaranteed DPD delivery on Saturday 8th April (£5 delivery charge)
Joyful Easter bouquets
Celebrate the best of the season with our Easter flower bouquets bursting with fresh spring stems. Take the pick of the spring bunch and say 'Happy Easter' with a fresh flower delivery this Easter weekend, 7th – 10th April 2023.
Easter flowers delivered across the UK
Our very own Easter bunny (aka our trusted delivery partner) will deliver your Easter flowers by post for FREE on Thursday 6th April 2023. Hosting a last minute Easter lunch? Don't worry, just place your order for Easter flowers for couriered delivery on Saturday 8th April 2023 for guaranteed delivery before Easter Sunday. Unfortunately our flower delivery service is unavailable on Good Friday, Easter Sunday and Easter Monday (our bunnies are too busy with Easter egg hunts!).
Whether delivered to their doorstep or through the letterbox, our Easter flower arrangements arrive in bud to guarantee our bouquets look fresh and fabuous for at least 5 days. To keep them looking their best, we include a handy guide on how to care for your flowers.
Happy Easter flowers
Delivering smiles and happiness in the form of flower bouquets is what we do best. Not only do we have cheap Easter flowers, but we give you a lot of little extras for free. So for an extra special Easter treat, you can add mini Lindt chocolate bunnies to your order and not have to pay a penny more. Even a selection of our Easter bouquets come with extra stems (on the house!) for additional Easter joy.
What are the best flowers for Easter?
Easter is a celebration of spring in all it's glory, so spring flowers are the perfect choice! But don't just stick to daffodils, the world is your colourful oyster when it comes to Easter gifts. Think bright and bold, matched with sunny yellows, with a touch of greenery to make up the perfect mix. And why not opt for scented stems to help bring some of the outdoors in? We've rounded up the best flowers for Easter in this handy guide.
Easter Inspiration