The Best Flowers
for Easter
After a long, dreary winter, we all deserve a pop of colour in our lives. And with Easter around the corner and a sense of optimism in the air, it's time to go wild for all things spring.
When it comes to choosing an Easter gift for someone you love, forget about chocolate eggs – Easter flowers are the perfect choice. But where to begin? Sometimes, it's difficult to know whether to go for a straight-up bunch of daffodils or branch out into other traditional Easter flowers.
Don't worry – help is at hand. We've rounded up the best, brightest spring flowers for Easter.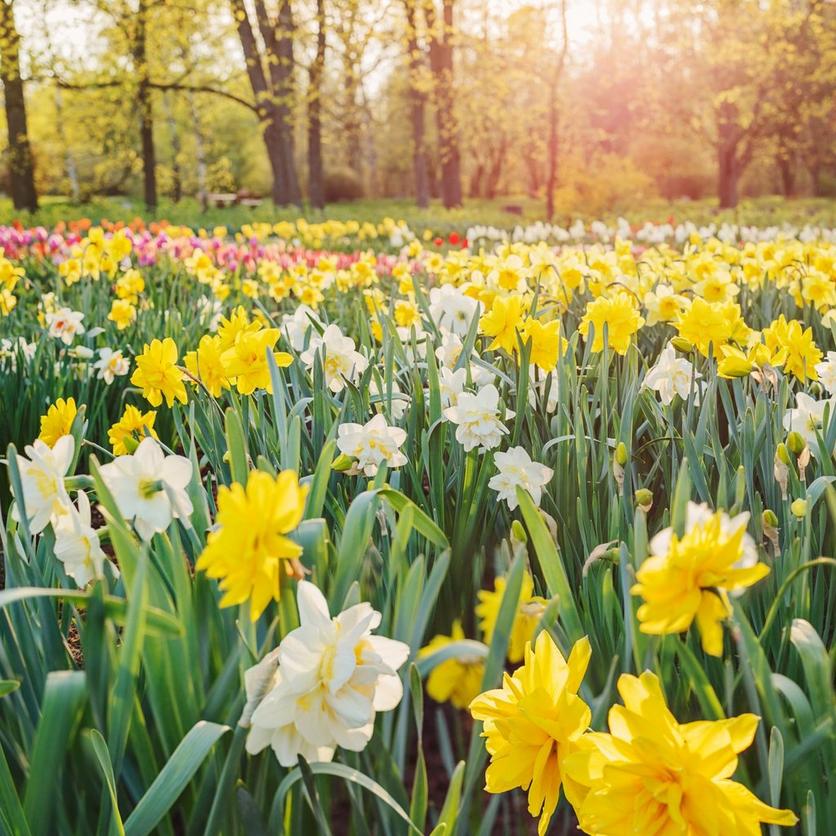 Spring flowers perfect for Easter
When you see those first seasonal daffodils and snowdrops bloom in your local park, you know spring is just around the corner. It's time to add some flowers to your home that reflect the changing seasons. Spring flowers like tulips and daffodils give new beginning vibes. So what better choice for Easter? They're also a great gift for people celebrating – from a new job to a new addition to the family. Regardless of the occasion, a spring like bouquet will jazz up any space!

The Easter Lily is perhaps the most refined spring flower of them all.
With a delicate white flower, this iconic lily is a traditional Easter decoration, and can be found holding court on church alters throughout the Easter period. Mentioned throughout the Bible, white lilies symbolise purity, rebirth and hope – a perfect nod towards the Easter celebration.
When it comes to caring for your Easter Lily, choose a spot with bright, indirect light such as a hallway, for this flower to make a statement when your guests arrive! But bear in mind that lilies are toxic to cats and dogs, so it's best to avoid them if you've got furry friends roaming the house.
Whether as an Easter decoration or a thank you gift to a host, these flowers bring serious flair to any home.

Sunny daffodils are the epitome of spring, with their trumpet shaped heads creating the ultimate cheery bunch. A smaller and wilder variety is often referred to as the 'Lent Lily' making them an ideal choice for a traditional Easter flower.
If you're looking for bold spring flowers to brighten up your Easter decor, choose the classic daffodil. Just make sure to change their water regularly to maximise oxygen levels. Try not to mix and match them with other bouquets, as daffodils can shorten the lifespan of some flowers.
Want something a bit more delicate? Try the paperwhite narcissus in a tall glass jar for a rustic table decoration.

Tulips provide a bright, showy pop of colour to any home. With a distinctive teardrop shape that bursts open in any vase, these beautiful flowers are available in as many colours and varieties as you can shake a bouquet at.
Garden tulips are your common or – ahem – garden variety, but you can just as easily branch out into more exotic versions; lady tulips are delicate and elegant, while tulip fusilier is jagged and fiery.
Although often tied to the Netherlands (hello, tulip mania!), they are actually native to the Near East and Central Asia. When imported to Europe in the 17th century, tulips caused a hoo-hah in Holland when flower fans rushed to get their hands on these prized petals. We're not surprised!
Add some tulip mania to your Easter celebrations with a colourful bunch. No-one likes droopy flowers through, so make sure you trim your blooms by 3-5cm and refresh their water regularly – giving them another small trim with every refill, to ensure they stay as a bright and beautiful throughout the Easter weekend.

With their vertical flower clusters and spike-like stems, stocks are a great way to give a sense of height to your Easter centrepiece. Symbolising contentment, joy and happiness, they're the perfect addition to your feature florals this spring.
A member of the mustard family, stocks give off an enticing, spicy scent – and we're not talking about a nose full of Colman's. Choose between a variety of shades to suit your Easter colour scheme, from pure white and lilac buds to rich red and pink hues.
To make sure your stocks are in tip top shape for the upcoming Easter weekend, you should change their water daily and keep them in a cool spot away from the sun.
From tulips to lilies, the world's your colourful oyster when it comes to Easter gifts and decorations. Take the pick of the spring bunch when it comes to sending Easter flowers this Easter weekend, 15th – 17th April.