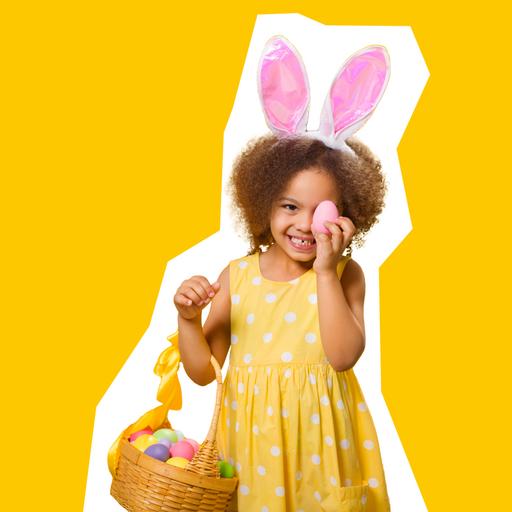 Easter is almost here, so add some spring sunshine to your home with easter decorations - we're talking lots of flowers, plenty of colour and of course, chocolate!
If you've got everyone coming over to your house this Easter, it's time to take everything to the next level with a sprinkling or two of spring flowers, painted eggs and fluffy chicks (not the real kind). Let's put a spring in your step with some of our egg-cellent Easter decoration ideas.

For billions of Christians around the world, Easter is the most important day in the holy calendar and marks the crucifixion and rebirth of Jesus Christ. Six weeks before the big weekend is known as Lent. This is a period of abstinence and self-discipline and reminds Christians of the sacrifice made by Jesus when he spent 40 days and nights fasting and praying in the desert, with the period ending on the morning of Easter Sunday.
Easter is that time of year when we should celebrate new beginnings and the changing of the seasons. What better excuse do we need for getting our friends and family around for a big Easter lunch? Of course, we can't forget that other Easter tradition - the Easter egg hunt. Whether it's a grand event every year at Grandma's or a mini hunt around the house, it's a tradition both adults and kids can get behind.
So let's get ready by bringing a dash of spring and festivities into your home with some of our wonderful Easter decorations.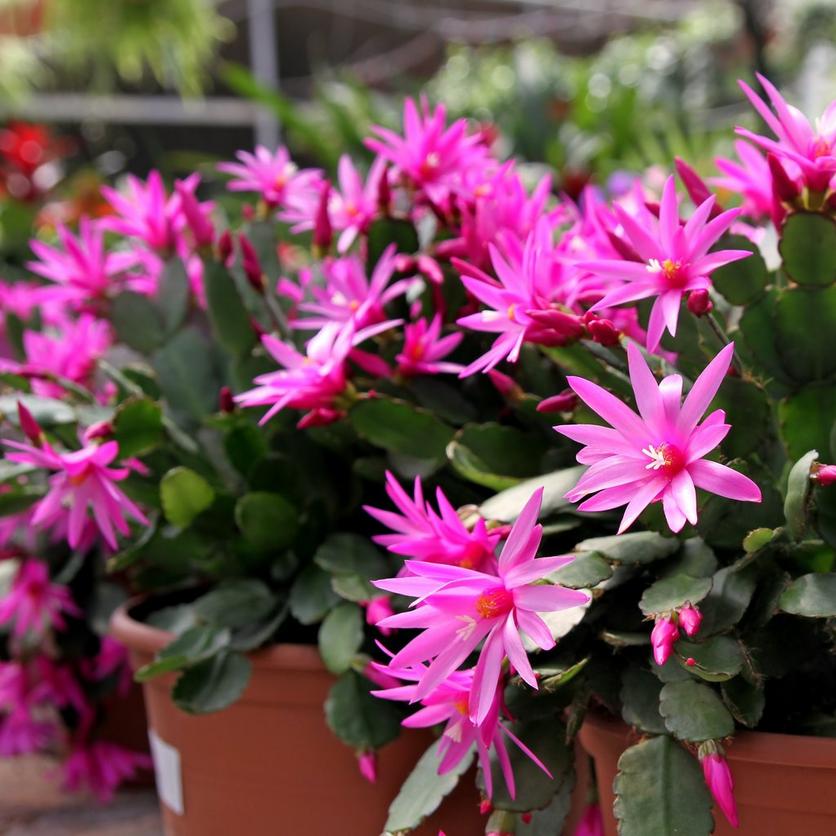 EASTER CACTUS
Start with the ideal plant for the festivities, the Easter cactus. Despite its name, this cactus isn't all about sharp spikes and instead features an abundance of gorgeous flowers in pink, orange and red that sit on the end of trailing flat stems (they look like leaves) – a perfect addition to any table.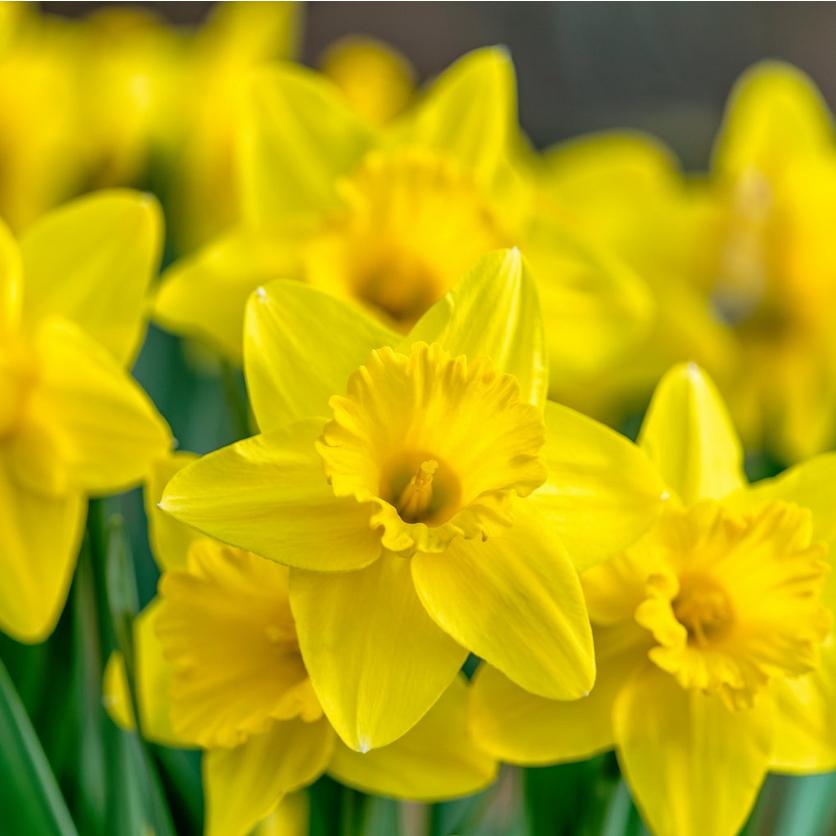 DAFFODILS
The epitome of spring, daffodils are the first flowers to bloom to signal warmer days are coming. A vase of daffodils with their happy-trumpet shaped heads is guaranteed to put a smile on the faces of your guests as they arrive, or to take with you and say thank you to the host.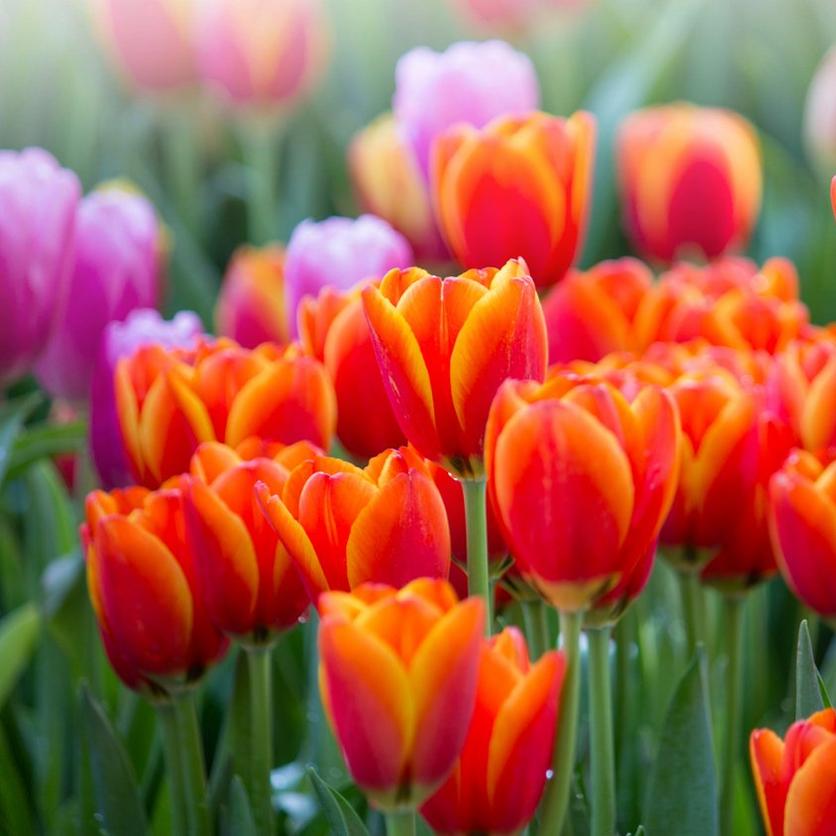 TULIPS
If you're in the need of a splash of colour then you can't go wrong with some tulips. You'll easily find a colour to suit your mood, from red to orange or pink and purple – or even mix and match for the ultimate way to add some sunshine.
DIY Easter Decorations
There can be nothing better than making your own decorations. They're great fun, easy to do and you can really add your own personality and character to every piece you make. Plus, they're a great way to keep the kids entertained over the Easter holidays.
When it comes to DIY Easter decorations there are some key themes you have to follow. Rabbits, carrots (every Easter bunny loves a munch on these), chicks and colourful eggs. Keep it simple with pastel hues, or go all out with the most colourful decorations and jazzy designs.

Make an Easter Wreath
Who says wreaths are only for Christmas? Hang an Easter-themed one on your door and get ready to welcome all your guests. They're very easy to make and can suit the design to your own tastes and feature all your favourite flowers.
Get yourself a wreath made from willow and then add the flowers to only one side of the ring. For fresh spring flowers, you could choose ranunculus or tulips, or for something that lasts a little longer go for dried flowers along with pampas grass and eucalyptus leaves. Fix everything into place with some florist's wire and you're ready to go.
For a wreath that has a spring softness to it, create a base layer using moss. Fix into place by coiling florists wire over the top and around the back until everything feels secure. Now add your flowers. Go with pastel flowers and add some gorgeous baby's breath or solidago and some greenery like fern and myrtle.
Easter Wreath Ideas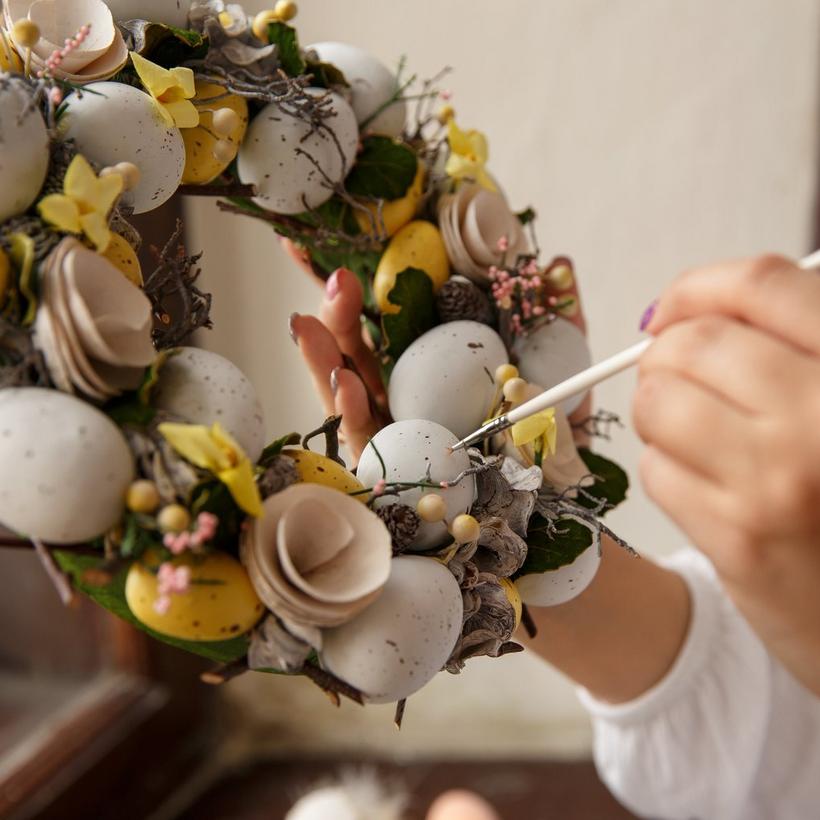 Complete the look on your wreath by weaving in some decorative eggs amongst the flowers. Don't forget an over-the-top bow that drapes down the doorway for the pièce de résistance.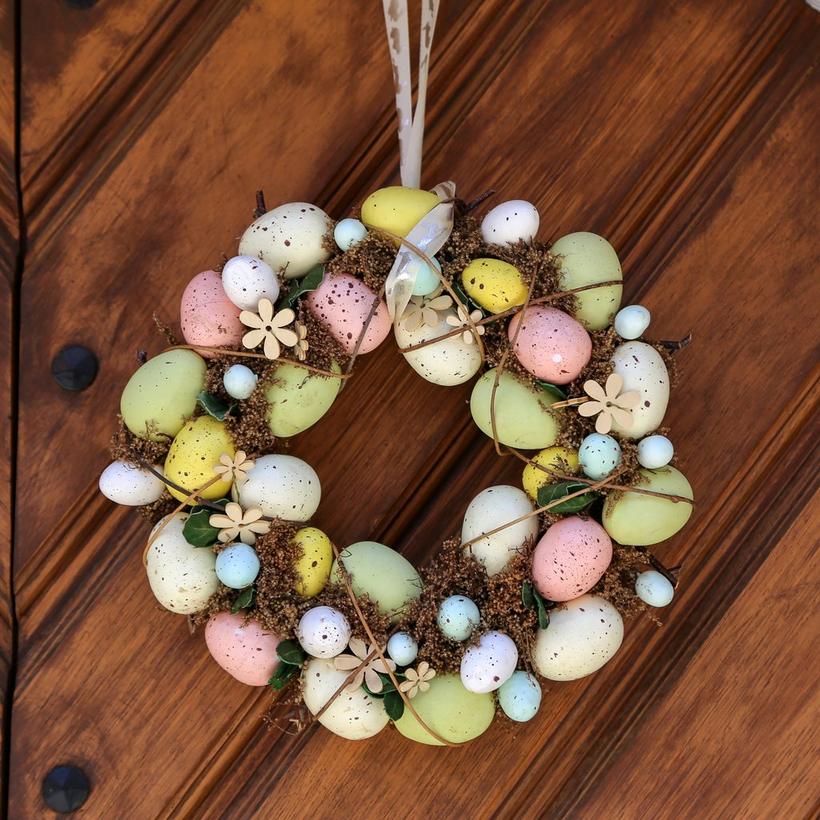 Decorating Your Table for Easter
Have you got all the family over this Easter for a big roast? Your table is going to need a real pop of bunny and egg-themed decorations to get the celebrations going.
Start with some magnificent flowers lining the table. Bring a splash of colour to your table with a row of terracotta pots all planted with some fabulous azalea plants. If you're feeling creative, why not paint the pots with your choice of design. You could also create a showstopping centre piece by getting a wire basket and filling it with some delicate freesia. Place decorative easter eggs around the base to hold everything in place.
One really cute idea is to turn your napkins into little rabbits. They don't take long and you can make them out of paper or fabric napkins although the latter probably works better. So, let's hop to it and create our bunnies. First, take your napkin and fold it in half (corner to corner). Roll to create a sausage and then bend into a 'U' shape (the tips will form the ears). Loop some raffia about halfway up the napkin and thread through a pink craft bead for the nose. Then fray the raffia to create some whiskers.

For an extra touch, why not get yourself some colourful card and cut out the words 'Happy Easter' and place on holders down the length of the table. Finish the look with some Easter treat bags - you can put one on each plate and use them as place settings. Get yourself some brown paper bags and paint the outline of a different coloured rabbit on each one. Tie matching ribbon on to the handle and print the name of each guest. Now the fun bit, fill with your choice of mini Easter eggs or chocolates (we won't tell if a couple accidently fall into your mouth!)
We've heard of a Christmas tree, but how about an Easter tree? A trending decoration, it's a perfect addition for the occasion. All you need are small, plain branches then place in jugs along the table or around the home. Finish the look with some eggs – either blown ones you make yourself or some polystyrene ones. Paint in pastel colours and hang using a pretty ribbon. You can even hang some chocolates for an extra treat.
Finish the look with your very own DIY Easter candles and this time we're taking it to the egg-treme. Lightly tap the top of an egg and empty out the insides before gently peeling off the broken shell. Clean out the insides, dry thoroughly and then place in eggcup holders. Melt some candle wax and add a couple of drops of lavender oil. Place a candle wick in the centre of the eggshell and then carefully pour the wax into the eggs (try and keep the wick centred) and allow to harden. Make a whole load and you could place them the length of your table.
Garden Decorations for an Easter Egg Hunt
No Easter celebration is complete without the Easter Egg Hunt – a tradition suitable for all ages – and here's hoping we get one of those lovely warm spring days. With everyone heading outside you're going to need some Easter garden decorations.
Start with something incredibly colourful (and easy) by filling as many containers with plants as you can. If you haven't got enough containers why not upcycle items such as teapots, hessian sacks or even tin cans. Then choose some of the best spring plants around such as primrose, hyacinths or narcissi. If you're pushed for time, why not buy one of our ready-made spring plants – then let your guests stand back and admire whilst you take all the credit.
You could also get yourself some old wellies and fill them with shredded green paper. Once you've created your little nest finish off with some eggs and place outside your front door.

When it comes to the hunt, why not give kids a helping hand and create signposts that will help them track down the Easter bunny. You can make these using some offcuts of wood painted in pastel colours or thick colourful card. Cut into arrow shapes and fix onto a large stick or post. Paint on some decorations such as a rabbit or wording like 'easter eggs this way' and then dot the signs around the garden.
Make yourself a fabulous egg garland which you can drape around the garden. For this, you'll need some colourful plastic or cardboard eggs. Then take a large sewing needle and thread garden twine through the top and bottom of the egg. Keep adding on eggs until you reach the desired length. You could also add in pom poms or tie in ribbons for something a bit different.