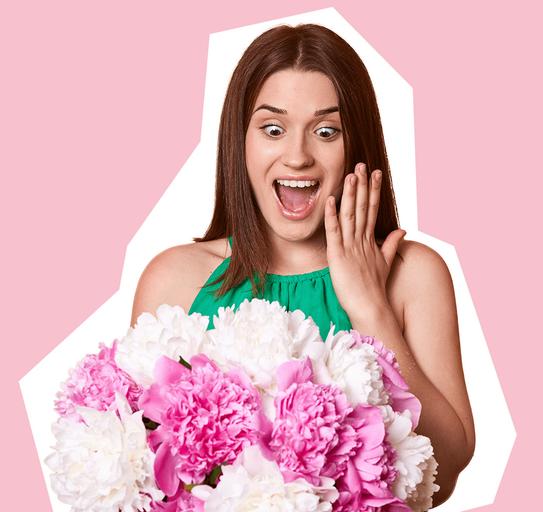 Peony
Flowers
A peony bouquet is maybe the loveliest way to bring beauty to someone's day, but these fabulous pink puffballs don't hang around for long.
LOOKING FOR A FABULOUS PEONY BOUQUET?
Peonies are here for a good time, not a long time. Don't worry if you've missed out on a peony delivery this year, we still have a fabulous range of seasonal flowers that are guaranteed to bring you joy.
SHOP FLOWERS SIMILAR TO PEONIES
FLOWERS SIMILAR TO PEONIES
Blink and they're gone! Peonies are a well-loved summer flower, with the launch of peonies signaling the early days of summer and the hope of warmer weather. If you're looking for a flower as perfect as the peony or you're looking for something a little bit different, we've got the very best of the seasonal bunch. F rom statement ranunculus to elegant camellias and darling dahlias, we've rounded up our favourite flowers that look just like peonies.
Don't miss out next year, sign up to our emails to be the first to hear about our peony bouquets (they're guaranteed to be even more fabulous!).
PEONY FLOWER DELIVERY
Bursting with colour, texture and all-round gorgeousness, our scent-sational peony bouquets are guaranteed to add a little sunshine to anyone's day. Every bunch of these happy blooms comes with completely free delivery, so your wallet it cheerful too!
WHAT IS THE BEST OCCASION TO SEND PEONIES?
We think peonies are perfect for any occasion, but they might be the go-to choice when looking to cheer up a friend. If they're feeling under the weather or just in need of a pick-me-up, send a bunch of these fluffy flowers to brighten their day.
Peony flowers are said to represent good luck (who knew each flower has their own special meaning!) so are the perfect way to wish someone luck if they have an exam or embarking on a new adventure.
Want to woo someone, but find roses a bit too cliché? Peonies are THE flower to celebrate a 12th anniversary. Or if you're still in the honeymoon phase of a relationship, a bouquet of peonies is the perfect alternative to a red rose without being too OTT on the romance.
Whatever the reason, peonies are the answer.
HOW TO CARE FOR PEONIES
Whether you are sending a bunch or are the lucky recipient of a peony bouquet, here's our top tips on how to care for peonies to make sure they stay fabulous for as long as possible.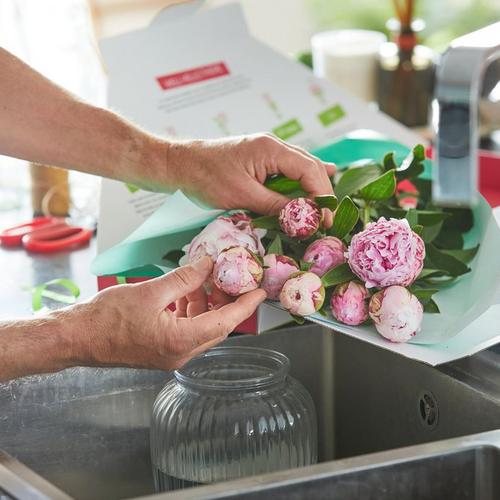 1) Choose the perfect vase. We recommend something simple - the flowers will make a statement!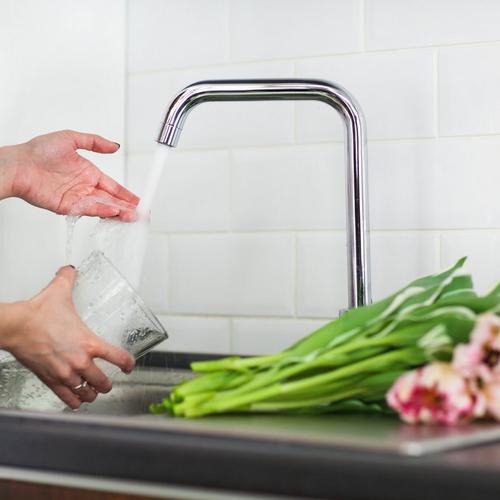 2) Fill the vase with fresh water, add in the flower food that arrived with it and give it a stir. The flowers will be thirsty after their travels!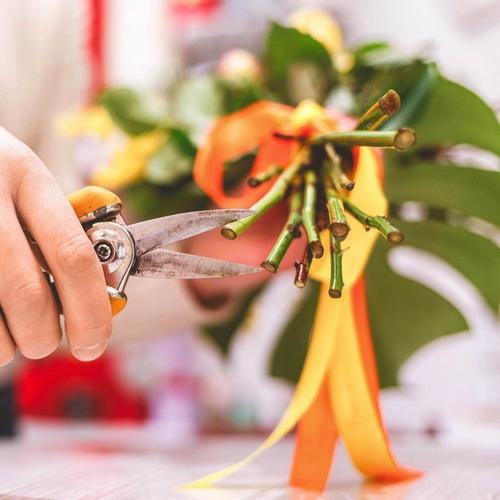 3) Remove any leaves that could sit below the waterline. Trim your stems at a 45 degree angle - this helps the water uptake to keep them looking their best.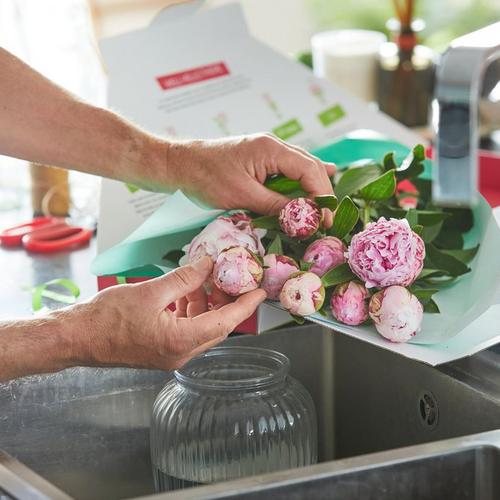 4) Peonies can also benefit from a little encouragement to open up in their full glory. We recommend removing the guard petals, as sometimes the buds can get a little stuck due to the sticky residue that protects each bud.
If you want your peonies to open up quicker than usual, then pop them in a warm, bright room and soon their petals will unfurl to reveal the gorgeous fluffy flower everyone knows and loves. But bear in mind, the faster they open up, the shorter their vase life - their time may be short, but it is definitely sweet. Looking for peonies all year round? Then consider drying them. From air drying to silica gel, we've created a handy guide on how to dry peony flowers.
If you're wondering if peonies are safe for pets (spoiler alert: they are non-toxic to cats and dogs, phew!) or want to learn more about where they came from, we've rounded up everything you need to know in our ultimate guide to peonies.
PRETTY PEONY WEDDING FLOWERS
Flowers are the perfect addition to any wedding, from the bridal bouquet, to statement table centres, and fabulous floral arches for the #wedding gram. What better bunch to choose for your big day than a blossoming bouquet of peonies? We'eve rounded up the our favourite ways to include peonies in your big day.
HOW WILL MY PEONY FLOWERS BE DELIVERED?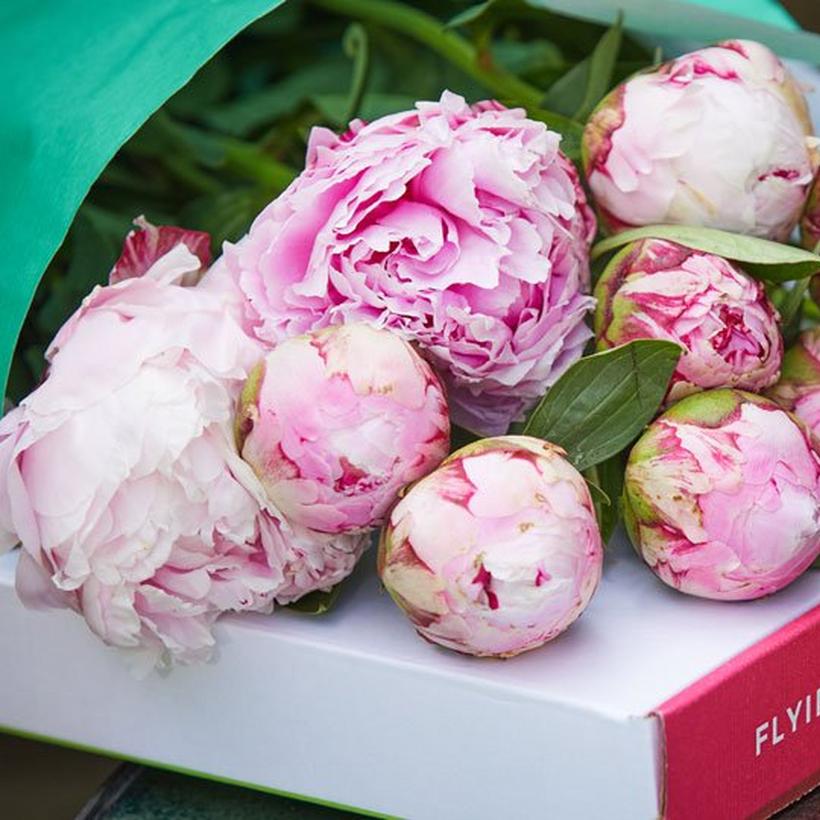 All of our peony bouquets are packed securely in one of our colourful boxes, delivered straight to their door (or yours) via our trusted delivery partner. All of our bunches in our peony collection come with free delivery, making your day a little bit brighter too.

WHY CHOOSE US
FOR YOUR PEONY
FLOWER DELIVERY?
"My mother loved her peonies. Lovely pink colour, shading on them as well."
FAQs ABOUT OUR PEONY FLOWER BOUQUETS
Our peony bouquets
Hooray, peony season is here! We've been dreaming of their pastel perfection and it's here at long last. Peony season has officially started. Whether you're sending a peonies for a summer birthday, a celebratory peony bouquet or treating yourself, you can't go wrong with a bunch of peonies.
When do peony flowers bloom?
If you are a wondering when peonies are in season, they don't hang around for long! If you're after a peony delivery in the UK, our peony flower range is available until June. Peonies are here for a good time, not a long time – if you want peonies delivered you'll have to move fast.
How do you like your peonies? A pure peony bunch? All mixed up with other gorgeous blooms? Whatever your style, we've got you covered.
Order peonies online
All of our peony bouquets come with free delivery as standard. Want to surprise someone with peony flowers delievered tomorrow? We've got you covered with our next day delivery, just be sure to place your order by 5.30pm (weekdays) for our flowers to be flying through their door!
How do I care for peonies?
Our peonies will arrive in in tight, golf ball sized buds but these quickly unfurl to create gorgeous fluffy bloomsto brighten up your week. Each pastel petal loosens up so the flower can open up in all its glory.
We've got a whole page to help you learn more about precious peonies, including how to give them the TLC they need. Here's everything you need to know about peonies.
How does peony delivery work?
Our trusted delivery partners will deliver your peonies by post. They'll be packed snugly in special packaging that's bright, beautiful, eco-friendly and designed to keep the blooms safe on their travels.
These pastel perfections can now appear right through the front door. Yup, we can post peonies through the letterbox!