Flowers

Birthday

Summer

Delivery

Occasions

Plants

Hampers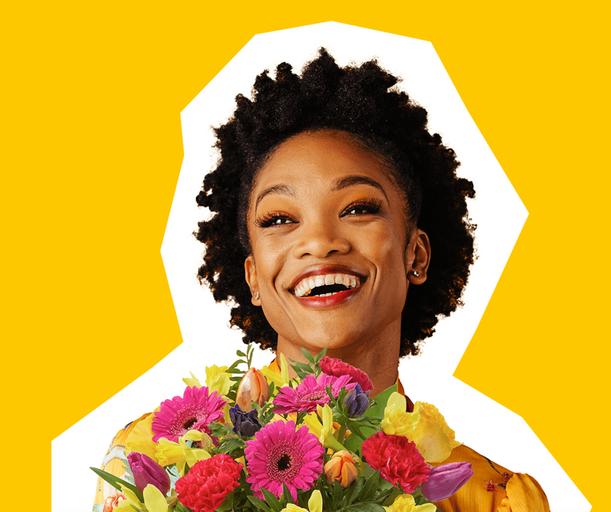 How to write the best Get Well Soon card
Question: what's better than receiving a beautiful bunch of flowers when you're feeling less-than-your-best? When the blooms are paired with an uplifting get well message, of course!
Not sure what to say in your get well soon card? Fear not – we're here to help! From get well soon messages to quotes and well wishes, we've got all the inspiration you need to pick them up in next-to-no time.

How to write a get well wish
With the help of these top tips you can craft the perfect get well soon message.
Start with a greeting
And make it a warm one. 'Hi' works perfectly well for a close friend or family member. Stick with 'Dear' if it's for a more formal acquaintance.
Write a few get well soon wishes
Don't panic if you don't know what to say here - we've got plenty of get well soon wishes, quotes and message inspiration below to help. The key is keeping your tone upbeat and positive without trivializing how your loved one may feel.
Add a personal touch
If you're particularly close then including a fun anecdote, inside joke or memory can go a long way to put a smile on their face.
Let them know you are thinking of them
It may seem obvious but spelling out the fact that you care will mean the world to them right now. If you want to go one step further why not offer a helping hand? Whether it's running a few errands or dropping off a home cooked meal, they're sure to appreciate the gesture. Just remember the golden rule – don't make promises you can't keep!
Sign off
Finally, sign off your card message and, again, keep it simple and warm. Something like 'thinking of you', 'wishing you well' or 'take care' is a great way to wrap up your message.

Short and Sweet Get Well Messages
Saying something is better than saying nothing at all so if you're feeling word-shy here are a few short but sweet get well soon messages to let them know you care.
Wishing you well soon
Get well soon!
Hope you feel better soon
Wishing you a speedy recovery
Sending you positive thoughts and a quick recovery
Thinking about you lots and hope you get better soon
Sending you lots of hugs and love for a speedy recovery
Sending healthy vibes your way
Take it one day at a time - get well soon
Hope you have a quick recovery
We're thinking of you and wish you well soon
Get better soon! Love and hugs for you.

Fun Get Well Wishes
If you know the person well, like a close friend or family member, then adding a dash of humour usually will go down a treat. We've gathered some funny get well messages to help cheer them up when they're not feeling on top form.
You're so great, even the germs adore you!
You better get well quick, you still owe me that drink
There are easier ways to get out of work you know
When I said "break a leg", I didn't mean it literally
You may feel like death right now, but I must say, you've never looked better
You'll be back on your feet in no time
Don't think of it as a hospital stay, it's more like an extended spa day only with regular medical checkups.
There is one bonus to this: you don't have to worry about what to wear to work
I believe when I said "pull a sickie" I didn't mean a real one
I think we can scratch "parkour master" off your list of special skills
You're one tough cookie!
I still love you, but I think I'm going to stick to virtual hugs for a bit
I will do my best to keep your plants alive until you're out of hospital

Get Well Wishes for a Loved One
Sometimes, we can't be there for the ones we love when they're ill. But, near or far, we can still send them a heartwarming get well message to let them know they are in our thoughts.
I want you to know you are not alone through this, we're here for you with anything you need.
We hope you get better soon but while you recover, just know you are in our thoughts. Always.
I promise to take care of you and make sure to keep things in order for when you get out of hospital
You may be miles away, but you are in our thoughts and hearts. Hoping you get well soon!
Sending you a little something to brighten your day. Lots of love and hugs and wishing you well soon.
I know you're going through a lot right now, so I just wanted to let you know I'm here if you need anything

Get Well Quotes
If you can't find your own words, there's no harm in borrowing some. Indeed get well quotes are a great way to offer encouragement. Here are a few we love:
"This too shall pass." – Persian Sufi Poets
"Be strong because things will get better. It may be stormy now but it never rains forever." – Unknown
"Difficult roads often lead to beautiful destinations." – Zig Ziglar
"When it rains look for rainbows. When it's dark look for stars." – Oscar Wilde
"The struggle you're in today is developing the strength you need for tomorrow." - Unknown
"Start where you are. Use what you have. Do what you can." – Arthur Ashe
"Life is tough but so are you." - Unknown
"It always seems impossible until it's done." – Nelson Mandela
"Believe you can and you're halfway there." – Theodore Roosevelt
"Hardships often prepare ordinary people for an extraordinary destiny." – C.S. Lewis
Whoever your get well message is for you can always make it all the more heartfelt by sending it alongside a beautiful bunch of get well flowers.