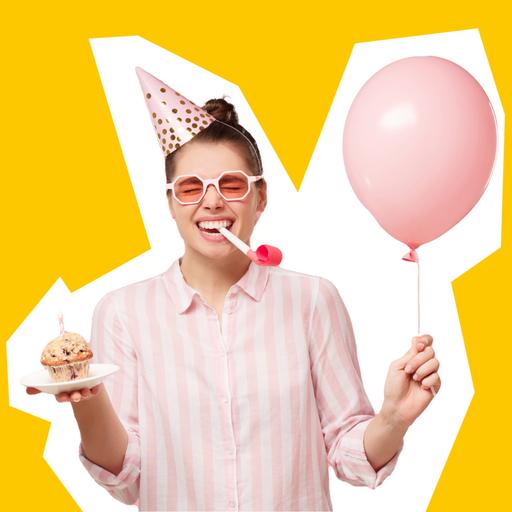 Milestone birthdays are a time to mark a new stage in someone's life and celebrate everything that has been achieved so far. But, knowing what to buy someone as a gift to mark these memorable occasions can difficult.
Not sure what to get? Here are some ideas that suit them whatever age they've reached.

Turning 18 is the big one – the age you become a grown up. You can vote, make your own decisions, and order a drink at the bar. An occasion like this deserves that extra special gift - something that can be kept and treasured forever.
Why not create something personalised with their name and date of birth? These days you can order almost anything with your own message at a range of prices, from a piece of jewellery they can keep for years to come, or a bag or even a bar of chocolate. Or why not get crafty and frame a map of where they were born with their details.
Finish it off with a bouquet of young and vibrant flowers that celebrates this new phase in their life. If it's the right time of year, spring flowers like tulips are the perfect choice, celebrating new beginnings. Or why not make a true statement and present a bouquet of using their birth flower. There are different blooms for each month and each one has a unique meaning, for example choosing daisies for an April birthday means innocence, while a marigold for October represents optimism.

Your 21st birthday traditionally marked the age you became an adult and you were considered old enough to be a key-holder to the family home. Although this is no longer the case in the UK, we still celebrate this landmark birthday.
Go different on this gift but still show the significance of the 'key to the door.' Maybe find an old key in an antique shop and gift it in an attractive box or a piece of jewellery with a small key. Complete the present with some flowers that celebrate their zest for life. Be bold and dramatic with a large bouquet of peonies or go for bright with a mix of sunflowers which add sunshine even in winter months.

For many, reaching 30 often comes with a transition in lifestyle. Some friends may have already settled down with a successful job and new home while the other half are out there still living life to the full.
If they're in the first group buy them a decorative vase for their new pad filled with statement flowers like gladioli mixed in with some germini and blue Iris. Or celebrate the age of 'becoming a bit more serious' and spoil them with a luxurious 'grown-up' notebook or a box of high-end makeup goodies.
Have they recently become a new parent? Why not buy a necklace with the birth stone of their new baby. If they've recently married, you could buy a box to keep their cherished memories or go cheeky and buy them a marriage survival guide! Celebrate the new phase in their life with a mixed bouquet of daisies, white carnations and forget-me-nots – these flowers represent new beginnings!

Your 40th birthday used to represent the halfway point in life. These days, with celebrities staying young and ageless, attitudes have changed and 40 is the new 30!
Loved ones might appreciate being encouraged to take on new challenges that keep the brain and body active. What about a voucher for gym membership, a box that teaches them how to cook or even an 'experience' day out? Keep the theme going and present a bouquet of flowers that says 'fun' by mixing up colourful roses with alstroemeria and statice.

Half a century gone! Now's the time to really pamper a special person. Take them for a special spa day and let them relax and feel young again!
If you're budget can't quite stretch, create your own with some bath salts, luxurious candles, nice lotions, and a boutique selection of flowers fit for a spa. A mix of some pink lilies, blue delphiniums, and white chrysanthemum should do the trick.

Reaching you're 60th is a good place to be, but buying a gift for a 60th birthday can be hard - they certainly don't want something that ages them.
Why not set them on a new challenge – something they've always wanted to do but never quite had the time to start such as dancing, art, cooking, or even language classes. Take this theme and give the gift of a lotus (no not the car), think along the lines of the flower which has a spiritual meaning of rebirth and resurrection.

According to research, someone reaching their 70th is approaching one of the happiest points in their life. They've either retired or it's just around the corner and it's time to start living life to the full.
If they've got grandchildren, then family is going to be important. Create something personal like a bracelet personalised with the name for each grandchild. If they like the more adventurous side of life, why not go big with a hot air balloon ride. Finish off their gift with a large bouquet of flowers; you can't go too far wrong with some colourful alstroemeria, carnations and lilies that last as long as the recipient (well, not quite!).

As you get older it's all about memories. Create a gift that is personal to them such as a copy of a newspaper from the day they were born. Then take them out for a luxurious afternoon tea (or bake your own) and present them with a bouquet of mature and elegant asters (they symbolise patience). Try pairing them with some traditional cottage garden flowers such as freesia or lilies for a stunning display.

Few reach the milestone age of 90 and paying them a visit, if you can, will mean more than any gift. Why not arrive holding a big bouquet of flowers that will remind them of their childhood like the traditional carnations, sweet peas, and hyacinths.
Can't be there in person? Show them that they're in your thoughts by carefully creating an album of photos from their lifetime history with every member of your family. They will love reminiscing.

100th birthdays are rare - in fact only a small elite group in the UK reach this outstanding milestone. Buying a gift seems unnecessary when they can receive a letter from the Queen – what could be better than that!!
Finish this off with a stunning display of flowers. Take your cues from China where it is traditional to give chrysanthemums to symbolise long life. Go all white and add in some Stocks and Carnations or mix in some red Chrysanthemum which represent true love.
Hopefully, our list of gift ideas has given you some inspiration. Make sure your present is personal and truly reflects the person you are giving it to, and you won't go far wrong! If you're looking for inspiration for a card message to pair with the gift, we've got you covered with that too.