60th Birthday
Flowers & Gifts
You've got to love a birthday. It's a chance to celebrate with your friends, eat lots of cake and be spoilt with presents.
Occasionally, one of those big milestone birthdays comes along, the ones that are all about the big celebration. And celebrating a 60th birthday is one of them. If you know someone celebrating the big 6-0, we're here to help with our guide to some fabulous ideas for 60th birthday gifts.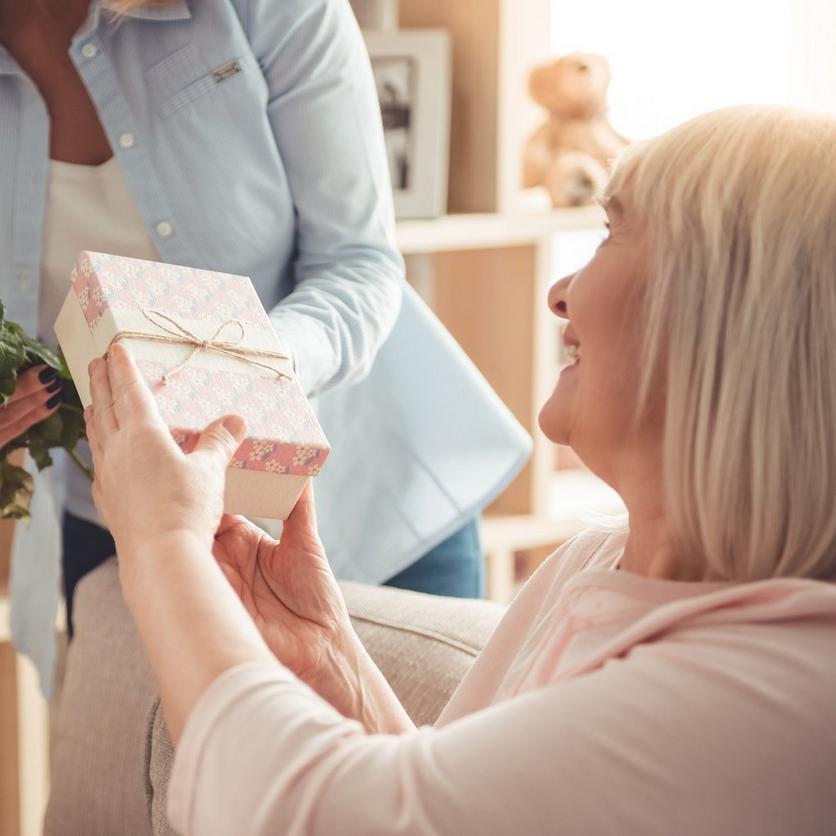 60th birthday gifts for her
When it comes to a 60th birthday for that special woman in your life it must be about celebrating her wisdom and experience. Whether it's a gift for your mum, a present for your sister or you're celebrating you best friends 60th, choose a gift that is close to her heart, and you can't go too far wrong.
60th birthday gifts for mum
Buying a gift for your mum's 60th birthday has to be that little bit sentimental. You could always get her a gift that unites all her nearest and dearest with a personalised piece of jewellery. For example, choose a gorgeous bracelet and then on the inside engrave the names or birth dates of her children, maybe her grandchildren or even her darling husband or wife.
For a mum who loves to be in her garden, go for something extra special that she can sit back and enjoy when putting her feet up. Something slightly unusual is a sundial which you can then get personalised with her date of birth and a quote running around the edge. Or go with a rain catcher or colourful wind chime that makes a beautiful noise which she can enjoy. Another great choice would be a unique plant that she's always wanted, she can enjoy watching it grow.
Let's be honest, most mums in their 60th year have everything they need. So why not make this one all about being together. You could book yourself into a fabulous holiday cottage and spend the weekend enjoying the time together. Finish the gift by presenting a 'this is your life' book with photos from when she was a baby all the way up to the current day.

60th birthday gifts for sister
Sisters are always there by your side, through the good and the bad times. On her 60th let her know just how special she is by sending a gift that marks her birth month. You could go with a special gemstone, something that marks her star sign or even her birth month flower.
For something truly unique, consider creating a piece of artwork or sculpture for your sister. If you struggle with artistic flair, there are plenty of artists out there that will create something special. Be inspired by her family, her favourite place or even her beloved pet.
You could also create a memory box - top marks if you can get a beautiful antique one. Then, fill it with items from your life together. Maybe photos of holidays you went on as children, add in some of your favourite sweets or even memorable items that remind her of a special trip you both went on.

60th birthday gifts for a friend
If you've got an amazing friend who is celebrating her 60th, thank her for being so special. Go with the theme and choose 60 presents. This can be a collection of silly things that you know your friend will just love, they don't even have to be expensive. Maybe add in a bath bomb she adores, her favourite candle or a new notebook. Tailor all the gifts around her personality and you're on to a real winner.
If you are friends who love to get together for a good natter over a lovely G&T, why not arrange a masterclass night. Not only will this make a memorable experience that you'll talk about for years to come, but you get the added bonus of learning from the pros how to make that perfect Gin and Tonic. You can then get arrange a night together after the event to practice your new skills.
Talking about spending time together, why not escape on a spa day. The perfect excuse for you both to enjoy a whole day of being pampered and feeling amazing. We'll leave it up to you whether you add in the anti-ageing treatments!!

60th birthday flowers
Everyone loves a big bouquet of flowers on their birthday, after all, they are guaranteed to deliver a smile. If you need some flowers for a 60th birthday, you could always consider the theme of a 60th wedding anniversary and go with all things diamond or silver. You could choose a bouquet of diamond white flowers with some beautiful lilies, the purest hydrangea and finish it all off with lisianthus. You could also go for a rose called Diamond Days Rose - the perfect way to remind them they bring a sparkle to your world.
Choose flowers that deliver a deeper meaning and pick blooms that symbolise different emotions. You could include some joyful sunflowers (they represent positivity and happiness), some aster (they're all about love) and then finish off with calla lily (they're all about beauty).
You could also give them the gift that keeps on giving and buy them a flower subscription. Every month, they will enjoy a gorgeous bouquet delivered straight to their door. What could be better, a gift that delivers a smile every single month!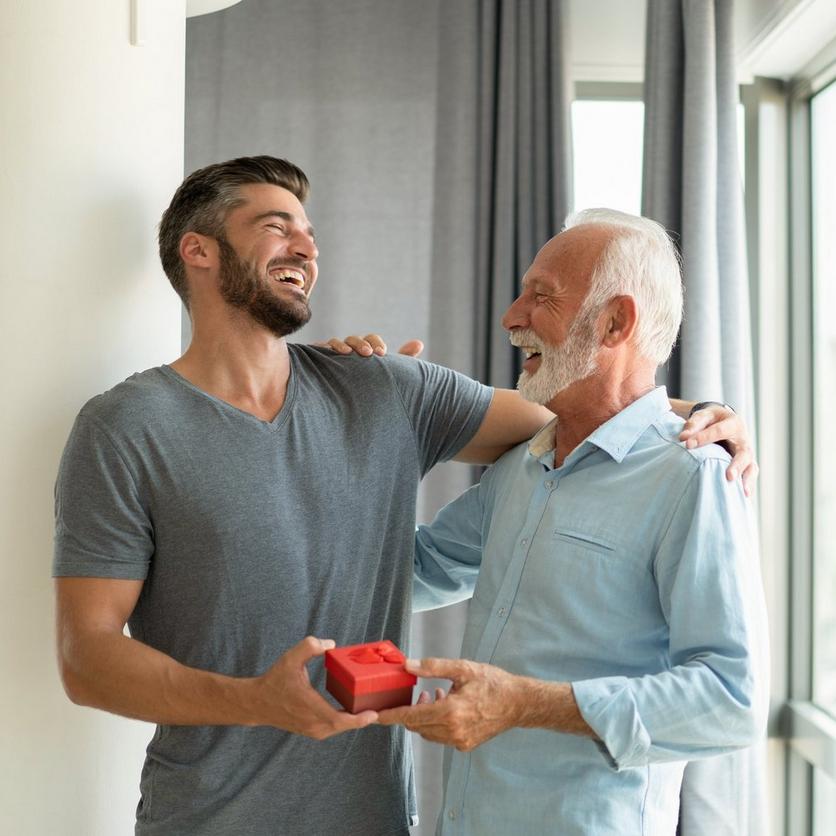 60th birthday gifts for him
When looking for men's 60th birthday gifts, we think this is the perfect chance to gently tease them about their age. You could get some socks printed with the year they were born, then they can wear their age loud and proud. Or for someone who loves a cuppa, go for a personalised mug which has their date of birth and 60th birthday printed on it. Of course, you have to finish it off with something a bit more serious like one of the following gifts.
60th birthday gifts for dad
On his 60th we need to say an extra special thank you to our dad for always being there. Why not take your dad back to his youth by booking him a meal on an old steam train. He'll have great fun remembering his days as a kid. Plus, it's a great way to get the whole family involved, both young and old will enjoy the trip.
Does your dad love to potter in the garden? Bring his calm oasis indoors with one of our fabulous houseplants – perfect for enjoying some greenery even through the winter months. You could choose from the serene peace lily, a cheerful rose or a pop of colour with a gerbera. Even better, continue the fun by signing him up for a plant subscription – each month a fabulous flowering houseplant will arrive in its very own container. It really is the perfect gift that keeps on giving.
If he's into history, consider creating a family tree for your dad. You can then take him on his very own family journey and explore all his ancestors. You can present him with the completed family tree or make this a project that you can share together. Start it off by drawing up the immediate family and then leave space for it to grow.

60th birthday gifts for brother
Is your brother still a total kid at heart? Appeal to his youthful side and buy him a retro gift that will take him back to his youth. It may be a retro arcade game you used to play together, or a retro sweets hamper bursting with old classics, or an LP of his favourite band that he can play on his record player.
Does your brother like the finer things in life? Why not treat him to an extra special tipple with an aged bottle of whisky or wine. Ideally, you'd want one from the year he was born but these can get pricey. Finish it off with a personalised glass he can drink it from.
Even though they can hide it sometimes, we know that brothers, deep down are incredibly sentimental. Pull on their heartstrings with a book of their life. Then fill in all the details that mark the big occasions in his life such as starting his first job, when he got married, his children. Add in as many photos as you can find and then enjoy sitting down together and reminiscing.

60th birthday gifts for a friend
Did you know that when you give a wallet as a gift, it symbolises that you value your relationship? What better way to tell your best mate just how much you value them. Get his wallet personalised for that extra special touch.
Get a copy of a newspaper that was out on the day your friend was born. You'll have great fun looking back at the old headlines and remembering what life was like without all the technology.
Is your friend a bit of a technophobe? Bring him bang up to date with some new technology. If he really hasn't got a clue, it's probably best to go simple with Bluetooth speakers, a digital book (great if his eyesight is not as good as it once was) or even wireless earbuds. Don't forget to give him a few lessons on how to use the present!!

Luxury 60th birthday gifts
When it comes to a luxury present it's time to blow the budget and make them feel extra special. If they've always fancied a touch of designer but never treated themselves, this is your chance to spoil them. If you're looking for a luxury 60th birthday gift for her, why not go with a luxury handbag, silk pyjamas, or some expensive jewellery. For a man, it could be some designer shades or even a handmade suit. Make sure you choose something they've always had their heart on, and they'll treasure it forever.
You are never too old to try something new – in fact, they say it's the best way to keep you feeling young. So why not buy them a once-in-a-lifetime experience. You could go adventurous with something like paragliding or racking around a track. Sign them up for a cooking day with a famous chef and learn how they whip up a culinary delight. Or go for afternoon tea at a fancy hotel. Then dress up in your finest and enjoy living the high life.
Spoil them with a weekend at a boutique hotel – there are some incredibly ones all around our shores. You could go with an art deco-themed one, a night in an old manor house or even spend some time in a castle. Then sit back, relax and enjoy – what could be better.

60th birthday messages
You've got the present sorted, now what to write in their birthday card? Take inspiration from the below messages for a 60th birthday or take a look at our full list of birthday messages and wishes.
Milestone birthdays are not to be counted; they're supposed to be celebrated. Happy 60th birthday!

You know the saying 'things get better with age'. If that's the case, then you are truly magnificent. Happy 60th Birthday!

You're turning 60! Get ready to enjoy the best years of your life. Happy birthday.

Happy 60th birthday. Old enough to know better, young enough to ignore all those years of wisdom and have some fun.

You're not old at 60, like a glass of fine wine, you're vintage. Have fun on your 60th birthday.

You're never too old for fun. Happy 60th birthday.
It's time to spoil them on their birthday. Send them a beautiful bouquet of birthday flowers or a fabulous birthday plant to add extra joy to their special day.