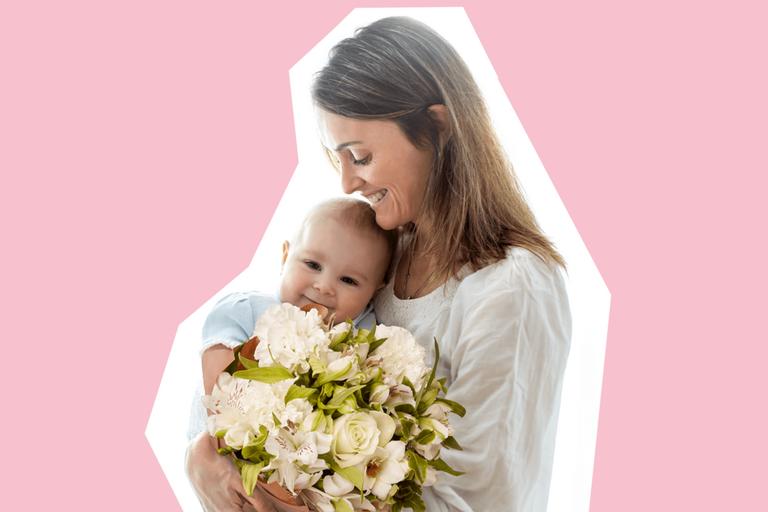 What's Your
Birth Month Flower
Are you an early January bloomer or a summer sprout? Whatever time of year you celebrate your birthday, did you know that the month you were born is assigned a flower?
Like star signs or birthstones, these flowers are said to represent the individuals who are born in that month in some shape or form.
Here, we've looked into each birth month flower in the UK, what they represent and why they're the perfect blooms to choose for yourself or a loved one's birthday.
BIRTH FLOWERS BY MONTH
JANUARY BIRTH MONTH FLOWER - THE CARNATION

Carnations are modest but always pretty additions to any bouquet or living room vase. You'll find this flower available in a huge variety of colours, from blush pinks to pastel yellows to deep, romantic reds and even unusual green shades. We're best known for shipping our now famous carnations from Jersey (that was way back in 1981) and these fluffy blooms still hold a special place in our hearts.
These days, carnations are typically used to fill out flower arrangements or are chosen as buttonhole flowers for weddings. However, they are said to originally have ties to royalty in Ancient Greece and were used to create floral coronation crowns. Carnation, coronation – we're seeing a pattern here!
Carnations are also linked to the biblical story of Jesus and are said to have grown from where his mother Mary's tears fell, after his death. This has led to carnations being associated with motherly love, and so they're chosen by many sons and daughters for bouquets when Mother's Day arrives.
FEBRUARY'S BIRTH MONTH FLOWER - THE VIOLET

Nope, February's flower isn't a rose, even though those popular beauties are mostly associated with the month due to Valentine's Day. Violets are, in fact, the birth month flower for February, and are an ideal plant to feature in the garden. Or, if you're a baker, you can take the flower heads and add these to a birthday cake, as they're perfectly edible – Mary Berry would be proud!
Violets are said to symbolise modesty, hence the term 'shrinking violet' to describe someone shy. This flower, along with yellow roses, is also the assigned bloom for a 50th wedding anniversary – perfect if you and your partner or someone in your family is hitting this incredible milestone soon!
MARCH'S BIRTH MONTH FLOWER - THE DAFFODIL

When we think of spring, images of bright, sunshine yellow daffodils growing from the hard ground typically come to mind. Those flashes of colour along roadsides and in gardens tell us that sunnier days are coming and so it's fitting that the flower should represent rebirth and new beginnings.
A happy bunch of daffodils is the perfect housewarming gift or can introduce a much-needed pop of colour in your home, following a long winter of dull, grey days.
This flower, also known as narcissus, comes from the Greek myth about the god of the same name who fell in love with himself when looking into a pool of water. He stared for so long at his reflection that eventually, he turned into a daffodil. We'll bear that in mind next time we take too long getting ready in the morning!
APRIL'S BIRTH MONTH FLOWER - THE DAISY

Daisies are cheery and sturdy flowers that pop up in the early months of spring. The name daisy comes from the phrase 'days eye' and was given to these joyful blooms because they close their petals at night and open them in the day, mimicking our eyes when we go to sleep.
You'll find gerbera daisies available in a surprisingly wide range of colours that are great for bouquets but we love the typical bright, white variety with their fan-like petals and bold yellow centres that grow across grassy areas.
Maybe you have happy memories of picking these flowers and making them into long chains to share with friends, during the summer months as a child? Daisies represent joy and youthfulness – perfect for anyone born in April.
MAY'S BIRTH MONTH FLOWER - THE LILY OF THE VALLEY

With its brilliant white blooms and incredible scent, the lily of the valley symbolises purity and sweetness and it's not hard to see why. It's also the national flower for Finland and has been a popular choice for many a British royal wedding bouquet.
This dainty natural beauty features unmistakable bell-shaped flowers that dangle from delicate green stems and it grows on woodland floors in some areas of the UK. While May's birth month flower can be found here in Britain, lily of the valley is also known to grow wild across the world, from Europe to Asia to North America.
The lily of the valley is also considered to be an ancient woodland indicator and gives off mysterious vibes, reminding us of magical folktale stories and fairies. Look out for it on your next hike in the Great British countryside.
JUNE'S BIRTH MONTH FLOWER - THE ROSE

The always beautiful rose is enjoyed in lush bouquets or grown in back gardens up and down the UK. June's birth month flower has obvious ties to romance, love and beauty and was once associated with the Greek goddess of love, Aphrodite.
Roses have different meanings, depending on their colour. Red roses, as you'd expect, are for love and passion, while yellow roses indicate friendship – so be sure to take a bunch round when you next catch up with your best friend!
Orange roses are not only pretty but are also said to represent enthusiasm which makes them the ideal good luck gift and finally, white roses symbolise sympathy and innocence.
JULY'S BIRTH MONTH FLOWER - THE LARKSPUR

Larkspur, or delphinium, is the flower associated with July, blooming just in time for those summer babies to enjoy each year. They look a little like hyacinths, with their neat rows of flowers that come in a range of colours but you're most likely to find them in a pretty shade of dark purple. Some species of larkspur are referred to as 'bunny blooms' because the inner centre of the flower is shaped like a rabbit's head!
Larkspurs are believed to represent the bond of love, making them the perfect choice to give to someone close to you. Like most flowers, the various colours of the larkspur each come with a slightly different meaning. Blue larkspurs are for dignity and grace and purple is for first love – the ideal flower for when you arrive at a first date, maybe?
AUGUST'S BIRTH MONTH FLOWER - THE GLADIOLA

Have a strong, independent friend in your life with a birthday in August? Then this month's birth flower, gladiola, is the perfect gift to surprise them with. This unusual bloom is named after the Latin word 'gladius' which means sword, probably because of the plant's pointed shape. It's no surprise then that the flower is also said to be a symbol of honour and integrity.
Gladioli are the perfect mix of strength and beauty, with their huge variety of colours – from dark reds to soft pinks to vibrant shades of yellow – and their bold shape. They look amazing in a vase, arranged with lots of green foliage. If you have a green thumb then it's good to know that when planted, gladioli can grow to an incredible 2 to 4ft in height. You'll definitely make the neighbours jealous, once they start blooming around July time!
SEPTEMBER'S BIRTH MONTH FLOWER - THE ASTER

Asters remind us of daisies, with their bright yellow centres and surrounding thin petals. Their starry shaped faces are a great choice if you're looking to brighten someone's day and they are available in a range of colours including the commonly recognised purple, as well as pink, white and red.
The shape of the flower also means that they can represent wish making and hopefulness – wishing upon an aster is like wishing upon a star! This means this flower is a great alternative for candles if you forgot to get them a birthday cake.
Asters have been considered a sacred flower since the time of Ancient Greece. Their leaves were burned back then to protect from spirits and snakes – while in France the aster was once known as the 'eye of Christ'.
OCTOBER'S BIRTH MONTH FLOWER - THE MARIGOLD

The fiery marigold reminds us of a lion's mane, with its bold fluffy petals that fan out from its centre. Marigolds are typically a vibrant orange in colour, ideal for October when Halloween draws near and we embrace all things autumn-inspired.
Marigolds are considered to represent passion, creativity and a driven personality. It's no surprise then that if this is your birth flower, you share your birthday month with celebrities such as Simon Cowell, Cardi B and Bill Gates! Marigolds are hardy flowers as they can withstand the effects of the temperature in the UK cooling down and look stunning in hanging baskets or lining window sills.
The marigold is synonymous with the annual Day of the Dead tradition in Mexico. The flower's bold colour is said to lead the spirits of loved ones from the afterlife to their family's ofrendas where photos and offerings for them are placed.
NOVEMBER'S BIRTH MONTH FLOWER - THE CHRYSANTHEMUM

A staple in many bouquets, chrysanthemums come in a wide variety of colours and shapes suggesting that those who enjoy these flowers as their birth month bloom are chameleons who embrace change. Chrysanthemums are said to represent friendship and joy, making them the perfect choice as a gift for a November birthday.
Chrysanthemums are well-loved around the globe. In Japan, the flower is used as the seal for the imperial royal family, in European countries such as the Netherlands and France it represents autumn and white chrysanthemums are used in All Hallow celebrations.
DECEMBER'S BIRTH MONTH FLOWER - THE HOLLY BUSH

Nothing says Christmas more than a bright sprig of holly, with its vibrant red berries and shiny green leaves that look beautiful in wreaths or amongst table decorations for the Christmas dinner.
If you're born in December and have holly as your birth month flower you could be considered overly protective, as the plant's prickly leaves are designed to ward off danger. However, because the plant is associated with all things Christmassy, those born in December are typically jolly folk who love to celebrate with loved ones.
Did you know that the wood from holly tree branches has been known to be whittled down to make chess pieces? This also lines up with the idea that the plant has a defensive design – as chess is all about protecting your king!
Feeling clued up on birth month flowers and what to choose for that beautiful bouquet for a loved one's birthday? Discover our range of birthday flowers and look for those that feature blooms that correspond with the month the lucky receiver was born in!