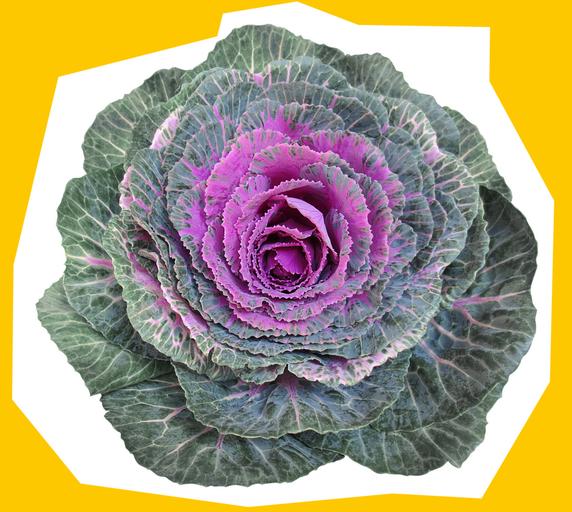 Ornamental Cabbage:
Everything You
Need To Know
Ornamental cabbages, also known as 'brassica oleracea' and 'flowering kale', are cherished for their longevity and ability to thrive in cold weather. While they look similar to cabbage heads, they are picked for their rosettes of colourful foliage, making them the perfect addition to a seasonal bouquet.
Read on to discover more about these uniquely ruffled, ornamental flowers and how to care for them.
Types of Brassica
It can be hard to distinguish between these ornamental varieties. 'Flowering kale' is the term used to describe brassica with curly, frilly, or ruffled leaves, while 'ornamental cabbage' is the term for brassica with flat edges and contrasting colours.
Ornamental cabbages
Ornamental cabbages do not tolerate the summer heat. Their white, pink, and red pigments begin to bloom in the colder months, making them a perfect addition to an autumn or winter arrangement.
Some of the most common types of ornamental cabbage varieties include: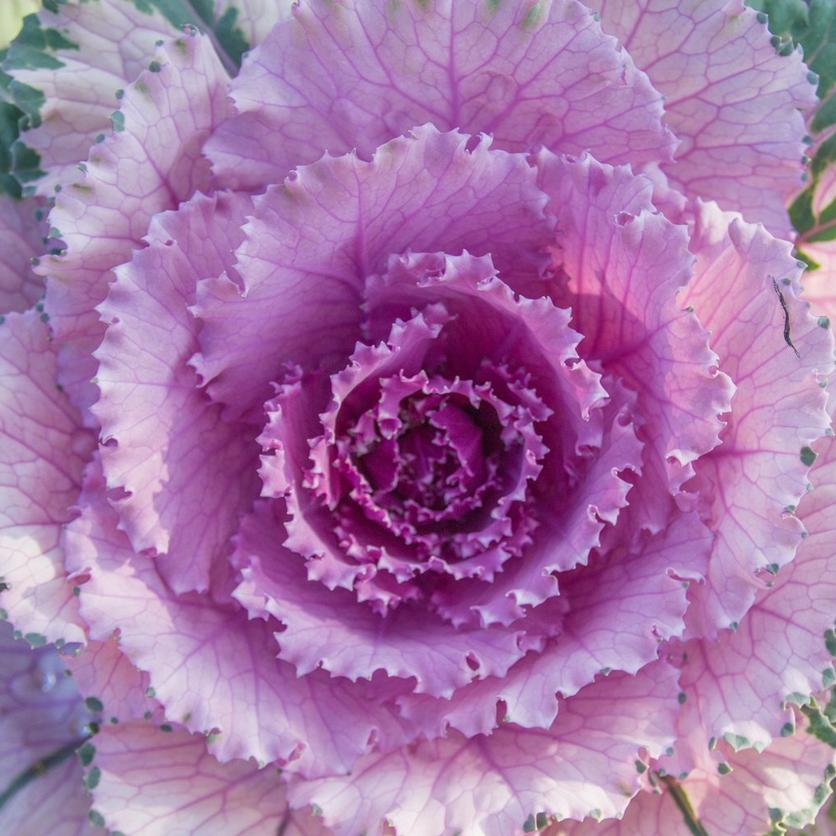 Osaka Pink
Osaka pink is an excellent choice for adding a burst of colour. Their crinkled, round leaves are pink, with cream white and tinges of blue blossoming during the late autumn and early winter.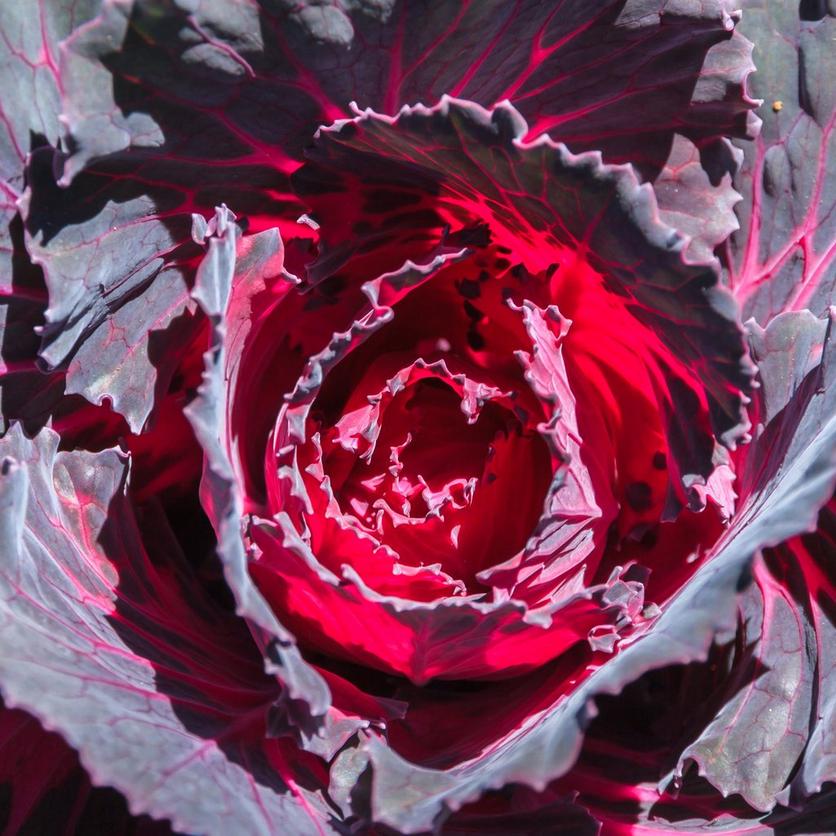 Osaka Red
Similar to the pink variety, Osaka red is guaranteed to add a pop of colour into your home, as well as a nod to the traditional colour of the festive period. Featuring compact, tight heads of flowering cabbage arranged around a bright rosy, red centre, they glow nearly as bright as Rudolph's nose.
Flowering Kale
Not the stuff you pick from the supermarket shelves and add to your salad, Flowering Kale have leaves which are blue-green in tone and gradually expand as the temperature starts to drop. Here are some of the most common types of flowering kale varieties: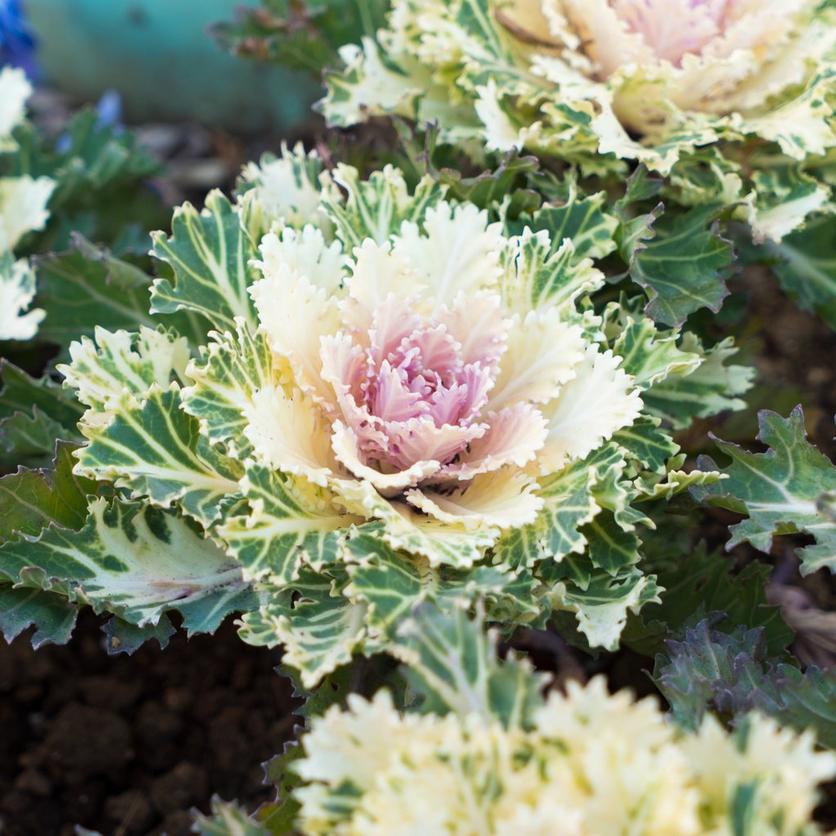 Coral Prince
Coral Prince feature a large head with a white cream centre. Primarily grown as decorative plants, with their deeply incised leaves give them a lacy effect, their colour deepens with both light and frost, making them a perfect winter decoration.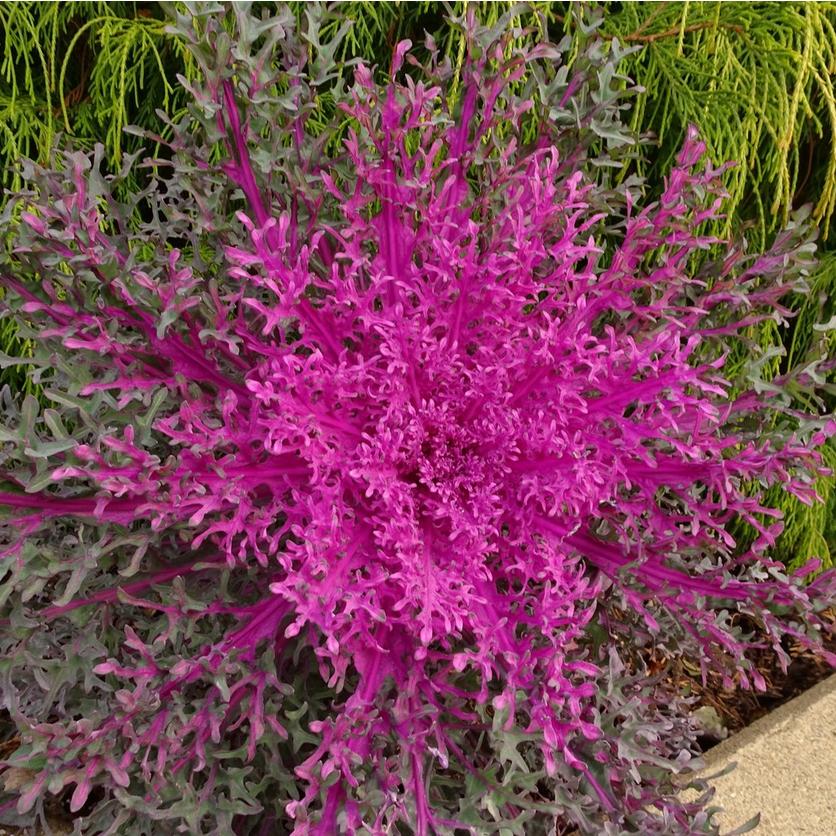 Peacock Kale
A hybrid feathered variety of the original brassica, their feathered leaves add the glamour and splendour of a peacock's display, coming in shades of red, purple, and white.
Brassica Care Tips
With the proper care, brassica can remain fresh for up to a week when placed in a vase.
Keep away from direct sunlight
Never leave in direct sunlight. Partial shade from the afternoon sun is ideal, so best to place near a west-facing.
Store in a cool place
Never leave brassica near a radiator, instead place in a cooler spot like the the hallway.
Keep away from fresh fruit
If you want your flowers to make a statement in the kitchen, then just be sure to keep brassica away from fruit bowls as fruits such as bananas and oranges product ethylene when they ripen which can shorten the lifespan of flowers.

How to use Ornamental Cabbage in Arrangements
Ornamental cabbage is available in an assortment of magnificent colours, from rosy reds to subtle pinks. If you're looking for some inspiration on how to use ornamental cabbage to create eye-catching arrangements and what other flowers they work well with, then we've got you covered.
Autumn Bouquets
Nothing signals autumn like a brightly-coloured ornamental cabbage, nestled among other seasonal staples, such as chrysanthemums. Choose the crimson variety and pair with rich red roses for a bouquet to say 'I love you'.
Winter Bouquets
Ornamental cabbage and kale are among some of the prettiest flowering plants, making their flowers ideal for a winter bouquet. You can pair their green and white hues with blush bouquets of plumb roses and eucalyptus – perfect for a birthday bouquet.
Wedding Bouquets
If you're an autumn or winter bride, consider using ornamental cabbages in your bridal bouquet. Striking enough to make a statement on their own or paired with eucaluptus, delicate dahlias and fluffy pampas grass for a bohemian bouquet, they're guaranteed to add flair.

Ornamental Cabbage Facts
Ornamental cabbage is edible
Yes, that's right, you can eat ornamental cabbage. It is often used as a garnish as it can be very bitter in taste, so we wouldn't recommend using it as the base of your salad.
Ornamental cabbage belongs to the brassica oleracea family
Ornamental cabbage and kale are the same species as many other cool-season vegetables like cabbages, broccoli and cauliflower. However, ornamental cabbage is grown primarily for its aesthetics and not its taste.
The brassica oleracea species have ancient origins that date back 4,000 years
Historically the breeding of the brassica oleracea species began in the Mediterranean; the Greeks and Romans used them primarily as a food source. Abundant in vitamins, brasicca is often featured as an ingredient in herbal medicines.
Brassica thrive in cooler temperatures
Brassica colours form and intensify in temperatures below 15°C. This is because the weather suppresses chlorophyll production, allowing the plant's white, pink, blue and green tones to develop.
Whether you're turning your home into a winter wonderland or want to sending a loved one a seasonal bouquet, the ornamental cabbage is guaranteed to brighten up the winter blues.