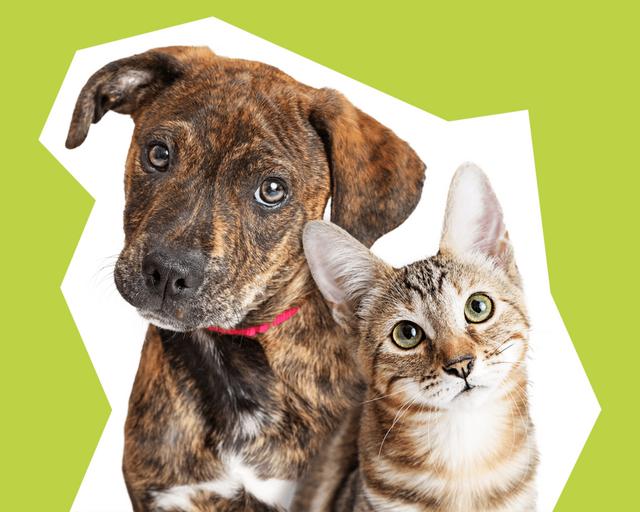 THE BEST PET-FRIENDLY FLOWERS & PLANTS
Whether you have a curious cat or a dog that thinks everything is edible (RIP every pair of socks in the house) it's a good idea to check that the flowers in that lush bouquet you've received – or are planning to send to a friend – are safe for them to be around.
To make things easier we've taken a look at which blooms are safer for your fur babies and which ones should be avoided – or just placed on a very high shelf out of the way.
CAT AND DOG FRIENDLY FLOWERS
There are blooms that are considered to be lower risk for your kitty cat or prized pooch to be around.
However, it's important to note that, like humans, our pets can have allergies and individual needs too so it's still best to keep flowers and foliage out of the way as much as possible. Keep an eye on your furry friends and encourage them to leave those bouquets of flowers alone, just in case.
For now, we've rounded up some blooms that are considered to be a little safer to have around the house. With popular flowers such as roses and freesia making the list, you'll still be able to enjoy those 'surprise' Valentine's Day bouquets and seasonal posies.
Freesia– These springtime beauties can be featured on the coffee table or a windowsill, where your cat likes to sunbathe, with a reduced risk to your furry friends.
Gerbera daisies– We just love gerberas with their vivid colours and cheery faces. The great news is that you can enjoy them in the home with cats and dogs around.
Limonium– The wispy, pastel-hued flowers of limonium remind us of the always on-trend gypsophila and is relatively safe to have around the house.
Lisianthus– These delicate beauties could be compared to roses and are said to symbolise appreciation and gratitude. That's your next thank you gift for a pal sorted and dogs and cats should be safer around them.
Pitto– This leafy foliage is usually featured in those dramatic cascading wedding bouquets but if you have some around the house the good news is that they don't pose much risk to pets.
Roses– Yes! We're super happy roses could make the list. How could we live without these gorge romance inspiring blooms in our lives? Plus, if your dog fancies taking a nag out of them he'll be fine. You might be a bit upset though...
Snapdragons– These flowers are said to mean deviousness but there's nothing untoward about them when it comes to the safety of your pets. While you should still keep these blooms out of the way of cats and dogs, they pose a lower risk than other flowers.
Statice– Fluffy purple statice are pet friendly flowers and usually enjoyed as part of a bouquet. We think they're stunners on their own though too.
Stock– These pet friendly blooms give us those rustic, cottage garden vibes and we love to feature them in bouquets. The good news is that cats and dogs can hang out around them
Sunflowers– This always cheery, late summer bloomer doubles up as a source of food with tasty seeds that both humans and pets enjoy.
Waxflower– These long-lasting blooms can stick around for up to 10 days in a bouquet so you can enjoy them for longer and have them around your fur babies.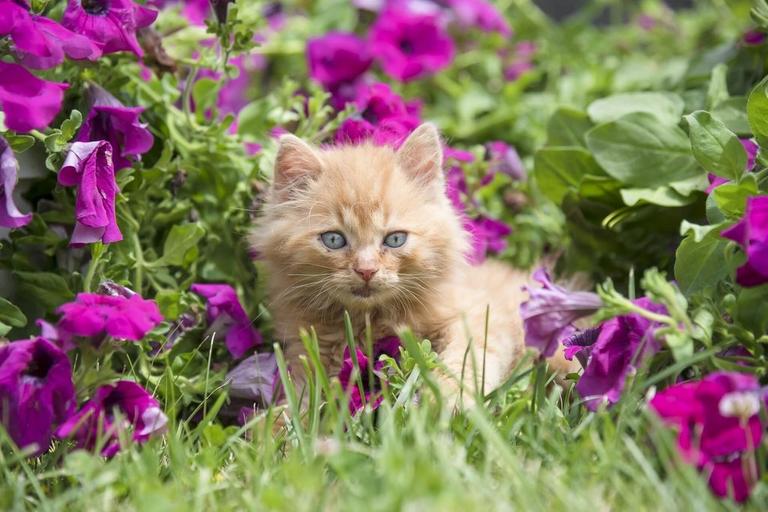 FLOWERS THAT ARE
MILDLY POISONOUS TO CATS
Alstroemeria- These sweet lily-like plants look lovely but are bad news for cats. If eaten they can upset their tummy or even irritate their skin if brushed against.
Eryngium- We love these spiky stems but avoid featuring them in your home around autumn if you have a cat in the house, they can make them sick if eaten.
Sweet William– These autumnal beauties should be kept clear of cats because if eaten they can cause an upset tummy. No one wants their kitty to be unwell...or to be cleaning up after their cat has had an accident, right?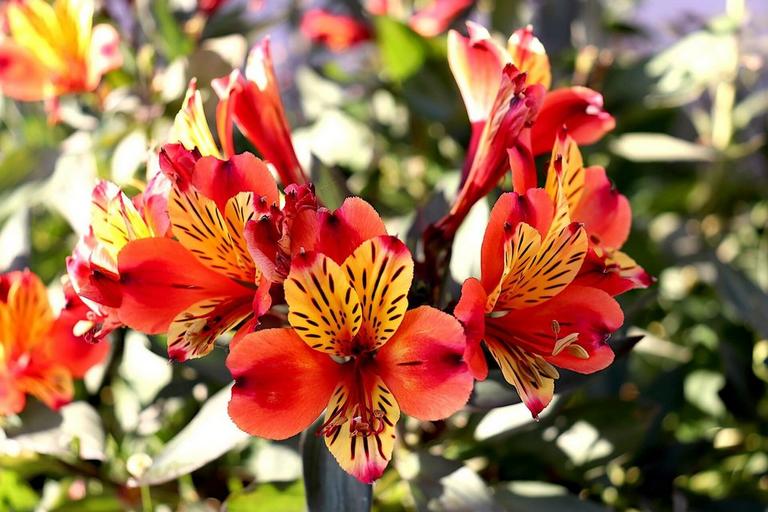 FLOWERS THAT CAN
CAUSE SERIOUS ILLNESS
IN CATS
Amaryllis– Let friends and family know that this festive flower is poisonous to cats so they can avoid it when giving Christmas gifts.
Carnations– A staple in many a bouquet but bear in mind that carnations are poisonous to cats.
Cyclamen– This winter favourite can cause sickness and more serious issues including heart failure if your cat decides to eat a large amount of the plant.
Daffodils– While we can't get enough of these bright yellow blooms in spring, avoid planting them in your garden or featuring bouquets in your home because they're toxic to cats.
Hyacinth– Often received as a gift, keep cats away from hyacinth plants in your home and garden.
Lilies– Lilies are the most dangerous flower to have in your home if you have a cat. While these blooms are beautiful they can lead to kidney failure in kitties if eaten.
Tulips– We know, it's such a shame that these stunning spring blooms are poisonous to cats but we also know how important it is to keep them safe and well. While the bulb of the plant is most toxic, even parts of the cut flower can lead to serious illness if eaten.
We all know how greedy dogs can be. From raiding the kitchen bin to sampling your house slippers, they're known for getting themselves in trouble. Keep your pups safe and steer clear of these flowers in bouquets and around your home to ensure they don't fall ill.
Amaryllis- This festive beauty is also poisonous to dogs, especially if they eat the bulb, and the effects of the plant can be very serious.
Cyclamen- A popular choice for many a windowsill, steer clear of these plants as pups can get seriously sick if they decide to see how they taste.
Daffodils– We recommend that you avoid these flowers in spring as they are extremely poisonous to dogs. Head out on a springtime walk to enjoy them and keep your pooch safe.
Hellebores– While your typical rose is usually fine to have around dogs, the Christmas rose isn't quite as safe. However, it apparently tastes terrible to animals so they should stop eating it before any real damage is done.
Hyacinth– This popular springtime plant is toxic to our pups so ensure they can't get to any plants you may have received as a gift at Easter.
Hypericum berries– You'll spot these in bouquets throughout the year in vibrant shades of red and pink. While they add a pop of colour to an arrangement they can be harmful to dogs if eaten in large quantities.
Lilies– Like cats, dogs also shouldn't be around lilies as these flowers can cause harm if eaten in large amounts.
Mistletoe– There should be no smooching under the mistletoe if you have a pup around. The berries on this plant can be fatal if eaten by a smaller dog or puppy. Opt for the fake stuff instead.
Sweet pea– The stem of sweet peas can be harmful to dogs if they decide to chew on them.
For a full list of plants that aren't friendly to dogs, take a look at this fact sheet from Dogs Trust.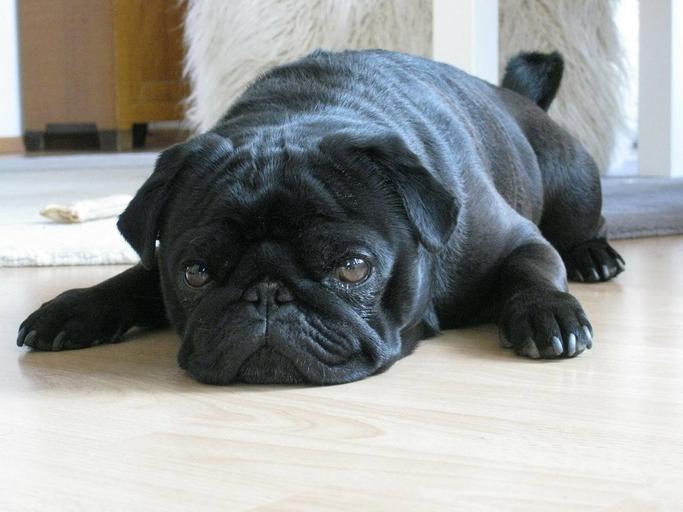 WHAT TO DO IF YOU
THINK YOUR PET
HAS BEEN POISONED
We know how worrying it can be to see your pet acting out of sorts or feeling unwell. If you think your cat or dog has eaten a toxic flower get them to the vet straight away. You can also speak to an expert 24/7 at the Animal Poison Line on 01202 509000.
We hope this guide has helped you better understand which plants are best to feature in your home that you can enjoy while knowing your fur babies are a little safer.