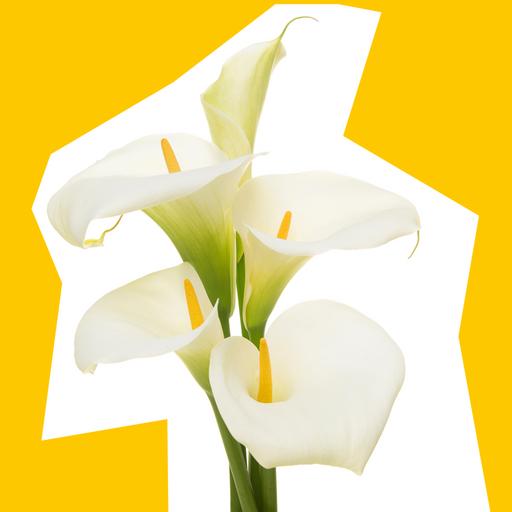 Known for their lucious looks and elegant nature, calla lilies are the perfect addition for your home this summer. If you want a houseplant that is guaranteed to make a statement, this is the one for you.
Now, before we get too far, we need to let you in to a secret – although this house plant has lily in the name, calla lilies are not, in fact, lilies! How sneaky. When it was first given its name in the 18th century, the Swedish botanist Carl Linnaeus gave it the name of lily by mistake, due to the elegant flowers and lush, sword-like foliage this plant produced (similar appearance to a peace lily). A kindly German botanist, Karl Koch, then came along and sorted out all the classifications by creating the group Zantedeschia. One thing we can all agree on is that the calla part of its name comes from the Greek word for beautiful.
The calla lily has one last trick up its sleeve. A bit like the peace lily, the flowers are not all they seem. What we all see as the petals are in reality a spathe (basically a modified leaf). This spath folds itself into the central stem, called a spadix, and it's osn this part that the real flowers grow.
We promise that's the end of the tricks. Let's get on and tell you all about this magnificent summer, flowering houseplant.
Calla lily meaning
As you would expect from something so stunning, this houseplant is all about beauty. Whether you've just started a new relationship, or want to spoil someone special, what could be a better present than a calla lily - just remember to tell them the meaning behind the plant to really flatter them.
Choose the white calla lily and it's all about innocence and youth, perfect as a gift for a new baby or a christening present. A calla lily in yellow is all about showing gratitude, ideal if you want a heartfelt way to say thank you.
In the world of flowers, it is widely recognised that choosing a red flower is all about love. But, this isn't the case with the calla lily. If you wanted to declare your love, you would need to pick a pink calla lily. Instead, a red calla lily is all about courage and determination, while orange represents elegance and confidence.

Types of calla lily
Apart from its beauty, the other great thing about this houseplant is the wide range of colours available. You can choose from unusual shades of pink, orange, red, purple or even pure white.
Here are our some of our favourite types for each colour of calla lily:
Red Calla Lily
The clue is in the name; California Red delivers gorgeous flowers in a wonderful bright orangey-red colour. If you fancy more of an intense, true red you would need to opt for Majestic Red – it's certainly regal!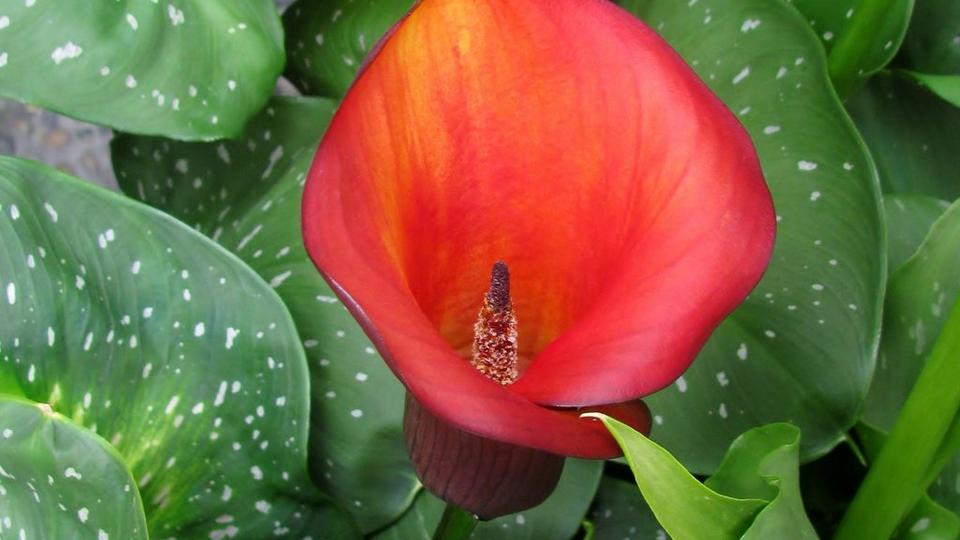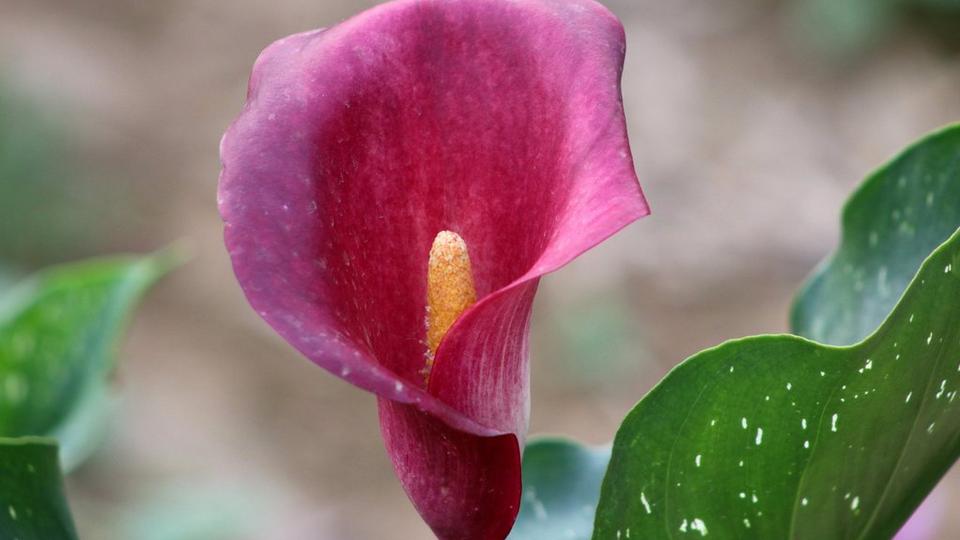 Yellow Calla Lily
For something a bit different you would have to go with Flame which has colour-changing flowers that start life as yellow before turning orange as they age – you could say they're magical. For a burst of happiness, why not go for Millenium Gold, the bright yellow blooms deliver one of the sunniest yellow calla lilies around.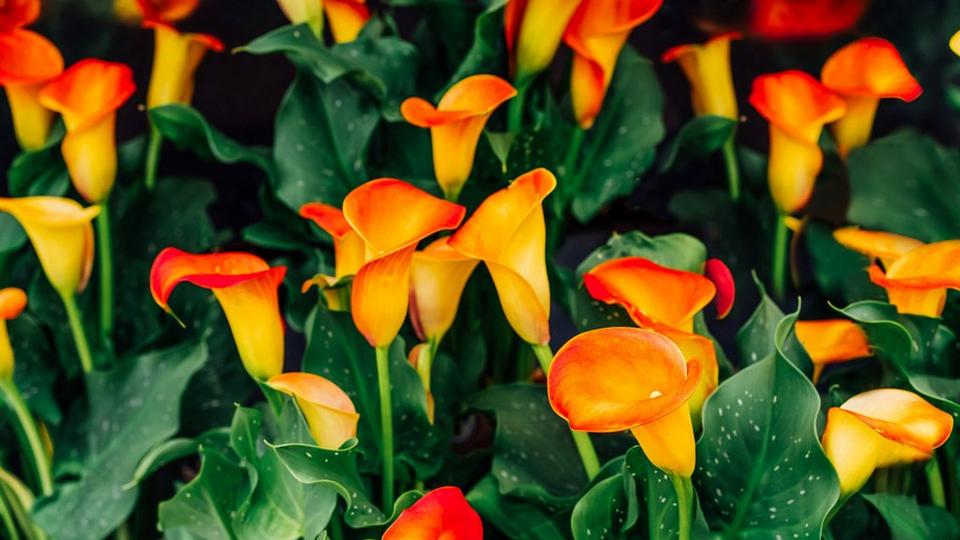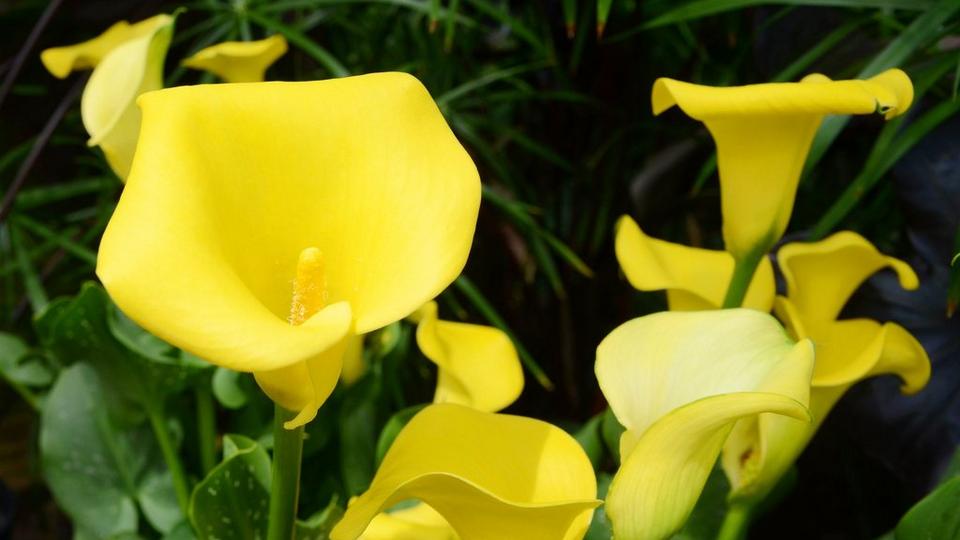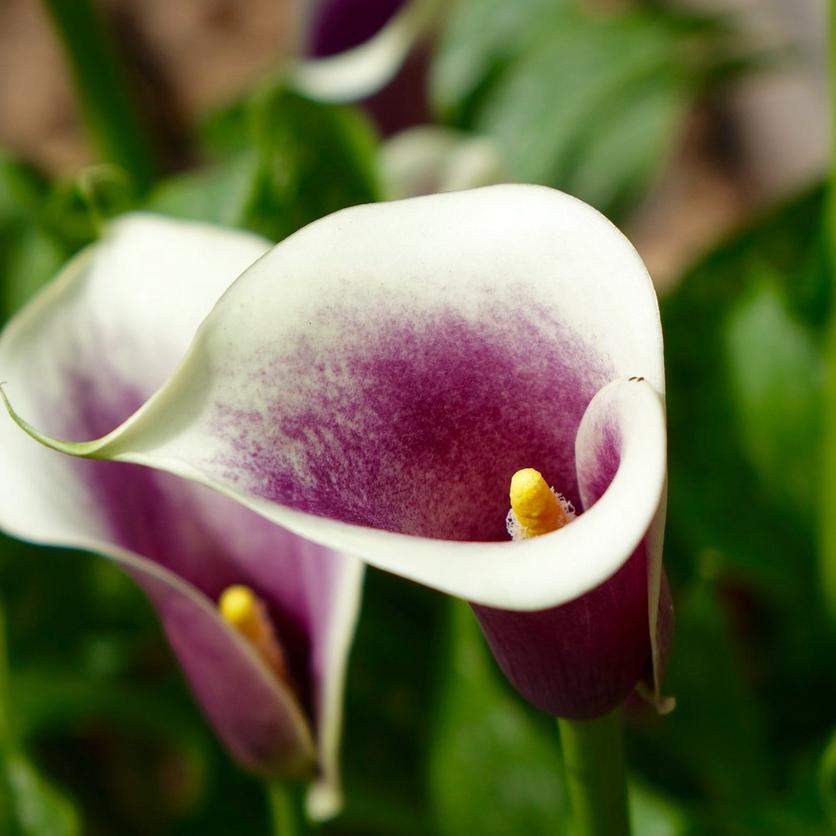 White Calla Lily
Ok, so this one isn't technically white, but it's so beautiful we couldn't leave it out. Picasso has soft cream petals on the outside and tips but towards the centre, they turn to a striking purple.
Pink Calla Lily
Neon Amour, as you would expect, is a real pop of pink. This one is a hybrid which has resulted in extended petals that look almost like an Olympic torch. For something truly elegant, have a look at French Kiss, where the flowers are a mix between green and cream on the outside, extending to a delicate pink around the top and inside.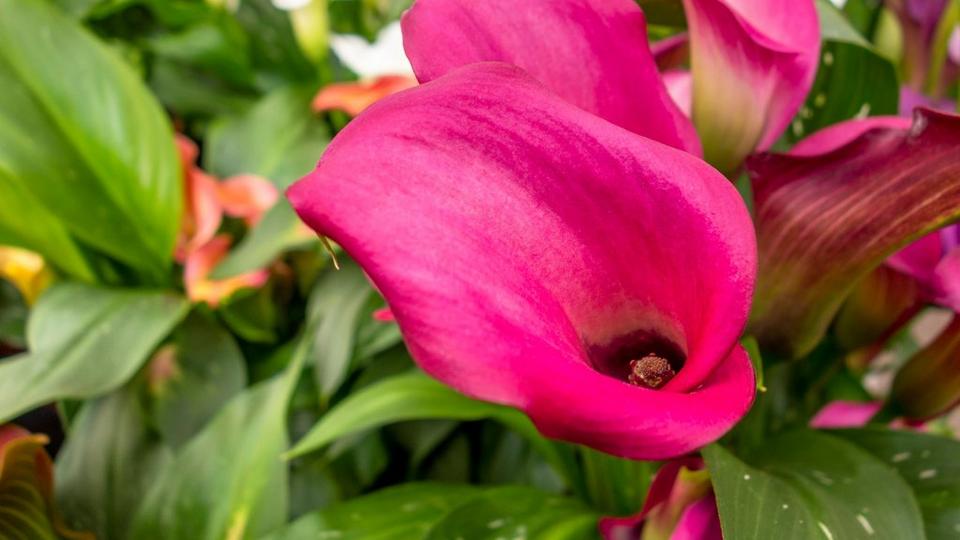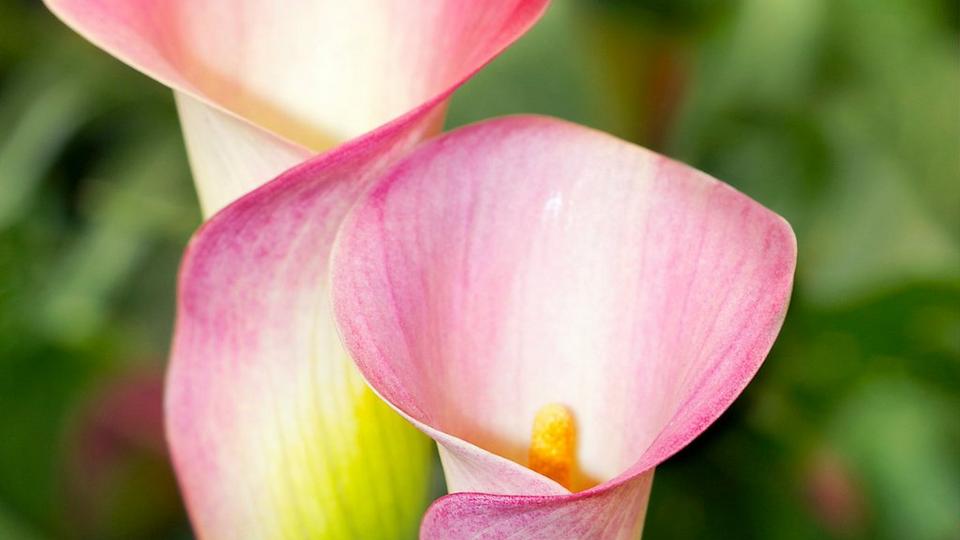 Purple Calla Lily
It's time to go dark with our purple calla lilies. Nightlife is almost magenta pink in appearance while if you want to get really serious, you would have to choose the dark shades of Night Cap.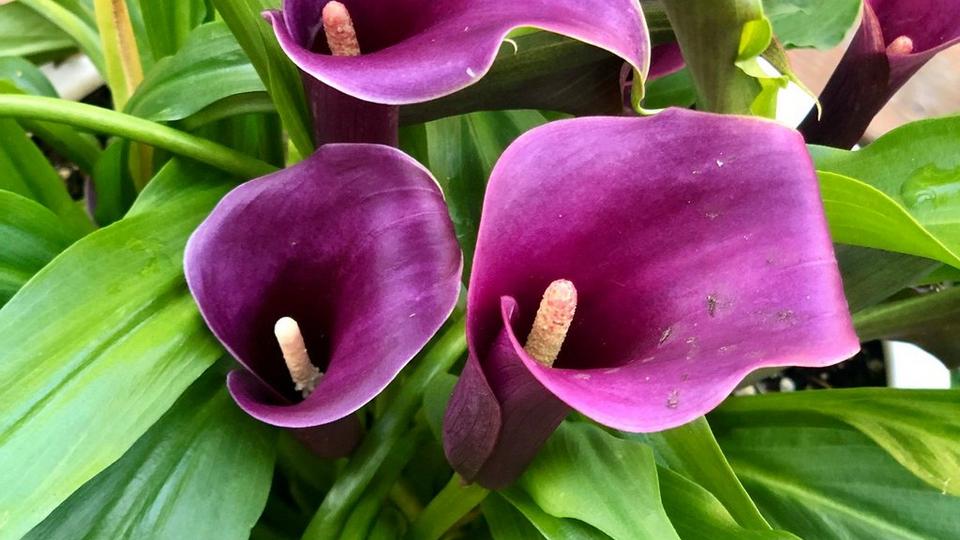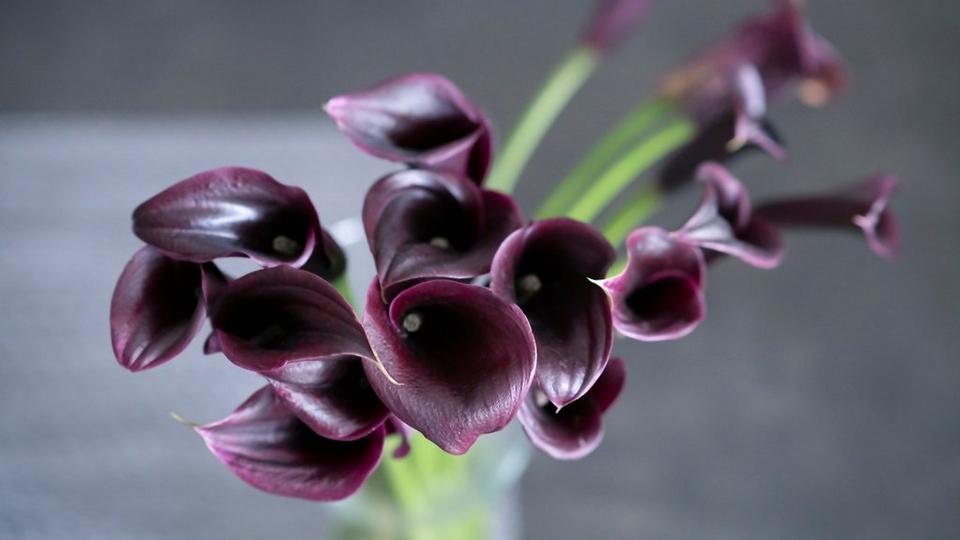 Orange Calla Lily
Like the sunset in it's namesake, Cancun delivers amazingly soft, apricot flowers which are tinted yellow towards the base of the hard. Go for calla lily Mango and you'll be rewarded with burnt orange flowers with streaks of yellow.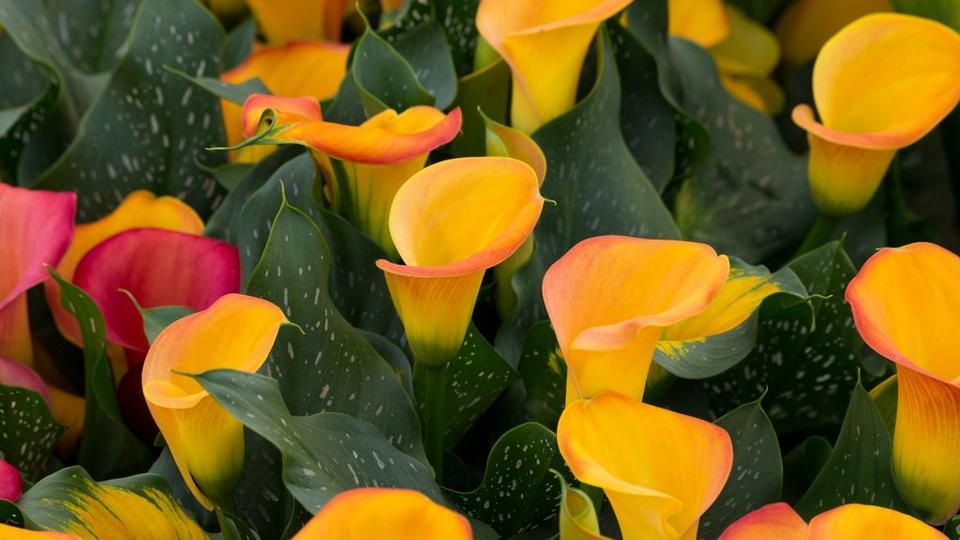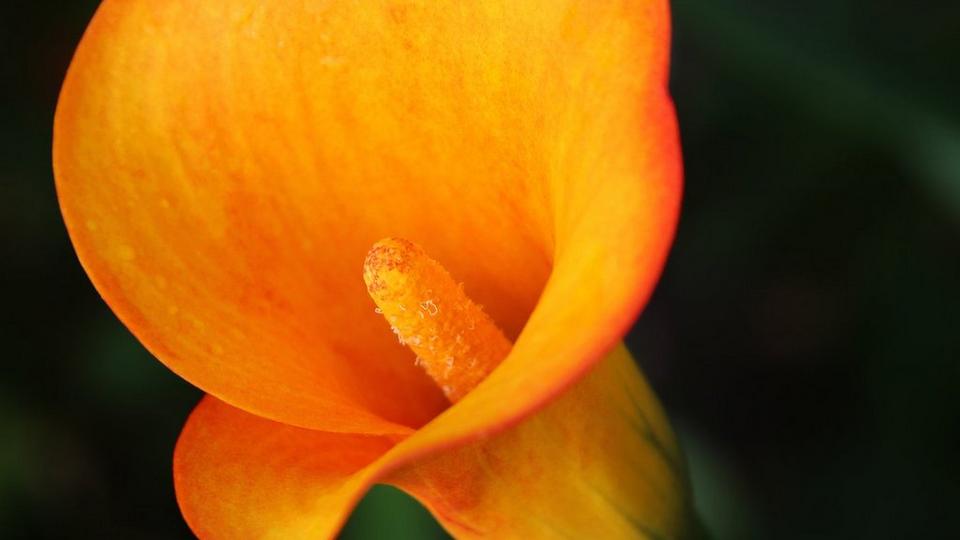 Calla lily care
As you would expect from a plant that looks so elegant, it can be a bit of a prima donna. But, with the right care, it is very easy to get your calla lily to keep on delivering its gorgeous blooms.
Here's our top tips on how to look after a calla lily:
Temperature
The first thing to know is that your calla lily plant is a native of South Africa. That means it loves a bit of heat and hates frost – sort of unavoidable in our country. That's why this one works so well in our homes, a warm environment at about 20OC will do nicely.
During the summer months, if the weather is just right, it is possible to pop this one outside. They'll add a lovely splash of colour to your patio or front door. Just remember, they must come back indoors the second the temperature drops.
Light
Your calla lily wants to be somewhere bright with about an hour or two of direct sunlight (this will help keep the flowers looking tip-top). If your houseplant finds it too dark, it will reduce the flowering period and could end up with the root rotting.
Water
This one loves a good drink, which is not surprising when you consider that in the wild it grows best near water. Don't go overboard though because too much water will rot the bulb, it's very much a case of moist without being soaking wet. If your plant starts to lose its flowers during peak growing season it may be down to it being too dry. But, if the leaves turn yellow it could be from too much water, heat or sunlight.
Dormancy
As the blooms die remove them by pinching the stems just below the base of the flower or cut off with secateurs. At the end of the flowering season (between June and July) you may notice that your plant loses its leaves over the winter months. Don't panic. This can be normal and it's a way for the plant to reduce the amount of energy it's using to get ready for next year.
During its rest period place your calla lily pot somewhere dark with low temperature for a few months and only water occasionally. This rest period is essential to help your houseplant develop new flowers. Once you see growth start to appear (around spring) pop it back into the warmth and light and give it a regular feed and drink.

Calla lily flowers
With their amazing looks, it's not surprising that the flowers of this plant are incredibly popular as cut flowers featuring in bouquets. In fact, these ones keep on delivering because the flowers are known to last for up to two weeks. Place it in a tall container and then display it wherever you want to make a real statement!
Their almost architectural looks also lend themselves incredibly well to a bridal bouquet – especially the white ones. Keep it simple with a bunch of these blooms tied up with satin ribbon, or go with more of a statement and mix in some roses and lily of the valley. For a slightly more wildflower look, you could mix in some dreamy flowers like hydrangeas and sweet pea. Finish your perfect bouquet with greenery such as eucalyptus.

Are calla lily toxic to pets?
Even though not a true lily, this one does have some very similar characteristics in that it is not good for our pets. If you've got dogs, cats or any other animals (and even small children), best to keep them away because all parts of the plant are toxic.

Ready to add some summer sunshine to your home?