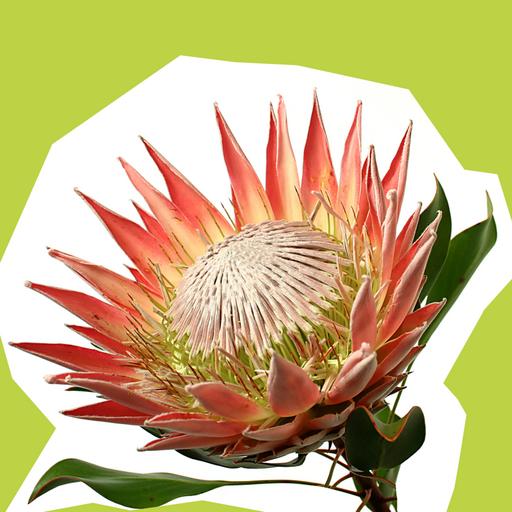 Protea:
Everything You
Need To Know
If you fancy adding a touch of the exotic to your home, then consider the stunning protea flower. This tropical plant with its almost architectural shape, striking looks and spectacular shot of colour is just shouting out to be noticed and won't fail to make an impression. Read on to find out more about this eye-catching bloom.
History of the Protea Flower
You can't fault the pedigree of this flower, it has seen it all. It is thought the protea dates to around 80 million years ago - that's when the dinosaurs were walking the planet!
Despite having been here for such a long time, the protea wasn't officially named and classified until the 1700s by botanist Carl Linnaeus. It is believed he chose its name after the Greek god Proteus, who had the ability to change shape to avoid capture by his enemy - quite apt for a plant that comes in about 112 different species in all shapes, sizes and colours.
Part of the Proteaceae family, the protea only grows naturally in South Africa and a staggering 90 percent of these are found in what's known as the Cape Floristic Region. This plant is so important in South Africa, they have chosen the King Protea as their national flower.
But this royal flower isn't just a pretty face. It is known locally as sugarbush because of the large amounts of sweet nectar it produces, making it a big hit with the local birds and insects. Thanks to its sweet properties, it has been used to make cough syrup and fight chest infections, as well as treat stomach issues. As a plant, it's power comes from the way it grows - it has cleverly evolved to develop a root system that enables it to live off nutrient poor soil and even uses bushfires to help it reproduce. Now we understand how it survived the dinosaurs!

Popular Types of Protea Flower
If you were looking to buy a protea, then you're certainly spoilt for choice.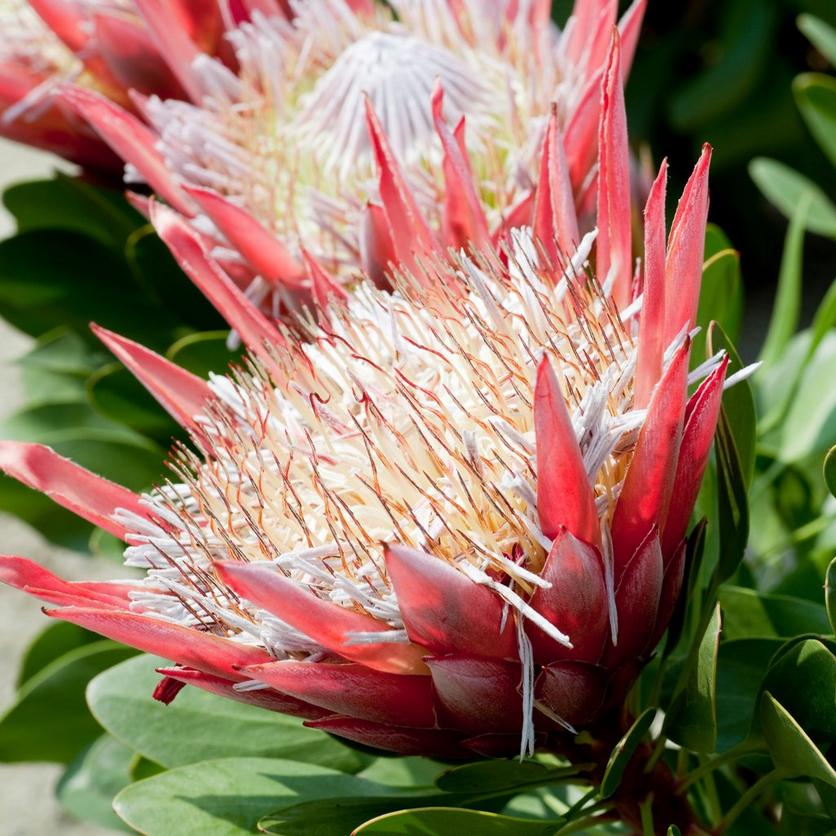 King Protea
The King Protea has over 81 different varieties and can be easily recognised for its sizeable bowl-shaped flowers which also have some of the largest blooms. If you wanted to go on the smaller side, then choose the Little Prince variety, which is ideal for smaller containers.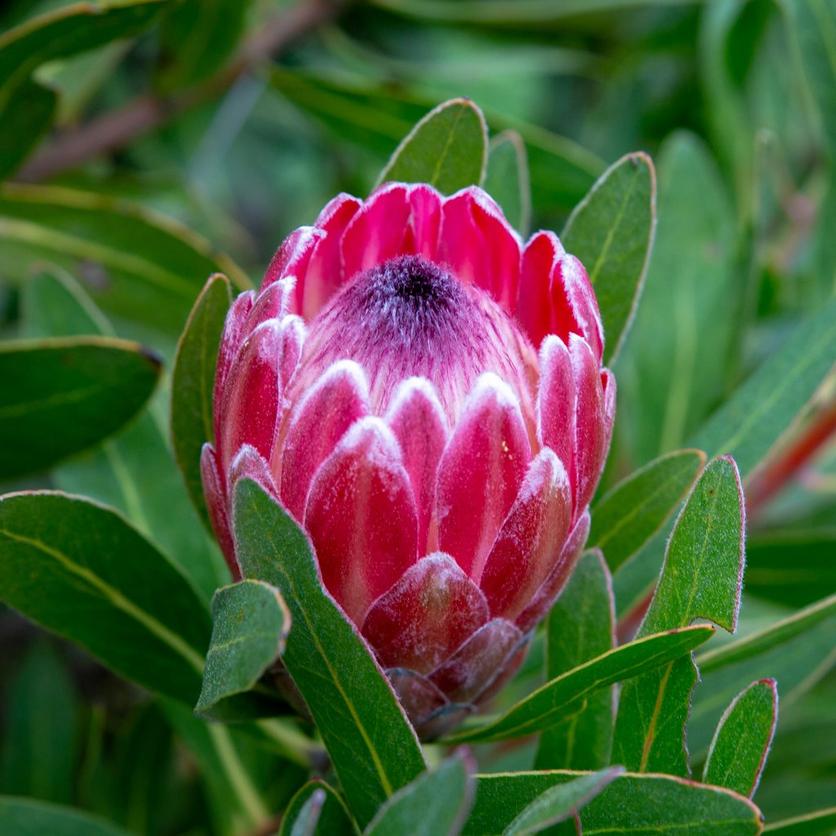 Narrow Leaf
Said to be one of the easiest protea to grow, the Narrow-Leaf species has attractive cup-shaped flowers that can range in colour from a deep pink to a very pale version.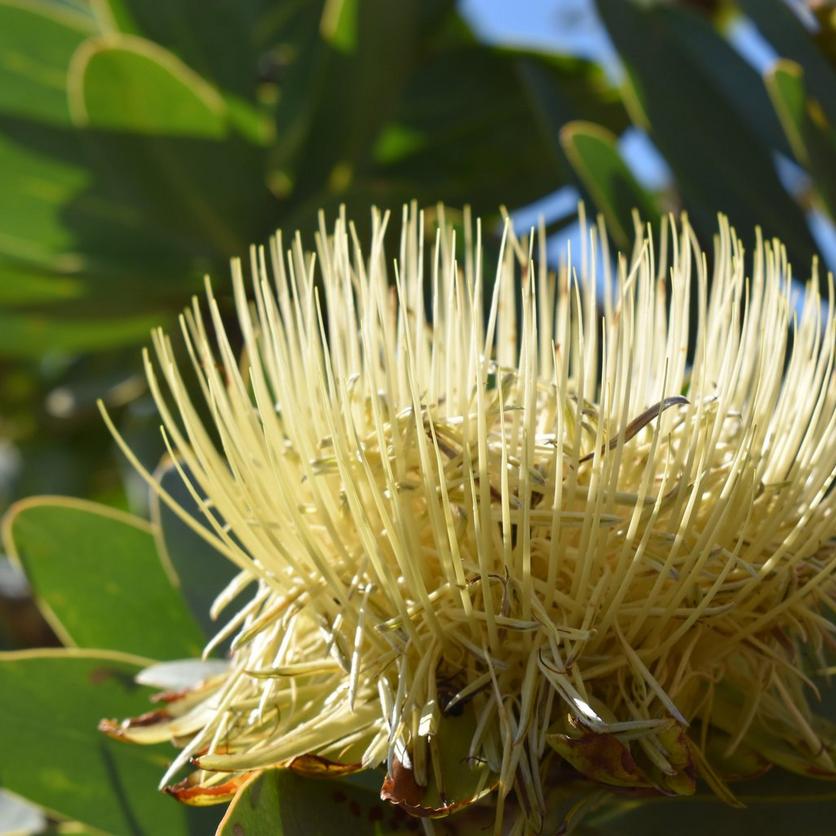 Wagon Tree
One of the slowest growing protea is the Wagon Tree. As it's name suggests, it is one of the few in this species that grows as a tree and produces large flowers heads that appear all year round – a great addition to your garden.
Even without the tropical climate, this hardy plant can still manage to grow in gardens along the south coast where they will come into bloom during our warmer summer months. Just make sure you pick a spot that is sunny and well drained. If you live a little further north, then there is still a chance to grow some at home. The protea likes a dry and warm environment which can be easily recreated in a glass-roofed conservatory or beneath a large velux window - as long as there is heating in the room. Grow them in a container and then take into the garden during the hotter months.
Meaning and Symbolism of Protea Flowers
Having survived for millions of years and with its name coming from a Greek God, it is quite apt that this flower represents longevity, diversity and individuality – it certainly ticks all the boxes.
As with any flower, choosing a particular colour of bloom can add to these meanings. A yellow protea stands for new starts, hope and good health which makes them perfect as a gift for a 18th birthday or to celebrate a new arrival. On the opposite end, a cream protea represents maturity, making it ideal for someone celebrating their retirement or as a 60th birthday gift.
If you wanted to gift some protea to a special friend, then you should choose a pink one, as it represents a purer love. For a bridal bouquet, the only choice is a red one – it represents love, protection and marriage.

Care Tips for a Protea Flower
One of the lovely things about a protea is that once cut and put in a vase, it should last for about 7 to 14 days when properly cared for.
Choose a vase that is perfect for these heavier-headed flowers. Before displaying, remove any leaves that will sit below the water line and cut about 2cm off the bottom of the stem – snip at an angle to help the stem to access the water. Be careful though, these are thirsty plants, so you will need to regularly check the water levels and keep them topped up.
To show them at their best, mix the protea with some supporting blooms. You could either keep it simple by adding some greenery such as the delicate viburnum or Limonium. For something with added colour, why not mix in some roses or dahlia for a statement seasonal arrangement.

As to whether it's safe for pets? Advice is a bit mixed on whether this flower is toxic. Probably best to keep it out the way of your furry friends and children – just in case!
Ready to add some flair to your home?