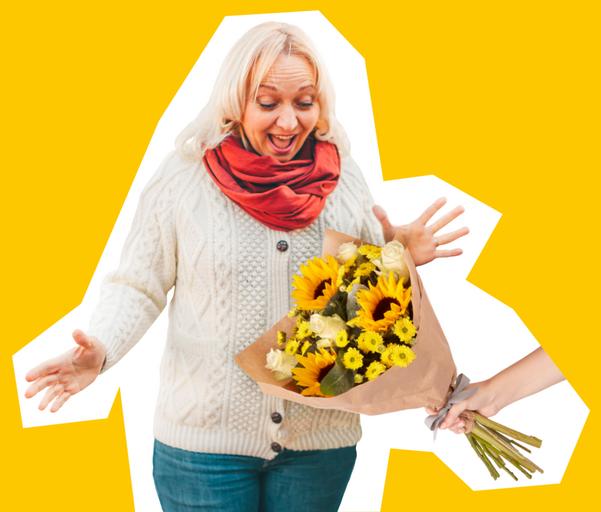 THE BEST SUMMER FLOWERS
The warm summer months are a time for many varieties of flower to shine, as they soak up all the goodness of the sun's rays and brighten up outdoor spaces.
We know the feeling all too well, as we also flock outdoors with our loungers and suncream to bask in the sunshine.
No matter what time of year it is, a cheery bunch of flowers is always a welcome addition in the home and featuring cuttings from those that you've grown yourself not only breathes life into your space but gives you a sense of achievement too.
Wondering what the best summer flowers are that you can enjoy when the temperature soars? We've listed some of the most vibrant blooms you'll appreciate, during the sunny season, below.

Peonies are an always on-trend choice of flower for bouquets and arrangements around the home and are particularly popular come wedding season. Make like an Instagram influencer with a fresh bunch of peonies in a vase, placed strategically behind you in your latest selfie or send a bouquet of these luscious blooms to a friend to let them know you're thinking of them.
Peonies are said to symbolise 'beauty in all forms' but also represent shyness or bashfulness, as Greek myths told tales of nymphs transforming themselves into peonies to hide their naked bodies from wandering human eyes.
When it comes to colour, peonies grow in a huge variety of shades from blush pinks to soft coral shades as well as white, red and yellow. However, should you want to enjoy these gorgeous flowers in the early summer months you'll need to be quick! Peonies are only in season for a short time, between April and mid-June – that makes them all the more enticing!
It's hard to stay gloomy when a bright bunch of sunflowers come your way. These vibrant yellow blooms stand tall in back gardens – some have been known to reach 30ft tall! – but also look stunning in a vase at home. Sunflowers grow late in the summer, stretching into autumn, and were originally grown as a food source in North America.
They've inspired artists such as Vincent Van Gogh – these blooms were the muse for five of his paintings – but the flowers are masterpieces in themselves. Did you know that the inner centre of the sunflower, where the seeds come from, is actually made up of thousands of smaller flowers? Mind. Blown.

Alliums look like something from outer space, with their spherical flower heads and vibrant purple colour. The flowers grow in a ball shape, on a leafless stalk, and look striking when they bloom in the summer months.
A bunch of allium, cut and featured in a large vase, will make a statement when guests visit. Alliums typically flower between May and June, making them the early risers of the summer months. They remind us of giant, purple dandelion seeds but are actually part of the onion family, so when cutting them we recommend that you pop their stems in water straight away to reduce that slight, oniony smell!

The always stunning dahlia steals the limelight in any floral arrangement. This summer flower is perfect for wedding bouquets, as it can be featured exclusively with some vibrant green foliage.
We love the unique pom pom style dahlias that could be mistaken for those sweet paper honeycomb ball garlands that look great when strung up at parties.
Dahlias grow in a huge range of colours. Choose from ombre style pinks and reds to vibrant oranges and sunshine yellows. These flowers bloom late in the summer, blurring the line between the warm days of the season and the cosy autumn months.

Larkspur is the birth month flower for July, making it the very definition of a summer flower. When we think of larkspur, we think of pretty cottage gardens with colourful mixtures of wildflowers and untamed foliage. Larkspur loves to grow in full sunlight, stretching up to the sky in a pointed shape with row upon row of flowers growing along its stem.
Blue is the colour most associated with this flower but it also comes in shades of pink, red and white. These flowers look great outside but take some cuttings and feature them on a windowsill to bring those luscious summer vibes into your home.

Hydrangeas are native to Asia but they've travelled far over the years and now you'll spot them sprouting in gardens up and down the UK. The flowers bloom in a range of colours – from pretty periwinkle blues to blush pinks.
Blue hydrangeas are said to mean gratitude and understanding, white is for purity and grace, pink is for romance and purple means pride and royalty. Cuttings of the plant's flowers are perfect for statement vases, with no need to plump them out with foliage or other blooms – the beauty of hydrangea flowers speaks for itself.
When it comes to determining the colour of the flowers, you'll need to do some science. We know, school feels like a long time ago now, but it's worth knowing that blue hydrangeas will bloom when grown in acidic soil and pink or red flowers blossom in alkaline soils. That's a fact you can impress your friends with.

When choosing flowers for any happy occasion, you simply can't go wrong with gerbera daisies.
Not your typical daisy chain variety, gerbera daisies are bigger and bolder but still feature that bold centre, surrounded by a fan of delicate petals. You'll recognise gerberas from floral arrangements, as they're commonly featured to add a pop of colour in late spring and early summer bouquets.
Four or five featured in a tall, glass vase look incredible or they're ideal for adding to large floral arrangements to support the shade of the focal flower. Gerberas symbolise cheerfulness, so they're the perfect choice as a get well flower or to simply brighten up someone's day on their birthday. ink or red flowers blossom in alkaline soils. That's a fact you can impress your friends with.

Ah, the classic Rose. They're super popular all year round but are in their prime in early summer. Roses are well-known symbols of love and romance – they're the symbol for Valentines Day, after all – but different coloured roses have different meanings.
White roses are said to represent innocence and virtue, which is why they're a good choice for your bridal bouquet – or because they match your dress nicely. Yellow roses are said to stand for friendship so pick these to send to a friend to let them know you're thinking of them.
You can be your best friend's cheerleader with a tangerine themed bunch of roses as these vibrant blooms represent pride and enthusiasm! Finally, pink roses convey gratitude and of course, red is reserved for lovers and lust. Choose your colour wisely and let them know how you feel with just a bunch of flowers.

Freesias are fragrant and delicate flowers that look incredible when paired with vibrant coloured roses in a large bouquet. They're a popular choice for corsages for proms and weddings, as the pastel shades complement any outfit. Freesias are said to symbolise friendship and trust and were very popular in wedding bouquets in Victorian times.
Freesias are zygomorphic – which is a fun word to drop into conversation at your next family gathering – and this means the flowers only grow on one side of the stalk. You'll find these flowers in a huge range of colours from violet shades with pretty yellow centres to soft pastel pinks and cheery yellows.

These always pretty but unusual flowers look magical in a vase or as part of a seasonal summer bouquet. With vibrant colours including hot pinks, sunshine yellows and deep reds, their origin in the world is unknown – some believe they started out as wildflowers in Italy or Spain – but we do know that they thrive in sunshine and the warmer summer temperatures.
The many flowers that make up the snapdragon are shaped like snouts and their botanical name comes from the word antirrhinum – 'anti' means like and 'rhin' means nose. Plus, if you squeeze the flowers gently, they open to look like tiny dragon mouths! Cute.
Snapdragons can be said to symbolise deception, mainly because they were once the chosen flower to be sent between lovers but in most cases were sent to mistresses! These days though they're generally said to represent strength and are the ideal choice of bloom to send to a friend who is maybe going through a tough time.