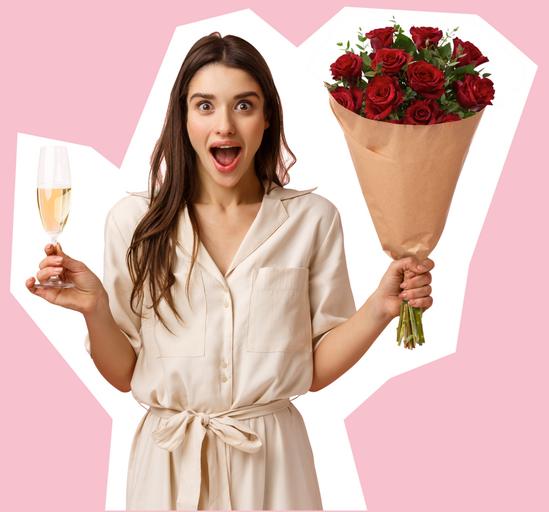 There's no getting away from it, February is the month of L-O-V-E!!! That's right it's that time of year when we all get a little bit more romantic (if you're not already).
Whether you're taking those first tentative steps to ask someone on a first date or you've been together for a while, Valentine's Day is the perfect excuse to make a real effort and spoil that special person in your life.
If you're buying for your lovely wife or trying to impress a new girlfriend and you're stuck on what to get, we're here to help with our guide to the best Valentine's Day gifts for her.
Best Valentine's Gifts for Her
Buying a gift for your girl can be tricky. Getting it right depends on a mix of things. What stage of the relationship you're in for starters; you might need one type of gift if you're still in the early days but something entirely different for a long-term relationship. You also need to choose something personal to them. Need a bit of inspiration? We've got you covered with our perfect recommendations to suit all budgets.
Red Roses
First up is the classic gift - red roses.
Although red roses have for centuries represented love, it is believed the tradition of giving these on Valentine's Day started with the Victorians. They would send flowers as a way to convey a secret message - sending a bouquet of these blooms was a symbol of love!
Not wanting to show off, the rose takes this even further depending on the shade you choose. The traditional Valentine's bloom is a bright red flower. But if you want to show your commitment to a loved one then you would need a deep red rose whereas a lighter red stands for passion.
It doesn't stop there! The number of roses you intend to give also conveys different meanings!
A single rose is love at first sight

Two roses say you're a couple

Six and you're infatuated

Ten and your love is perfect

Eleven and your love is deep

Twelve asks 'will you be mine' (now you can see why we send a dozen of these blooms on Valentine's Day!)

Twenty-four and you're shouting 'I am yours'

Thirty-six and you're head over heels in love

Go for the big one with fifty roses and you're saying our love has no bounds
Jewellery
One way to spoil that special person in your life is to get them a fantastic piece of jewellery.
Take your time on this present and choose something that is personal to them and suits their style. If you're not sure what to pick, take a look at what they currently wear and choose a piece that has the same sort of feel. After all, there's no point in going for earrings if they never wear them!
Of course, the traditional jewellery to go for is a bit of shiny bling – who doesn't love a diamond or two! But, if this doesn't quite fit with your budget, have a look at some independent makers. There are some gorgeous pieces available at incredibly affordable prices. They're perfect if you're looking for something a little bit quirky or unusual.
For that extra special touch, why not go for something personalised. For example, you could choose a necklace or bracelet with a special message printed on it, say the date you got married or first met.

At-Home Spa
This is the perfect gift if you want to earn some serious brownie points. After all, what could be better than coming up with a luxurious home spa. It's also an ideal choice if you've got kids and can't get hold of a babysitter!
This is all about making that special woman in your life feel indulgent. For this, you'll need to fill up a basket with some tissue paper and then place into it some items such as a luxury candle, a selection of bath bombs and a choice of face masks. You could even add in some of their favourite face and body moisturisers.
Now set the mood. Fill up the bath, light a few candles, add some dried rose petals and hand them a glass of wine and get them to unwind for a bit. You could even have a delicious meal ready when they've finished. Bliss!

Chocolates
Ok, we're not going to lie – chocolates are the way to a girl's heart. The fantastic thing about this gift is that you can get a little bit creative with the chocolates you choose.
Go for a big box of pink hearts and you're making it very clear how you feel about that special person. If she likes the finer things in life, why not spoil her with a big box of handmade chocolates, or maybe try a box of special liquors or truffles.
If you're up to the challenge, why not try making your own chocolates at home as a fun way to spend Valentine's Day.

Memory box or photo frame
Valentine's Day is all about cherishing the one you love.
The ideal way to do this is by remembering all the good times you have spent together by creating a memory box. You can add lots of special memorabilia and photos from over the years that will bring the memories flooding back. Go that extra step and get a personalised box printed with your names and a heart, or create a video book to really take them back.
If you haven't been together that long, then perhaps select a favourite photo of the two of you and present it in a gorgeous photo frame. You can even make it from scratch using pressed flowers or seashells.

A surprise meal or day out
Spoil that lucky lady in your life and take her out this Valentine's Day.
Is there a restaurant that she's always wanted to go to? Get a table reserved and really make her night. Maybe there's a place that is special to your relationship – where you got married, had your first date or first met? Why not take her on a trip and bring back all those happy memories. Whatever you decide just remember to book early!!
If you're still in the early stages why not start building those memories by taking her on an experience day. You could find your creative side and go on a pottery-making course – maybe craft a vase to hold all those Valentine's flowers you're going to give her. If she prefers living on the wild side, why not go rally driving. Or slow everything down and get yourselves on a luxury glamping weekend (although probably best to book it for when the weather gets a bit warmer)

DIY gifts for her
It's easy to get carried away on Valentine's Day, but a gift doesn't have to be expensive. What will make your gift really special is to choose something thoughtful or handmade. If you don't normally cook at home, why not spoil her with a dinner made by yourself. Just remember to put in those extra touches by decorating the table with candles and flowers to give it that truly romantic feel.
Maybe you're a dab hand at woodwork skills. Make something with a heart on it and you can't go too far wrong. Why not try a handmade box, a wooden heart plaque with the word 'I love you' printed on it or even a heart-shaped dish.
Not quite at your level? Keep it personalised and you're bound to win her over. Why not get an old-fashioned style jar and put a label on the front saying 'all the reasons why I love you'. Then fill up the jar with lots of scrolls of paper with a different reason for each one. Don't forget the finishing touch of some decorative ribbon to complete the look.

Whatever Valentine's gift you choose for her, make her feel extra special with a fabulous rose bouquet arriving through the post.