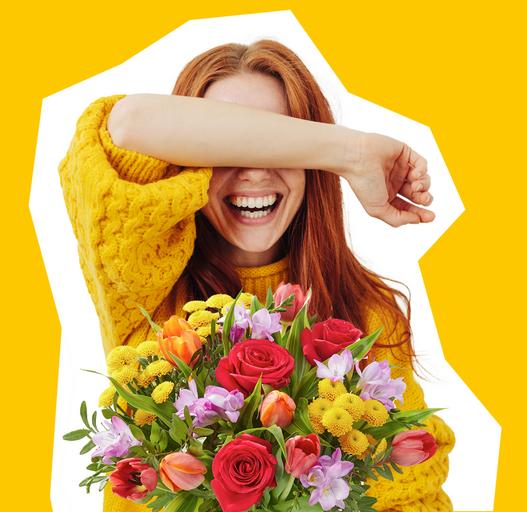 Mother's Day
Traditions
Around the World
1st December, 2023
1st December, 2023
All mums deserve the world. From their countless pieces of wisdom and comforting hugs, they truly are angels in disguise.
Mother's Day is celebrated slightly differently around the world. From gifting red carnations in Japan, to performing music in Mexico – Mother's Day is a special day across the globe.
Whether you live down the road or far from your mum, let her know you care this Mother's Day with a beautiful bunch of flowers or a delicious hamper delivered straight to her door.
MOTHER'S IN THE UK
In the UK, Mother's Day is still celebrated on the fourth Sunday of Lent – which usually falls around the end of March. The tradition emerged as a Christian celebration, as a day to honour Virgin Mary and to visit the 'mother' church.

Bright flowers of all shapes and sizes are perfect for gifting on Mother's Day – think daffodils, roses, and tulips. Whether your mum is as sweet as roses, as bright and bold as a sunflower, or prefers a house plant to a flower bouquet, there's plenty to choose from. You can't go wrong with chrysanthemums. Choose a 'mum to suit your mum – warm and bright or pretty and delicate.
It's a time to spend with family and let your mum know just how much she means to you. From lunch with family, homemade cards and breakfast in bed, to bright bunches of flowers, indulgent hampers and decadent Mother's Day gifts – there are no rules when it comes to celebrating Mother's Day in the UK.
MOTHER'S DAY IN THE USA
Anna Jarvis formed Mother's Day in 1908 as a personal celebration for families and their mothers. She campaigned for its adoption as a national holiday and envisioned those celebrating to wear a white carnation and visit their mothers – or go to a church service.

However, she disapproved of the commercialisation of the event. She campaigned against card companies, florists and other merchants who profited from the day, and continued to disown the holiday until her death in 1948.
Now, Mother's Day in the USA is one of the biggest holidays for spending. And nothing says Mother's Day in the USA like the distinctive petals of carnations. Opt for pink carnations to represent gratitude and motherhood or dark red for love and affection.
Mother's Day is celebrated in the USA by showering mums with the gifts they deserve and making sure they enjoy a well-earned day off from the chores.
MOTHER'S DAY IN EUROPE
Mother's Day is a big celebration throughout Europe and each country has their own traditions.
In Spain, children often present a rose to their mums on Mother's Day, which they celebrate on the first Sunday of May, alongside a poem or song. Families tend to gather together for big family meals to dine on dishes symbolising motherhood and fertility.
Roses are also popular to gift to mothers in France – delivered with a hug. In France, Mother's Day is usually celebrated on the last Sunday in May and presents are given to mothers and grandmothers. Common gifts include jewellery, perfume and flowers.
In Italy, mums are often awoken with an extra special breakfast on the second Sunday of May – lucky them! Think cappuccinos, cakes, and croissants. It's also traditional to leave flowers on relatives' graves.
MEXICAN MOTHER'S DAY
Mother's Day is celebrated on the 10th of May in Mexico, El Salvador, and Guatemala each year. It started back in 1922, when Rafael Alducin (Editor of El Excelsior – a Mexico City newspaper) wrote a piece advocating the celebration of Mother's Day throughout Mexico.

Traditionally, people visit their family home the night before Mother's Day. This is so they can wake their mother up to their beautiful singing voices with the traditional song "Las Mañanitas" – either a cappella or with a mariachi band.
On Mexican Mother's Day it's traditional to send flowers and cards to mums and unsurprisingly, it's a very busy day for restaurants. In fact, some businesses let their staff leave at midday and if the special day falls during the week, some schools organise activities where the children can sing to their mothers.
MOTHERS'S DAY IN JAPAN
Japan celebrates Haha No Hi (Mother's Day) on the second Sunday of May. It's believed that it was originally celebrated on the 6th of March on the birthday of Empress Kojun – the mother of Akihito who was the Japanese Emperor.

Later, it was established alongside the Imperial Women's Union in 1931, but celebrations ceased during the Second World War when celebrating Western customs was prohibited. After the war, the date was changed and Mother's Day was revived across Japan.
Mother's Day in Japan is a time to show love and appreciation to your mother. Traditionally, children would wake early and present a big bunch of flowers – often red carnations – to their mother in the morning.
INTERNATIONAL MOTHER'S DAY
International Mother's Day and Mothering Sunday are two separate days – although they both share the idea of spoiling your mum rotten. International Mother's Day is celebrated on the second Sunday of May every year, as it stems from the origins of US Mother's Day. Mothering Sunday emerged in the UK from Christian traditions and is celebrated on the 4th Sunday of Lent.

The best flowers to gift on Mother's Day are bright and cheery – just like your mum. Look out for seasonal blossoms that are just as brilliant as her, like regal roses, lovely lilies and timeless tulips.
No matter where in the world you're celebrating Mother's Day, the principle is the same. It's a time to be with family, share love and celebrate all the amazing things about your mum. Make Mother's Day special with a beautiful bunch of beauties and put a smile on her face from wherever you are.