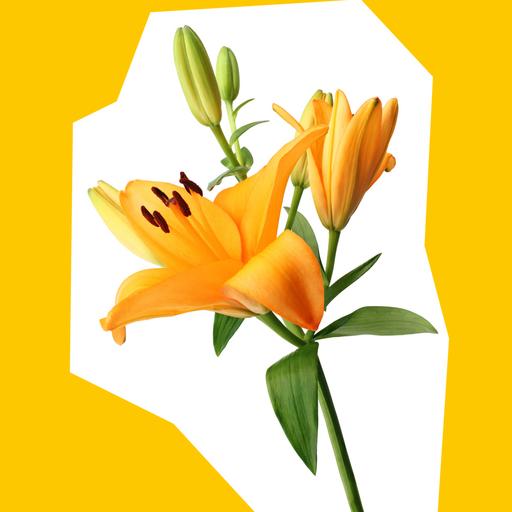 Our Favourite
Orange Flowers
5th December, 2023
5th December, 2023
Symbolising adventure, creativity and optimism, we see the colour orange and we automatically feel encouraged, uplifted and more spontaneous. So, when we're talking bouquets, why wouldn't we want to invite orange flowers to the party? Their personality and positive vibes are always welcome. Plus, they range from the bold and the bright to muted pastel shades, making them a perfect fit for just about any occasion.
Read on to discover some of our favourite orange flowers and what they mean to us.
What Do Orange Flowers Mean?
Most orange flowers tend to be blooming bright, so they often symbolise excitement and exhilaration. If you want to say something in particular with your floral gift, including some orange flowers can help convey your joy, passion and general upbeat vibes.
However, this could also depend on the flower itself. Back in Victorian times, an orange rose represented desire and enchantment, whereas an orange lily symbolised disdain. No matter the flower, an orange shade will always convey a message in the strongest terms.
Send orange flowers to your best friend to show them how excited you are for their next big adventure, or maybe to a new love to let them know you're ready to move things up a notch.

Popular Types Of Orange Flowers
Orange flowers make the perfect present when you want to pack a punch. Whether you're saying congratulations or letting someone know just how much you love them, saying it with orange flowers isn't just beautiful, it's unique. Discover some of the most popular types of orange flower ready for your next gift.
Orange Lily
Despite what the Victorians may have thought, we reckon an orange lily makes for quite the cheerful statement. As orange flowers go, an orange lily really packs a punch with its prominent petals. Sometimes known as the fire lily, the rich orange shade of this spectacular flower makes it the star of any bouquet. Consider arranging it among stocks and roses for ultimate texture, as well as paler orange flowers to help it stand out.

Chrysanthemum
Is there such a thing as an inappropriate chrysanthemum? We say no. If you're after the perfect autumn orange flower, you need look no further than an orange 'mum. Not only do their unique rows of textured petals make them a complete showstopper of a flower, but their fiery ombre shades of orange are the perfect complement to the changing of the leaves when planted in your garden. You can find them in a range of other shades too, from sweet pastels to rich ambers. Make 'mums a part of your autumnal décor this season.
Orange Roses
Orange roses are both dainty and vibrant, ready to lift anyone's spirits. Not only do they look beautiful alongside carnations and gladioli, but they also make a huge statement on their own. We all know that roses are one of the most romantic flowers, but orange roses convey a slightly different meaning to the traditional red ones. This orange flower represents passion, desire and excitement, making them the perfect gift to give to a new love in your life.

Alstroemeria
For an orange flower with nuance and grace, orange alstroemeria is perfect. Usually in paler shades than the likes of the orange lily, their funnel-shaped petals and brown speckles immediately draw you in. Their flowers are delicate and dainty and so look stunning in an arrangement of amazing alstroemeria in ivories, peaches and pinks. However, they also work well when nestled among romantic roses and cheery carnations for a bunch brimming with texture and life.

Germini
For something as bold as the sun itself, germini make a fantastic fiery centrepiece in any arrangement. The little sister of the gerbera, these layered petals come in a range of colours including bright orange. Bold and packing plenty of punch by themselves, if you want to make them part of a mixed bouquet try them with orange or yellow carnations, pom-pom chrysanthemums or delicate white roses.

Whether you're looking for some hardy 'mums as the perfect orange flowers for the garden or some dainty alstroemeria to add some elegance and grace to a bouquet, there's a huge range of orange flowers that are bound to impress. For a fiery friend or a light-hearted lover, discover the perfect bunch of orange flowers as part of our autumn flower collection.