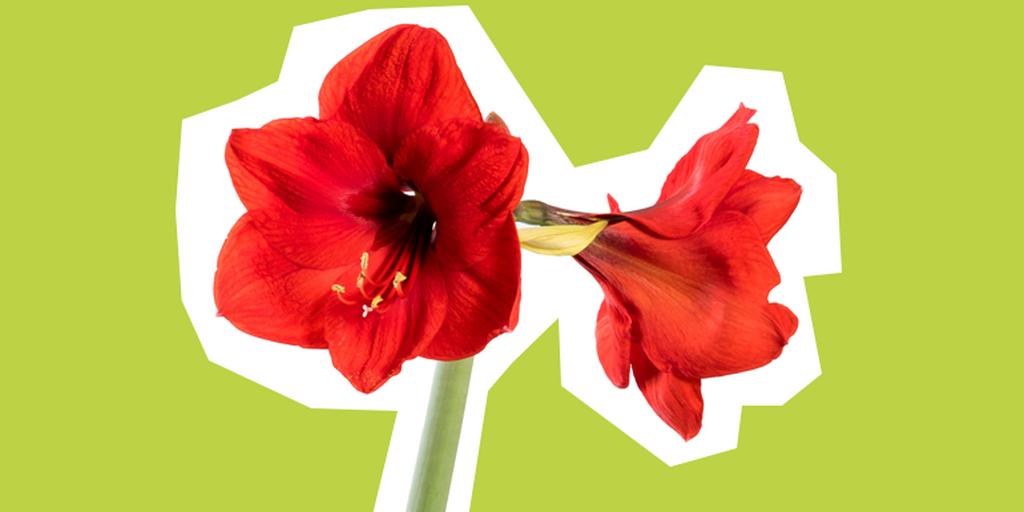 Amaryllis:
Everything You
Need To Know
Amaryllis flowers radiate beauty, love and determination. With rich hues and a striking style, this dazzling flower is the perfect addition to your winter décor. Whether they're making a statement in a vase or entwined in your table centrepiece, this enchanting flower is sure to transform any space. Add some vibrance to your home for the whole of the festive season with this top indoor flowering plant.
Amaryllis and Christmas
The amaryllis flower is native to South Africa and derives from the Greek word amarysso – "to sparkle". As hybrids of the genus Hippeastrum, the amaryllis blooms for several weeks in the winter, making it the ideal Christmas adornment. These stunning buds can grow to lengths of up to 36 inches, and the typical amaryllis stalk can bloom up to six flowers at a time.
Along with rosy red and wintery white, amaryllis flowers also come in shades of green, apricot, burgundy, and orange. Some varieties are bicolour, such as purple and yellow, or picotee which is edged with a different colour. Popular varieties include Amaryllis Nymph, which blooms shimmering white, or Amaryllis Red Pearl, a deep crimson flower.
This perennial flower is hardy enough to handle the outdoors, but it really comes to life inside the home. Amaryllis typically bloom in November and December, just in time for the festive period. The perfect Christmas amaryllis flaunts seasonal colours and has a flowering period of seven to ten weeks.

Types of Amaryllis Flowers and Their Meaning
Amaryllis flowers are incredibly versatile and have a wide range of meanings and symbolism. It's probably most commonly associated with all things festive, but they're also thought to symbolise love, determination and beauty.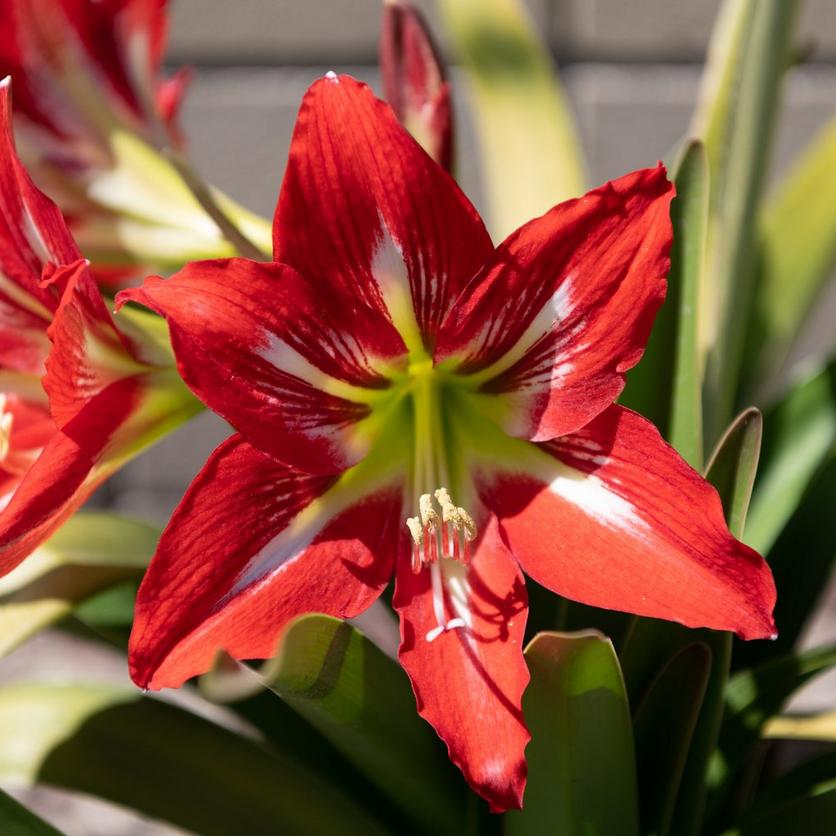 Ruby Star
This aptly named amaryllis features pointy wine-red petals that contrast wonderfully with lime green streaks. At 24 inches tall, this amaryllis hybrid blooms beautifully in any garden, with a colour that symbolises love and beauty. Bring it inside as a cut flower to add flourish to any Christmas decoration display.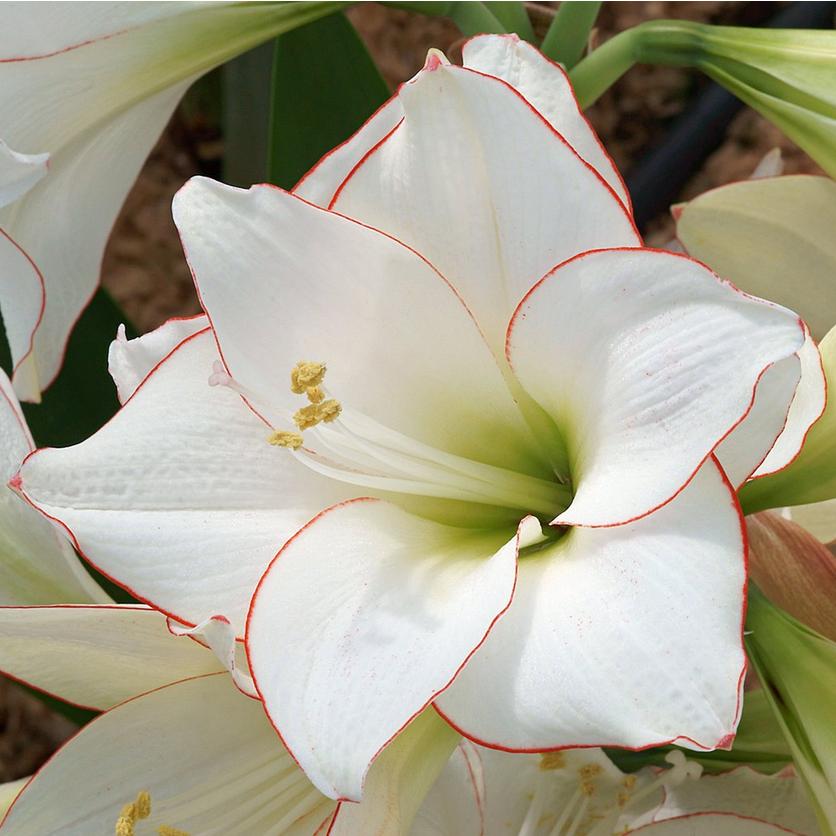 Picotee
The popular Picotee amaryllis flower boasts large, snowy white blooms with a thin scarlet edge. Picotee bulbs can take up to 60 days to bloom but eventually grow to an elegant 24 inches, so it's well worth the wait and are guaranteed to make a statement in a vase.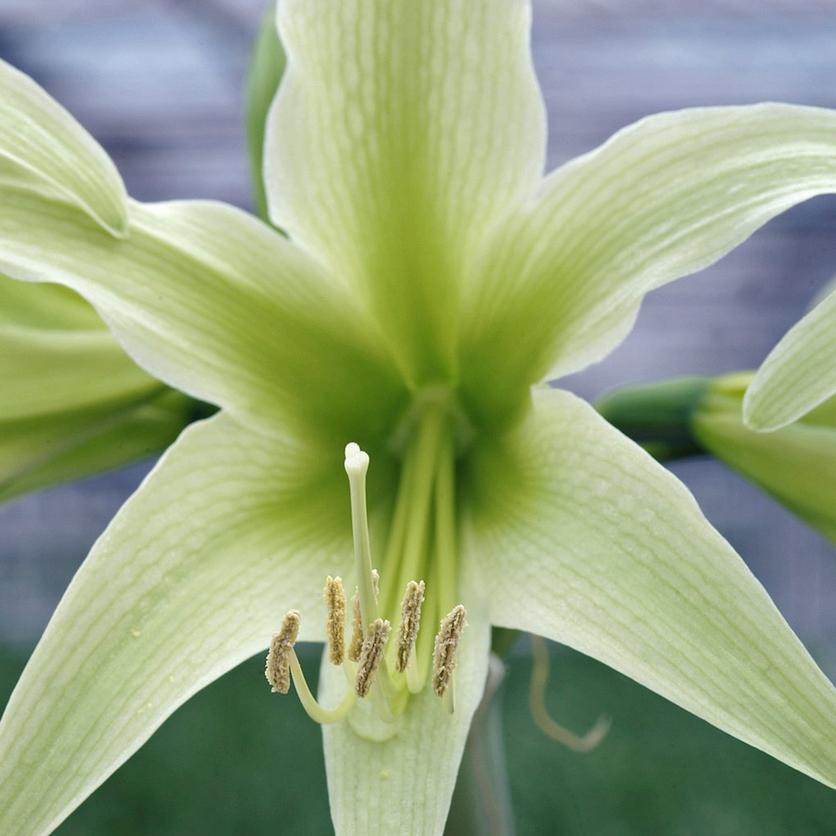 Evergreen
Sprouting spider-like flowers and long stamens, the award-winning Evergreen amaryllis is truly one-of-a-kind. Its slender lime green petals, adorned with an apple green throat, grow easily in winter and add an exotic spin to the home.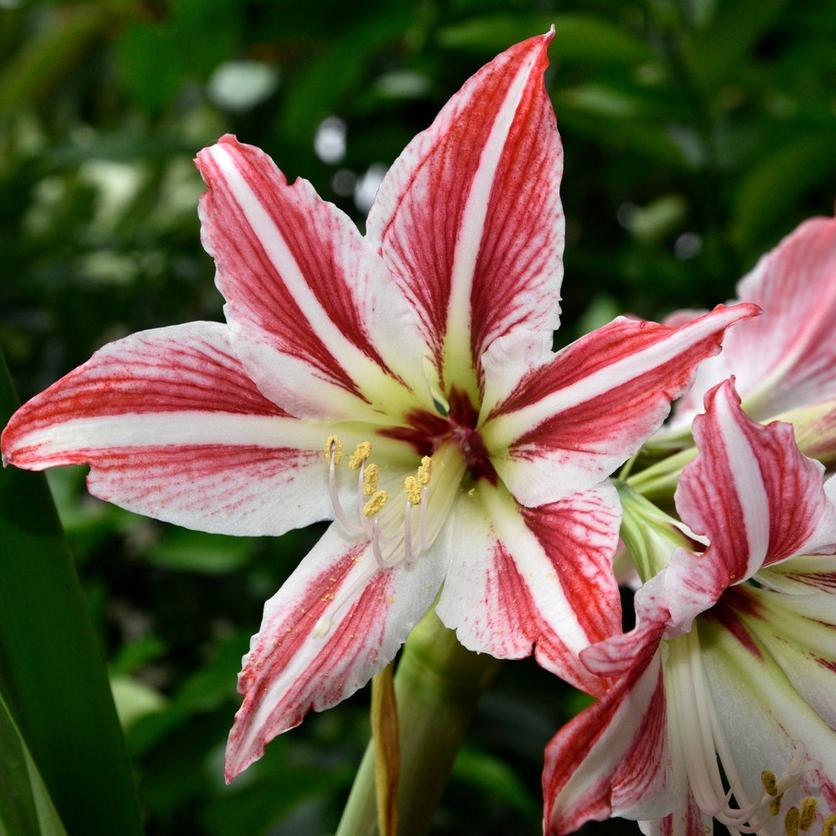 Santiago
Of the more exotic variety, this amaryllis has white trumpet-shaped petals with ruby-red centres that bloom apple green. It's one of the few Hippeastrum variants that has a lovely scent, reminiscent of blackcurrants.
Amaryllis Care Tips
To get the most out of your amaryllis, handle them gently the minute you get home. The weight of the flower can break the stem as it ages. To prevent this, it's best to insert a cane into their hollow stem before arranging them.
The cane should wedge just below the flower when inserted. In some cases, the cane can fall out of broader stems when being put into the vase. If your amaryllis stem is wider in diameter, just hold the cane steady with some cotton wool and tie a rubber band at the bottom.
Storage is essential to keeping your amaryllis flower happy and healthy. Keep them in a cool spot away from harsh, direct light. But be mindful that too much shade can impact flowering and may cause them to wilt.

Amaryllis Flower Decorations
Amaryllis flowers are perfect for every season, but their bold tropical colours stand out most in winter. Create the perfect Christmas amaryllis decorations with vibrant varieties such as 'Cherry Nymph' or 'Royal Velvet'.
While they're eye-catching on their own, try to mix amaryllis with silver birch branches or pussy willows to create a fuller arrangement. If you opt for deep red amaryllis, consider uplifting them with a variety of brightly coloured decorations. Christmas is all about reds and whites, so incorporate some white twine or a string of fairy lights around the vase.
Whether it's crisp white or misty blue, the amaryllis is guaranteed to elevate your home this festive season.