Flowers

Birthday

Summer

Delivery

Occasions

Plants

Hampers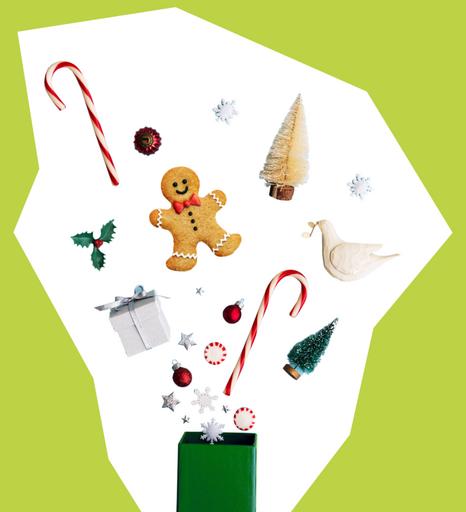 Christmas
Décor Ideas
15th October, 2021
15th October, 2021
Jingle those bells and deck those halls, it's time for the C bomb to be well and truly dropped. After this tumultuous year, maybe you want to mix things up a bit with your Christmas decor, swapping your tried and trusted decorative pieces for new and improved ones.
With this in mind, we've rustled up more Christmas decor ideas than you can shake a turkey leg at with everything from DIY decorations to themes that you can introduce to your humble abode. Put on that Christmas playlist and feel inspired with our list below.
1. Create drama above the fireplace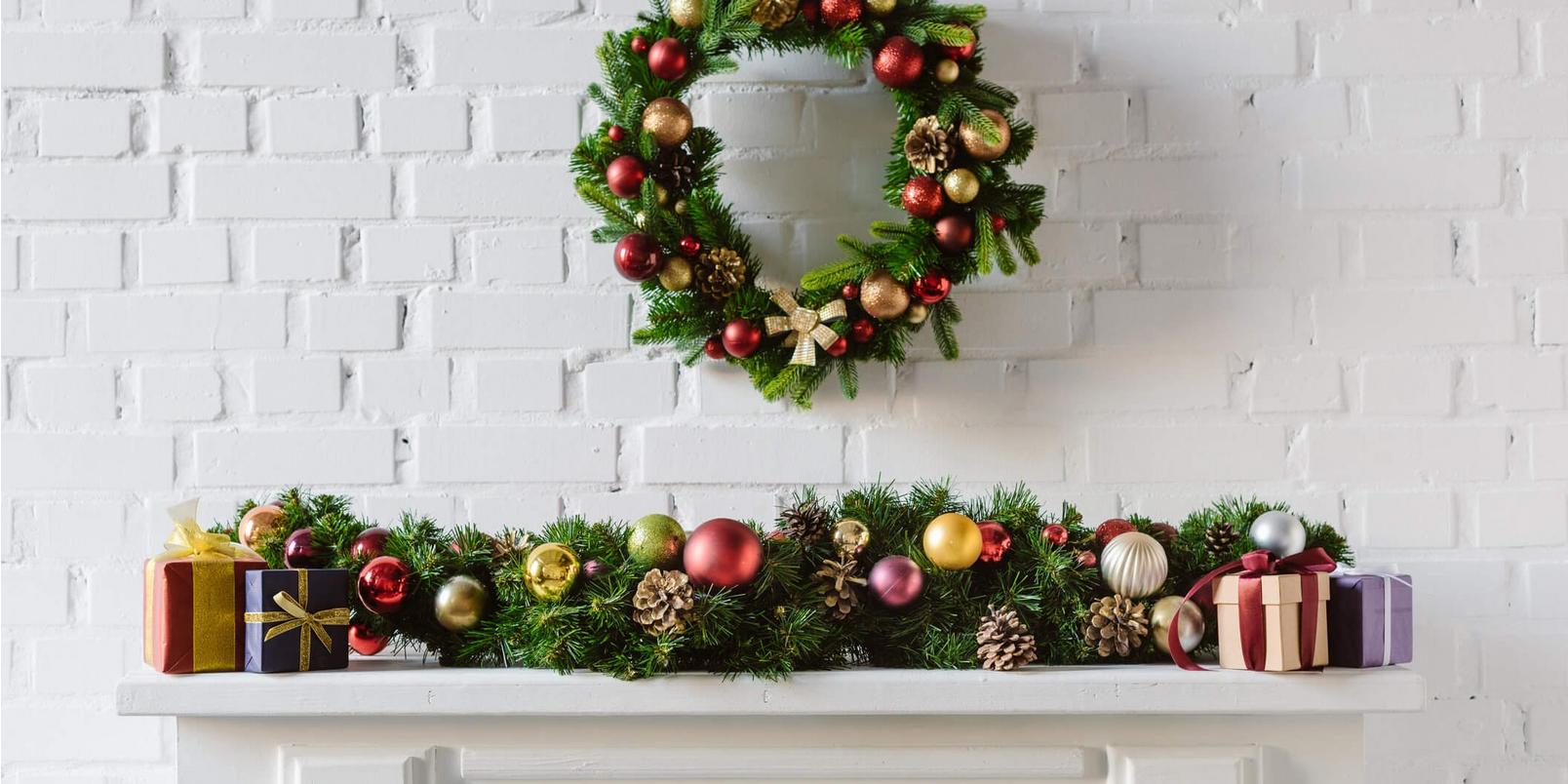 Oh, we do love a decorated mantelpiece – whether there's a real crackling fire underneath or not. They always look so classy and they're so easy to pull together yourself.
You will need Fir tree cuttings – steal these from the back of your real tree if you're feeling thrifty. Eucalyptus sprigs – you can pick up artificial ones that still look great. Holly cuttings Baubles
How to create your own Start by spreading your fir tree cuttings across your mantlepiece, leaving gaps that can be filled with your holly cuttings and baubles. We love the idea of taking those eucalyptus sprigs and bending them so that they hang over the mantlepiece, creating a chic, curtain-like display.
Have fun moving items around to create a finish you like, if you have any gaps then fill these with more baubles, cut flowers or plants (we're fans of the bright reds and greens of poinsettia) or pinecones.
2. Make your own advent calendar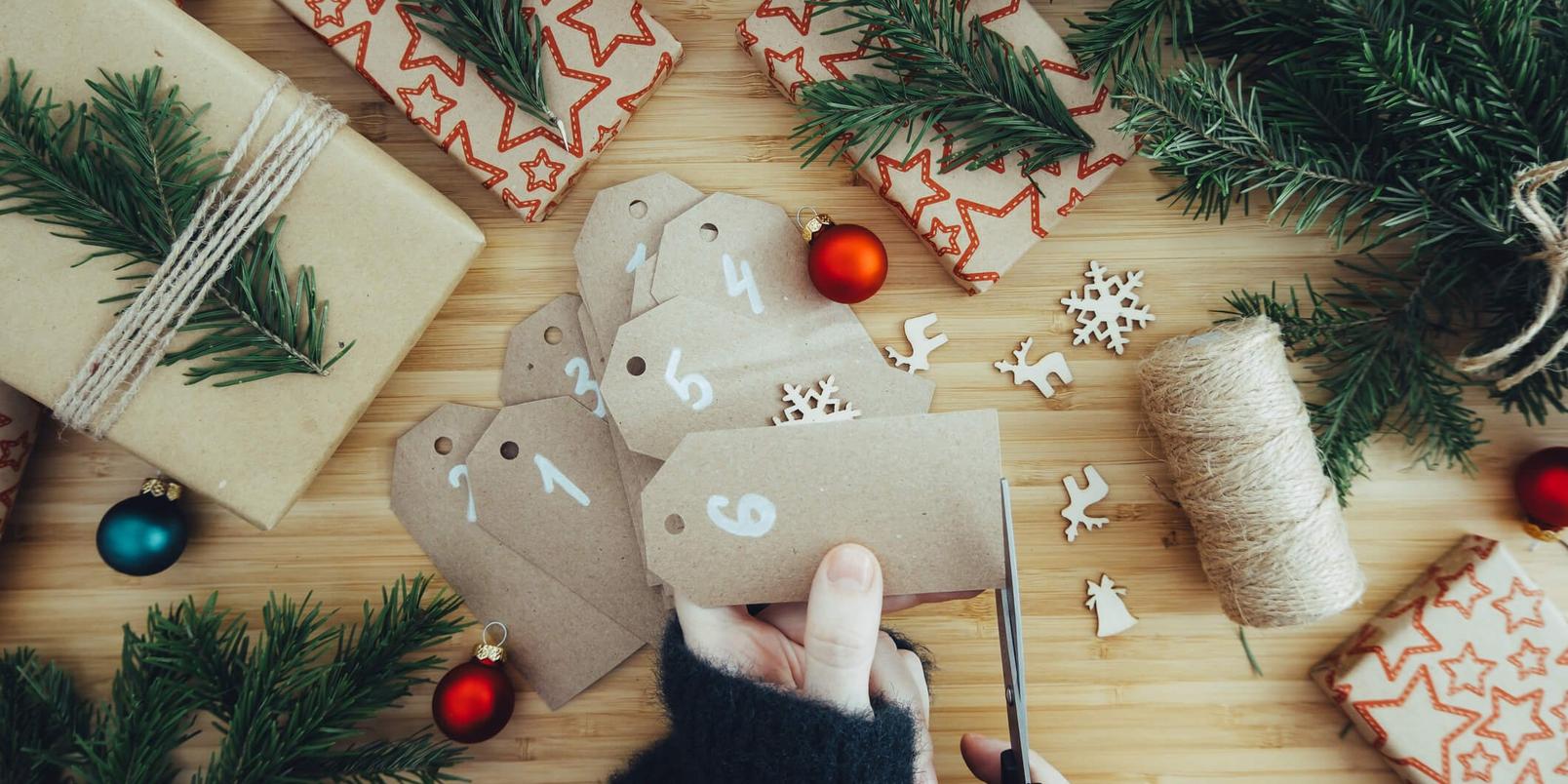 Skip those tiny chocolates in their cardboard windows this year, instead, make your very own advent calendar that can be featured in your home as a bonus decorative feature. It's super easy too, all you need are some brown envelopes, twine, coloured markers and lots of little gifts to pop in each pocket. We'll see you down the craft shop!
Simply number up 24 small brown envelopes, attach them to a long stretch of twine in numerical order then add teeny gifts such as mini chocolate bars, lip balms, stationery or even miniature bottles of alcohol if you're making one for a fellow grown-up. Cheers!
This will create a rustic, Christmassy display that you can also dress up with glittery decorations and feature in pride of place in your home.
3. Go rummaging for your wreath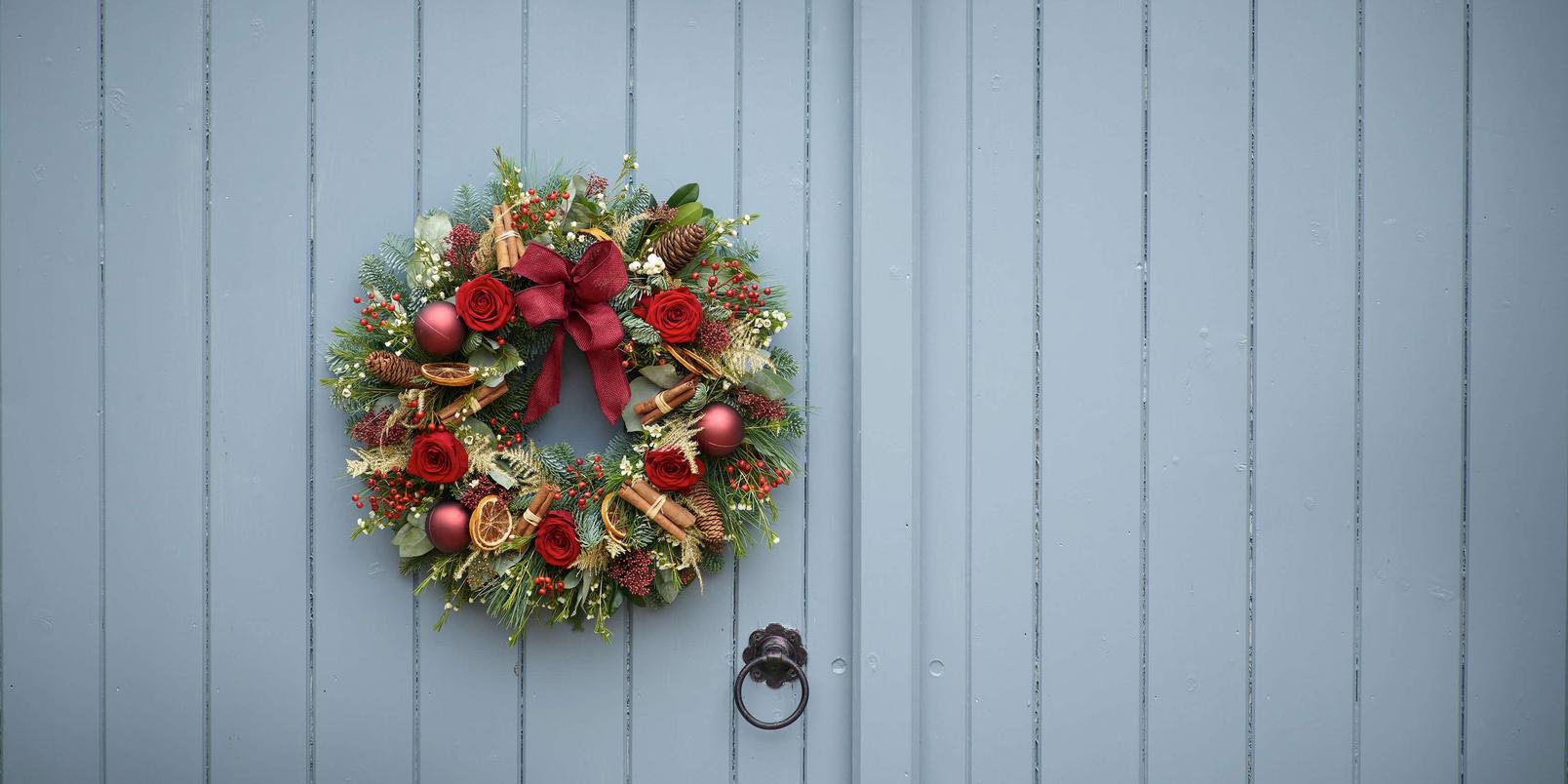 You can buy wreath hoops from your local craft store – we recommend picking up a wood one so you don't have to worry too much about covering all of it if you don't have quite enough foliage. Wrap and intertwine your sticks and other findings or use a hot glue gun to secure them in place. Finish off with a decorative velvet bow or feature some brighter coloured florals such as amaryllis flowers or poinsettia leaves. chef's kiss.
Need a little more guidance? No problem! Take a look at our guide featuring all the inspo and information you need to make your very own wreath at home with a range of styles and step-by-step tutorials to follow.
4. Inspired by the sea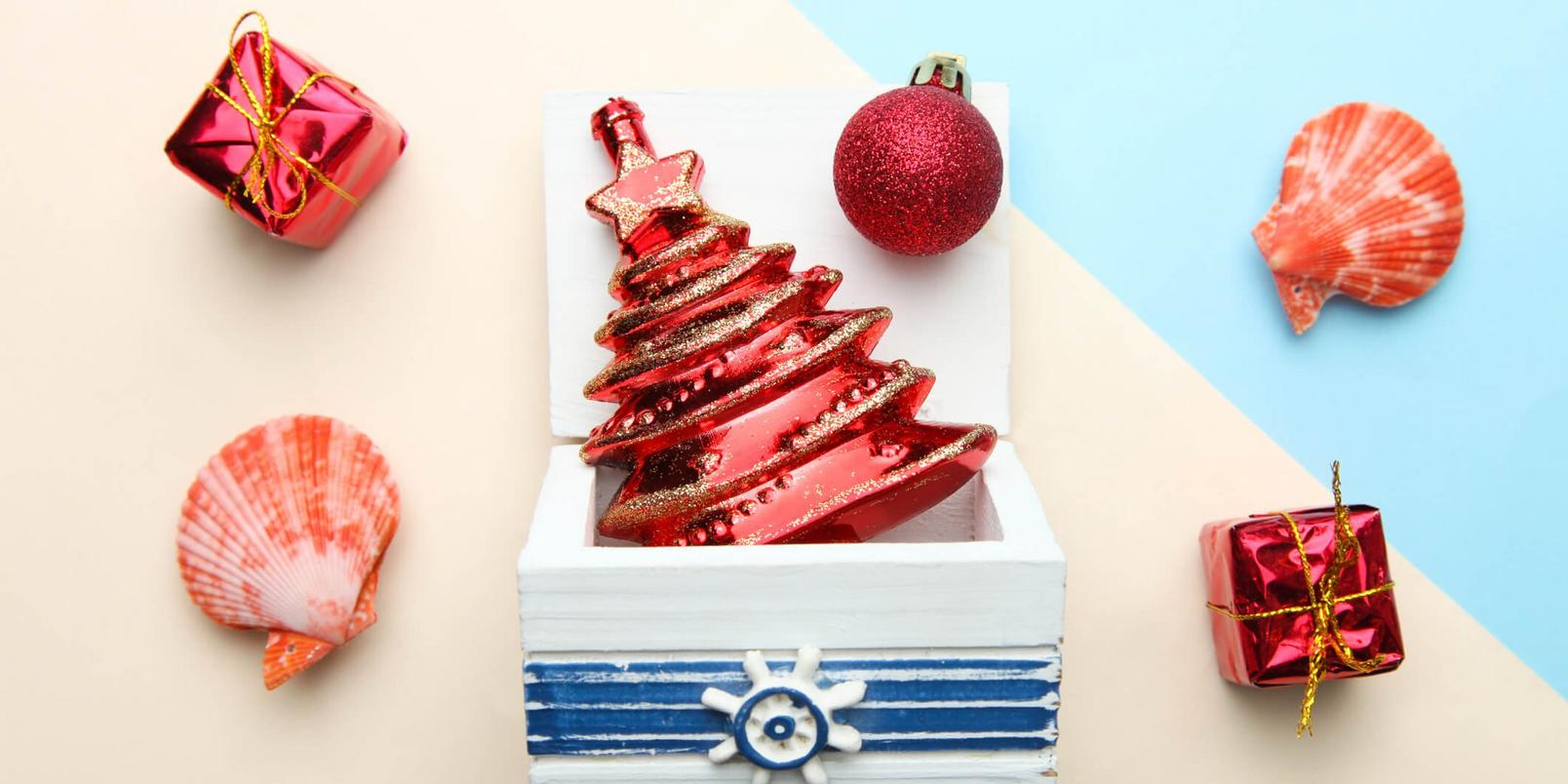 Live by the coast? Then why not incorporate your love for the sea and sand into your Christmas decor. We adore the idea of festive garlands featuring shells you've handpicked on the shore or dried seaweed and driftwood in your table decorations. Recreate the happiness of your last holiday as a family or just those fun-filled days on the beach with a Christmassy twist.
Seaside themed Christmas decor Lay the table and feature a scallop shell on top of each plate, as well as starfish and twinkling lights threaded throughout pillar candles and blue ribbon in the middle of the table. String smaller scallop shells and dried fruit onto lengths of twine that can then be hung along the mantlepiece or featured on the tree instead of tinsel. String shells onto thread to create simple, all-natural Christmas decorations that you can enjoy year after year.
5. Fruity fun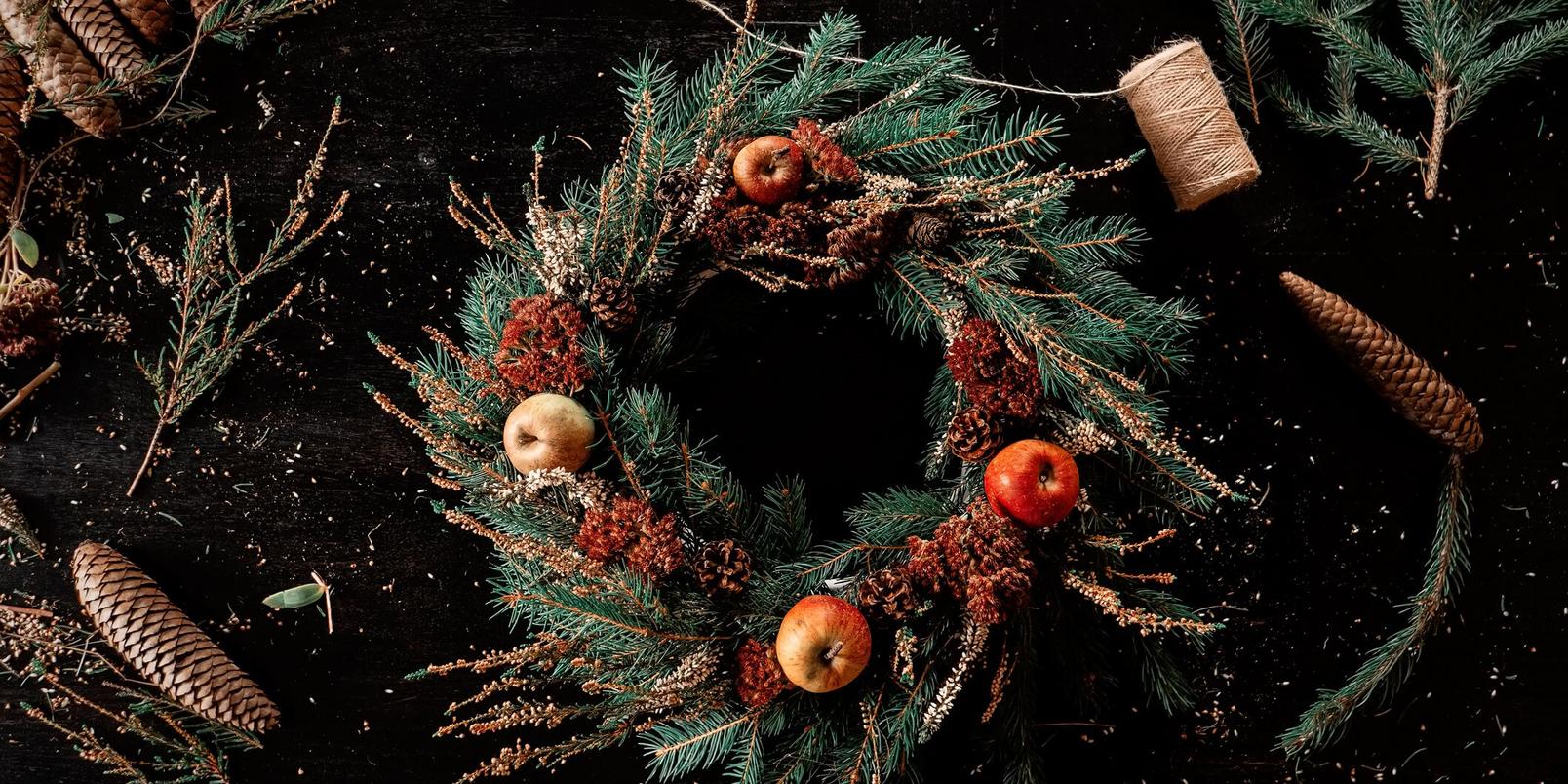 That citrusy scent combined with the natural aroma of pine is a favourite come Christmas time and signals that the season is upon us. With this in mind, go about making your own fruity arrangements, using dried oranges and berries in wreaths and floral displays. You could even throw them into punch bowls of that mulled wine your auntie can't get enough of or feature them in decorative dishes around the home as makeshift potpourri. Very chic!
All you need are some small easy peelers then cut slits in their skins and pop them in the oven on a low heat to dry them out and release that wonderful Christmassy aroma. Pick up some whole cloves and push these into your dried fruit for that final festive touch.
6. Yuletide upcycling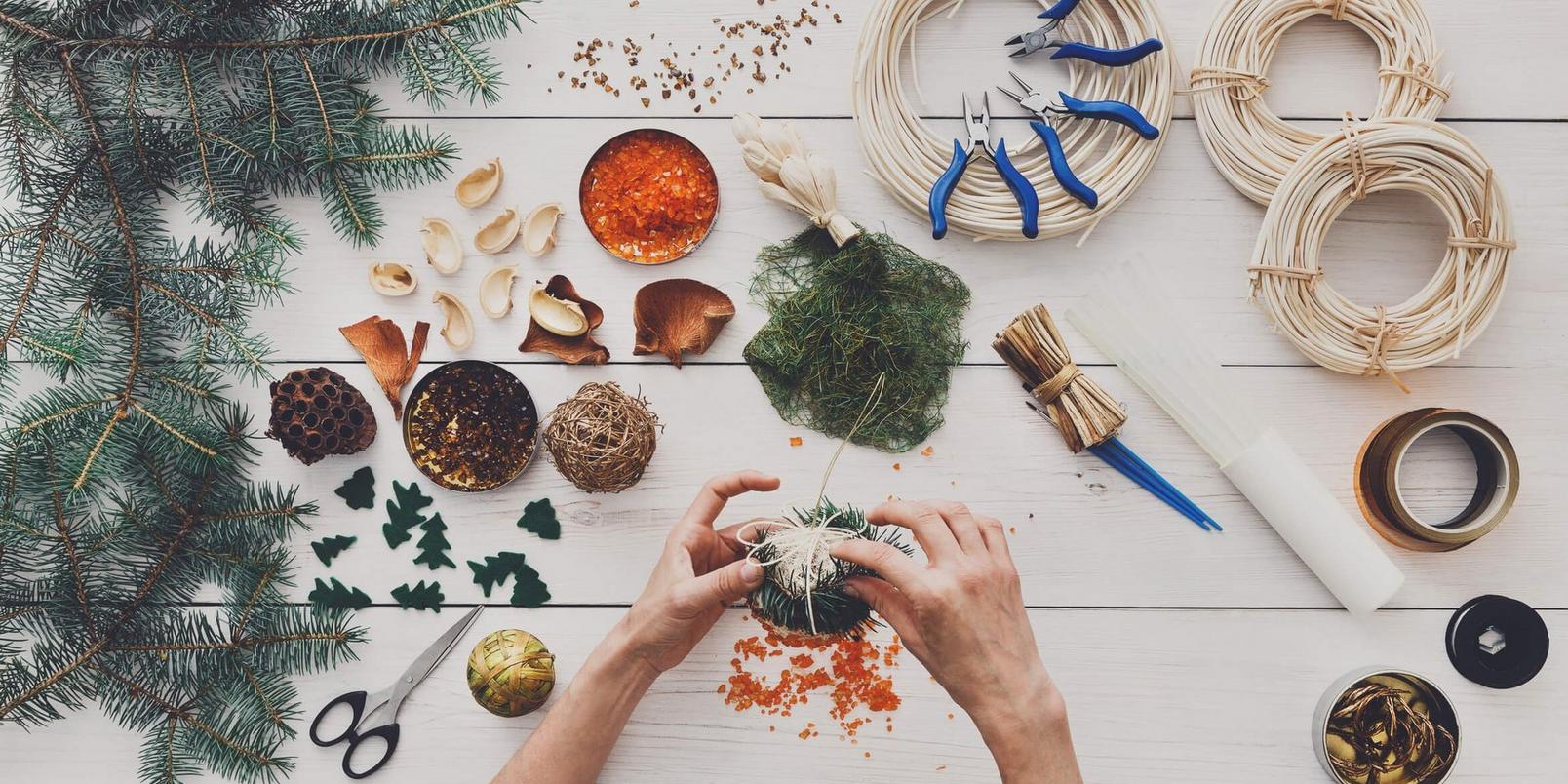 This Christmas, save the bin men a job and do a little DIY to create some gorgeous festive lanterns that can house tealight candles and create stunning, flickering displays in your living room. Enjoy those baked beans on toast or the tinned tomatoes for that spag bol then use the tins to create these stunning decorative items.
You will need Tin cans – thoroughly cleaned and the labels removed A drill with a small drill bit Marker pen
Take your marker pen and draw a festive shape onto your tin can using only dots. These will mark where you'll drill holes to let the light come through. You can create snowflakes, heart shapes, stars and snowmen for festive themed lanterns that look lovely on coffee tables or on your mantelpiece.
Don't fancy getting the power tools out? Then save those glass jars that feature your usual dinner sauces, clean them up then fill them with glittery baubles and battery operated fairy lights for a super easy festive decoration. Alternatively, layer the bottom of your jar with fake snow and pop a battery-operated tealight candle inside for a subtle but effective Christmas inspired light.
7. Pretty in Pine Cone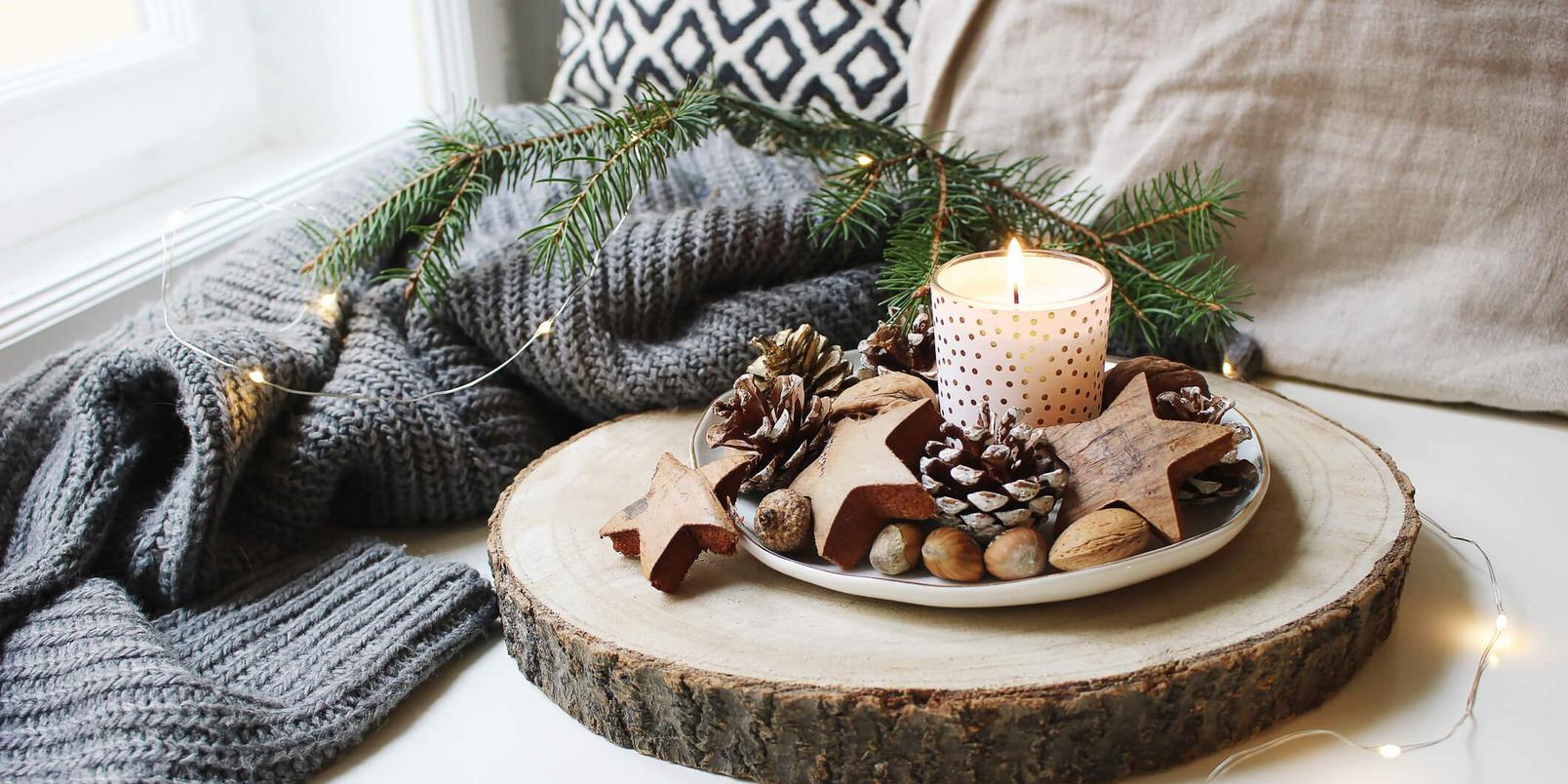 Creating a Christmas display doesn't need to be complicated. In fact, we want fewer items on our festive to-do list, please. All you need to do is collect pine cones while out on your morning dog walks or those work from home breaks and dot these around your home.
Feature them alongside pillar candles, place a handful in a decorative bowl or fill a glass vase to the brim with some of these seasonal woody fruits. Want to still make it your own? Then grab some spray paint or glitter spray and give your pinecones a refresh before putting them on display. Just be warned, once you get going with that glitter spray...it's hard to stop!
8. Co-ordinate your gift wrap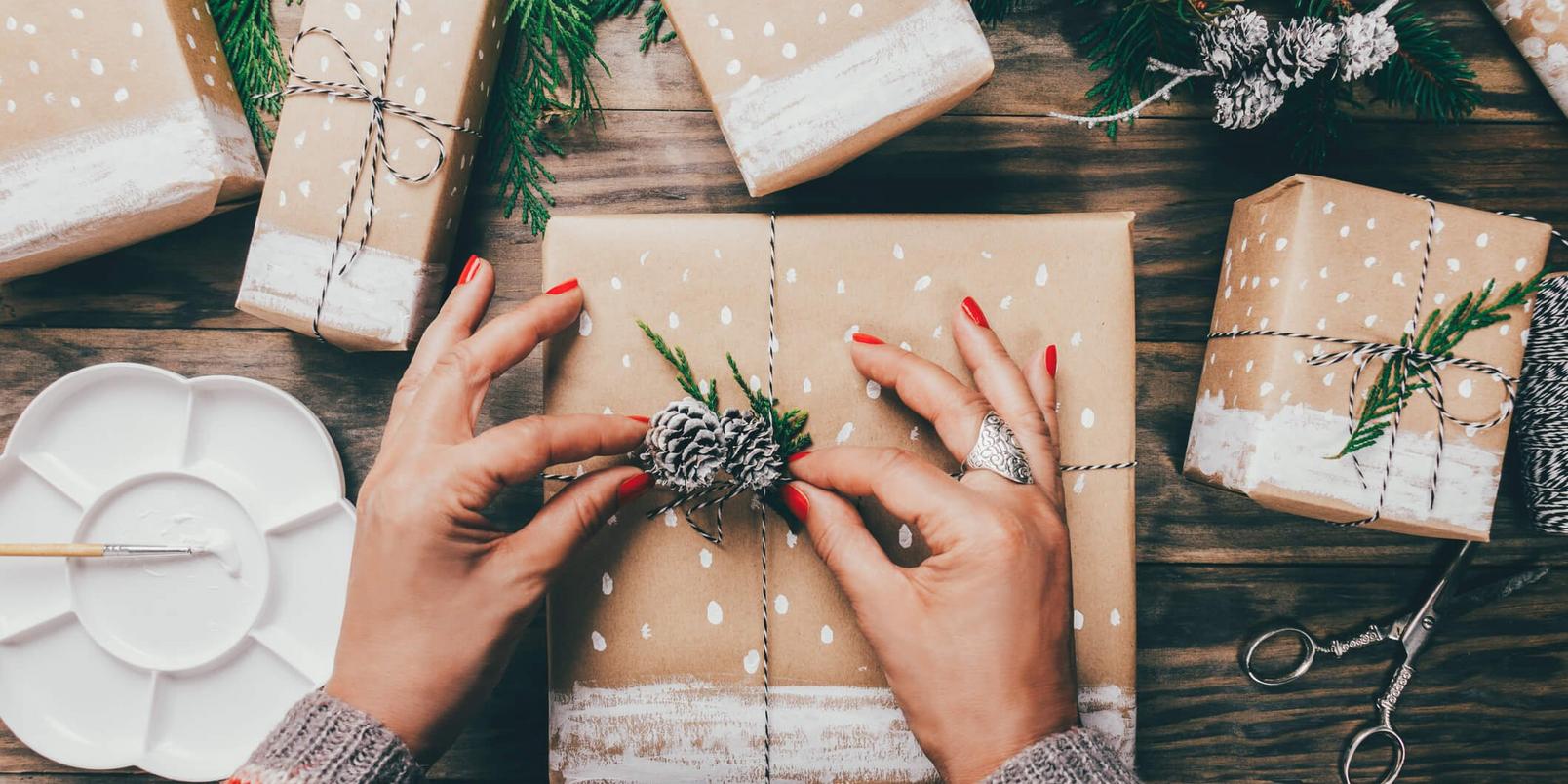 For those of us who like to keep things neat and orderly amidst the chaos of the Christmas season, what could be better than matching your gift wrap to your tree decor? There'll be no mismatched wrapping here, oh no. Instead, you can make your own festive paper that complements your tree perfectly. Here are some ideas...
Potato printing – Remember this from your childhood? Carve festive shapes into cut potatoes and dip these into paint before stamping onto brown paper. All of your wrapping will have a similar theme and you have the opportunity to tell everyone that you made it yourself as they unwrap their gifts to see what's inside. Extend the ribbon – Take some decorative ribbon and feature this on your tree, tied in bows or added to existing decorations, then feature this same ribbon on your presents to extend the theme. Co-ordinate colour – One of the simplest ways to achieve this is by simply picking up wrapping paper that matches your Christmas tree colour scheme. So if you're the traditional sort you'll want paper that's green and red while for modern trees silver and purple wrapping paper is a must.
9. Skip the tree altogether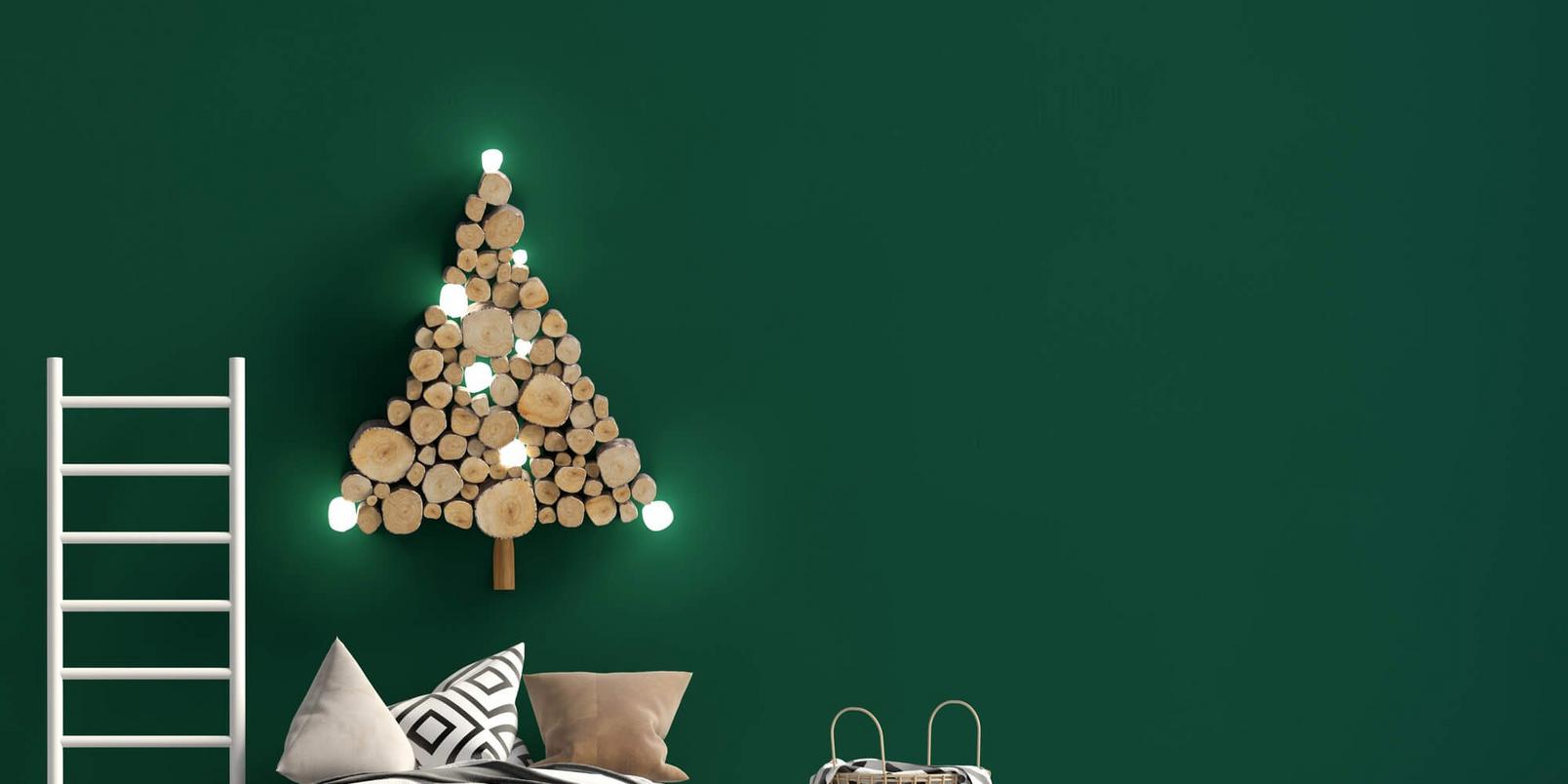 Have you read our guide to alternative Christmas trees? Well, we featured a great alternative in the form of a hand-drawn Christmas tree on a chalkboard wall. If you've created one of these fun features in your home it's time to make use of it this December. Draw your tree on the wall – you can let out your inner artist or keep things modern and minimal – then decorate the rest of the space with seasonal greetings and festive drawings.
Alternatively, hanging Christmas decorations in order of size in a pyramid shape also creates the illusion of a tree. Try it with minimalistic red stars or giant baubles or even oversized honeycomb paper balls for a simple but effective decoration that saves space and can be used again and again.
10. Cosy and bright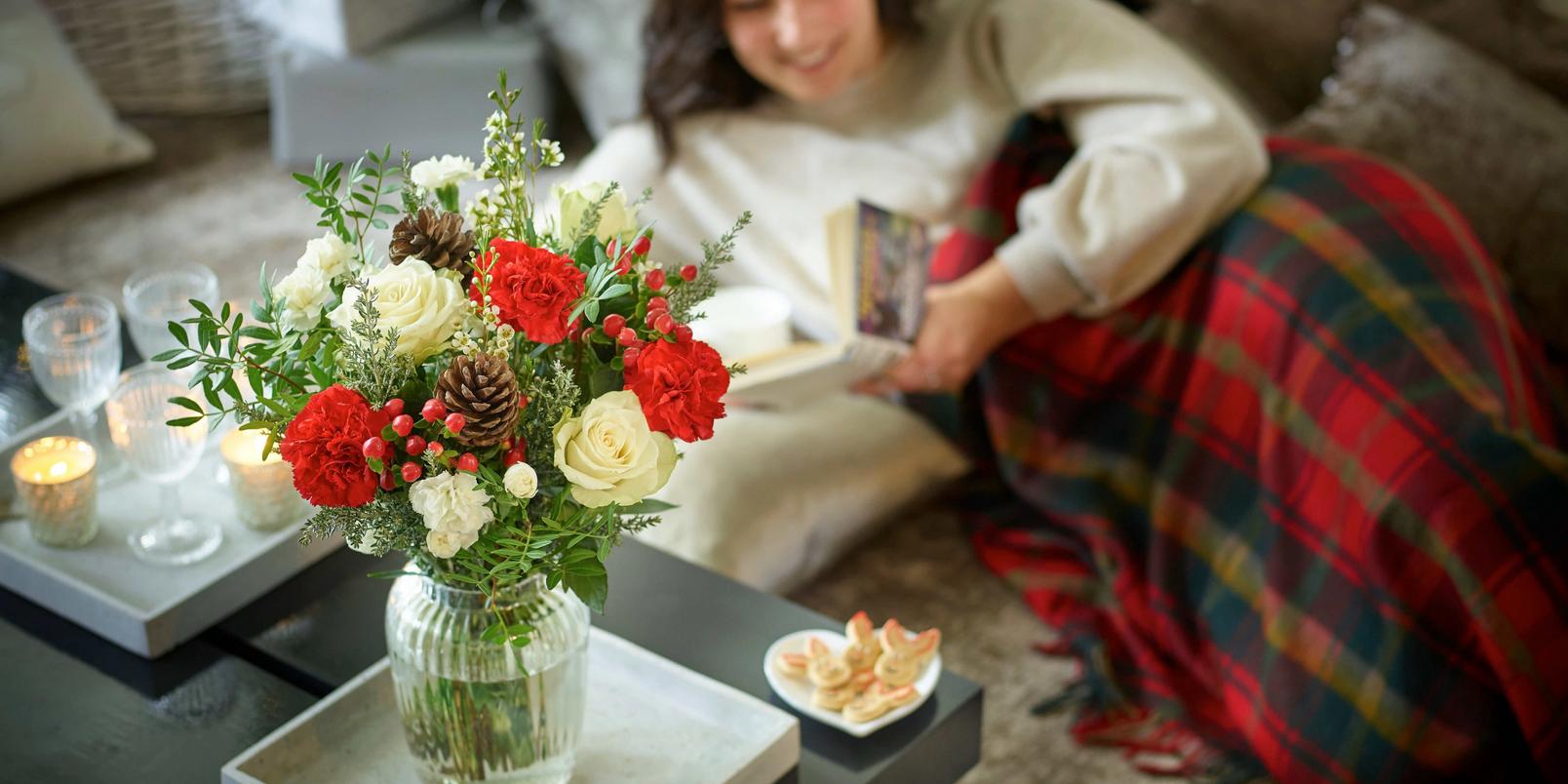 It's safe to say, there's nothing better than snuggling up and getting cosy on a cold winter evening over the Christmas season. Introduce cosy textures to your space to enjoy this vibe all December long.
Drape faux fur throws on dining chairs ready for sleepy snuggles after a big Christmas dinner, feature chunky knitted blankets on the arms of the sofa and swap your usual rug for a plush shag carpet that's perfect for kneeling on while opening presents.
Fur-lined stockings above the fireplace keep the theme going and rooms lit only by flickering candlelight and the glow of the TV showing Christmas movies sets the scene. We're feeling festive just thinking about it!
11. Scatter the season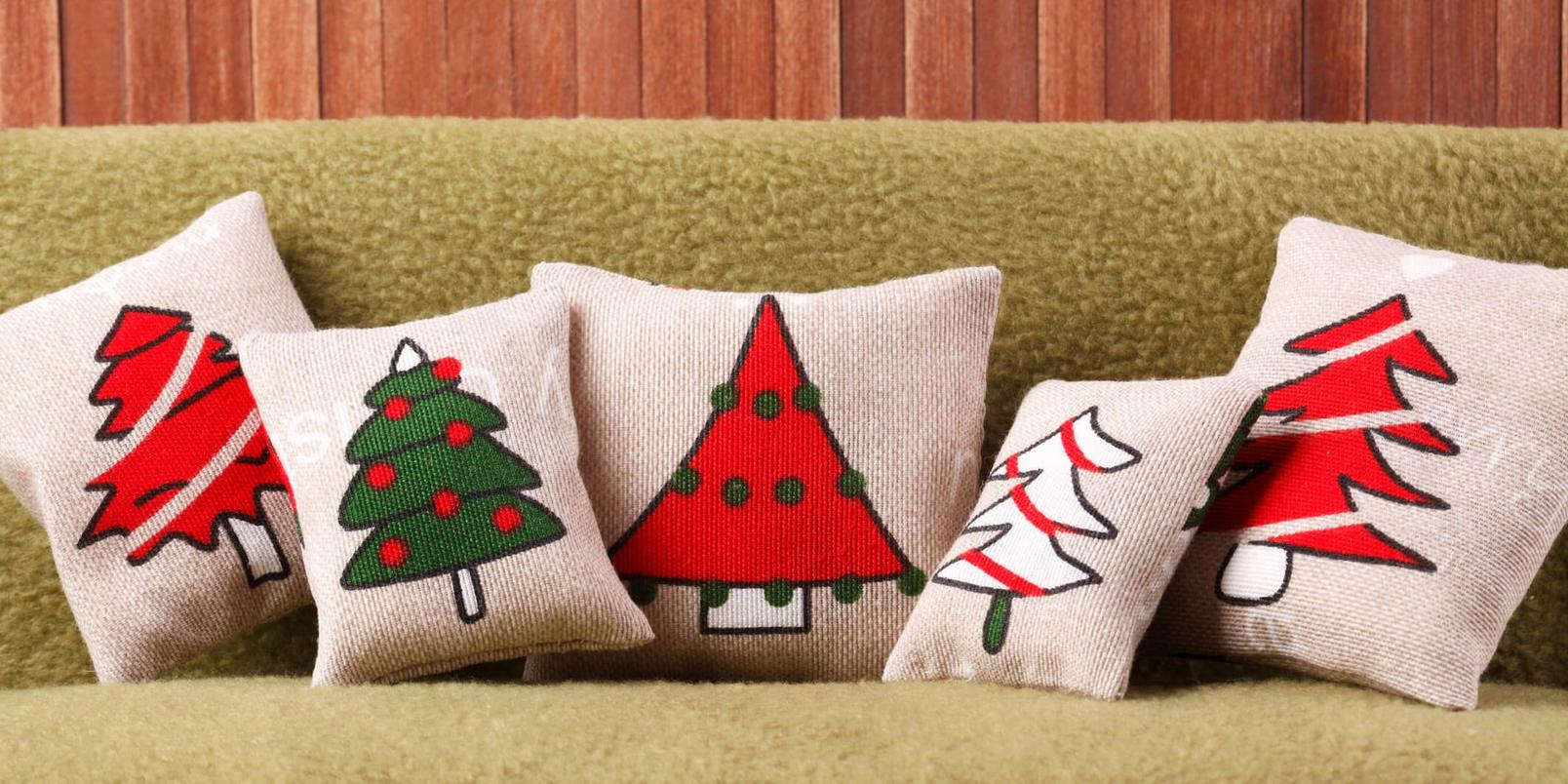 We love a cosy cushion – or two – on the sofa and we think they're even better when the covers are swapped out to celebrate the season. Give your usual colour scheme a break and pick up some festive-themed cushion covers that can take their place over December. Keep things minimal with red and white plaid, choose textured cushions with bows and decorative beads or have a little fun with polar bears, elves and Santa himself as part of the design.
You'll find lots of inspiration and items to buy on the likes of Etsy, in your favourite store homeware sections and even in your supermarket. Go on, add them to your basket. We won't tell.
12. Branch out with burlap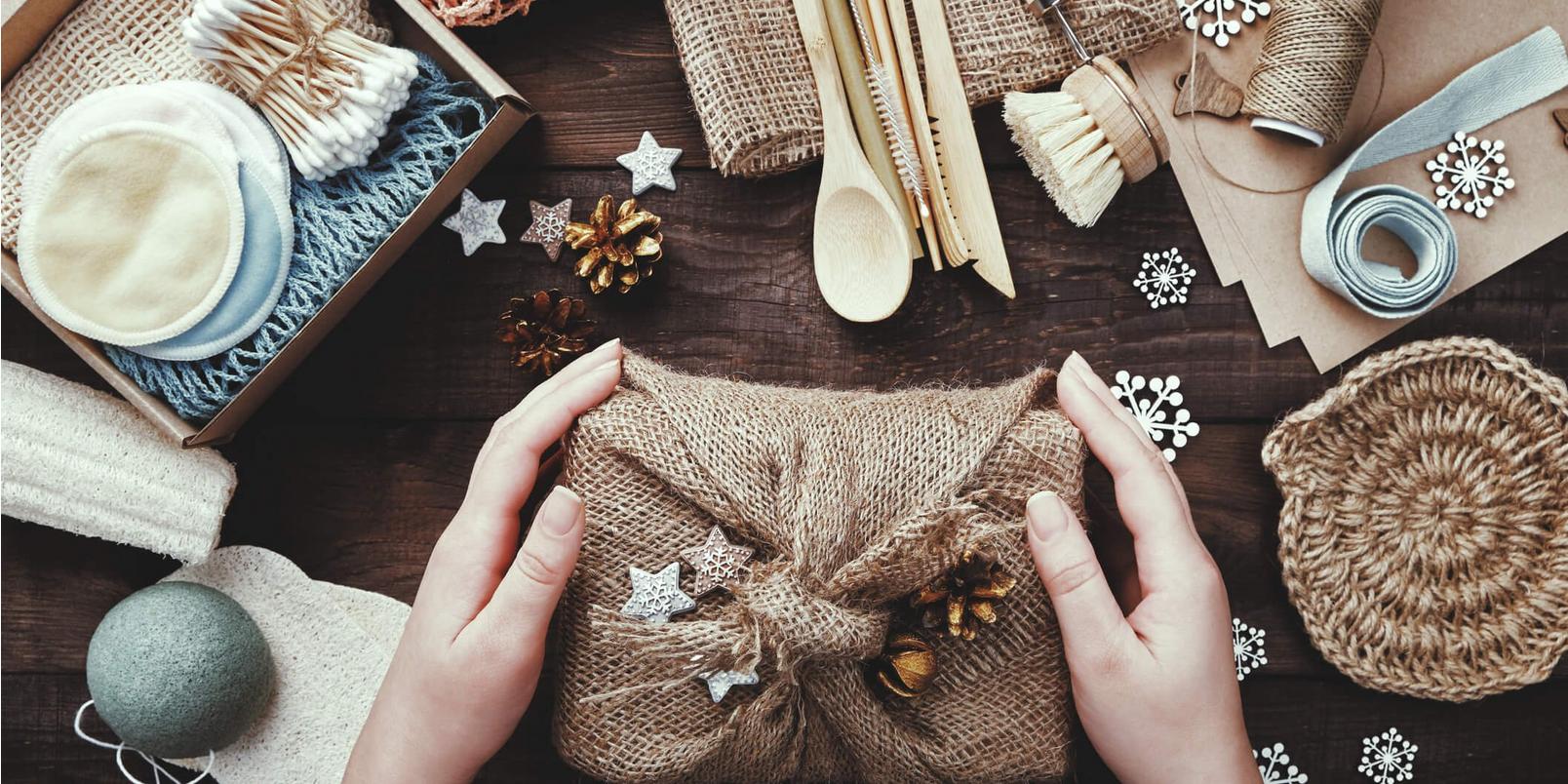 Burlap is a material synonymous with Christmas, as Father Christmas fills burlap sacks with toys and drops these off to good girls and boys – or so the story goes. Feature this rustic material in your Christmas decor with a burlap table runner on the table, enhanced with fir tree cuttings and gold candles.
Alternatively, take small squares of burlap, wrap these around your cutlery and finish off with twine and a sprig of holly for a simple but effective Christmas table setting. We also love the idea of wrapping up those main Christmas presents with strips of burlap or finishing off with a neat bow made using the material.
13. Dabble with colour
Much of our inspiration so far has been fairly traditional, but why not simply throw the rule book out the window and really mix things up with colour? Ditch your traditional greens and reds and golds and instead feature pastel shades in your Christmas decor or black and white for a striking monochromatic vibe.
We love the idea of dainty pastel pom poms thread through a festive miniature Christmas house scene or draped along the branches of a fun white tree.
Alternatively, pops of neon add a modern twist to traditional festive themes. Spray paint a reindeer ornament in a bright pink neon shade or pick up vintage-inspired glass ornaments to feature on your tree – we love Paperchase's range. Santa on a surfboard, a sloth in a Christmas hat...who says Christmas has to just be bows and snowflakes?
14. Play around with plants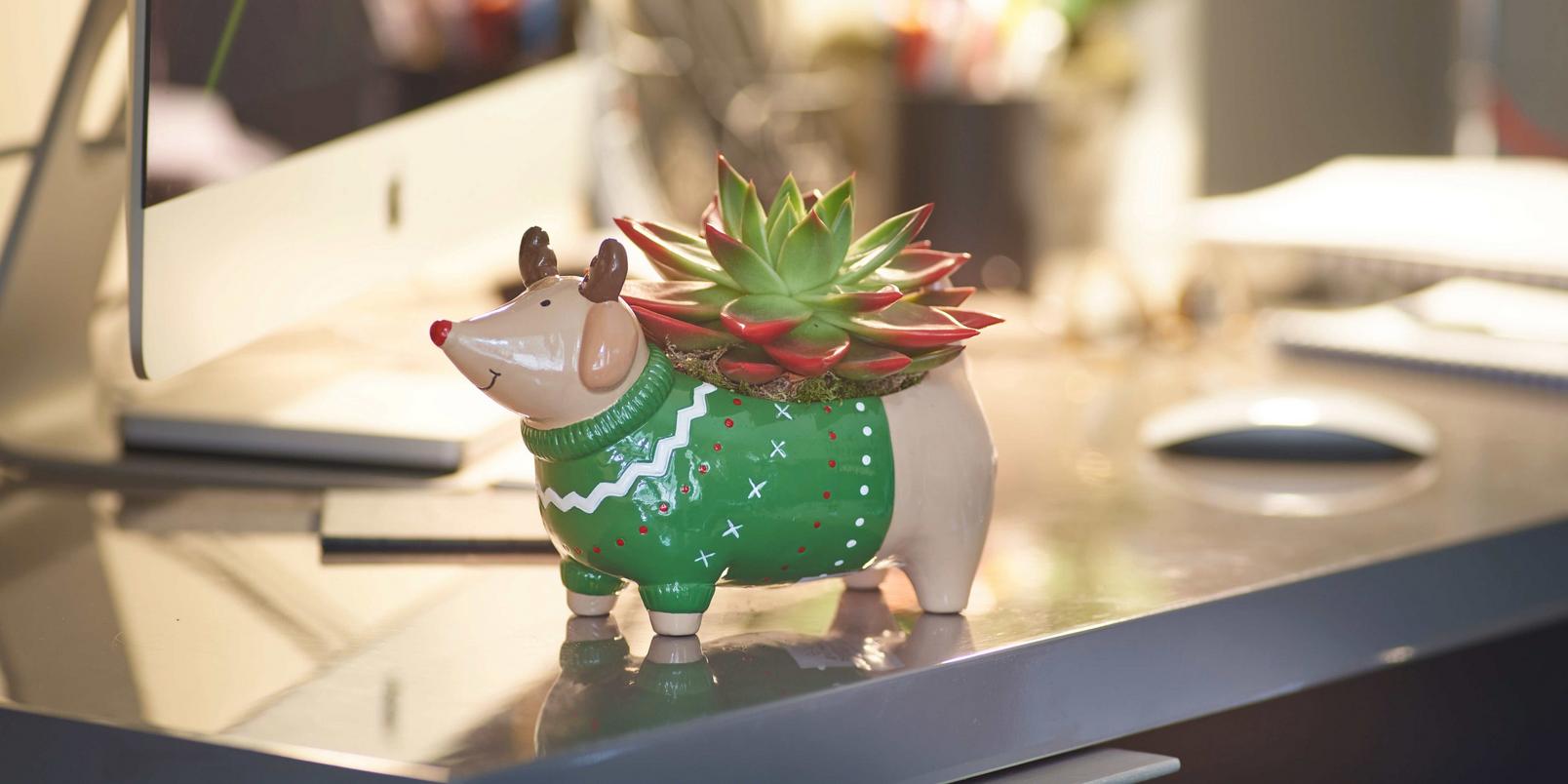 We know the Christmas tree is the most important plant of all but this year why not have a little fun with some more unconventional but still festive plants. Feature them on windowsills, in the guest room or on the living room coffee table to spread some festive cheer. We've rounded up just some of our favourites here but here are a few to consider for the moment:
The Christmas cactus – The name says it all really. This stunning plant erupts into colour in the month of December with vibrant pink, red or white flowers that tie nicely into the typical Christmas themed colour palette. Alternatively, you could pick up a regular cactus and decorate this with tinsel for a fun festive twist. Christmas rose – A floral arrangement in pride of place on that Christmas dinner table featuring the always beautiful Christmas rose, will have guests singing your praises. Rosemary – Tasty, fragrant and good looking; take a rosemary plant and prune this into the shape of a Christmas tree to enjoy in the kitchen. Steal a sprig or two for the Christmas turkey.
15. Feature feathers
An always underrated decoration and craft material, feathers can make a statement and add a quirky twist to Christmas decor. Dip feathers in glitter and attach to twine for instant, chic garlands or fill hurricane vases with red and green feathers for a unique festive feature.
We love dainty silver feathers as embellishments on gifts, secured with a thin criss-cross of ribbon or scattered across the Christmas dinner table in wintery shades of blue and white. Feather boas are also an excellent alternative to your typical, plastic tinsel and add instant drama and glitz to your tree.
We hope you're feeling all sorts of inspired now and ready to get your home ready for the festive season that's nearly underway. Take a look at our range of Christmas gifts and flowers, perfect for enhancing your home or to let loved ones know you care.