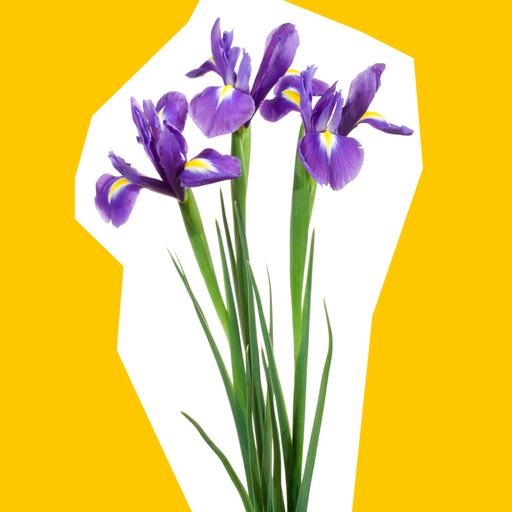 Our Favourite
Blue Flowers
Monday blues, January blues, holiday blues…blue is often a colour associated to negative feelings. But you don't have to feel blue with blue booms! Colours range anywhere from deep blue all the way through to the paler tones of purpley-blue and every shade in between. Mix them up with some reds, pinks and oranges to create a vase that simply pops or keep it simple with a stylish blue and white combo.
When putting flowers in our vases we're used to seeing splashes of pink, red and yellow. However, a colour we don't see that often is blue. Even though there is so much blue in nature, from the sea to the sky, when it comes to blooms in this colour they only make up an estimated 10% of the total flower population! Read on to discover some of our favourite blue flowers and their meanings.
Meaning Of Blue Flowers
Blue flowers have had many meanings over the centuries. Heading back as far as the Ancient Egyptians, the blue Lotus flower (also known as the Blue Water Lily) featured heavily in their paintings and was seen as a symbol of creation and rebirth, making them a perfect gift for a new baby.
Jump forward to the Romanticism period (a movement which celebrated the arts towards the end of the 18th century) and blue flowers frequently appeared in their artwork, literature and even poetry and were used as a symbol of inspiration.
The Victorians, who used floriography or the language of flowers as a way to send messages, saw blooms in this colour as a symbol of love, hope and wisdom. This meant blue flowers became an ideal choice to feature in a bridal bouquet – after all 'something old, something new, something borrowed, something blue'.
Nowadays, when we introduce blue into our homes it evokes feelings of calmness and relaxation. It's not surprising therefore that blue flowers stand for peace and tranquillity. Consider giving a bunch of blooms in this colour to a friend who's feeling a bit stressed out at the moment.
Popular Types Of Blue Flowers
We know blue is one of the rarest colours when it comes to flowers, but why is that? This probably has a lot to do with the fact that there are no blue pigments in the plant world.
If you see a bloom in this colour then, in reality, they're tricking us! The flowers are actually made up of modified red pigments and reflect light to give the appearance of blue. But don't let this put you off because there are some beautiful blooms around and they look pretty blue to us.
Iris
When it comes to picking an elegant blue flower, then it has to be the iris. Appearing from early spring all the way through to early summer, you'd normally expect to see these regal blooms in their distinctive purple but some varieties offer a bluer shade.
Although delicate in appearance, you usually find this bloom growing in extreme locations which is probably why it stands for hope, trust and valour - an ideal gift for that person who has always been by your side.

Hydrangea
This is the ideal flower to welcome in the spring, blue hydrangeas with their fantastic, rounded blooms bring in that welcome pop after the winter months. The exact colour of these flowers actually depends very much on the soil they are grown in; alkaline soil makes them turn pink while something acidic turns them blue. A hydrangea in blue symbolises apology and regret, it may be the perfect choice if you want to say sorry to a loved one.

Eryngium
More commonly known as sea holly, the eryngium features striking blue flowers. Although they look similar to thistles, bizarrely these blooms are linked more closely to the carrot family. Flowering in late summer and early autumn, this flower represents independence, severity and attraction – that's quite a mix of emotions. They look great for adding texture and architectural styling to flowers and wedding bouquets.

Delphiniums
Rich in colour, the tall and spiky flowers of delphiniums come in a range of shades – from pale blue all the way through to deep indigo. This flower is all about being big hearted with the blue versions representing dignity and grace. It sounds like the perfect flower to give to your wonderful mum. Delphiniums are also the birth flower for July, unsurprising considering the blooms appear during the summer.

Muscari (Grape Hyacinths)
More commonly known as grape hyacinths, muscari got their name from the Greek word moschos which means musk (they do smell pretty amazing). They also look similar to hyacinths, although they are not actually related, and combined with the fact their bell-shaped flowers hang downwards to look like a bunch of grapes, grape hyacinth came about.
You can find these little beauties in late spring, and they stand for power and confidence, mystery and creativity. Not bad for a little bloom! They might be the perfect gift if you know someone who is starting a new adventure.

Agapanthus
Flowering during the summer months, agapanthus is a wonderfully flamboyant bloom. It features tall stems that are topped off by large, round clusters of small flowers. Don't be confused if you also see these called 'Lily of the Nile'. This is the common name for this flower and probably came about due to the fact the petals look a lot like small lilies.
This bloom is quite literally the flower of love. Its name comes from the Greek word 'agape' which means love and 'anthos' which means flower! The perfect choice to declare you're undying love to someone, maybe on their anniversary.

Blue Poppy
When thinking of poppies, no doubt the first colour that comes to mind is red. After all, it is worn in the UK to show support for the Armed Forces on Remembrance Day. But did you know it is also possible to get this bloom in blue?
The Himalayan blue poppy (also known as meconopsis) features large saucer-shaped flowers. It is the blueness of this flower that makes it so distinctive (almost like someone painted it that colour). You need to be quick to get your hands on this one, they only flower in June and July. This flower stands for faith and luxury – probably because they are quite hard to grow!

Sweet Peas
With its paper-like petals and unique flower shape looking almost like a butterfly, the sweet pea has small flowers that appear between June and August. Sweet peas come in a host of colours and many come close to a blueish/purplish. If you were looking for this flower in a shade that represents the sky then it would have to be the Tutankhamun sweet pea. With a flower this delicate it's not surprising this bloom is all about romance, gratitude and loyalty in friendship.

Bluebell
As you would expect from a flower with this name, the blooms of a bluebell are in fact blue and bell-shaped (although you can also get them in lilac, white and pink). The delicate blooms cluster at the top of each stem which bends over to nod graciously in the breeze.
These beautiful flowers stand for humility and gratitude and everlasting love - what could be sweeter than that! A perfect choice to give to your husband, wife or partner.
Why not choose some blue flowers this year and create some gorgeous and unique displays.