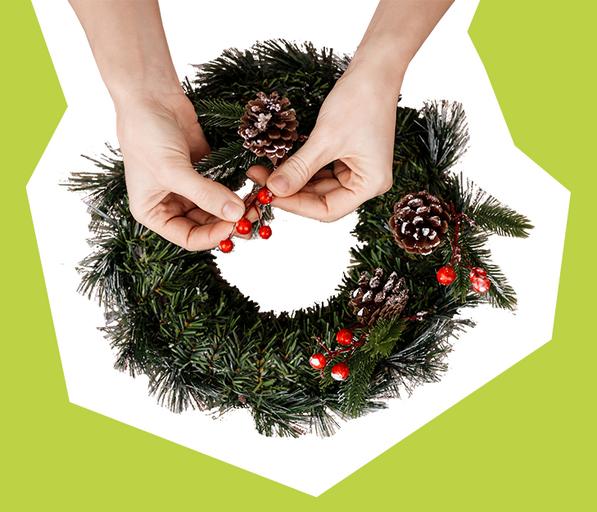 Christmas
Decoration Ideas
In the words of that well-known song - it's the most wonderful time of the year. That's right, it's time to let the festive spirit ring. Where's the best place to start? Of course, it has to be indulging with some fun Christmas décor.
So, if you're ready, let us show you the merriest and trendiest ideas around. Keep a weekend free, throw on some comfy PJs, blast out your favourite Christmas tunes, and let the fun begin. They are sure to bring you good tidings of comfort and joy!
Ideas for Christmas décor
When planning your Christmas room décor, choosing a theme is the first place to start. Take inspiration from this year's Christmas trends, or read on for some of our favourite Christmas decoration ideas.
Think of a crackling log fire, festive carols and places adorned in rich reds and greens. This theme is all about Christmas classics - think warming reds, forest greens and plenty of golden touches. Keep the decorations simple, with plenty of baubles, gingerbread people and nutcracker figurines. It makes us feel all warm just thinking about it!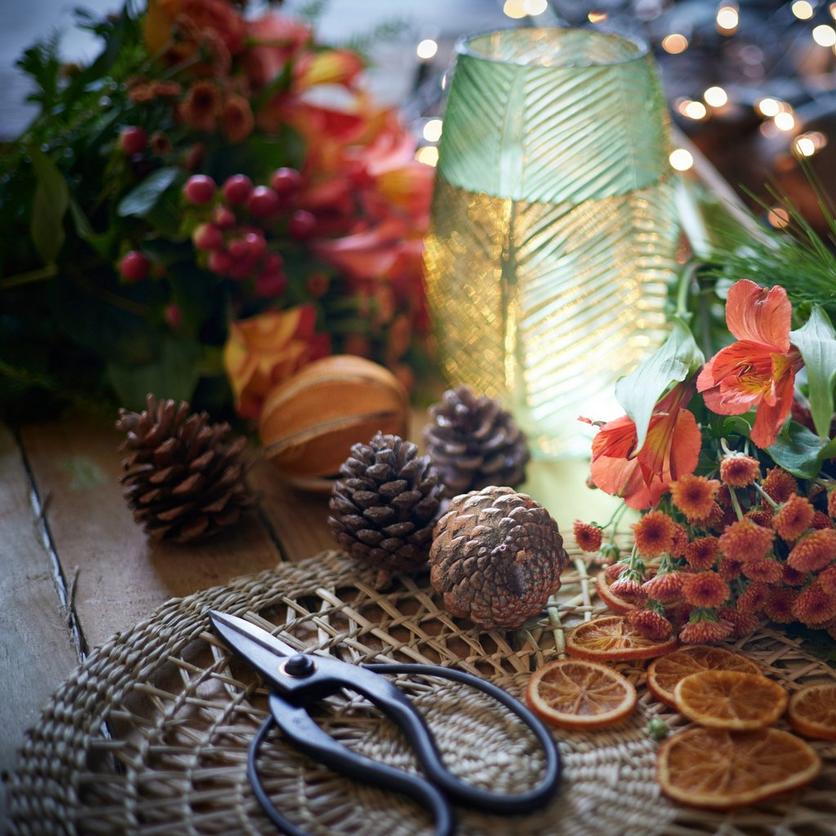 Winter Woodland
If you fancy adding a bit of a twist to your traditional look, why not weave in a winter woodland theme?
If you can imagine yourself searching through the trees to find Santa's Grotto, you've got it. For this one, you're looking to use elements from nature such as fruits and berries, snow-covered branches, pinecones and winter flowers. Don't forget to add in the glow of some candlelight for that perfect nostalgic and cosy feel.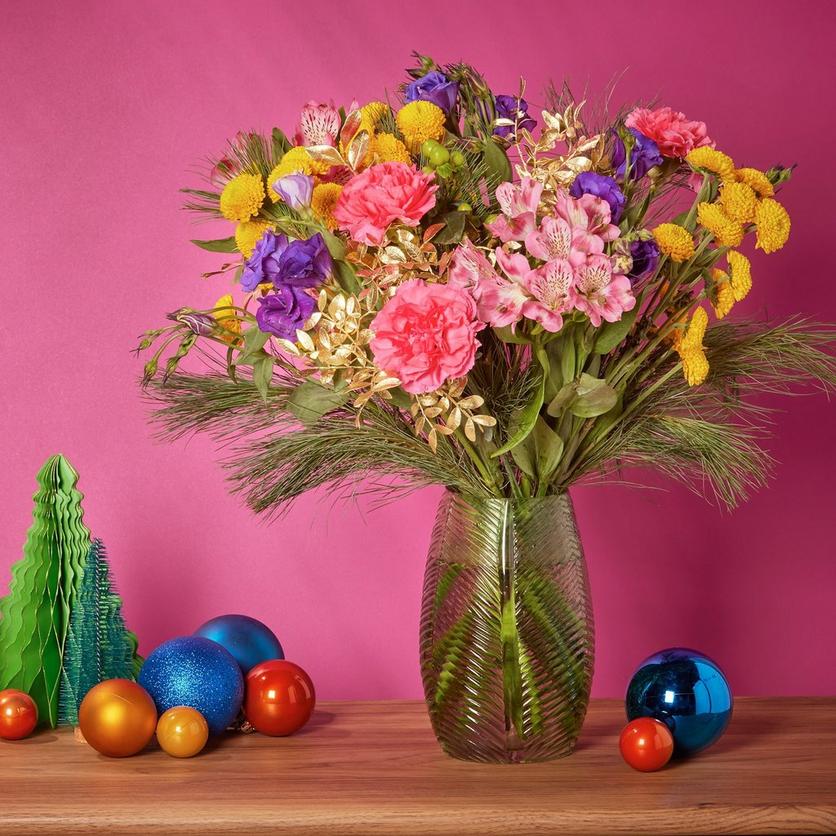 Dreaming of a Bright Christmas
Add a pop of colour to your festivities and make it merry and bright.
From vivid colours, glittering golds and bold decorations, create showstopping décor that will add joy to the celebrations. Whether that's adding some sweet and slightly quirky characters, throwing in bold rainbow baubles or hanging a host of bright stars above your head, it's all about embracing individuality and letting your imagination go wild.
Base everything around reducing, reusing and recycling. Start by getting your old Christmas decorations out and giving them a bit of a facelift, such as repainting a bauble and adding some extra glitter and sparkles. Or head to your local charity shop and get some preloved decorations – perfect if you want the nostalgic look. You could even consider tree renting where your Christmas tree is re-planted and cared for by the supplier before being used again the next year.
Christmas decoration ideas
Now you've decided on your theme, it' time to get creative. Grab yourself a festive hot chocolate (or mulled wine), put on the Christmas songs and try some of these incredibly simple yet wonderful Christmas decoration ideas. Even better, get the kids involved, they'll have so much fun!
Fireplace Christmas décor
When it comes to your fireplace at this time of year, it's all about going OTT and no home is complete without a fireplace Christmas garland. For that traditional look, fill the mantel fit to burst with a mass of greenery (either fake or real). Next, add in lots of pine cones, ribbons, cinnamon sticks, red baubles and some fairy lights.
Or if you're wanting to turn your home into it's own winter wonderland, create your very own mini fireplace village. In this neighbourhood, no house has to be identical so you can mix and match different ones. Maybe try a porcelain canal house mixed in with a ceramic cottage and even a metal house lantern. Spread all along your fireplace and finish with some greenery such as bottle brush trees and some twinkling fairy lights to add a dash of sparkle.
If you fancy something completely different, try your hand at making a paper garland. For this one, we're thinking about a whole host of 3D origami stars and paper flowers in a variety of seasonal colours. Once you've made your paper creations, stick on to some ribbon then hang below the mantlepiece. Word of warning, these are not suitable if you have a real fire burning!

Christmas table decoration ideas
This time of year is all about the big event. Nope, we're not talking about Santa Claus (although he is quite important); instead it's the Christmas lunch. The perfect chance to gather friends and family around and celebrate everything important.
To make your table fit for a royal banquet, the first place to start has to be with a large tablecloth. Then build up the look by adding in all the extras that fit in with your Christmas decoration theme. You could go with a forest of greenery spread down the table interspersed with candles. Add in that pop of colour with an array of brightly coloured wooden Christmas decorations, or go with large vases filled to the brim with sparkly baubles.
If you're taking inspiration from our Christmas Calm theme, add that warm, rustic feel with a dried orange napkin ring. Take your folded napkin and place on a bit of greenery and cinnamon stick. On top of this you're going to add in some dried oranges - you can either make your own or buy some. Pierce a hole in the middle of the orange slice and thread through some string before placing it on the napkin. Wind the string around the napkin two or three times before tying in a bow.
Need to create some place cards for that perfect finishing touch? Let your cooking and creative skills merge with some festive gingerbread ones. You can go with any design you like – a traditional person, maybe a house or even a Christmas tree. Decorate with icing before finishing with their name. Then place on each setting and you've got the perfect decoration plus something yummy to eat afterwards.

Christmas room décor
Give your rooms a seasonal twist with some of these amazing Christmas room décor ideas. Why not start with the current favourite – felting. You can make anything you like from a snowman to an angel and even a robin. For an absolute beginner, start simply and try your hand at some felted balls. You can then turn these into baubles for the tree or string some on to colourful twine and create a Christmas garland.
O Christmas Tree, O Christmas Tree, I don't have room for a Christmas tree! If this is your problem, we've got you sorted with some ideas for alternative Christmas trees. Start by cutting some thin wood (about 6cm) into five different lengths – you're looking to resemble the triangular shape of a tree with them. Now fix to a wall – shortest at the top and going down in size to the largest at the bottom. Next, take your foliage (fresh or fake) and fix it to the battens. Finish off with some fairy lights and hang up your Christmas decorations. Don't forget to place a star at the top and ta-da, an amazing tree and Christmas wall décor rolled into one!
This time of year seems to be all about nature - we just love to bring the greenery inside. So why not embrace the theme and add in bunches of Christmas flowers and festive plants. Of course, the first place to start is with that seasonal favourite, the poinsettia. Choose either one large one placed pride of place or a run of smaller ones in different colours along the length of your table. But wait, they're not the only ones positively blooming at this time of year. Bring in a touch of red with a festive flowering houseplant like the Christmas cactus or amaryllis. We've rounded up some of the most popular Christmas flowers and plants to get you started.

Outside Christmas décor
Of course, the first place to start is with that showstopper of a welcome – the Christmas wreath. This is the perfect excuse to unleash your creative side. Why not go a bit different this year and celebrate a merry and bright with the joy of rainbow colours. All you need is some dried flowers, left-over dried oranges, acorns and feathers. Arrange it on your wreath and then hang.
If you have a pile of scrap wood left over from your other projects, don't throw it away. Every little bit can be reused to make superb DIY festive décor such as wood block Santas, welcome Christmas signs or even a herd of reindeer dotted over the lawn. The beauty of wood scraps is that it allows you to be as creative as your mind can take, the possibilities are unlimited.
Take the joy of your inside garland and bring it outside. Simply surround your front door, porch or even garden fence with a selection of greenery. Now add in some decoration like baubles, ribbons and pinecones. Don't forget the lights to make your decoration sparkle as the nights draw in.

We hope you have fun creating your Christmas décor – we'd love to see your photos on our socials. If you're looking for Christmas gifts ideas, take a look at our Christmas flowers and gifts and spoil your loved ones this season with our 2023 range and help make it the merriest Christmas yet.