How To Make A Christmas Wreath
Goodbye Halloween and hello Christmas. It's that time of year to put those festive craft hats on and make it the happiest Christmas yet. What better way to get in the festive spirit than by making your own Christmas wreath.
This year we are going above and beyond with our DIY Christmas wreaths; inspiring you to create some showstopping pieces that are sure to wow your family, friends, and neighbours. So pour yourself a hot chocolate, follow our steps and get stuck in some DIY galore.
Step-by-step guide for making a Christmas door wreath
To make your own Christmas wreath you only need a few supplies, and most of these are staples in every design.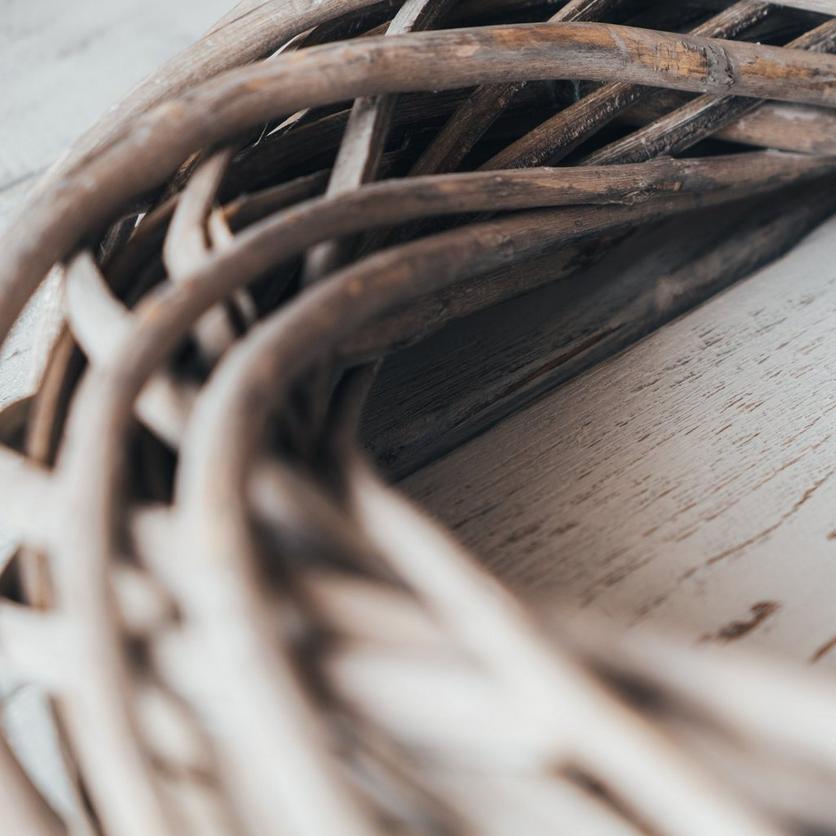 A base
The popular option is to go with a wire base which gives you more flexibility with your design. If you're wanting to create a sustainable Christmas wreath, consider choosing a natural base such as willow.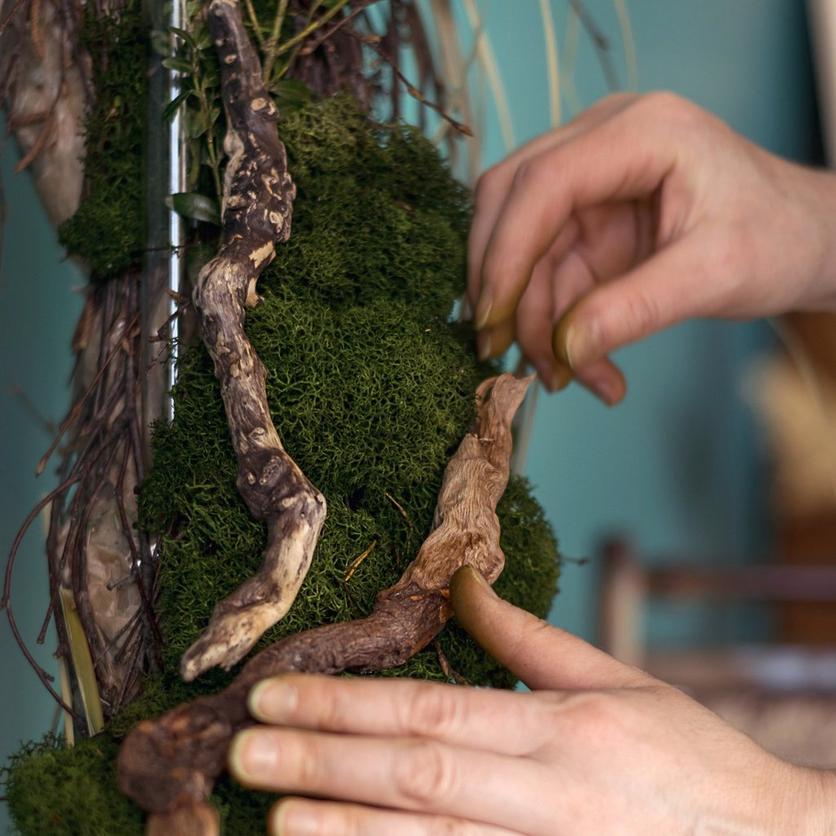 Moss
If you're using a wire ring, you'll need a to prepare the base with a carpet of moss. A base of moss helps keep the wreath hydrated, so consider this option for a longer-lasting wreath.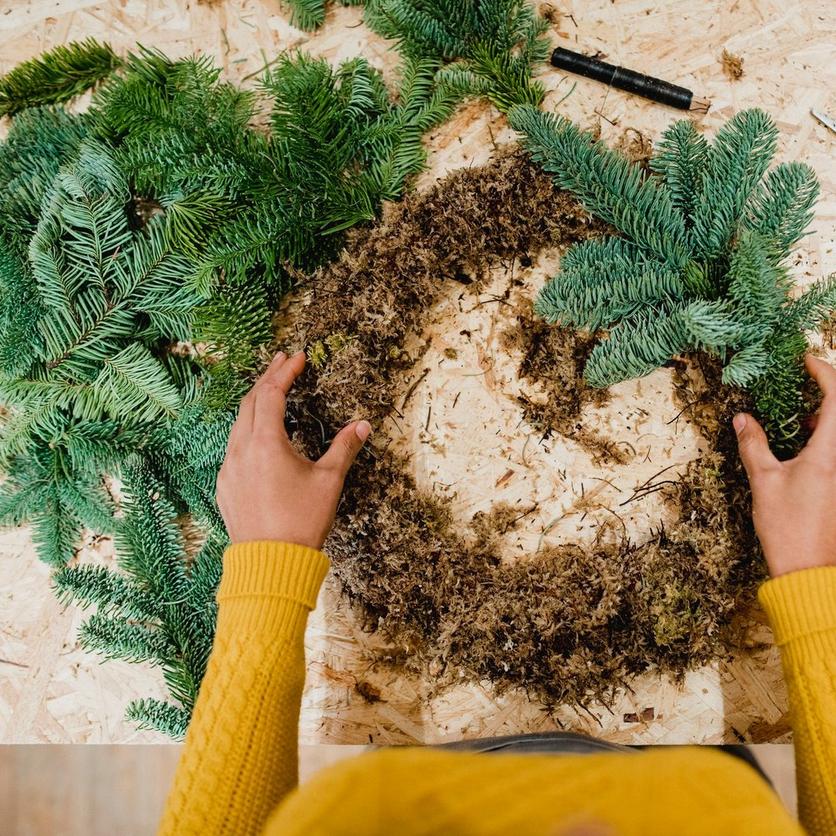 Foliage
If you're creating a traditional Christmas wreath, then you'll need a selection of fresh foliage. We recommend fir, spruce, eucalyptus and holly, and some hypericum berries.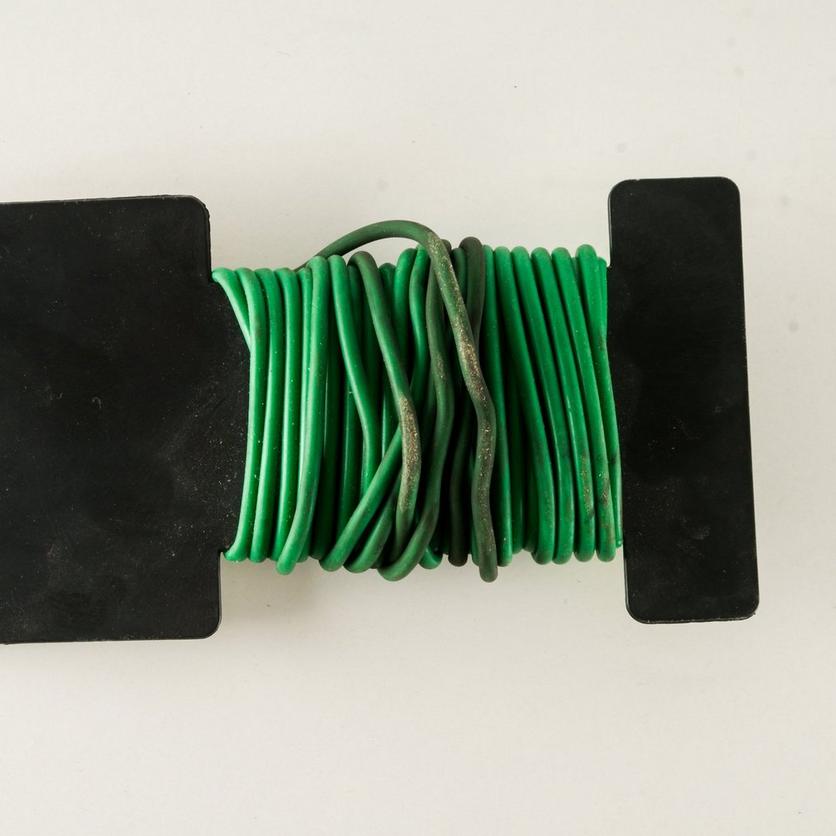 Wire
You'll need a way of keeping your decorations on the wreath and the best thing for this job is some florist's wire. You can find this very easily at your local florist or at a garden centre. You'll also need scissors or secateurs to cut this.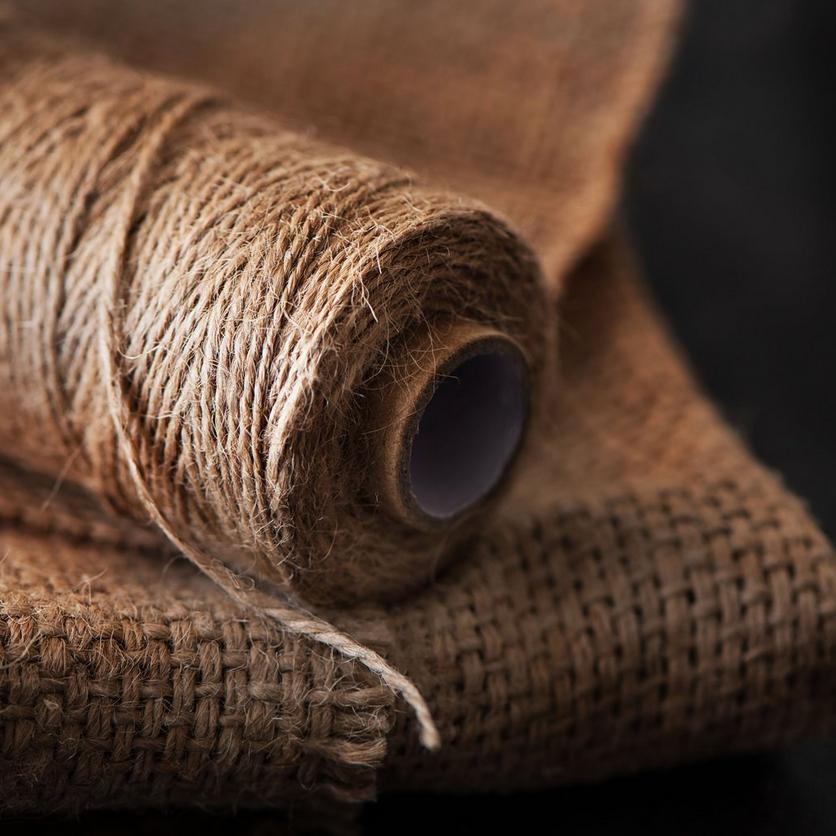 Twine or thin ribbon
You use this to hang up your wreath.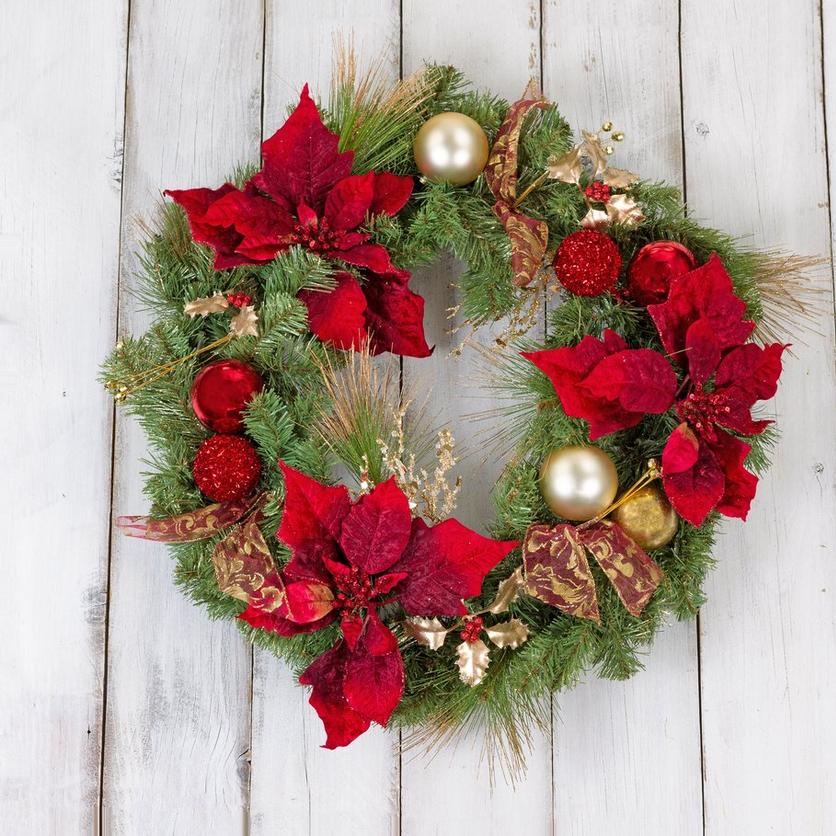 Decorations
No wreath is complete without the decoration! Decide what theme or style you want to go with and then collect all the items you need. You may have some lying around your home, such as baubles or ribbons, or head outdoors and collect foliage such as pine cones for more traditional wreath decorations. And don't forget the ultimate finishing touch – a decorative ribbon!
So, how do you make your Christmas door wreath? Here are our steps to making a traditional door wreath using a wire ring.
Start by sorting your supplies. If you're using moss, we suggest tearing this up into smaller pieces as it's easier to secure. You can also prepare your foliage, and pre-cut your wire and ribbon if you know the length you want.
Working in sections, place your bunches of moss on the ring and secure in place with wire. Keep going until the entire ring is covered – be sure to leave no gaps.
Now start to add your background design elements, such as foliage. You can keep it simple by using one type, such as fir, or mix it with some eucalyptus in little bunches. Make sure there is a bit of a branch showing, to make it easier to fix your fir (or foliage) into the moss.
We suggest make a loop for it to hang at this stage, before the wreath gets too full! Simply cut a small length of twine or thin ribbon, loop it around the top of your wire ring and pull it tight. Then tie the ends together so it forms a hanging loop.
Layer each foliage bunch onto the ring and secure in place with the florist's wire. You can either choose to cover the full ring in foliage, or only a section – it depends on the design you want. Try to tuck the stems of the foliage behind others so there are no gaps. Repeat these steps with your foliage and other stems, such as berries, until you've created the design you want. Remember, there's no such thing as too much festive fabulous!
Time for the fun bit – adding your favourite decorations. The traditional options include sprigs of holly, berries, dried fruit or some pine cones. Insert the items into the foliage and right through to the moss layer. Fix in place with wire if you want them to feel more secure.
Hang it pride of place. Whether you are making a Christmas door wreath or an indoor Christmas wreath, the final step is to hang your wreath in a place you (and others) can enjoy!
How to care for a real Christmas wreath
If you've decided to go with real foliage for your wreath, you'll want to make sure it still looks fabulous on the big day.
It does depend on the type of foliage you select – some last better than others. Even if you're making your wreath at the start of December, choose evergreen trees and shrubs and, with a little care and attention, they can usually keep looking fresh throughout the festive season.
As with fresh-cut flowers, your foliage will need a bit of water. After all, these are real plants a good drink will help them to last longer. All you need to do is take a spray bottle and mist your wreath every five days or whenever the base feels dry. A base of moss is ideal for absorbing the water and keeping the wreath hydrated. If you're using fresh flowers in your design, be careful not to spray directly on the petals and instead focus on getting the base layer wet.
Fresh foliage and flowers are sensitive to temperature, and they will last much longer as an outdoor Christmas wreath. Make sure you keep it in a sheltered spot out of direct sunlight. If you're planning on hanging your wreath inside, hang away from radiators or a real fire.
Christmas wreath ideas
The great thing about designing your Christmas wreath, you can let your creative side go wild. Simply tie it in with your other Christmas decorations and it'll be the star of the festive show.
If you fancy adding a sparkle of brightness, why not go with a bauble wreath? You can go super colourful or, if you like a bit of a traditional Christmas, go with red, green and white. Think about the size of the baubles – do you want to alternate between big and small or keep it uniform with all large balls?
To make a bauble wreath, start with a wire base. Now gather up a bunch of baubles, remove the hanging tags and thread together using wire. Take your bauble bunch and attach to the wire ring, keep going until the wreath is full. You can even glue some baubles on top if you want a fuller effect. Attach a ribbon to the back and hang.
Perfect for our winter wonderland theme, consider making a pompom wreath. For this, you'll need to make some pompoms out of white, pale pink and icy blue wool - make sure you have enough to cover your wreath ring. Now take a wire wreath ring and attach the pompoms until it is fully covered. Finally, add in any decorations you fancy.
If you want to take a sustainable spin on your wreath, consider using leftover items to cover the wreath. You could take old scraps of fabric or clothes and cut them into large strips and then tie on to a wire ring base until it is completely filled. A material like burlap looks great for this option and, because of the stiffness of the fabric, you can form the ties into the shape you want. Add a ribbon to the finished wreath and it will look perfect for a calm Christmas vibe.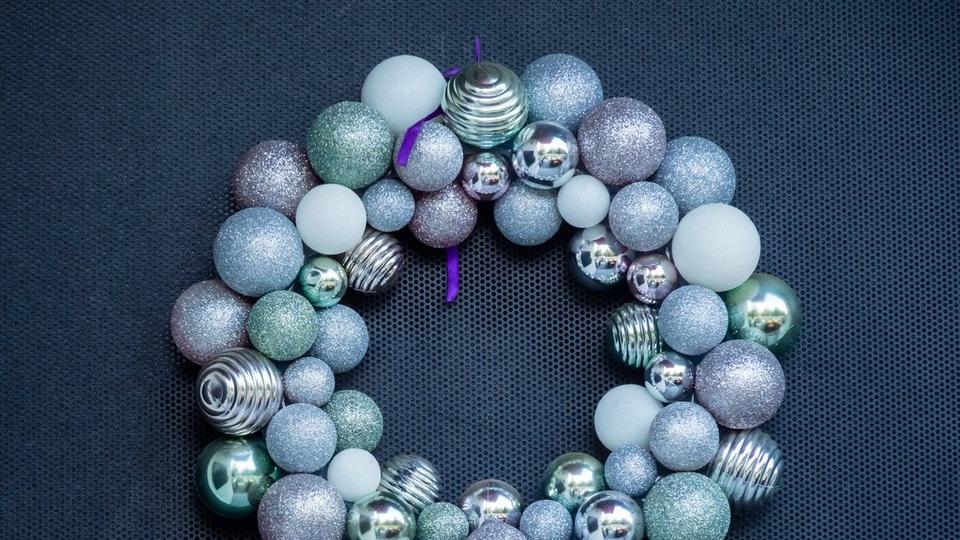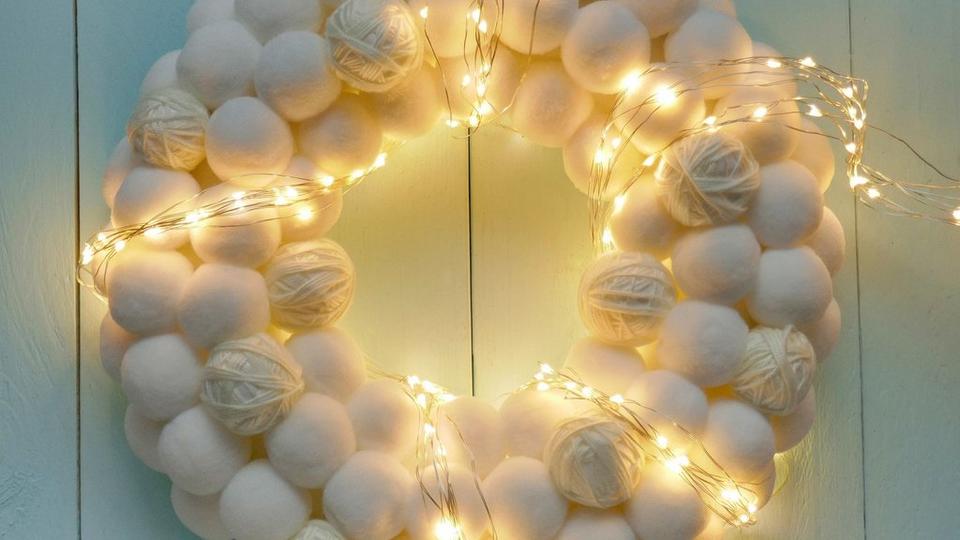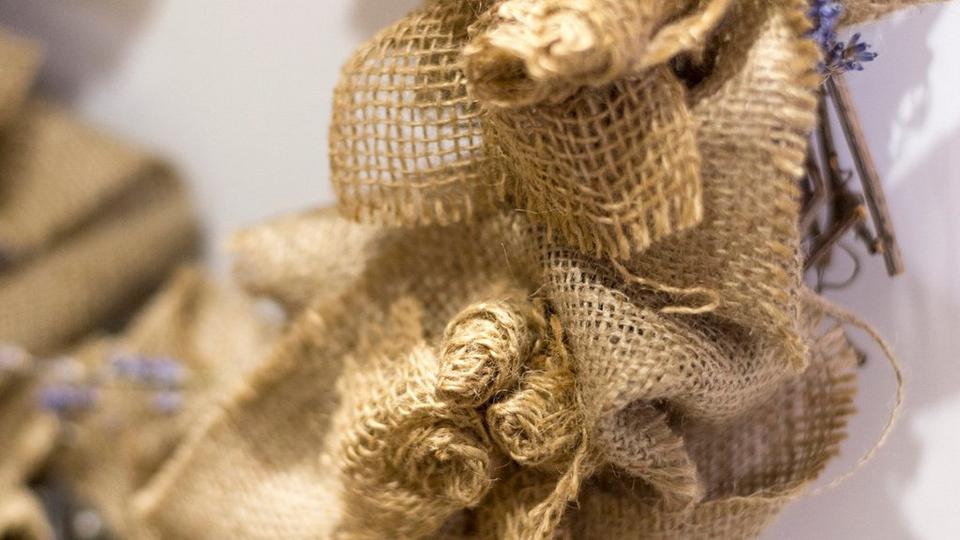 Traditional Christmas wreath
Nothing will ever really beat the traditional Christmas wreath with fresh foliage such as moss and fir, berries, and pine cones alongside the rustic aroma of oranges and cinnamon. It will forever be a décor that we will always come back to enjoy. Just remember to space different items evenly across the wreath as you work.
For a slightly different touch, have you thought about creating a wreath purely out of fresh Christmas flowers? For a festive red-themed wreath, use an abundance of red carnations, amaryllis or red tulips, mixed with red hypericum berries. If you want that winter wonderland look, why not add in some white roses, white chrysanthemums, waxflower and mistletoe mixed in with eucalyptus leaves. Just remember that your fresh flowers won't last as long as the base but you can refresh the wreath by simply snipping off any dead blooms and replacing with new ones.

Dried Christmas wreath
Looking for a wreath that doesn't require so much maintenance or maybe you want a sustainable option – a dried Christmas wreath is the answer. For this one, you can either buy pre-dried flowers or have a go at making your own. Just think, those flowers that brought happiness in your vase can come out to play and deliver a spark of joy all over again. Start with a willow base then add in dried grasses, leaves and wheat before adding in your flowers. Then add in the finishing, festive touches.
Of course, a dried wreath doesn't need to be only about flowers. Why not bring in all the woodland vibes of a calm Christmas theme. Start with a base of dried moss and eucalyptus leaves. Then add in some dried citrus fruits - you can either go with the simple orange slices or the whole fruit. Next add in some dried cinnamon sticks, pine cones and berries. Finish the look with a big red ribbon. Perfect for warming up the cold winter days.

Crochet Christmas wreath
This wreath is just too adorable to resist (and perfect if you're a bit of a crafter)! If you want to relax and unwind with a DIY décor, then this is the one for you.
Start with a foam wreath ring. Now create a striped crochet base layer which is big enough to fit the whole wreath. You can do this by slip stitching a chain around the ring and working single crochet stitches all the way around to the end of the ring, and join it to the initital chain. The great thing about this wreath is that it's so versatile and you can choose any colours you like. Go with the traditional red and white candy cane stripes or mix it up for a bright Christmas theme with bright pinks, blues and greens.
Now it's time to add your decoration. If you're experienced with your crochet skills, why not try your hand at making some holly and ivy or gingerbread people which you can spread over the wreath. You could even glue on other ornaments such as ribbons or pompoms if you want to mix up the texture.