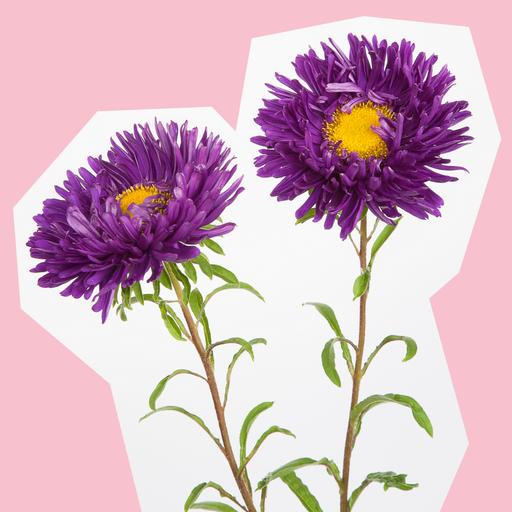 September signals the transition between summer and autumn – a new school term begins, jumpers will be back out of the wardrobe and it won't be long before leaves on the trees start turning beautiful shades of red, brown and orange.
Did you know that there is such a thing as a birth month flower? Just as we celebrate star signs or birthstones, the same goes for blooms with specific flowers dedicated to the month you were born. Whether you're celebrating your birthday in September or know someone who is, you're in good company. Over the last two decades, September has been the most popular month to be born. In fact, the 26th of the month is the most popular day of the whole year with a staggering average of 2,000 births on that day alone (higher than the average of 1,800).
With so many of you celebrating, we've rounded up all you need to know about the September birth flower – it could be a perfect birthday gift.
What is the birth flower for September?
As a month that crosses over between seasons, anyone celebrating their birthday in September is getting the best of both worlds. Warming sun during the day and snuggling up under a blanket as the evening temperatures cool. The flowers agree. With the warm days, summer flowers like sunflowers and roses are still hanging around, while autumnal blooms like delicious dahlias and rudbeckia are truly coming into their own.
With so many seasonal flowers to choose from, which are the top picks for September? Well actually with the mix of seasons, you've got two gorgeous picks - asters and morning glory.
Meaning behind September birth flower
We all know about different star signs, with it being said that individuals within each star sign tend to have certain characteristics and personality traits. For anyone born in the early part of September, they fall under the Virgo star sign which suggests a person is all about the details - if something needs doing with the highest level of precision, Virgos are the one to call in. Those born later in the month fall under the Libra star sign, which is represented by scales - that means Libra's are balanced people who likes to keep things fair and easily sees both sides of the argument. As a result, they tend to be an excellent problem solver.
Like with star signs, certain flowers are said to have different meanings. So which of the September birth flowers best suit? To help you decide, we've rounded up what you need to know about asters and morning glory.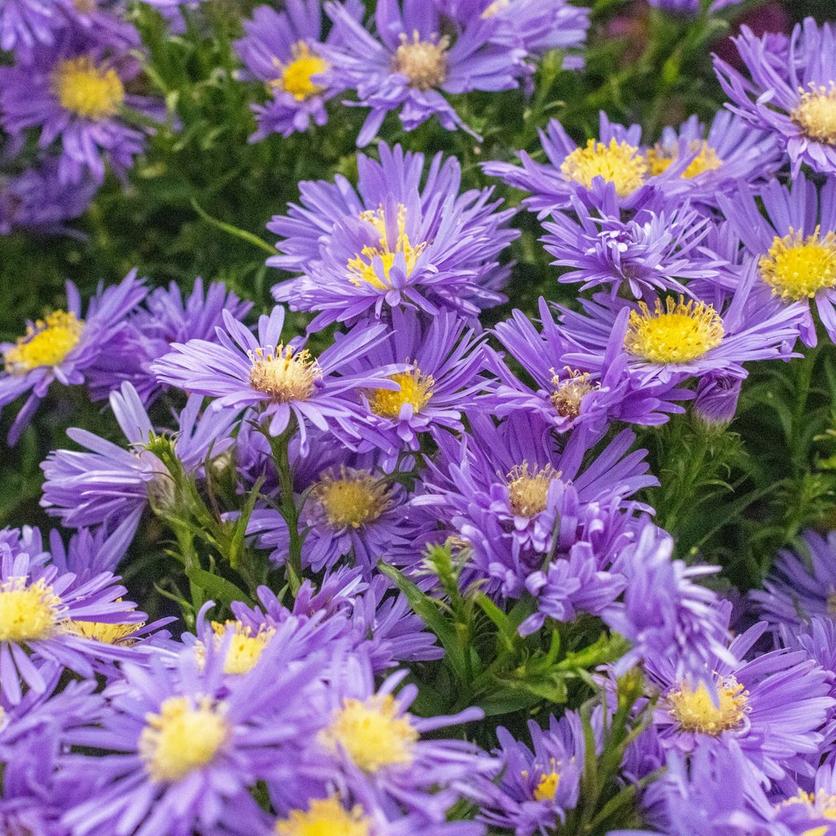 Asters
Looking like the much larger and more colourful cousin of the daisy, asters are a joy to have in your vase. Recognised for its wonderful shades of purple, you can also get this one in pink, white and red. Even better, the wildlife loves them - a perfect choice for any late-appearing bees that may be hanging about.
It's not hard to see why this flower was chosen for September. Like Virgos, this flower is all about the love and faith you find with characteristic of a September baby. Mind you, never take advantage of a Virgo - just like the meaning behind purple asters which are said to represent wisdom, Virgos have a sharp mind that can easily work you out.
Just as we see in white asters, September babies are very humble in their abilities which can easily be mistaken for shyness or sometimes a bit aloof. However, underneath the surface they really are some of the kindest and most sympathetic people you'll find. Red asters are all about devotion you find in a September baby – once they are a friend, they are yours for life.
SEPTEMBER SUNSHINE
September signals the start of Autumn, with the colours changing from vibrant yellows and pinks to richer shades of orange and cerise. Even though the days are getting shorter, September's subscription flowers are guaranteed to add some sunshine to their day - orange germini are paired with deep purple gladioli and cerise roses. Not forgetting the addition of the September flower, the Aster, it's perfect for celebrating a September birthday and welcoming the new season - and new beginnings.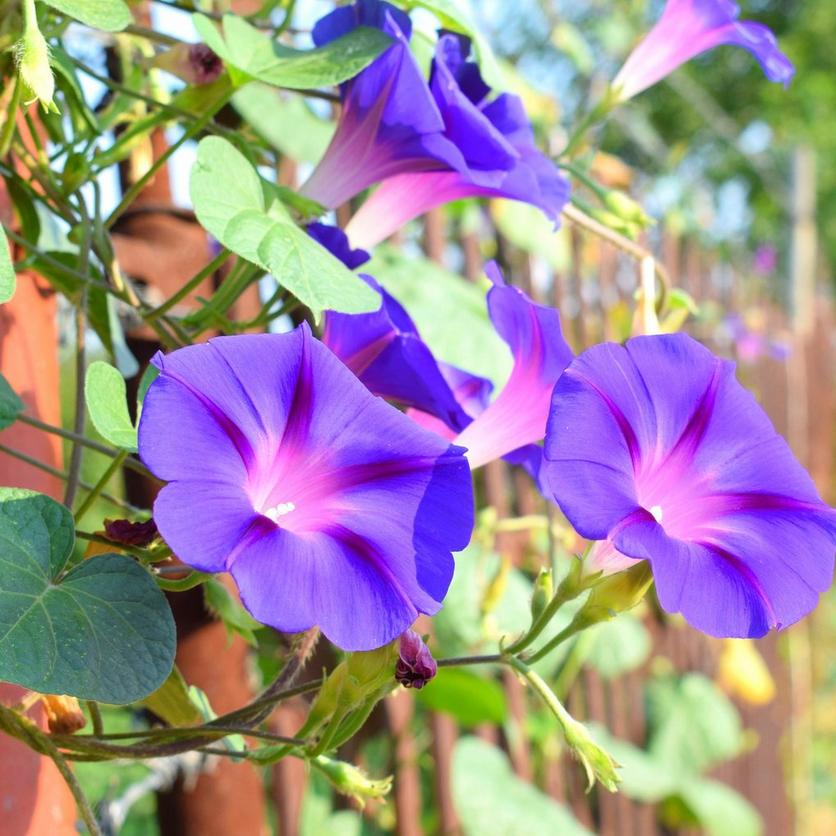 Morning Glory
Now for our second choice, morning glory. This one is the climber of the group, and you will find it in the garden quite happily making its way up a sunny wall or your fence. The most stunning thing about this plant is the gorgeous trumpet-shaped flowers it produces in shades of pink and purple or the simpler white.
The clue really is in the name with this one because they are quite simply, glorious in the morning. At sunrise each day the flowers appear, but, as the day gets hotter the blooms fade away and die. That's right, each flower only lasts one day. Don't worry about the flowers fading quickly, this tough little plant keeps delivering a fresh display of blooms every day. A trend that goes on for months.
September babies, especially those born towards the end of the month, are incredibly positive people who, like morning glory, take on each day as it comes and live life to its fullest. They are also full of love and affection. Just as morning glories use their tendrils to twist over fences and hold their flowers up towards the sun, those born in September are there to support everyone close to you.
September flower names
Do you have a baby due in September? Looking for that perfect name? Why not go with a nature-inspired choice with flowers that are around this month. Oh, and if none of these quite fit the bill, take a look at our guide to flower names to give you some more information.
As the birth month flower for September, Aster is the perfect name for both boys and girls. If you haven't heard of it before, that's because this name has only started to grow in popularity in the last ten years or so. Named after the Greek word for star, Aster is perfect for your baby who will shine bright through life.
If you want something a little bit different, consider going with something linked to the common name for this flower – Michaelmas Daisy. The name comes from a time when we celebrated Michaelmas Day after St. Michael the protector against darkness and evil. With its colourful blooms, this flower was used in celebrations to fight against the advancing gloom of autumn – perfect for celebrating the birth of a baby boy. Expecting a baby girl? Then choose the second part, Daisy. This name comes from 'day's eye' and references how the yellow centre of the flower turns to face the sun.
A slightly more unusual choice, but one that is growing in popularity, is Dahlia. This is a gorgeous choice for a girl and originates from Sweden. Whether you choose Dalia or Dahlia, this flower is all about power, strength and the ability to overcome - perfect sentiments for the person you hope your baby will become.
Taking things to the wild side, you could also go with the wonderfully sweet wildflower Clover. This one goes the extra mile and blooms across the countryside from May all the way through to October. The Irish Shamrock is actually a type of Clover, perhaps your new baby will have all the luck.
An old-fashioned choice, but one that is growing in popularity, is the name Marigold. It is the gold colouring of this flower that has made it so popular – it is guaranteed to brighten up the room, just like your new bundle of joy.
Want to know more about birth month flowers and find out what blooms represent your birthday? Head over to our guide on our Birth Month Flowers.

Send birthday celebrations through the post with our fabulous range of birthday flower bouquets.