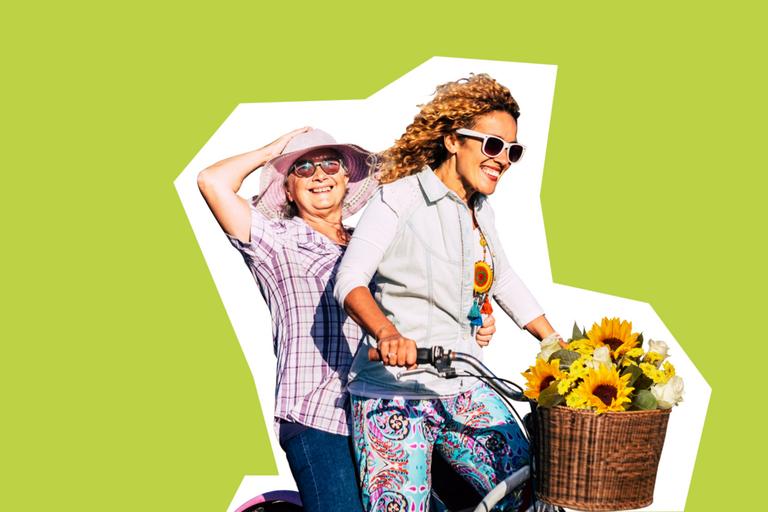 Birthday gift ideas
for everyone
in your life
Get ready for a special celebration with these fabulous birthday gift ideas. Whether you're on the hunt for your best friend's birthday gift or looking to impress your other half, our birthday gift ideas can help you get inspired.
It can be hard to know what to buy for the people we love – especially if they don't know themselves! Maybe they've just stocked up on their favourite fragrance, or treated themselves to an early birthday present. You might not even know them that well yet – a new friend or work colleague – or, perhaps, they're not one to ask for anything.
So, how do you surprise them with something they'll love? Read our birthday gift guide to find out…
WHAT TO BUY SOMEONE WHO HAS EVERYTHING
If you're struggling to find the ultimate gift, you're in luck. We've come up with some versatile birthday gift suggestions sure to put a smile on anyone's face. Here are our top gift ideas:

Who doesn't love waking up to beautiful fresh flowers, especially on the morning of their birthday? Birthday flowers are a great way to surprise your partner, parent or best friend on their special day, even if you can't be with them in person.
A carefully selected, colourful bunch can easily brighten up their living space while fresh floral scents fill each room with the smell of spring and summer. And every time the birthday boy or girl looks across at their beautiful blooms, they'll get that warm, tingly feeling that someone is thinking about them.
If you're not sure which flowers to choose, try to find something seasonal that aligns with their special time of year. Think tulips for spring, sunflowers for summer, chrysanthemums for autumn and snowdrops for winter – or surprise them with a bouquet based on their birth month flower!
You could even go all out for their birthday with a monthly flower subscription gift. Choose between a three, six or 12-month subscription to draw out the birthday celebrations for another season or two. Not only will it mean they'll always have a beautiful bouquet on display, but they'll also think of you with every fresh flower delivery.

A hamper might be the perfect present to add a personal touch to your birthday gifts. With so many different types to choose from, there's a hamper gift for everyone – and it's easy to include your own finishing touches too!
Does your best friend fancy themselves a chocolate-lover or cheese connoisseur? There are plenty of food hampers for the foodies in your life. Think teatime treats, evening tipples and film night snacks that fit through the letterbox for easy and convenient delivery. Just make sure to invite yourself over so you can tuck into the delicious snacks.
You can even send a specially made Birthday Goodies Gift Box filled with a selection of yummy snacks for the ultimate birthday night-in – plus a bottle of White Zinfandel for good measure. Hampers make a great gift because let's face it, multiple presents are so much better than just one!

Most people nowadays spend their time rushing from one place to the other. We're constantly juggling work or school, appointments, picking up the kids, meeting up with friends, visiting family, shopping… the list goes on!
But now more than ever, it's important to take time out to focus on self-care and wellbeing. So, what if you could give the gift of time to your special someone? As Jen Mellor, from Just Average Jen, puts it, "time can't be bought, but helping to make more time is lovely."
The idea for this birthday gift is to make a list for your friend, partner or family member, which contains all of the things you can do to give them more time. It can be anything from doing their grocery shopping for a month to walking their dog a few times a week. Other ideas might include:
helping out with the laundry
meal prepping and freezing them for future use
babysitting for an evening
doing the school run
The possibilities are endless.
Since this is still a birthday gift for her or him, try and think of a pretty way to present it. Create a coupon that they can cash in at any time. Add a personal message or card bundled with their favourite flower or plant, and it'll feel more tangible.
EXPERIENCE BIRTHDAY GIFTS

If you're looking for an unusual birthday gift – for her or him – then an experience might be the answer. With a fun and unforgettable experience gift, you can create new memories together to look back on and reminisce.
An experience-based gift also makes a memorable 30th, 40th or 50th birthday gift for any men or women who have everything. Look for once-in-a-lifetime events that align with their interests or choose something they've always had on their bucket list.
These are some of our favourite experience birthday gift ideas:
Surprise them with a skydiving experience
Get them tickets to see their favourite artist
Go race car driving on a professional course
Arrange cooking lessons with a top chef
Book a private burlesque dance class for the entire friendship group
And don't forget, experiences don't have to involve large amounts of money. You can find experience-based gifts to suit your budget. Try a cocktail masterclass at a local bar or wreath making at home using fresh flowers and plants. The best part about gifting an experience is not the financial value but the sentiment and surprise.
Ready to make their birthday special? Make their birthday brilliant with a bouquet as fabulous as they are.