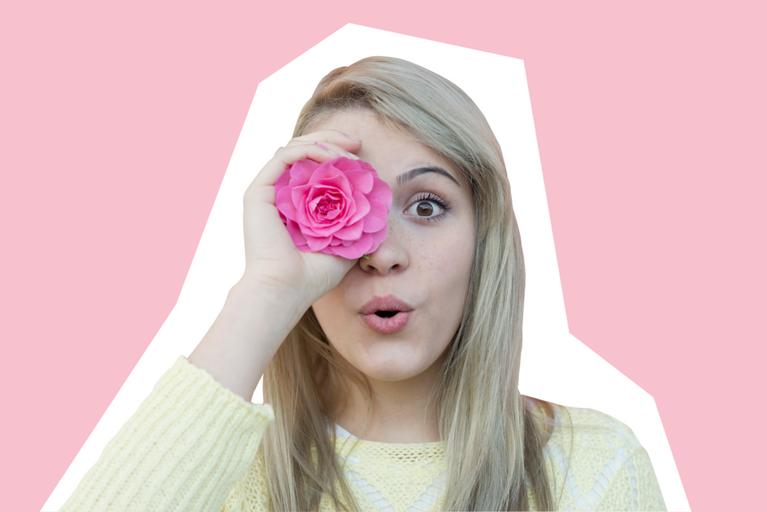 We've all heard the saying 'pretty in pink.' We certainly agree with that statement when it comes to one of our favourite flowers in this colour – the rose. After all, pink conjures up all sorts of images from new born babies to young love and all things delicate.
But before you get carried away and think this colour is only about sweetness, it's not. In fact, there is a whole palette of pink roses in every shade imaginable and each one has its own meaning.
So, be prepared to be tickled pink as we walk you through the wonderful world of pink roses.
Pink Roses Meaning
Have we got your attention with these flowers? Before you hunt out a present of pink roses, you're going to need to be armed with some information on what they mean.
With a bloom in such soft tones, of course you can't escape the fact that this one is about love. But, unlike their darker, red cousins which are all about passion, a rose in light pink takes a more playful approach to a love story. When giving a pink rose to a loved one, think of it more as an expression of admiration for that person.
Need another good reason to give a bouquet of pink roses? Overall, these flowers stand for grace, elegance and femininity. But, just as the colours of this flower are versatile, so are the reasons for giving some. Pick a bunch in a light pink and it tells a story of innocence and happiness. However, if you were to take it up a shade and go for the mid tones then it's all about gratitude or saying congratulations. Go for the darkest shades with a magenta and it's all about showing recognition and saying thank you.

Types of Pink Roses
With so many different variations of pink roses around, choosing the right one for you can be a challenge. Are you looking for a solid pink in a range of shades or maybe you fancy something different with petals tinged with other colours? Do you want a decadent mass of flowers or something simpler with an open, welcoming face? Whatever you decide, trust us when we say the perfect pink rose it out there waiting for you.
Pale pink roses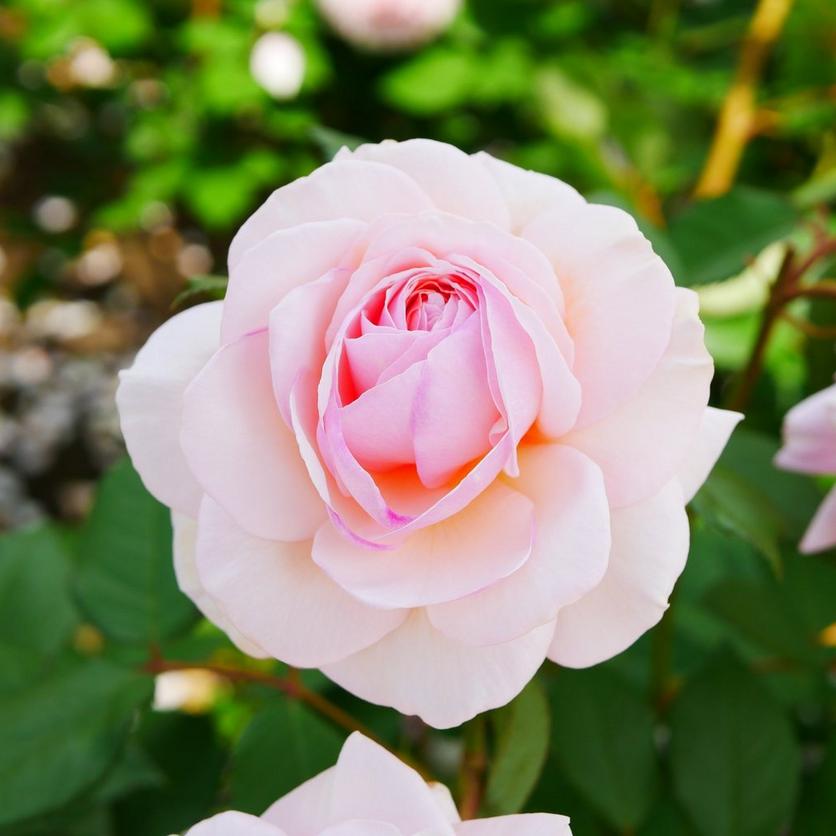 Whiter Shade Of Pale
Let's start with the palest of pink roses. First look at a Whiter Shade of Pale and you would almost think this was a white rose. However, take a closer look and you'll see the petals deliver an incredibly soft blush pink tinge. This flower is in a real class of its own and has all the elegance of times gone by while having an amazing smell.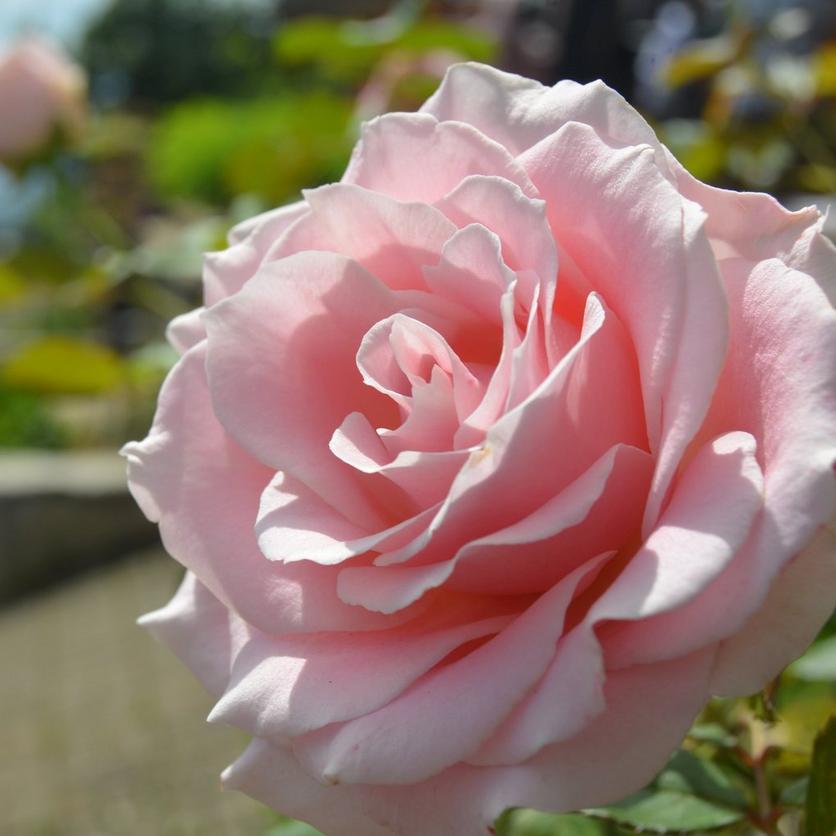 Bride and Groom
If you're looking for something a little bit stronger, say more of a baby pink, then you might want to choose the sweetly named Bride and Groom rose. This one delivers all the elegance of your traditional hybrid rose. With a name like that it would be perfect in a bridal bouquet.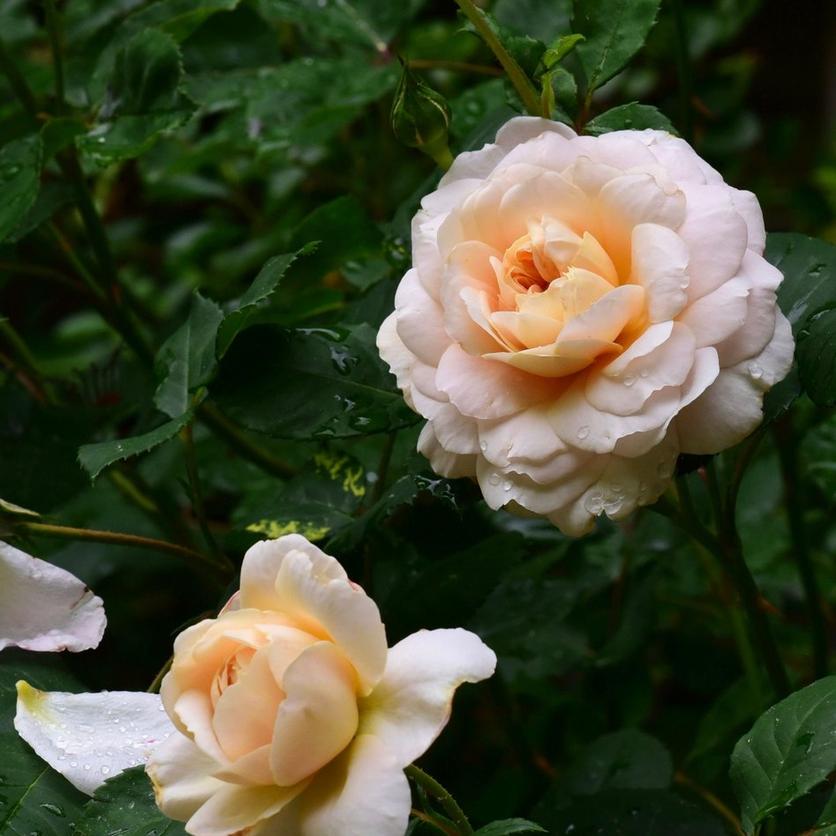 Emily Bronte
You could go with something slightly unusual by choosing Emily Bronte. This one has a flower head packed with petals in a lovely soft pink. Yet as you look towards the centre you notice that the inner petals deepen to a rich apricot. An incredibly beautiful choice to celebrate the arrival of a baby girl - after all pink roses also stand for femininity.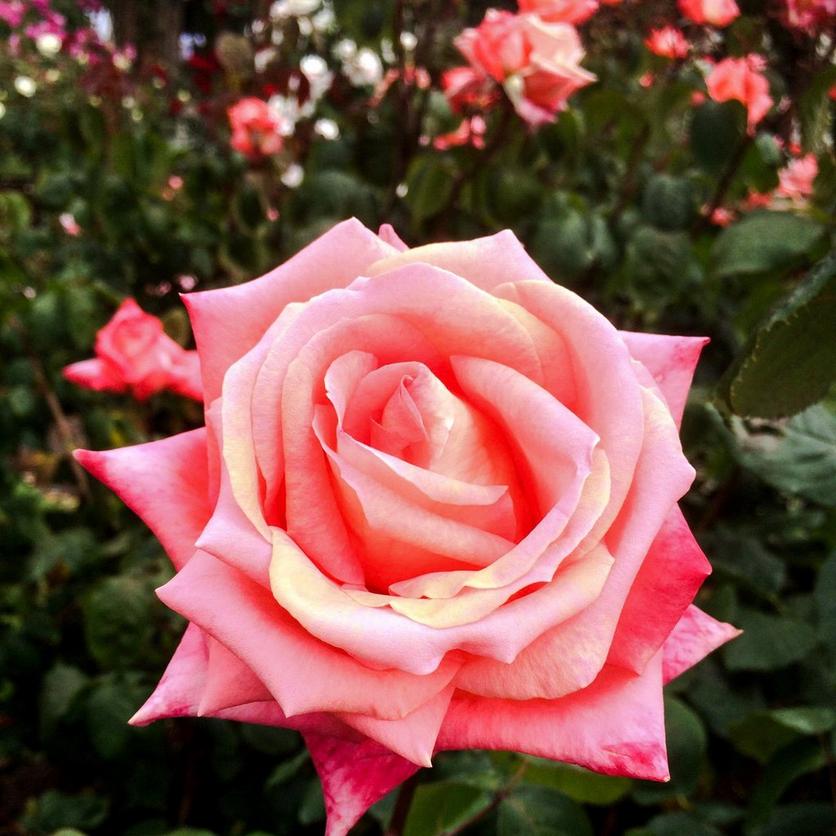 Silver Jubilee
Now it's time to go a bit stronger with our mid-pink roses. Let's start off with the wonderful Silver Jubilee. This pink hybrid tea rose looks very traditional in style. But it's guaranteed to attract the eye with its unusual shades of apricot, peach and cream. It would be a beautiful choice of rose to include in a bouquet when celebrating a silver wedding anniversary.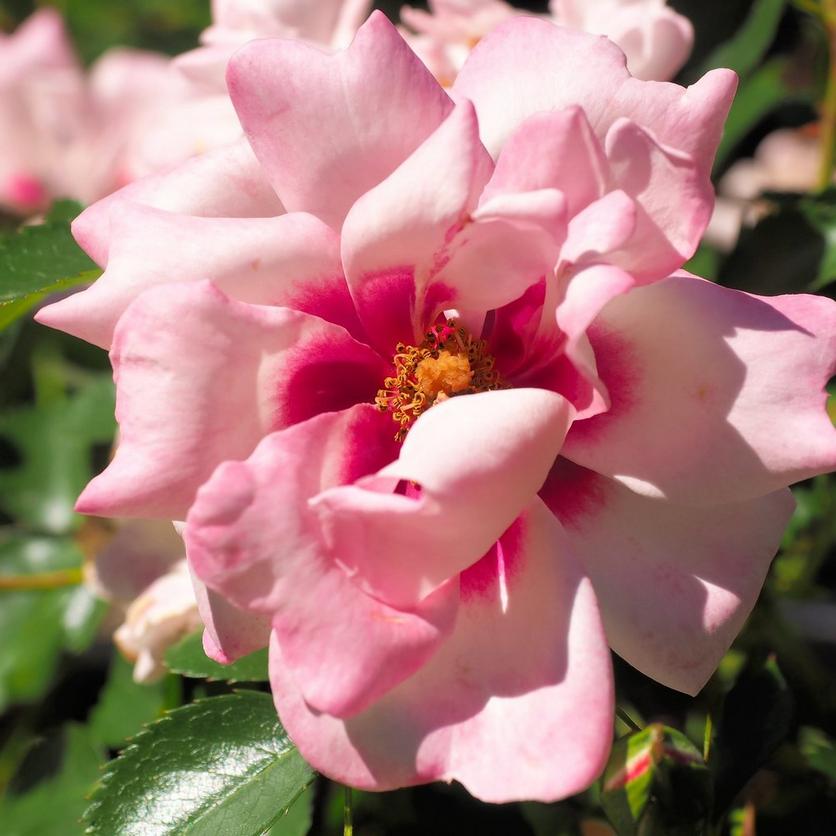 Angel Eyes
Go with something different such as Angel Eyes. Ok, so some may say this looks lilac, some a pale pink. We prefer to think it's somewhere in the middle, especially when you take into account the stunning magenta eye sitting right in the centre of the open flower head.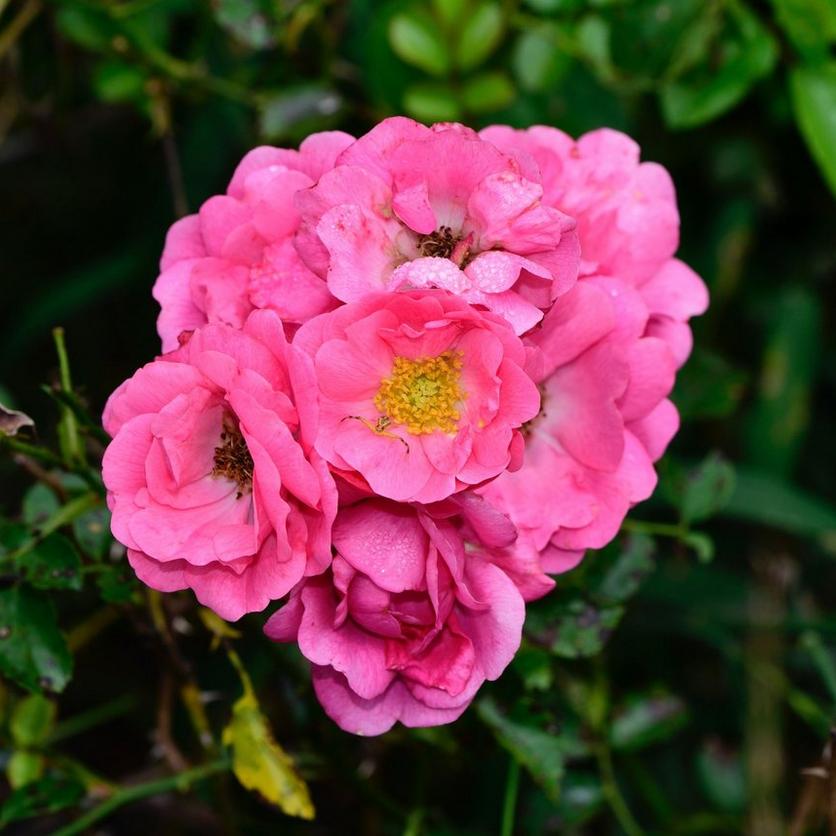 Skylark
For a mid-pink with a bit of zing, why not choose Skylark. This shrub rose has semi-double flowers with open cups that display the yellow centre. The petals start off at mid-pink before paling to a more lilac-pink shade.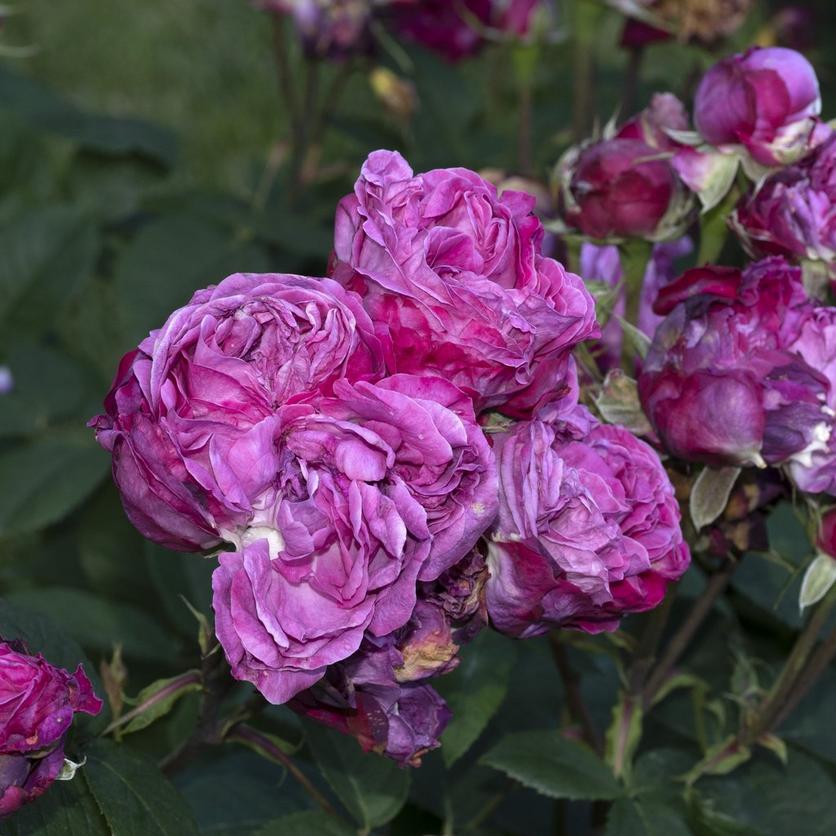 Reine Des Violettes
Here we've taken the pinkness of our roses to the max. For that stronger shot of colour, you would have to choose the magnificent Reine Des Violettes. The mass of double flowers delivers a full flower head stuffed with petals while also delivering a medium perfume all summer long.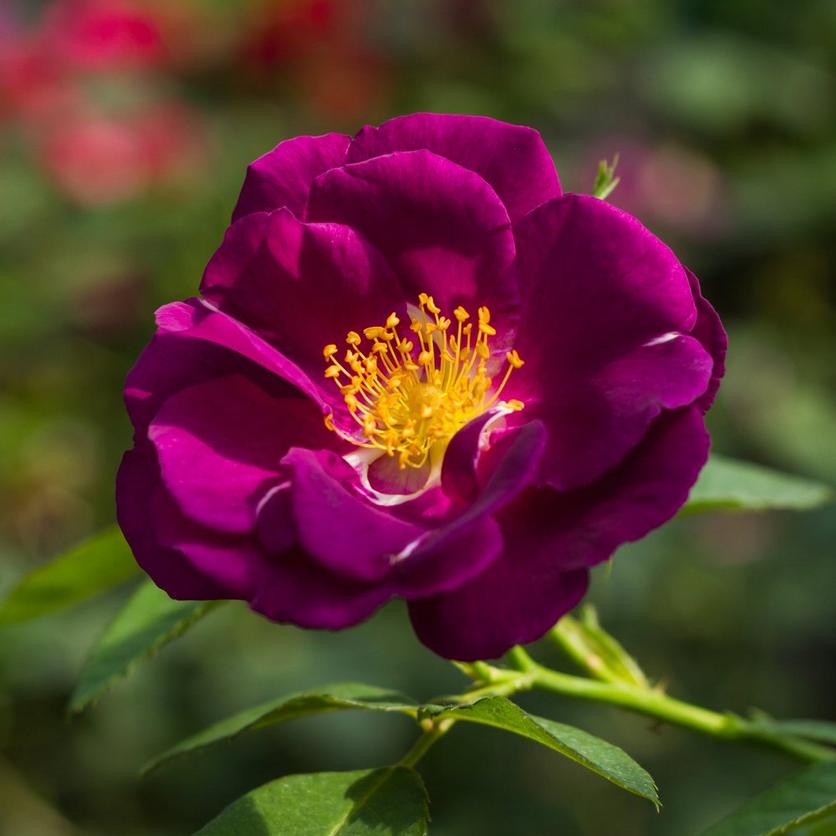 Tuscany
Taking it up another notch is the gorgeous Tuscany. This one comes in such a deep pink it looks almost red in colour. What does catch your eye is the incredible yellow centre that is sure to attract the bees. Even better, it has an amazing scent.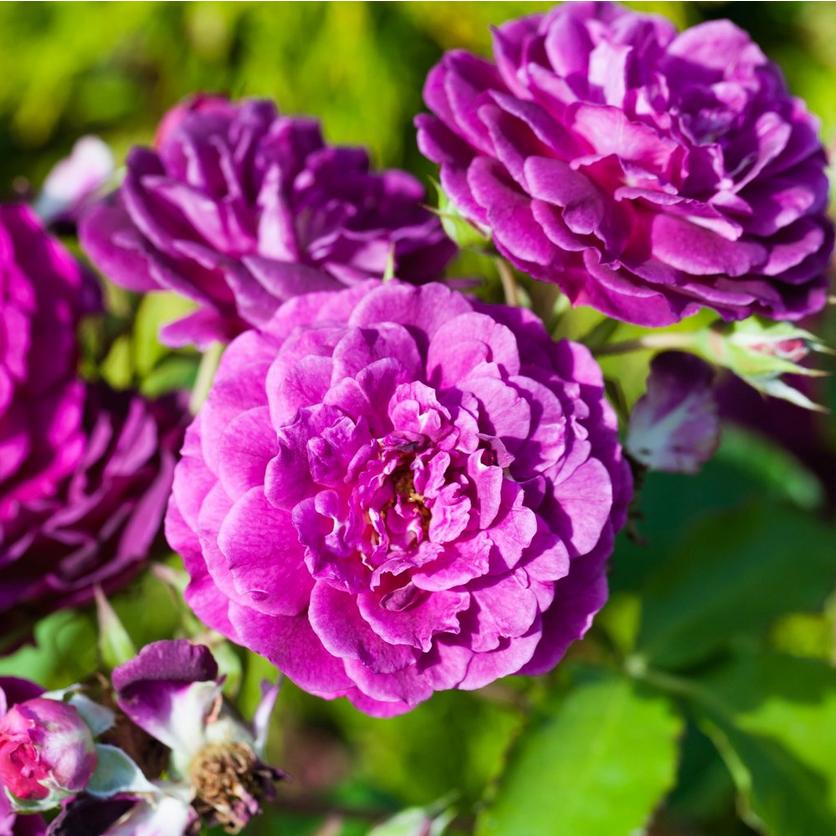 Bleu Magenta
Let's finish it all off with a magenta rose. The aptly named Bleu Magenta is a rambling rose that is almost purple in colour. The small flowers start off in a dense shade of crimson before paling to a lighter violet colour.
The Best Occasion To Give Pink Roses
So, when and where should you give pink roses?
When it comes to matters of the heart, a pink rose says it all. The first obvious choice has to be in a bridal bouquet. What could be more perfect than some playful mid-pink roses offset with some cream roses, pink peony and white alstroemeria. The perfect way to show your love on your big day.
It doesn't stop there either. The number of pink roses you add to your bouquet also means different things. Go for a single rose (which means love at first sight), a trio of stems (they say I love you) or even a bunch of six (which says I want to be yours) and it's an incredibly fun way of showing your emotions. A great choice if you haven't been together that long. Go for two or four blooms and you're declaring a deep love where nothing will stand between the two of you.
Gratitude is the name of the game with pink roses. These blooms just shout appreciation. Maybe you need to show your mum just how important she is or has your partner done something amazing for you? Go for a bouquet in some warming magenta tones and you're saying one big thank you for being, well let's be honest, absolutely wonderful.
Last but not least, don't forget that special friend in your life. Give them a bouquet of six, mid pink roses and you're showing your gratitude while the number of blooms also represents just how much you care for them. Then add in thirteen pale pink blooms and it's all about happiness and friends forever. You only need to mix in some cream freesias and, you finish off the sentiment by saying you trust them. What could be better when words can't quite capture it all.

Next time you're picking your bouquet, don't forget to pop in a few pink roses. These gorgeous flowers will not only deliver all the looks, but they're sending out a whole lot of love too.