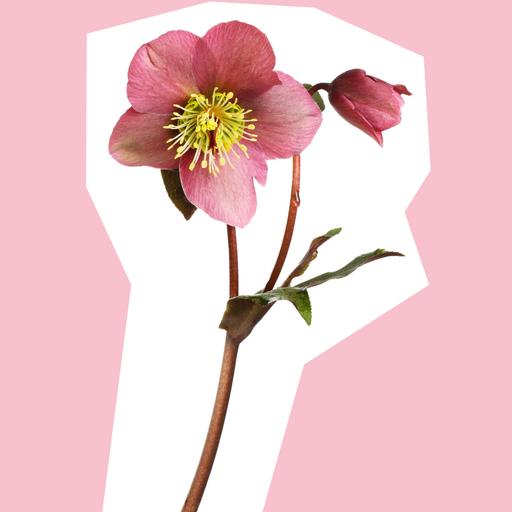 FLOWERS THAT
BLOOM IN WINTER
WINTER FLOWER & PLANTS
Soft whites, blush tones and luxury foliage - our winter collection is like sunshine on a cold winters morning. Bursting with seasonal favourites, our winter flower bouquets and winter plants are the perfect way to brighten up anyone's day. And to add joy to your day, all of our winter flower bouquets and plants come with free delivery across the UK, so you can send some joy without your wallet feeling the chill.
You may think that come winter it's time to swap those brightly coloured and fragrant flowers that have filled your home throughout summer for just a Christmas tree and holly. Maybe, you neglect the garden in the colder months, only venturing outside to it again when the daffodils start to sprout in spring.
But, it doesn't have to be this way! Keep those gorgeous vases out and pick up your favourite pair of gardening gloves because there are plenty of winter blooms to see you through until spring. These hardy flowers make a lovely, colourful display inside and outside the home, especially on those grey days. And, for that extra festive touch, add a sprig of holly or a few pinecones for your very own winter wonderland.
So, even when Jack Frost is nipping at the windows and the days are growing dark and gloomy here are 10 winter flowers that will still bloom beautifully.

When do snowdrops flower? Typically January, although sometimes as early as December and as late as March.
The name might be a giveaway but snowdrops live their best life in colder weather. These white winter flowers hang from a single stem, like water droplets, and are one of the most durable plants, able to survive both frost and snow!
Snowdrops have become known as symbols of hope and purity in British folklore, however, there are many superstitions around bringing them into the house. These range from bringing bad luck to those in the home to spoiling eggs and turning milk sour.
If you're superstitious and don't want to risk not having milk for your tea that's fine, however, they do make a beautiful display when featured in the home.
Hellebores

When do Hellebores flower? Usually from January but can bloom early, in time for Christmas.
The Hellebores or Christmas Rose - also known as Snow Rose and Winter Rose - is the ultimate winter flower.
It has ties to Greek mythology and the story goes that Melampus, a seer, used the plant to cure King Proetus' daughters of an illness that made them roam the desert and believe that they were cows.
The plant also has a dark and gritty past, as it is highly poisonous and was mixed up in all sorts of shady business in the early days of kings and queens. Of course, it's reformed since and now simply sits pretty in winter gardens in the UK.
In the depths of winter, on the coldest and darkest days, when everything else has frozen this mysterious flower will bloom. The flat-faced flowers can be cut and look very chic when displayed floating in a bowl of water.
Poinsettias

When do poinsettias flower? December and January.
A whopping eight million poinsettias are sold every year around Christmas time in the UK, but did you know this leafy red and green plant comes from the hot climate of Mexico?
Due to its shape, poinsettias have become known as the Christmas Star and you may think that the red part of the flower is its petals but they're actually leaves!
The flowers themselves are at the centre of the plant and look like small yellow berries, although we don't recommend snacking on them while you wait for your starters on Christmas day.
Although red is the most popular and traditional colour of poinsettias, the plant is also available in other shades, including pinks and whites.
You'll be pleased to hear that poinsettias are incredibly easy to care for – even if you're a serial indoor plant killer – so you can enjoy them during the festive season.
Christmas Cactus

When do Christmas Cacti flower? Late November to late January
Fancy shaking things up a bit come Christmas time? Skip the poinsettia and back away from the pinecones, this year we're singing 'Noite Feliz' (Brazil's version of Silent Night) and heating things up with the Christmas Cactus.
Also known as the schlumbergera, this festive plant originated in Brazil. Flower buds will start to appear in the autumn when watering should be increased ready for the flowers to bloom, adding a splash of colour just in time for a visit from old Saint Nick himself.
These flowers can bloom in a range of bright colours including red, pink, purple, yellow and white. It's a unique choice to display on a table during the festive season and has become a fun alternative to your typical Yuletide plant.
Clematis

When does clematis flower? December to March.
Clematis also goes by the very festive name of "Jingle Bells" making it the perfect flower for winter. This climbing plant, unsurprisingly, gets its name from the bell-shaped flowers which are formed of white petals on green foliage.
It's perfect for fences, trellises and walls - adding a splash of much-needed colour on a dark winter's day. Not only does it look pretty and can brighten up your outdoor space, but it also boasts a delicate sweet smell which is welcoming when you've returned home from a long day out in the cold.
Only minimal pruning is required - that makes us very happy! - so you can enjoy these winter garden flowers throughout the colder months without having to spend too much time caring for them.
Iris

When do iris flower? November to April.
This good looking bloom puts in the work, as it's one one of few plants that begins flowering just before winter and continues right through until spring. When it's ready, it will unfurl to produce bright purple or blue flowers with white stripes and splashes of orange.
Should you choose to grow this winter flower, bear in mind that the hotter and sunnier the summer, the more flowers you will get during the winter. And when this flower blossoms, it really blossoms!
More than one hundred flowers can be produced on one plant. Not only are these simply stunning, but they also smell so good you'll want to bottle the scent up for later.
Once your iris is established you can leave this plant alone and enjoy it without having to worry about it. But, what you can do is cut the flowers - just before the bud opens - and bring them indoors. This will add both colour and a wonderful scent to your home on a winter's day.
Cyclamen

When do cyclamen flower? Autumn right through to the spring.
Cyclamen is the perfect plant to feature in your home during the winter months and is sure to make you smile on the greyest of days. There are 23 varieties of this bubblegum hued houseplant, growing wild from Europe's Mediterranean coastline to Iran.
These winter-blooming flowers are pretty in pink with petals that blossom in a stunning - and always on-trend - ombre pattern. You can also enjoy them in shades of red, white and purple and it's good to know that they are hardy plants that are easy to grow, so they are also great for the garden.
Take cuttings from your cyclamen and feature them in small vases around the home, spreading some of that vibrant pink cheer throughout your living space.
Cyclamen is said to be the flower of true love, which makes it the perfect cheesy gift for your partner or as a special heartfelt present for a parent or grandparent.
Amaryllis

When do amaryllis flower? Winter to spring.
Amaryllis is a popular gift around Christmas time, growing big and strong in a pot and unfurling its gorgeous red petals throughout the winter months. Plant yours in a pot indoors between October and January and it will then bloom six to eight weeks later.
Get in there early and you'll have a colourful flower in time for the festive period that will then continue to bloom every year. Amaryllis is said to symbolise success and was pretty popular in Victorian times as a gift for those who had achieved something important. These days, it is believed to represent beauty and determination.
The flowers are a unique trumpet shape and primarily red and pink but can come in a range of colours. They are sure to brighten up your windowsill on a cold winter's evening but why not gift them to friends and family this year and brighten up their homes too?
Jasmine

When does jasmine flower? From early January (sometimes even in December) until around April.
Also known as Jasminum nudiflorum – try saying that three times fast – jasmine's star-shaped flowers bloom in the depths of winter, with stunningly bright colours appearing among the frost-covered branches.
The petals are often yellow (although they can also be white or pink) providing a little ray of sunshine in your garden when you haven't seen the sun in the sky for a while. Jasmine is cultivated in China, where it is known as yingchun. This translates to 'the flower that welcomes spring' and gives us hope of sunnier weather, during those long dark days once Christmas is over.
Cymbidium

When does cymbidium flower? From autumn right through to spring.
When the outside world isn't feeling particularly tropical, this winter-flowering orchid will ensure that the inside does. Cymbidium gets its name from the Latin word for cup - "cymba" and cymbidium translates to "little boat".
This exotic flower originates in Asia and blooms for months with each large spike of flowers lasting around eight weeks each. In Asia, it's considered an honour to give and receive cymbidium so bear this in mind when wrapping up gifts for loved ones.
Be sure to place your cymbidium orchid outside during the summer - this means that come winter, you are more likely to enjoy a decent bloom after it's enjoyed the warmer temperatures and basked in the sun's rays.
Now you know which flowers will blossom during the colder months, get ready to plant some of them in the garden or arrange them in your vases ready for winter. Until then, check out our range of seasonal flowers and brighten up those dark winter days.