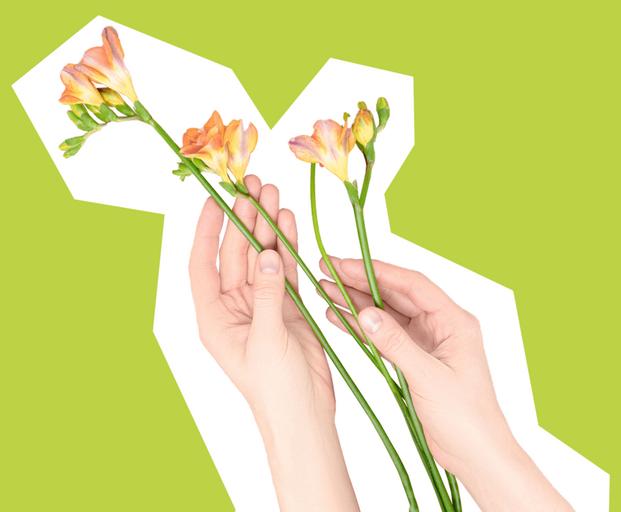 FREESIAS:
Everything You Need
To Know
Always a favourite at springtime, freesias are those delicate many-petaled blooms that we love to feature in small posies on windowsills or plant in our front gardens.
With the nickname 'ballerina', inspired by the dainty but elegant shape of the flowers on the stem, it's not hard to see why they're a popular choice in the UK.
Want to learn more about this always pretty bloom? Take a look at our guide featuring facts and tips for caring for freesia flowers below.
FREESIA FACTS
1. Freesias grow wild in South Africa
Head to the warm climate of South Africa and you'll see freesias growing happily in the spring sunshine in a variety of stunning colours. They like to bloom on the edges of forests and go dormant in the summer months – we also can't say no to a nap! – before sometimes returning again in autumn.
2. Red and pink freesia smell the strongest
Want to pack a punch in your living space, when it comes to that perfumy scent? Then opt for red and pink shades of freesia that are considered to smell the best. White freesia also has a strong scent but hybrid varieties aren't quite as strong.
3. Freesia is the flower for a 7th wedding anniversary
If you decided to say 'I do' in the spring, skip the wool and instead opt for a bright bunch of freesia, they're considered to be the representative flower for seven years of marriage.
4. Daffodils can affect how long cut freesia flowers last
Daffodils don't like freesia stealing the show and if they're featured together in a bunch they release substances that can make your freesias wilt faster. As tempting as it is – and as great as they look when partnered – avoid mixing them in a spring bouquet.
5. There are over 300 freesia hybrids
In the freesia family, you'll find 16 to 20 main species but these have been spliced and diced to create hundreds of hybrids and beautiful new colours over the decades.
6. There is a freesia festival each year in Japan
On Hachijojima island, a festival takes place celebrating the blooming of these gorgeous flowers. With outdoor tea ceremonies and the incredible sight of over 350,000 newly bloomed freesias to take in, it's quite a celebration.
7. Freesias are zygomorphic
That fancy word simply means that their flowers only grow on one side of the stalk. Add it to your vocab and pull it out when you want to sound like the smartest person in the room.
8. Freesias are now grown in the Netherlands
Even though they are native to South Africa, the Netherlands is now one of the largest cultivators of these flowers.
9. The freesia got its name from the botanist who discovered it
Botanist Christian P. Ecklon decided to name the bloom after his friend, Dr. Freese as a symbol of their friendship. This is also why the flower's main meaning is now trust and friendship. We love a good friendship story!
10. Freesias are said to represent the number 9 in numerology
Numerology is the study of numbers – no don't worry, we're not going to make you do maths! It's said that numbers have different meanings and the number nine is said to symbolise selflessness. As freesias are the ultimate symbol of friendship and we reckon that sending a surprise bunch of these spring blooms is a pretty selfless act, we can see how the number nine and this flower are linked.
FREESIA MEANINGS
Overall, freesias are said to symbolise friendship, making them the perfect choice for a spontaneous springtime bouquet when you want to let your best pal know you're thinking of them. No one can say no to surprise flowers!
Way back in the Victorian era, freesias were given as a symbol of trust and also used to send private messages in polite society depending on the flower's colour. The great news is that you can send these messages now, as each shade of freesia says something completely different. That's right, let these flowers do the talking.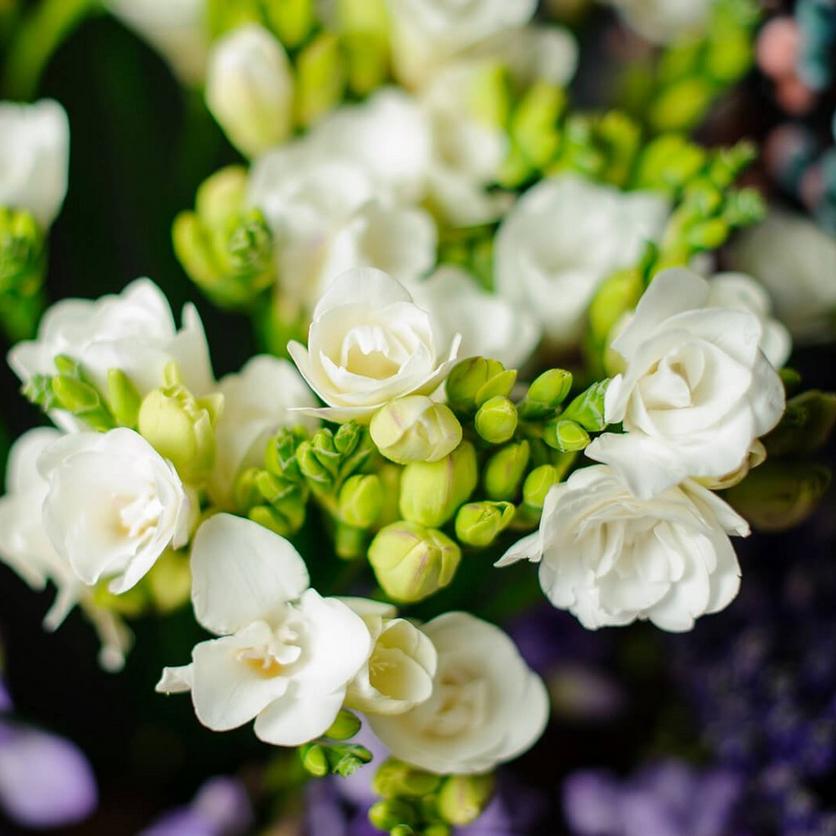 White Freesias
Like many a white bloom, freesias in pearly shades of white are said to represent purity and innocence. They're a popular choice for a wedding bouquet or buttonhole, tying into the age-old traditions of marriage – and complementing that all-important gown, of course.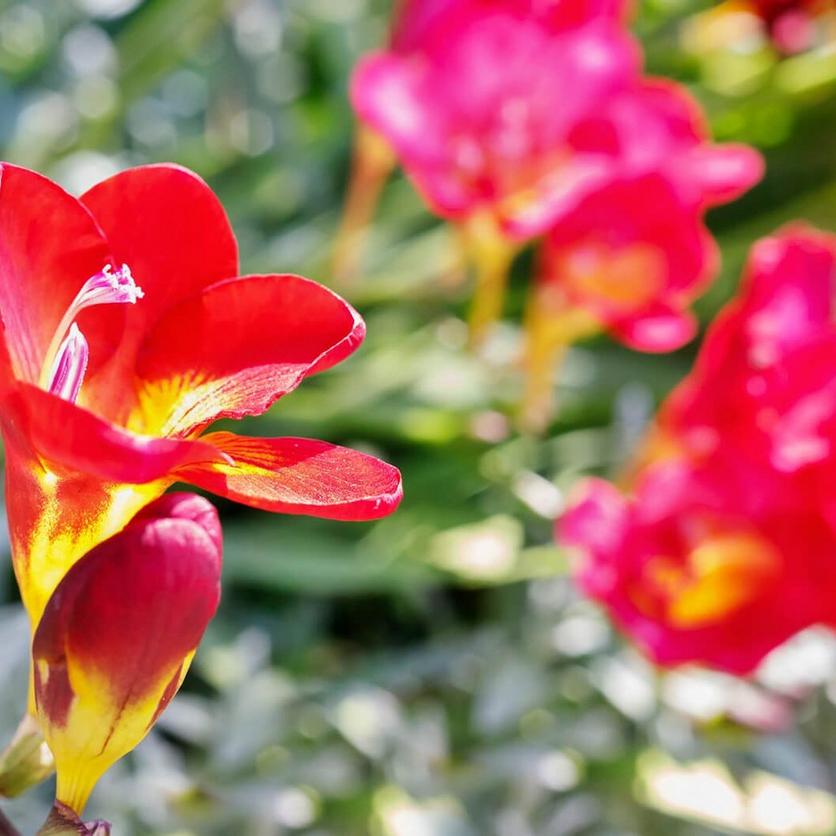 Red Freesias
If romance is in the air, freesias that grow in bold shades of red say it all. Want to send something a little more subtle than roses to let them know how you feel? Then these are your flower of choice. We love the cheery yellow centres you'll spot in red freesias that remind us of flames (heat, passion – you get it) and the fact that this colour flower has the strongest scent of all the varieties of freesia.
Purple Freesias
Freesias in regal shades of purple are said to symbolise beauty and royalty. Send these coloured blooms to someone you love and respect to make their day.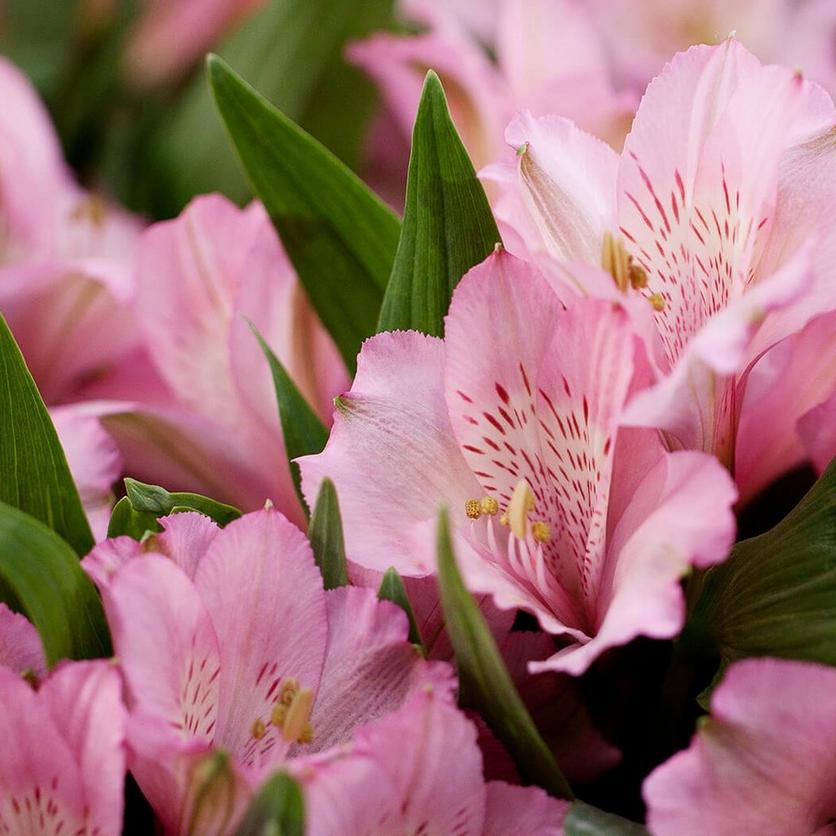 Pink Freesias
Pretty in pink freesias that grow in ladylike shades are said to symbolise femininity and love. This means they're the ideal choice of bloom as a gift for a girlfriend, your mum or your sister to let them know you care.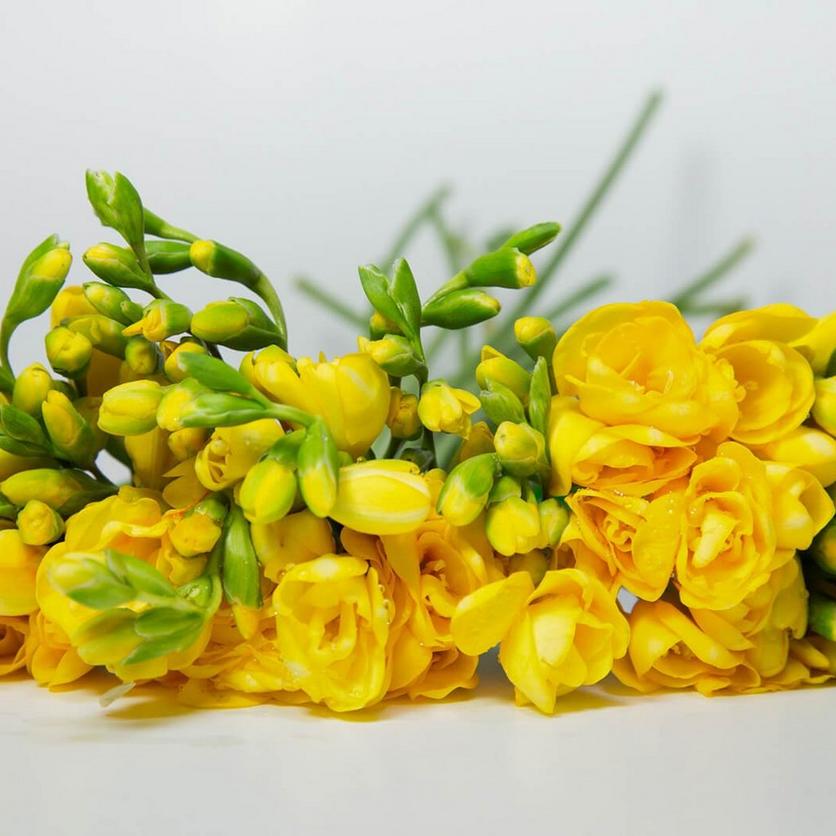 Yellow Freesias
Nothing says spring quite like a bunch of sunshine, yellow blooms and yellow freesias do not disappoint. They look particularly lovely when paired with purple varieties creating a traditional springtime colour palette. When it comes to meaning, yellow freesias are associated with friendship, happiness and optimism. Send a bouquet of these flowers to someone who needs perking up.
HOW TO MAKE YOUR FREESIAS LAST LONGER
Freesias can bloom and brighten up any room for between 7 and 10 days. Ensure yours look their best until the end with our freesia care tips.
Pick a vase that tapers around the neck, this holds your freesias in place and stops them from wilting sooner.

Fill the vase with water, then leave it to warm up to room temperature. Freesias can be divas and prefer to be placed in water that's on the warmer side.

Throw in any flower food your bouquet came with, this should feature all the nutrients your blooms need to stay healthy.

Remove any foliage that may sit below the waterline. If this is left in the water, it could start to decompose, leading to nasty bacteria growing in the water that will upset your flowers.

Trim the flower's stems, at an angle. This encourages them to take up more water and a hydrated flower is a happy flower.

Change the water if it starts to look cloudy every few days and get rid of any fallen leaves or petals straight away.

Followed those steps? Now it's time to sit back and enjoy all that these stunning spring flowers have to offer, from their good looks to their sweet scent.
USES FOR FREESIA

Want to know how to enjoy these flowers in all their glory? We've featured a range of suggestions to inspire you once spring rolls around.
Decor - Feature freesias around your home to add a pop of colour to your space come spring.
Wedding flowers - Freesias are a favourite for weddings, especially in pastel shades of white and yellow. Their dainty flowers look great on corsages or nestled in amongst green foliage in a bridal bouquet.
Wreath – Not a wreath in a festive sense, more in a springtime, Easter-themed way. Add freesias to a floral door wreath to welcome guests for that easter egg hunt, or to simply add a splash of colour to your entrance.
Perfumes – Freesias have a distinctive, sweet smell that works wonderfully in everything from room sprays to perfumes to body lotions and shampoo.
Gifts – Want to surprise someone with a beautiful bouquet? Opt for freesias when the season allows, for a stunning bunch of flowers they'll love. Choose colours that correspond with what you have to say, take a look at our meanings section above again for guidance, and enjoy brightening someone else's day.
Stress relief – A popular flower found to improve wellbeing, the freesia's calming scent is a popular choice for diffusers and incense, ideal if you're trying meditation on for size.
Ready to enjoy freesias during the spring months? Ensure yours look their very best with our care tips and enjoy your newfound appreciation for these stunning blooms.