Beaming Joy
£33
FREE Next Day Delivery*
Rated Great on Trustpilot
Guaranteed Smiles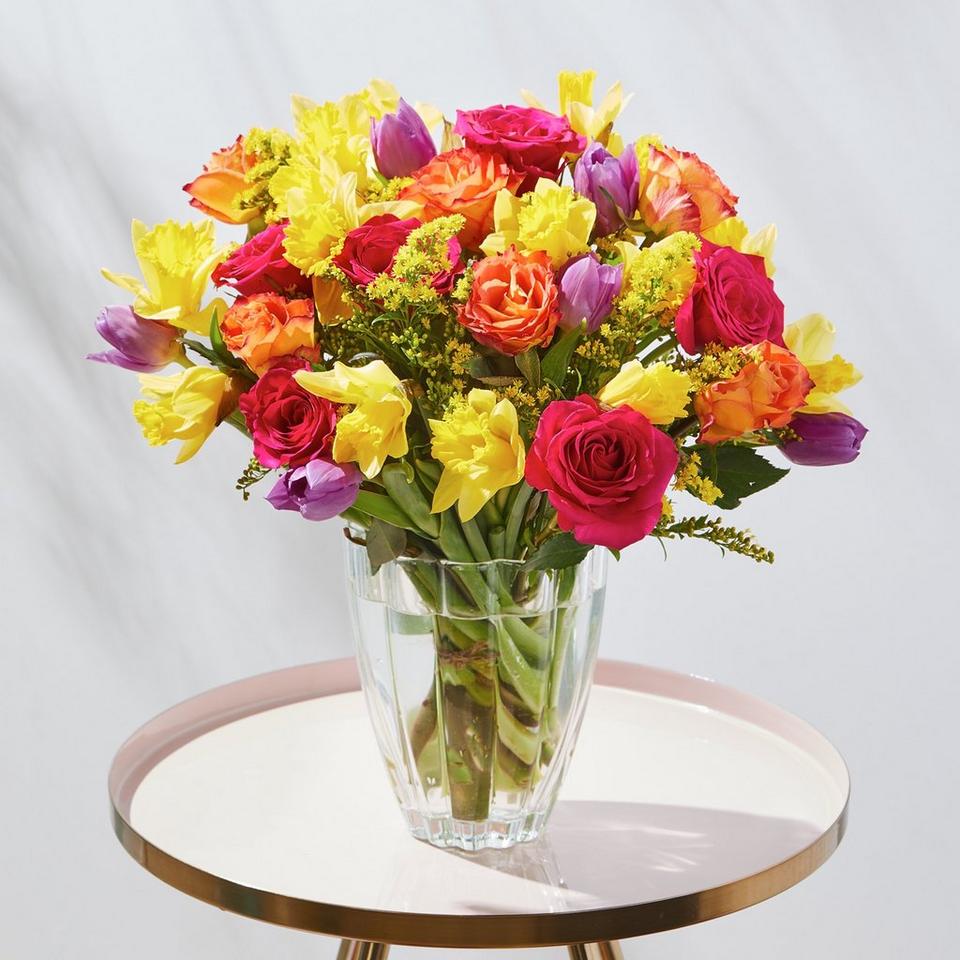 Free Delivery and Free Chocolates use code FREECHOCS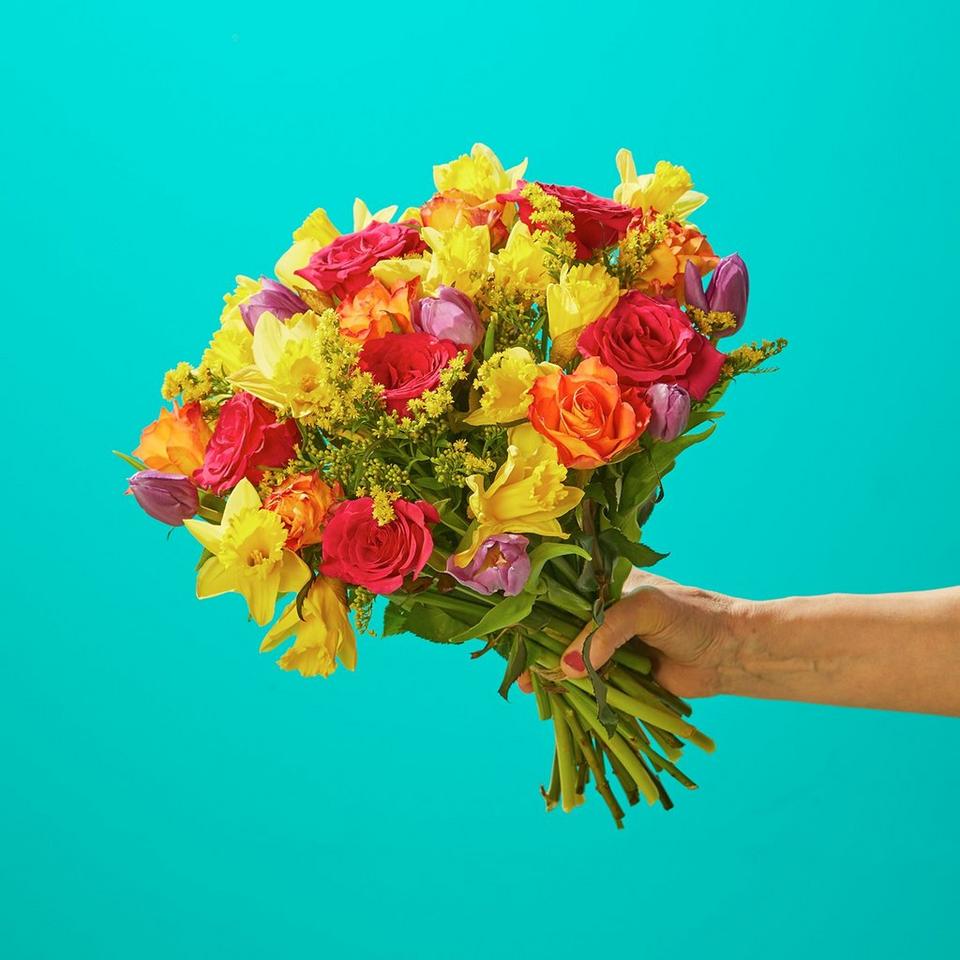 Arrives perfectly arranged
Gift description
Hello bright and beautiful spring! This vibrant bunch is joy in full colour.

What's in the bunch
5 lilac tulips, 3 cerise roses, 3 orange roses, 10 daffodils and 3 solidago.

Delivery
> FREE Next Day Delivery with DPD. Delivery can sometimes take a couple of days. Important occasion? Upgrade your delivery to 'Guaranteed AM delivery with DPD' for £4.
> Arrives in bright and beautiful packaging, perfectly arranged and ready to show off
> Arrives in bud so they'll enjoy them blooming, they'll just need a drink of water and they'll fully open in a few days
> Please note, the vase shown is not included unless stated otherwise.

Extras
Don't forget you can get FREE Lindor Mini Milk Chocolates, just use the code FREECHOCS.
Trust us to deliver, trust them to unbox joy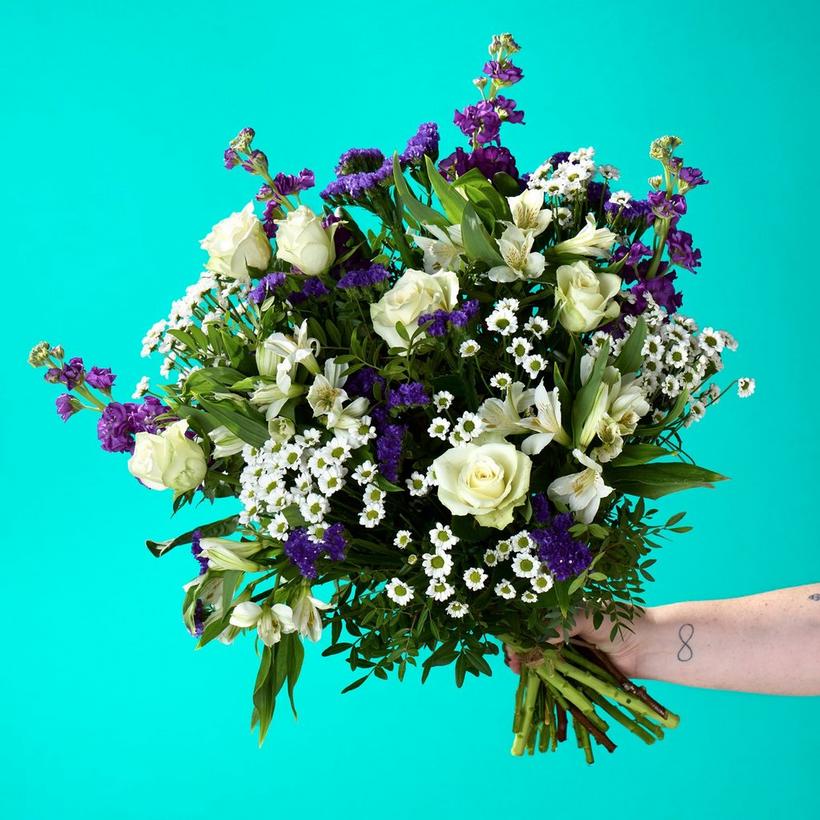 Whether you're sending one of our fabulous flower bouquets, a cheerful house plant or a luxury gift hamper, you can trust that your pressie is in good hands. We've been delivering joy to doorsteps across the UK for the past 40 years. That's over 12 million beautiful bunches – and 12 million smiles.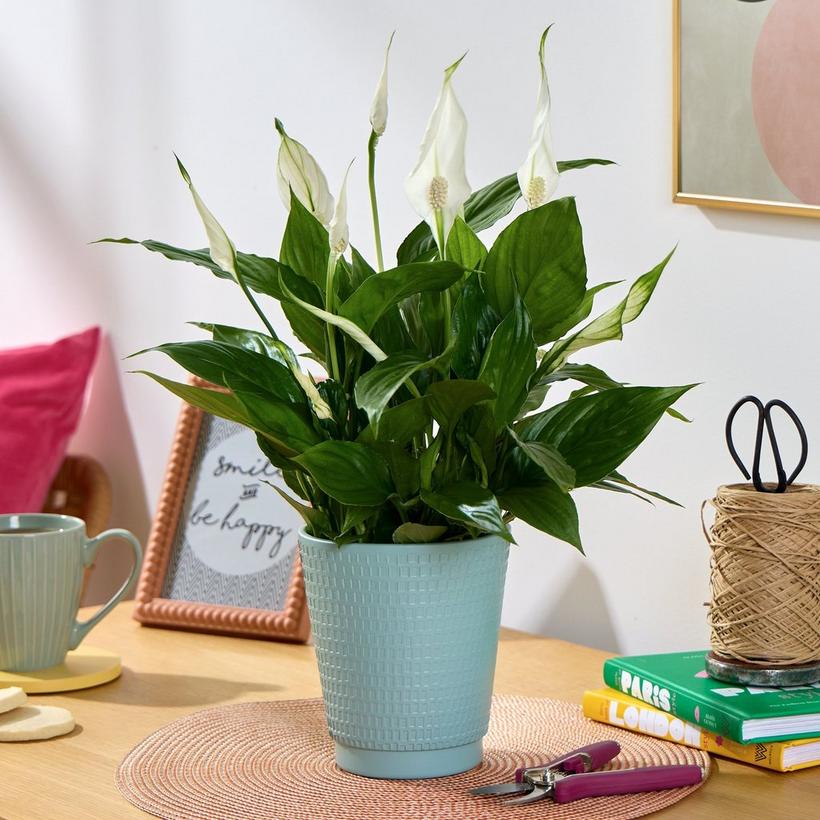 Learn more about your delivery
How your flowers are delivered
We know how important it is that our flowers look amazing as soon as they open the box. All of our flowers by post are delivered in bud so they are guaranteed to stay fresh for 7 days or more. If the flowers you have chosen state VASE INCLUDED, then they'll be delivered in the vase shown in the product image. If not, you can choose to add a vase as an added extra and make it an extra special gift.
Sending letterbox flowers? Our letterbox bouquets have been specially designed to fit in our letterbox packaging, so you won't find any squashed blooms from us. Learn more about how your flowers are delivered in our handy delivery guide.
Have they been the lucky recipient of one of our fabulous flower subscriptions? There's no change in how the flowers are delivered, they'll just be receiving a delivery once a month (usually around the 18th).
How to keep flowers fresh
If you want to wow them with your knowledge on how they can keep their flowers fresh, we've rounded up a handy guide. It's pretty simple – just hunt out the perfect vase, fill it with water and the flower food sachet (which we provide), snip the stems and voila – a burst of beauty perfect for any space. We are proud to source the freshest stems so the flowers can bring joy for as long as possible, but if you want flower specific care tips then take a look at our flower care guides.
If you're sending letterbox flowers, be prepared that they may look a little modest on arrival. But don't worry, just follow the steps above and they'll bloom into action in no time.
How your plants are delivered
Surprising someone with a new plant-pal? Whether you're sending a one-off burst of colour or signing them up to a monthly plant subscription, our plants are also delivered by post. Safely packaged in a plant-friendly (and planet-friendly!) box, our plants arrive in bud so the new plant parent can find joy watching it bloom. And best of all? All of our plants come in their very own pot – so it's a ready-made gift straight to their doorstep. Learn more about how your plants are delivered in our handy delivery guide.
Whether you've arranged a plant delivery to add to your own ever-growing collection, or you want to welcome them to the world of plant-parenting, you can find out all you need to know in our plant care guides so your house plant can continue thriving. Just give them a drink when they arrive, keep them out of direct sunlight (but make sure to read about their specific care tips) and check on them every few days. Then sit back and watch it bloom.
Need a last-minute delivery?
Hey, we've all been there. Whether you've accidentally forgotten a birthday, suddenly realised it's your anniversary tomorrow, or you just want to send some joy through the post as soon as possible, we can help with our next day delivery. Just place your order by 5.30pm and your flowers will be delivered in a flash – for free. 9/10 orders arrive on the date you've chosen, but if you want to guarantee it lands on their doorstep tomorrow, you can upgrade to courier delivery at the checkout.
As we choose the freshest stems each season, sometimes Mother Nature has different ideas and we may have to substitute stems or send another bouquet. But don't worry, it'll be replaced with a gift that is of equal or higher quality and value – so you can trust that it'll still make them smile. We'll also send you a friendly note just to let you know.
If a substitution is made, the nutritional and allergen information on our website may not reflect the true content of the gift set.