Flowers

Birthday

Summer

Delivery

Occasions

Plants

Hampers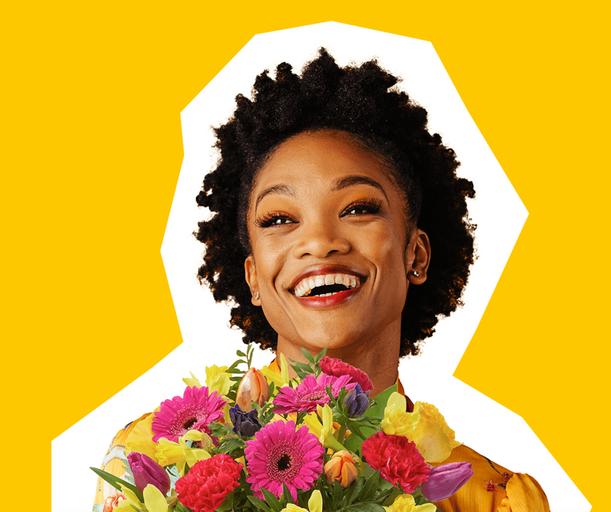 Top 10 Flowers
That Bloom In Spring
This spring we can expect to see scattered daffodils in the morning and an increase in tulips by the afternoon. Pleasant temperatures should encourage peonies to rear their heads near the latter end of the season while freesias will show up in surprise bouquets, hand-delivered to front doors.
Spring is a time to enjoy not only warmer weather (okay, maybe with a few April showers thrown in) but to appreciate the flora and fauna that's coming out to play.
From outdoor delights that will spice up your garden to blooms that are perfect for your bouquet, here are ten of the best flowers that bloom in spring.
DAFFODIL

With their distinctive butter yellow petals and an instantly recognisable trumpet centre – that sadly don't play any tunes – daffodils are a sure sign of spring.
Add a bit of sunshine to your home by popping some daffs into your favourite vase. Just be sure to feature them on their own, daffodils don't get along with other blooms and mixing them in a vase can make them wilt faster! However, these gorgeous flowers add a little zest to the home that'll have you feeling refreshed for the year ahead.
If you're giving daffodils to someone else always opt for a big old bunch. A single daffodil is meant to mean misfortune, something we definitely want to avoid after the year 2020.
FREESIA

Sweet and citrusy, if the vibrant hue of freesias don't tempt you, then the scent surely will. These delicate flowers bloom in a variety of colours; whether you want to cheer up your home with fiery red or pretty pink spring flowers, freesias are the way to go.
Symbolising friendship, thoughtfulness and innocence, freesias are guaranteed to put a smile on anyone's face should they be lucky enough to get them as a gift. Celebrate all things spring by picking up a boutique of these bright blooms for your best pal or, as our favourite saying goes, treat yourself. Any excuse, right?
TULIPS

With their famous cupped petals and bold colours, tulips are an instantly recognisable spring bloom that were once worth more than gold!
There's something super stylish about these timelessly trendy flowers, making for fabulously modern pieces for the mantlepiece or windowsill. Choose from natural vibrant hues including eye-catching reds, sunshine yellows and bright pinks – or why not throw them together to create a vibrant mix? Either way, these blooms make for incredible backdrops to any Instagram pic. Each colour of tulip is said to symbolise something different, making them the perfect choice if you plan on spreading the love this spring. Red tulips will have your true love falling at your feet while yellow tulips will bring cheer to someone's day. Want to say sorry to someone? A bouquet of white tulips should do the trick.
ANEMONES

Pretty and delicate, anemones make for the perfect companion for many of the other more boisterous blooms in this list of spring flowers. While they may be small, they certainly pack a punch with their glorious petals and black centres. They're perfect for adding vibrance to your garden borders or as an elegant feature in your spring decor to liven up your home.
Whether you enjoy the small yet mighty purple petals or are looking for the perfect white spring flower, anemones are a great choice. While they may be on the petite, cute side, they have a powerful meaning behind them. In Greek mythology, the flower was said to have grown from the tears of goddess Aphrodite. That's a pretty tough act to follow.
HYACINTHS

Bursting with a delightfully sweet scent, pastel hyacinths are nothing less than majestic and grow in the perfect spring colour palette. While we wouldn't recommend munching down on these, hyacinths are actually in the same family as asparagus. Who would have thought it?
Make your neighbours jealous by popping a selection of these tubular flowers by your front windowsill – the unique colourful petals guaranteed to catch everyone's eye as they walk by. Available in a range of shades including snow white, salmon and purple, the bell-shaped petals pair beautifully with tulips. Plus, their gorgeous scent is a sure sign of spring – if we had to describe it, we'd say it smells fresh, floral and well...green. Feature one of these plants on your coffee table and you'll be treated to a great smelling room every day. Who needs air fresheners?
PEONIES

Fluffy and feminine, peonies have long been one of the most beloved pink spring flowers. They bloom late in the season and are only around for a limited period of time – which we think makes them even more special!
Whether you're planning a lush wedding bouquet, brightening up your home or giving a girlfriend a gift that's as beautiful as her, sweet fragrant peonies will never disappoint. It's no wonder why they're so popular as romantic gifts, as these pretty petals are said to represent good omens, love and a happy marriage.
CROCUS

Part of the iris family, crocus flowers bloom in shades of lilac, mauve, yellow and white. With bright yellow and red centres surrounded by six elegant cupped petals, these flowers are guaranteed to be the centre of attention without looking overly brash.
Did you know that saffron comes from the centre of crocus flowers? It takes a whopping 80,000 plants to make just one ounce of this Mediterranean spice, all of which have to be harvested by hand. No wonder it's the most expensive spice in the world!
As with many of the others in this list of spring flowers, crocus has its roots in Greek mythology. It's said that Hermes and Krókos were throwing a frisbee back and forth until Hermes accidentally struck Krókos in the head. This was a fatal wound, with three drops of blood spilling from it and onto the centre of what we now know as the crocus flower. Fun story, right?
LILY OF THE VALLEY

With their beautiful cupped bell shape, lily of the valley is delicate and sweetly scented. These tiny pendant petals are favoured among many famous brides, with the likes of Kate Middleton, Queen Victoria and Grace Kelly including them in their wedding flowers. Given their adorable appearance and the fact they're said to bring luck in love, this should hardly come as a surprise.
Despite its name, these blooms aren't actually lilies at all. Just like with hyacinths, lily of the valley is actually part of the asparagus family. But we definitely don't recommend you eat lily of the valley – it's highly poisonous!
SWEET ALYSSUM

Sweet in both name and scent, sweet alyssums are one of the smaller early spring flowers that we simply adore. They're technically a flowering plant, but we think they're simply adorable and a great addition to any bouquet.
While these pretty plants make for the perfect filler flowers, a small bunch of them look incredibly elegant on their own, too. Pop them in a vibrant vase alongside some of your other top favourites from this list and you'll have an arrangement worthy of your Instagram feed.
BLUEBELLS

Dipping their heads towards the ground, bluebells have an adorable shy appearance despite their vibrant shade. Flowering in the later spring months of April to May, these flowers are instantly recognisable and a longtime favourite of many nature lovers. These gorgeous blue and purple spring flowers pair beautifully with baby's breath, sweet alyssum and lily of the valley, all of which will bring out the colourful nature of bluebells.
There's nothing better than walking through a forest and spotting these seasonal blooms. Folklore tells us that these bell-shaped flowers would ring to call fairies into the forest, so keep your eye out if you're going for an early morning stroll.
Ring in a new season with a gorgeous arrangement of early spring flowers. Whether you're gifting them to a friend or simply adding some flair to your home, these bright, beautiful blooms are the way to go.