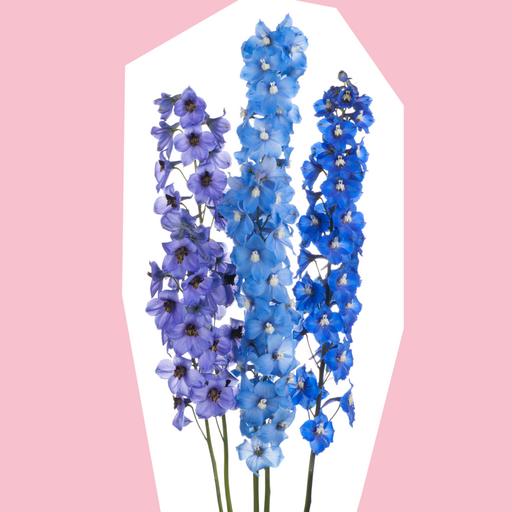 Ultimate Guide
to Delphiniums
If you want to bring a little bit of excitement to your vase, then look no further than the magnificent delphinium flower. Most commonly recognised for their blue blooms, you can also get these flowers in dusky pink, purple, lilac, red and white - trust us when we say there's a shade to suit everyone.
With their elegant tall stems adorned with clusters of delicate flowers, these striking blooms are a real masterpiece in your vase. These flowers have even caught the eye of our very own monarch. In a recent interview, the King revealed his love of the bloom saying: "For me, the magnificent, gloriously apparelled delphinium, with its impeccable bearing and massed in platoons, holds pride of place in my botanical affections."
You could say delphiniums have got the royal seal of approval! Fancy adding a royal flourish to your home? Let us tell you more about this fantastic bloom in our ultimate guide to delphiniums.
Delphinium or Larkspur?
Don't get confused if you also see this flower called larkspur. They are in fact the same bloom – delphinium is the official name, while larkspur is the common name for this flower.
The flower is said to have gotten its name from the Ancient Greek word 'delphis' which means dolphin. It was believed that the bloom looked a bit like the animal's nose (if we squint we can just about see it!). Some say the name larkspur came about because of a part on the flower that points backwards and looks a bit like a rider's spur. Others believe it hails back to Tudor England when the term was coined by the fact the flowers are shaped like a lark's claw. Whatever the reason – both names have a fascinating tale!

Meanings & History of Delphiniums
Although in the wild you can find these flowers growing happily across the Northern Hemisphere or high up in the mountains of Tropical Africa, this one is just at home in our UK gardens – often found in abundance in the gardens of country homes.
This bloom has a rich history of medicinal and mystical uses, from treating digestive and respiratory problems, curing scorpion stings, and even warding off some parasites. The Greeks believed the delphinium flower had magical properties, while in Transylvania they were used to keep witches at bay, and in Medieval England the root was used in love potions. Nowadays, it's best just to keep them in a vase as delphinium flowers are toxic to humans and animals if eaten.
Regularly seen growing tall throughout the early summer months, delphiniums are the birth month flower for July. Sounds like the perfect reason to get yourself a bunch in different colours and present it as a gorgeous birthday bouquet.
This flower certainly packs a powerful punch when it comes to sending out good vibes. Delphiniums symbolise positivity, joy, warmth and new beginnings. Not surprising really that you often see them appearing in bridal bouquets, you can just imagine a fantastic mix of roses, viburnum and carnations with the floral spikes of delphiniums peeking out over the top.
Like a lot of flowers, the colour you choose can convey different meanings. Go for a light blue and it represents dignity, while a darker blue or purple is the symbol for royalty – a perfect one to give if you admire someone. White and light blue mean youth and renewal, we think they'd look perfect in a bouquet to someone who is celebrating their 18th birthday.
Pink and red are the colours of love. If you're thinking of giving a bouquet of these blooms to that best pal who's always been by your side, go for yellow. This one is all about happiness and friendship.

Delphinium Flower Types
You can really spoil yourself when picking up some delphiniums – there are over 300 varieties to choose from!
Delphinium Elatum
Most delphiniums we know today come from the Elatum group. You can get this variety in pretty much any colour with either single, semi-double or double flowers. Offering the ultimate choice, this group then divides into short, medium and tall varieties (they can get up to 2m in height).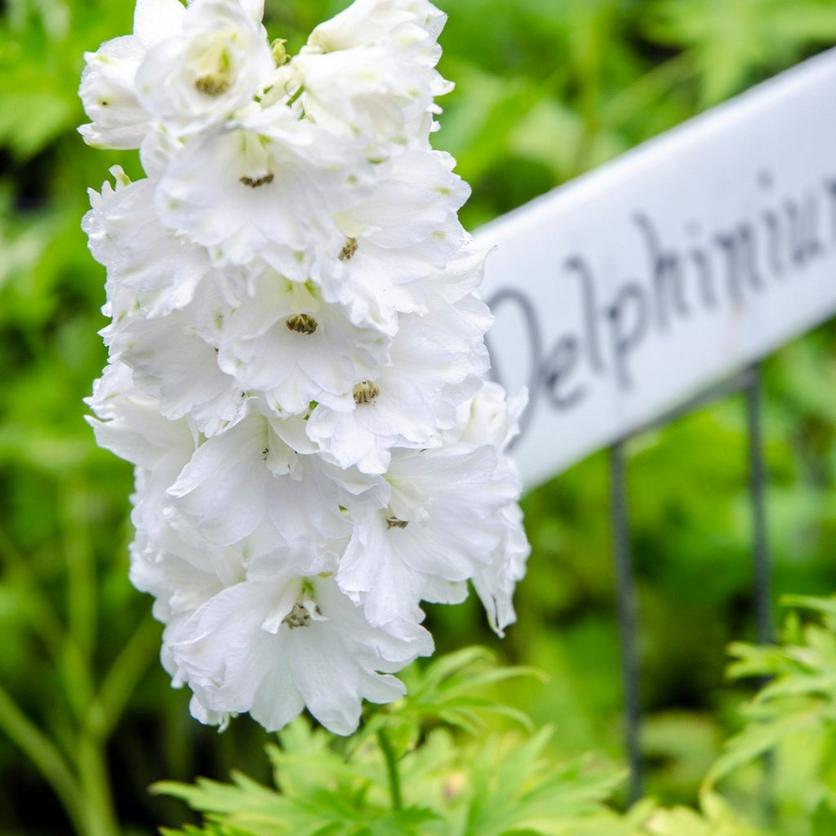 Double Innocence
Go for something like delphinium 'Double Innocence' which has simple white flowers tipped with green. This variety features stunning double blooms that deliver two layers of petals.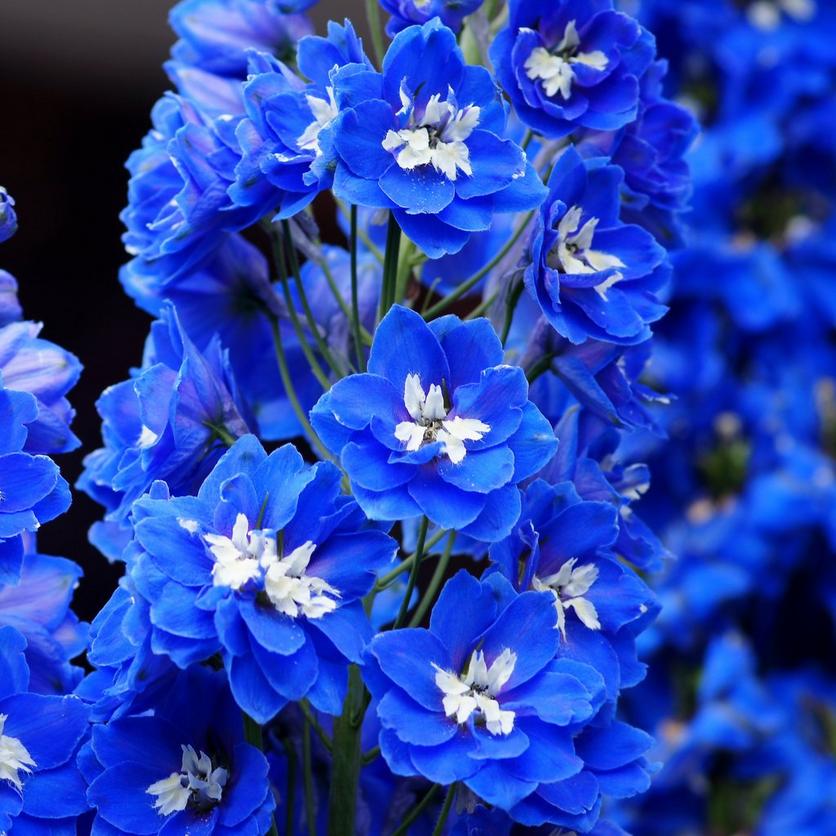 Royal Aspirations
Another fabulous choice would be 'Royal Aspirations' - it's certainly fitting for the coronation year. This one is part of the New Millenium series and features brilliant blue, semi-double blooms with an eye-catching white centre.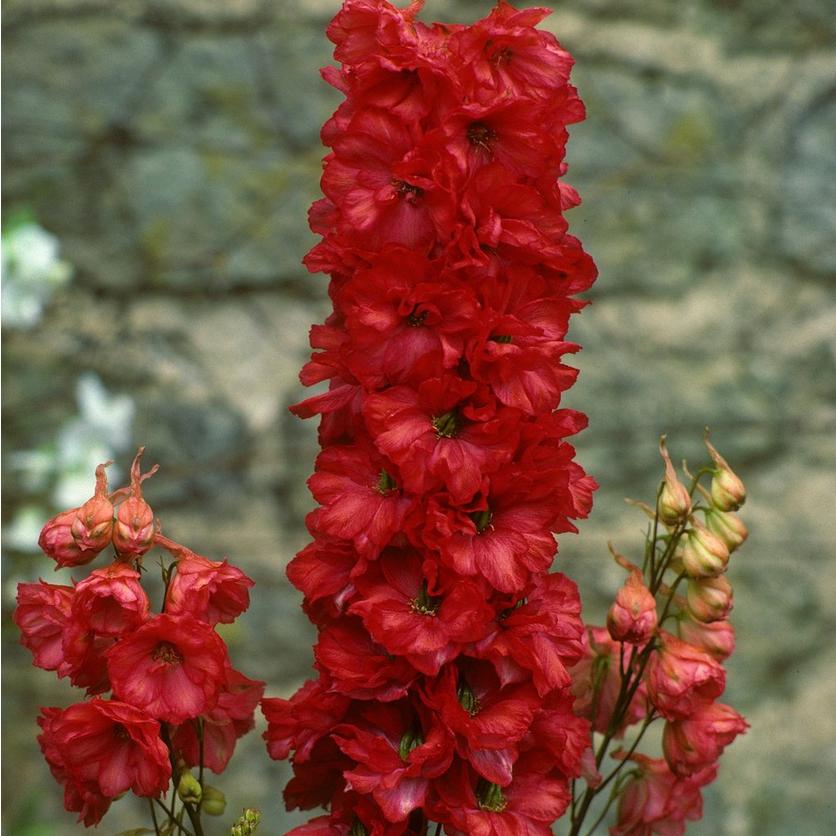 Red Lark
Red is an unusual colour in delphinium flowers, but if you fancy igniting some passion with this flower then you would need to go for 'Red Lark'. This one has gorgeous coral-red, semi-double flowers.
Pacific Delphinium
The Pacific Delphinium group look very similar to the Elatum group but tends to be slightly shorter. You can get these gorgeous large flowers in blue, purple, pink, lavender or white.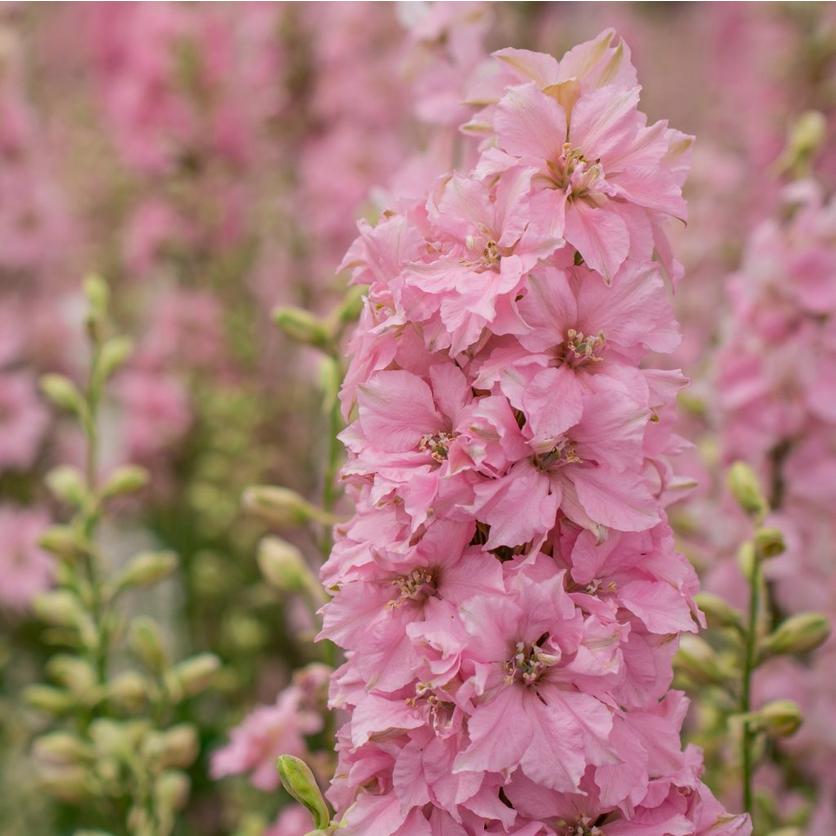 Astolat
For a show-stopping bouquet, why not try 'Delphinium Astolat' which has delicate pink, semi-double blossoms.
Belladonna Delphiniums
Unlike the Elatum group, Belladonna Delphiniums feature looser flowering spikes.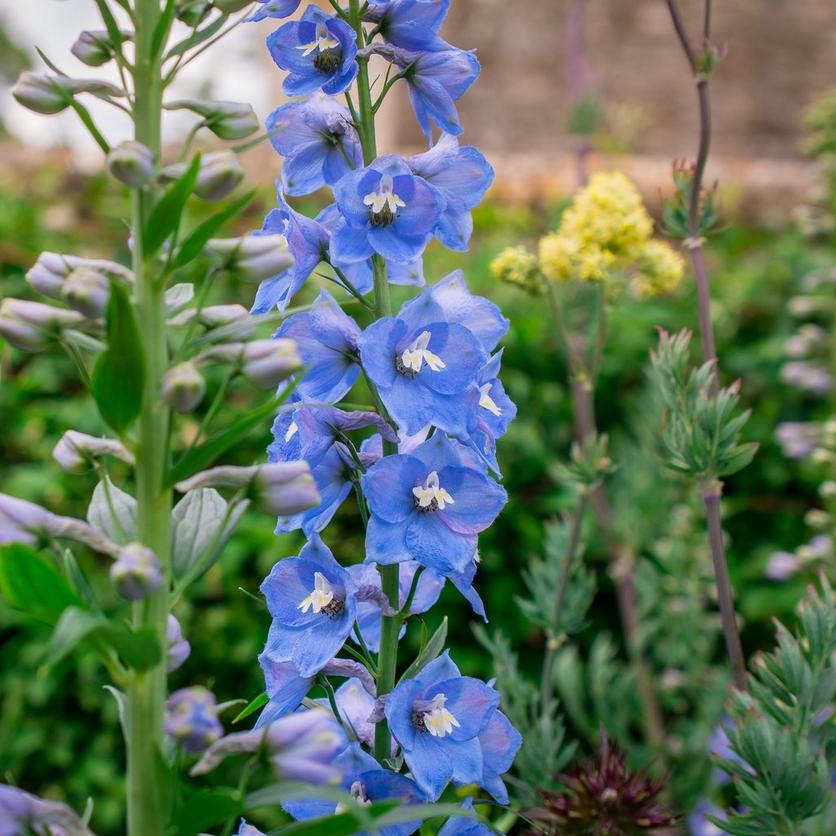 Belladonna Piccolo
Belladonna Piccolo offers that rarity in flowers of clear blue blooms.
Delphinium Care Tips
To keep your delphiniums looking fantastic for as long as possible, start with a clean vase – we recommend a high sided vase so that it can support the blooms. Now fill it with clean water.
Take each flower and, with a sharp pair of scissors, cut off about 3cm from the bottom of the stem at an angle. Remove any leaves that will sit below the water line – it will turn the water murky. Then arrange your delphiniums in the water, maybe surrounding it with some stunning alstroemeria, roses and lisianthus for a real zing of summer colour.
Place the vase in a bright spot but out of direct sunlight. Make sure you change the water every few days – it really does help to keep your blooms happier for longer!

Are Delphiniums Toxic to Pets?
A word of warning, delphinium flowers are highly toxic. Delphiniums contain poisonous chemicals which can cause vomiting, diarrhoea, respiratory problems, convulsions and even death if eaten in large doses.
Don't worry though, they are completely harmless to touch, but they are probably best to avoid if you have children or pets in the home and bear in mind if you're considering planting some delphiniums in your garden.

Add a pop of colour to your home this summer with our range of fresh, summer flower bouquets.